Market Analysis
In 2016, the global biodiesel market analysis was estimated at USD 28 billion. This market is influenced by the growing preference for a clean and cost-efficient alternative to conventional fuels. The growing need for the product in the automotive, power, agriculture, and marine sectors are anticipated to foster demand over the coming years.
Biodiesel is a clean-burning, domestically produced, renewable substitute for petroleum and diesel. Its use as a vehicle fuel reduces greenhouse gas emissions and increases energy security.
Advantages such as fuel lubricity improvement, rise in the cetane number of the fuel, reduction in sulphur oxide emissions, and higher flashpoint contribute to the consumption of the product in a wide range of applications. Government regulations and programs in countries such as Canada, Germany, Brazil, and India are anticipated to augment market growth over the coming years.
Application Insights
Biodiesel finds application in the automotive, power generation, construction, marine, and cement industries. In 2016, the automotive industry was one of the largest applications of bio-fuel. The increasing preference for cleaner burning alternative to petroleum and diesel is anticipated to augment market growth and bring down greenhouse gas emissions by over 80%.
Use of biodiesel in the marine industry is slowly gaining pace because unlike conventional fuels, it contains 0% sulphur thereby reducing sulphur oxide emissions. The product is also safe as a diesel fuel, has a higher flash point, and is non-toxic, free of aromatics and biodegradable.
The agriculture sector has also experienced a shift towards the use of the renewable fuel in farm equipment and vehicles that are used for harvesting, land tending, and planting. The products usage gives rise to sustainable farming, zero emissions and reduced crop & food prices.
Biodiesel's application in power generation and cement manufacturing is projected to rise over the coming years. Its use in cement manufacturing reduces the production costs of cement, waste disposal and helps in non-renewable resources conservation. Electricity generated through biofuels reduces emissions into the atmosphere and helps conserve fossil fuels.
Feedstock Insights
Biodiesel is produced by transesterification of vegetable oils and animal fats. Vegetable oils obtained from feedstock such as palm, canola, and soybean are used in the production of these fuels. The ready availability of used vegetable oil makes it a cost efficient and a effective feedstock. Vegetable oil is easy to process due to its low content of saturated fat thus bringing down its manufacturing cost.
Palm oil is expected to occupy the highest market share due to its large-scale production. The largest producers of palm oil based biodiesel in Europe are Spain, Italy, and the Netherlands. European countries are dependent on imports from world's top palm oil producers located in Asia, such as Indonesia and Malaysia.
Soybean and canola as feedstock for vegetable oil are expected to rise as they contribute to a sizable percentage of oil for world biodiesel production. The market is dominated by vegetable oil as feedstock due to the technological edge obtained by most manufacturers. Grease can also be converted into biodiesel however its use as feedstock is limited due to the high processing cost and low per gallon yield.
Animal fat has been identified as a good feedstock for biodiesel production due to improved volatility, combustion behaviour and viscosity as compared to conventional fuels. Lard, poultry fat, fish oils, and tallow are some of the animal fats used in the manufacture of bio-fuels. The cost of animal fat is low as compared to vegetable oils and its demand is expected to grow a slow pace in the coming years due to the shortage in raw material availability.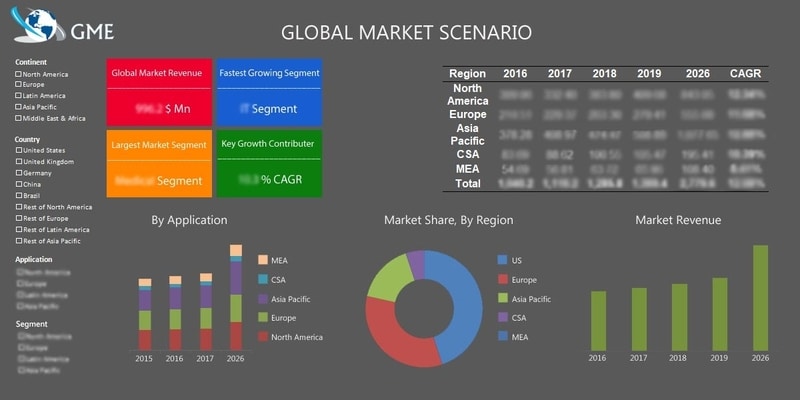 Regional Insights
Europe has occupied the largest market share for this fuel since the past few years, this can be attributed to the early shift to the product, high R&D investment and government emphasis on the use of low carbon emitting fuels. Demand is expected to arise from countries such as Germany, Italy, France, and the UK. The application and demand are more in the automotive industry of the region.
Central & South America are projected to have the highest growth in the market on account of the growing production and consumption in countries such as Brazil, Argentina, and Colombia. Promotion of biofuel usage to reduce the impact of conventional fuels on the environment is anticipated to favour the sector.
India and China in the Asia Pacific region are expected to grow at a significant rate owing to the rising application of the product in the automotive and agriculture sector. In India, the government is encouraging the use of biodiesel in vehicles to reduce dependence on crude oil and prevent pollution.
End-Use Landscape
The end-use landscape entails a list of current and prospective consumers prevailing across the regions. This section provides company addresses, contact details, products, and regional presence of companies who are purchasing or are likely to purchase biodiesel over the coming years. Some leading consumers of this renewable fuel are Ford Motor Company (The U.S.), Audi (Germany), Lafarge (France), American Electric Power (The U.S.) and Doosan Group (South Korea).
Competitor Analysis
The global market for this product is fragmented owing to the presence of numerous suppliers. However, there exists a demand supply gap in this industry. Companies are entering into collaborations and partnerships in order to cater to growing demand. This industry also encourages new entrants with a technological edge and capital.
Partnerships and technological collaborations are prevalent in the industry. Total S.A. and Amyris Biotechnologies partnership in 2010 to produce biomass based fuels and chemicals. Neste Corporation and Haltermann Carless Solutions Group entered into a partnership to produce renewable distillates.
The key players in the industry include Archer Daniels Midland Company (ADM) (The U.S.), Wilmar International Limited (Singapore), Neste Corporation (Finland), Cosan (Brazil) and Renewable Energy Group (The U.S.).
Please note: This is not an exhaustive list of companies profiled in the report.
In January 2016, Renewable Energy Group, Inc. and ExxonMobil (a global leader in advanced fuel research) signed an agreement to study biodiesel produced by fermenting agricultural waste. This research is aimed at discovering breakthrough technologies that will increase energy supply and reduce greenhouse gas emissions.
In October 2016, Neste Corporation announced that the San Diego, California is using Neste Renewable Diesel in its fleet vehicles such as refuse packers, construction equipment, dump trucks and service trucks. This is expected to reduce greenhouse gas emissions by 80% and help improve the air quality thus contributing to the San Diego's ambitious climate targets.
1 RESEARCH METHODOLOGY
1.1 DESK RESEARCH
1.2 PRIMARY RESEARCH
1.3 ANALYSIS AND OUTPUT
1.4 FINAL OUTPUT FROM DESK AND PRIMARY RESEARCH
2 ECOSYSTEM OVERVIEW
3 TECHNOLOGICAL TRENDS IN BIODIESELMARKET
4 DEMAND AND SUPPLY MATRIX
4.1 INTRODUCTION
4.2 DEMAND SIDE ANALYSIS
4.2.1 BIODIESELSTORAGE SYSTEMS: MARKET DRIVERS
4.2.2 BIODIESELSTORAGE SYSTEMS: MARKET RESTRAINTS
4.2.3 BIODIESELSTORAGE SYSTEMS: MARKET OPPORTUNITIES
4.2.4 BIODIESELSTORAGE SYSTEMS: MARKET CHALLENGES
4.3 SUPPLY SIDE ANALYSIS
4.3.1 FUTURE SCENARIO (CAGR% VS. COUNTRY)
4.3.2 MAPPING KEY BIODIESELMANUFACTURERS
4.3.3 PORTER'S FIVE FORCES ANALYSIS
4.3.3.1 Threat of new entrants
4.3.3.2 Threat of substitutes
4.3.3.3 Bargaining power of buyers
4.3.3.4 Bargaining power of suppliers
4.3.3.5 Intensity of competitive rivalry
4.3.4 BIODIESELMARKET: TREND ANALYSIS
4.4 PESTLE ANALYSIS
4.5 IMPACT ANALYSIS
4.6 PATENT LISTING
4.7 BEHAVIOURAL ANALYSIS
4.7.1 KEY MACRO INDICATORS
4.7.2 KEY MICRO INDICATORS
5 REGULATORY FRAMEWORK
6 BIODIESELMARKET, BY APPLICATION
6.1 INTRODUCTION
6.2 FUEL
6.3 POWER
6.4 OTHER APPLICATIONS
7 BIODIESELMARKET, BY FEEDSTOCK TYPE
7.1 INTRODUCTION
7.2 VEGETABLE OILS
7.2.1 CANOLA OIL
7.2.2 SOYBEAN OIL
7.2.3 PALM OIL
7.2.4 CORN OIL
7.2.5 OTHERS
7.3 ANIMAL FATS
7.3.1 POULTRY
7.3.2 TALLOW
7.3.3 WHITE GREASE
7.3.4 OTHERS
8 BIODIESELMARKET, BY REGION
8.1 INTRODUCTION
8.2 NORTH AMERICA
8.2.1 BY FEEDSTOCK TYPE
8.2.2 BY APPLICATION
8.2.3 BY COUNTRY
8.2.3.1 U.S.
8.2.3.1.1 By feedstock type.
8.2.3.1.2 By application.
8.2.3.2 CANADA
8.2.3.2.1 By feedstock type.
8.2.3.2.2 By application.
8.3 EUROPE
8.3.1 BY FEEDSTOCK TYPE
8.3.2 BY APPLICATION
8.3.3 BY COUNTRY
8.3.3.1 GERMANY
8.3.3.1.1 By feedstock type.
8.3.3.1.2 By application.
8.3.3.2 UK
8.3.3.2.1 By feedstock type.
8.3.3.2.2 By application.
8.3.3.3 FRANCE
8.3.3.3.1 By feedstock type.
8.3.3.3.2 By application.
8.3.3.4 ITALY
8.3.3.4.1 By feedstock type.
8.3.3.4.2 By application.
8.4 ASIA PACIFIC
8.4.1 BY FEEDSTOCK TYPE
8.4.2 BY APPLICATION
8.4.3 BY COUNTRY
8.4.3.1 CHINA
8.4.3.1.1 By feedstock type.
8.4.3.1.2 By application.
8.4.3.2 INDIA
8.4.3.2.1 By feedstock type.
8.4.3.2.2 By application.
8.4.3.3 INDONESIA
8.4.3.3.1 By feedstock type.
8.4.3.3.2 By application.
8.4.3.4 MALAYSIA
8.4.3.4.1 By feedstock type.
8.4.3.4.2 By application.
8.5 CENTRAL & SOUTH AMERICA
8.5.1 BY FEEDSTOCK TYPE
8.5.2 BY APPLICATION
8.5.3 BY COUNTRY
8.5.3.1 BRAZIL
8.5.3.1.1 By feedstock type.
8.5.3.1.2 By application.
8.5.3.2 ARGENTINA
8.5.3.2.1 By feedstock type.
8.5.3.2.2 By application.
8.5.3.3 COLOMBIA
8.5.3.3.1 By feedstock type.
8.5.3.3.2 By application.
8.6 MIDDLE EAST & AFRICA
8.6.1 BY FEEDSTOCK TYPE
8.6.2 BY APPLICATION
8.6.3 BY COUNTRY
8.6.3.1 SOUTH AFRICA
8.6.3.1.1 By feedstock type.
8.6.3.1.2 By application.
9 GLOBAL BIODIESELMARKET: END-USER LANDSCAPE (CONSUMER PROFILE)
9.1 INTRODUCTION
9.2 EUROPE
9.3 NORTH AMERICA
9.4 ASIA-PACIFIC
9.5 CENTRAL & SOUTH AMERICA
9.6 MIDDLE EAST & AFRICA
10 VENDOR LANDSCAPE (SUPPLIERS/MANUFACTURERS/DISTRIBUTORS)
10.1 NORTH AMERICA
10.2 EUROPE
10.3 ASIA-PACIFIC
10.4 REST OF THE WORLD
11 COMPANY PROFILE
11.1 ARCHER DANIELS MIDLAND COMPANY (ADM)
11.1.1 BUSINESS DESCRIPTION
11.1.2 FINANCIAL PERFORMANCE
11.1.3 SWOT ANALYSIS
11.1.4 PRODUCTS AND SERVICES OFFERED
11.1.5 STRATEGIC INITIATIVES
11.2 WILMAR INTERNATIONAL LIMITED
11.2.1 BUSINESS DESCRIPTION
11.2.2 FINANCIAL PERFORMANCE
11.2.3 SWOT ANALYSIS
11.2.4 PRODUCTS AND SERVICES OFFERED
11.2.5 STRATEGIC INITIATIVES
11.3 NESTE CORPORATION
11.3.1 BUSINESS DESCRIPTION
11.3.2 FINANCIAL PERFORMANCE
11.3.3 SWOT ANALYSIS
11.3.4 PRODUCTS AND SERVICES OFFERED
11.3.5 STRATEGIC INITIATIVES
11.4 COSAN
11.4.1 BUSINESS DESCRIPTION
11.4.2 FINANCIAL PERFORMANCE
11.4.3 SWOT ANALYSIS
11.4.4 PRODUCTS AND SERVICES OFFERED
11.4.5 STRATEGIC INITIATIVES
11.5 RENEWABLE ENERGY GROUP
11.5.1 BUSINESS DESCRIPTION
11.5.2 FINANCIAL PERFORMANCE
11.5.3 SWOT ANALYSIS
11.5.4 PRODUCTS AND SERVICES OFFERED
11.5.5 STRATEGIC INITIATIVES
11.6 BUNGE LIMITED
11.6.1 BUSINESS DESCRIPTION
11.6.2 FINANCIAL PERFORMANCE
11.6.3 SWOT ANALYSIS
11.6.4 PRODUCTS AND SERVICES OFFERED
11.6.5 STRATEGIC INITIATIVES
11.7 CARGILL INC.
11.7.1 BUSINESS DESCRIPTION
11.7.2 FINANCIAL PERFORMANCE
11.7.3 SWOT ANALYSIS
11.7.4 PRODUCTS AND SERVICES OFFERED
11.7.5 STRATEGIC INITIATIVES
11.8 LOUIS DREYFUS COMPANY
11.8.1 BUSINESS DESCRIPTION
11.8.2 FINANCIAL PERFORMANCE
11.8.3 SWOT ANALYSIS
11.8.4 PRODUCTS AND SERVICES OFFERED
11.8.5 STRATEGIC INITIATIVES
11.9 BIOX CORPORATION
11.9.1 BUSINESS DESCRIPTION
11.9.2 FINANCIAL PERFORMANCE
11.9.3 SWOT ANALYSIS
11.9.4 PRODUCTS AND SERVICES OFFERED
11.9.5 STRATEGIC INITIATIVES
11.10 TERRAVIA HOLDINGS INC
11.10.1 BUSINESS DESCRIPTION
11.10.2 FINANCIAL PERFORMANCE
11.10.3 SWOT ANALYSIS
11.10.4 PRODUCTS AND SERVICES OFFERED
11.10.5 STRATEGIC INITIATIVES
11.11 MÜNZER BIOINDUSTRIE GMBH.
11.11.1 BUSINESS DESCRIPTION
11.11.2 FINANCIAL PERFORMANCE
11.11.3 SWOT ANALYSIS
11.11.4 PRODUCTS AND SERVICES OFFERED
11.11.5 STRATEGIC INITIATIVES
11.12 MANUELITA S.A
11.12.1 BUSINESS DESCRIPTION
11.12.2 FINANCIAL PERFORMANCE
11.12.3 SWOT ANALYSIS
11.12.4 PRODUCTS AND SERVICES OFFERED
11.12.5 STRATEGIC INITIATIVES
11.13 AG PROCESSING, INC.
11.13.1 BUSINESS DESCRIPTION
11.13.2 FINANCIAL PERFORMANCE
11.13.3 SWOT ANALYSIS
11.13.4 PRODUCTS AND SERVICES OFFERED
11.13.5 STRATEGIC INITIATIVES
11.14 DIVERSIFIED ENERGY CORPORATION
11.14.1 BUSINESS DESCRIPTION
11.14.2 FINANCIAL PERFORMANCE
11.14.3 SWOT ANALYSIS
11.14.4 PRODUCTS AND SERVICES OFFERED
11.14.5 STRATEGIC INITIATIVES
11.15 PETROSUN
11.15.1 BUSINESS DESCRIPTION
11.15.2 FINANCIAL PERFORMANCE
11.15.3 SWOT ANALYSIS
11.15.4 PRODUCTS AND SERVICES OFFERED
11.15.5 STRATEGIC INITIATIVES
The global biodiesel market report has been studied from the year 2016 till 2025. However, the CAGR provided in the market study is from the year 2017 to 2025. The market research method involved three stages: Desk research, Primary survey research, and Analysis & Output from the entire research process.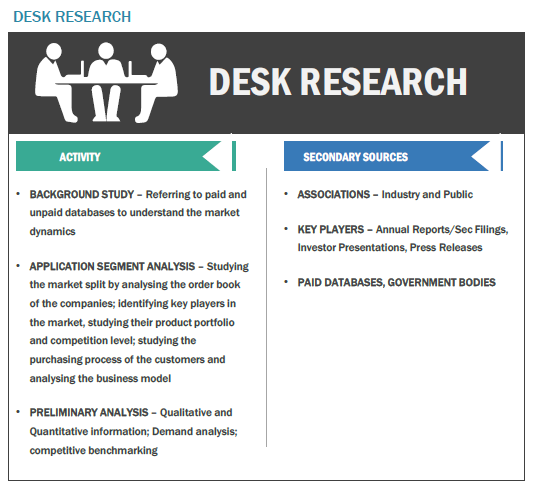 The desk research involved a robust background study which meant referring to paid and unpaid databases to understand the industry analysis; industry trends; market analysis; market trends; market dynamics; mapping contracts from press releases; identifying the key players in the market, studying their product portfolio, competition level, annual reports/SEC filings & investor presentations; and learning the demand and supply side analysis for the biodiesel market.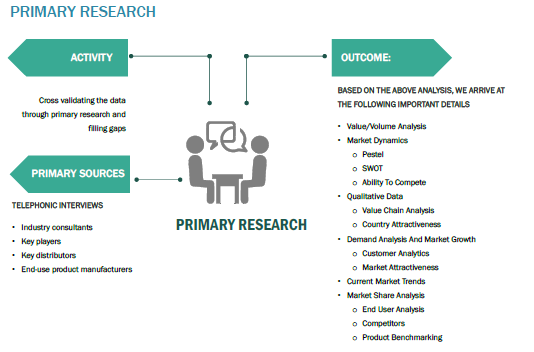 The primary research activity included telephonic conversations with more than 50 tier 1 industry consultants, VPs, CEOs, COOs, financial consultants, business consultants, strategy consultants, project management consultants, business management consultants, distributors, and end-use product manufacturers.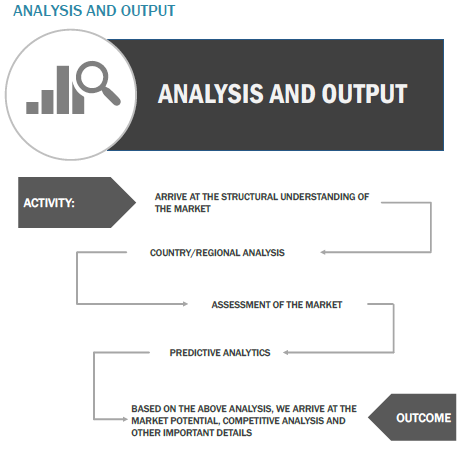 Finally, based on the above thorough research process, an in-depth analysis was carried out considering the following aspects: market attractiveness, current & future market trends, market share analysis, demand forecasting, SWOT analysis of the companies, and customer analytics.