The Global Automotive Fuel Tank Market accounted for USD 20.5 billion in 2020 and is projected to reach USD 26.29 billion by 2026. The market is recording a compounded annual growth rate (CAGR) of 4.23 per cent. The Global Automotive Fuel Tank Market is propelled by increasing vehicle production, including passenger and commercial vehicles, government support for alternate fuels, demand for lightweight vehicles for achieving a longer driving range, stringent emission norms that require minimum greenhouse gases emissions, and government initiatives pertaining to hydrogen infrastructure.
The average size of an automobile fuel tank is between 40 and 70 litres. The automotive fuel tank market is classified into three main categories in terms of capacity—less than 45 litres, 45–70 litres, and more than 70 litres. Within all the three segments, the largest market is for fuel tank capacity with 45-70 litres since the vehicle production for sedans and mini SUVs is growing at a fast rate in Asian and European countries like Japan, China, India, Germany, France, and Spain.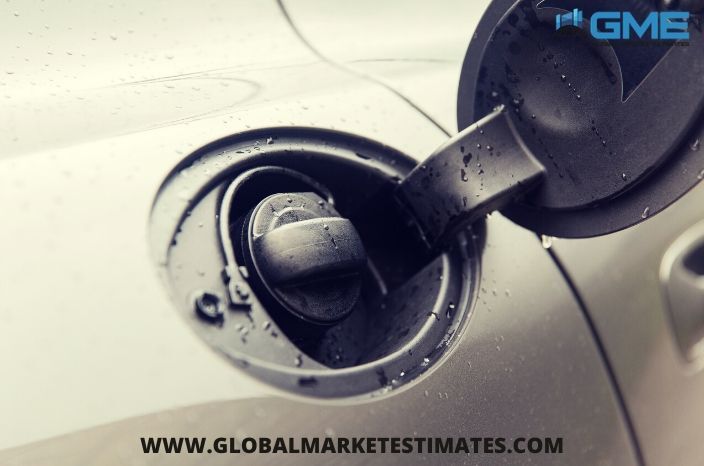 High Density Polyethylene to be the most extensively used material for automotive fuel tanks market. Plastic fuel tanks are principally produced using High Density Polyethylene (HDPE), making them lightweight and can be moulded as per the requirements of OEMs. The demand for plastic fuel tanks is higher as compared to metal fuel tanks, resulting in an increased demand for HDPE. These fuel tanks find application in almost every vehicle segment, including passenger cars, light and heavy commercial vehicles and so forth. As of 2020, plastic fuel tanks are projected to account for the largest share, in terms of both volume and value, of the global automotive fuel tank market. The demand for plastic fuel tanks is mainly propelled by increasing vehicle production and the rising trend of vehicle weight reduction, which has been triggered by stringent emission norms. Also, there is an increase in the number of passenger and commercial vehicles in developing countries like India as well as developed countries like Japan.
Geographically, Asia Oceania is projected to be the fastest growing in the global automotive fuel tank market. The Asia Oceania region is the largest automobile producer, owing to the increasing demand for passenger vehicles in the emerging countries, such as, China, India, Japan, and South Korea. China is the biggest manufacturer of vehicles in the world. India's commercial vehicle market has been growing in the recent years. Moreover, growing industrialization and improving developments in infrastructure in the Asia Oceania region is driving the growth of commercial vehicles. Also, the manufacturing and production of vehicles are growing at a fast pace due to foreign direct investments coming in countries like Thailand, Malaysia, and Vietnam. With this growth in vehicle production, the demand for automotive fuel tanks has increased in Asia Oceania.
Some of the key players in the global automotive fuel tank market include: Yapp (China), TI Fluid (UK), The Plastic Omnium (France), Textron-Kautex (Germany), Fuel Total Systems (Japan), Magna International (Canada), Yachiyo (Japan), Unipres (Japan), and SMA Serbatoi S.P.A. (Italy), and among others.
Request for a sample copy of the report @: Automotive Fuel Tank Market – Forecasts to 2026