The global antibiotic resistance market size accounted for USD 9.38 billion in 2020. The market is expected to record a CAGR of 6.3 per cent during the forecast period [2020-2026]. Owing to the high burden of antibiotic-resistant infections and emergence of multi-drug resistant pathogens, this market has witnessed augmentation.
According to a region-wise analysis, North America was the largest region in terms of revenue in 2017. Numerous drug launches in the market and high treatment cost are propelling the growth of the global antibiotic resistance market in this region. The U.S. continues to be a key revenue contributor in this region during the forecast period owing to the guidelines, such as those defined by IDSA for the treatment of CDI, are augmenting the use of novel therapies.
Europe succeeded North America as the second largest regional market across the globe in 2017, supported largely by rising number of antibiotic-resistant infections. Within the OECD countries, Greece, Italy, and Portugal occupied the top 3 consumers of antibiotics in the world, contributing to increased antibiotic resistance in this region.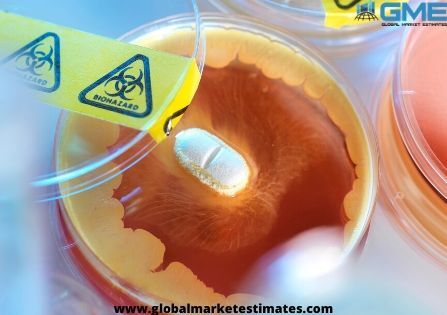 On the basis of disease type, the global antibiotic resistance market has been categorized into cUTI, cIAI, BSI, CDI, ABSSSI, HABP/VABP, and CABP. In this category, cUTI represented the largest segment in the market in 2017 as a result of high overall treatment cost and limited treatment alternatives for Gram-negative pathogens, which accounted for majority of the infection cases. Inadequate access to low-cost treatment options for Gram-negative infections limits admittance to recently approved branded therapies, such as, Allergan's Avycaz, Merck's Zerbaxa, and Melinta Therapeutics' Vabomere.
With respect to drug class, the global antibiotic resistance market has been segmented into oxazolidinones, lipoglycopeptides, tetracyclines, cephalosporins, combination therapies, and others, which includes multiple drug classes. Lipoglycopeptides are likely to control 17 per cent of the overall market revenue by 2026.
Some of the major pharmaceutical companies, such as GlaxoSmithKline, Johnson & Johnson, Novartis, and Sanofi, are at the forepart of the global pharmaceutical industry. However, they are less actively involved in clinical development of antibiotics. Most of the large pharmaceutical companies find the market incentivising enough due to relatively slower growth in revenues for marketed drugs and lower return on investments. For example, Novartis recently cancelled all plans to continue with R&D for its antibacterial drugs.
Whereas, on the other hand, there are several biotech companies including Melinta Therapeutics, Achaogen, and Nabriva Therapeutics who have undertaken the challenge of developing therapies for antibiotic resistance. Involvement of international organizations serves as a stimulus in the developed markets. Funding bodies such as BARDA are supporting biotech companies with financial support to complete early stage development of their novel therapies for antibiotic resistant infections.
Some of the major players in the global antibiotic resistance market include Pfizer, Merck, Allergan, and Melinta Therapeutics. As mentioned earlier, this market has fewer pharmaceutical companies entering the space, while the number of biotech companies such as Achaogen and Nabriva Therapeutics is higher.
Check the report description at: Global Antibiotic Resistance Market Size, Trends & Analysis - Forecasts to 2026