Cable drum generally refers to an object which is round in shape and carries different types of wires or cables, like, optic fiber, electrical, and other wire products. Cable drums can be made of different materials including plastic, plywood, wood, and steel. Wooden drums are most common and are manufactured from resinous wood, making it suitable to carry heavy loads. Discarded wooden drums are obtained at cheaper prices and are re-used furniture.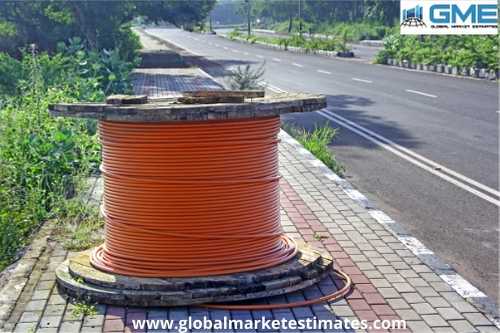 Over decades in the past, cable wood drums have been deployed to safely transport wires, conductors, and cables in major regions across the world. With the significant increase in investments for infrastructure development activities in the developing regions including the Asia Pacific and Latin America as well as because of the booming telecommunication sector in these regions, the global cable wood drum market is going to propel between 2018 and 2026.
However, despite a steady rise in the demand for cable wood drums over the last few years, growing environmental concerns have compelled companies to adopt a sustainable model so as to manufacture cable drums from eco-friendly alternatives, such as, steel. Moreover, some other factors that could hamper the growth of the global cable wood drums market during the forecast period include recurring drum costs and rising packaging weights. Although operators in the current market landscape are trying to negotiate their way through these challenges, a significant rise in production lines would assist operators to offer them lucrative opportunities in the coming years. According to a survey, the global cable wood drum market is expected to record USD 1.3 billion by 2026.
The global cable wood drum market is no exception as to the realization of the impact of global warming and environmental degradation which can be felt across a host of industrial verticals. Thus, numerous efforts have been made to improve sustainability, reduce waste and costs, and encourage second-hand wooden drums recycling. In the recent times, recycling of wooden drums has gained momentum and the trend is most likely to continue during the forecast period. Presently, the recycling of wooden drums at the commercial level has gained popularity in the developing regions due to a significant rise in the number of scrap cable sellers.
In order to maximize their profits, current cable wood drum companies are leaning toward recycling of their cable drums. Additionally, the general disposal fees is increasing at a notable pace each year across the different nations in the Asia Pacific region, companies are averse to the idea of paying these additional costs.
Companies in the current global cable wood drums market are looking at the benefits of the advent of internet of things (IoT) in order to improve the overall logistics of their cable wood drums. Some companies are even aiming at integrating their cable wood drums with trackers in order to simplify logistics management as well as minimize logistics costs. Companies in the global cable wood drum market are implementing newer technologies to improve the traceability of their cable wood drums to streamline real-time management.