The global colorless polyimide films market accounted for USD 1.45 billion in 2018 and is anticipated to reach USD 3 billion by 2026. Thus, the market is expected to grow at a compound annual growth rate (CAGR) of 12 per cent during the forecast period [2019-2026]. The demand from the Asia-Pacific region is expected to lead the growth of the global colorless polyimide films market over the forecast period.
Geographically, the Asia-Pacific region is anticipated to lead the polyimide films market in the upcoming years. The growth of this market in this region is primarily attributed to augmenting expendable incomes and rising demand for consumer electronics products. The Asia-Pacific region is also expected to witness the highest CAGR between 2019 and 2026. This would be due to the high demand for polyimide films from countries such as China, Japan, India, and South Korea.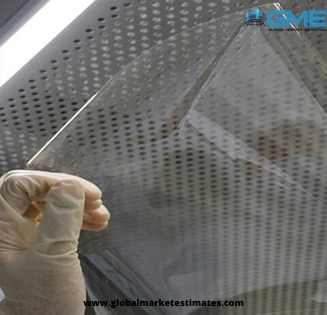 Major factors, such as, rapid industrialization, economic development, rising disposable income, and increasing digitalization have resulted in an increase in electronic consumerism. In recent times, electronics is the largest and fastest-growing end-use industry segment of the global colorless polyimide films market. The technical innovations has led to the growth in this sector. 3D TVs, smart TVs, smartphones, and tablets are some of the products witnessing high growth in this sector. Consumers have preferences for electronic products that are small, light, and thin. Thereby, there is a high demand for materials that are lightweight, durable, and reliable. Thermal stability along with superior mechanical and electrical properties has resulted in a strong demand for the global colorless polyimide films market.
One major challenge to be faced by the global colorless polyimide films market is high level of technical competency involved in the processing of polyimide films. Polyimides are a class of high-performance polymer materials represented by the imide functional group. Their primary properties of thermal stability and chemical resistance emerge from the structure of the polyimide backbone, whereas their mechanical strength is a result of the imide structure. Their strong resistance to heat and chemical can also lead to processing difficulties, namely, the lack of solubility, which results into other materials commonly being integrated into the polymer matrix.
With respect to application, the flexible printed circuits segment was leading the global colorless polyimide films market in terms of the largest share in 2017. The dominance of this sub-segment is mainly attributed to the extraordinary properties of polyimide films that make them a preferred material in numerous end-use industries, such as electronics and automotive.
On the basis of end-use industry, the electronics segment occupied the largest share of the global polyimide films market in 2017. Polyimide films have good mechanical and electrical properties as compared to other thermoplastic films and are extensively used in several applications of the electronics industry. Let us consider an example of polyimide films being used as a base material for flexible printed wiring assembly, owing to their excellent mechanical and thermal stability and low dielectric constant.
The major players dominating the global colorless polyimide films market include E. I. du Pont de Nemours and Company (US), Toray Industries Inc.(Japan), SKC Kolon PI Inc. (South Korea), Kaneka Corporation (Japan), Ube Industries (Japan), Taimide Tech. Inc. (Taiwan), Arakawa Chemicals Industries Inc. (Japan), Shinmax Technology Ltd. (Taiwan), FLEXcon Company, Inc. (US), among others.
Check the report description at: Global Colorless Polyimide Films Market Share, Trends and Analysis-Forecasts 2026