The Global Endotracheal Tubes Market was projected to be valued at USD 1.91 billion in 2020. The market is expected to exhibit a CAGR of 6.25 per cent over the forecast period (2020-2026). The endotracheal tube is of two types, namely, orotracheal tube and nasotracheal tube. The orotracheal tube is placed through the mouth, while the nasotracheal tube is rooted through the nose into the trachea. Both types of tubes are used for anaesthesia management.
With the advancement of healthcare facilities and modern technologies, conducting surgeries of vital organs have become easier. Anaesthesia endotracheal tubes make it easy for the surgeons to sedate the patient and conduct the surgical procedure. In addition, these tubes are administered to and used by the patients of all age groups with breathing or lung problems. This has been a major factor driving the global endotracheal tubes market. Owing to growing industrialization, which has led to rise in air pollution and lifestyle changes, are responsible for increasing incidence of respiratory diseases. This has been a major reason propelling the global endotracheal tubes market. Increasing incidence of other respiratory diseases, lung diseases, and breathing disorders are also known to drive the global endotracheal tubes market.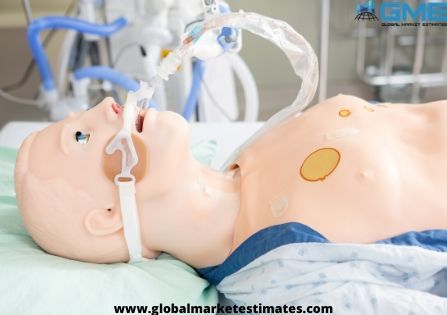 There has been a high demand for home-based therapy and modernization in video laryngoscopes which has also driven the global anaesthesia endotracheal tubes market. However, some of the major factors restraining the growth of this market comprises complications in the anaesthesia delivery system, availability of a small number of skilled medical practitioners to perform critical surgeries with perfection, and growing preference to laryngeal masks over anaesthesia endotracheal tubes. The restraining factors would be prominent during the forecast period.
Another issue is that the endotracheal tubes are prone to fungal and bacterial contaminations that may result into fatal respiratory infections. Positioning the tube inadvertently positioned in the oesophagus may dig up challenge to respiration. This, in turn, may lead to cardiac arrest, brain damage, or eventual death. Moreover, very deep placement may lead to partial ventilation, thereby resulting in pneumothorax. Such scenario is likely to be a major cause to hinder growth of the global endotracheal tubes market during the forecast period.
With respect to the end-user, the global endotracheal tubes market can be segmented into hospitals & clinics and ambulatory surgical centers (ASCs). Based on the geographical segmentation, the global endotracheal tubes market can be segmented into North America, Europe, Asia Pacific, Latin America, and Middle East & Africa. North America is the leading market for anaesthesia endotracheal tubes, given the respiratory disorder-prone lifestyle of people in this region and a large number of elderly populations. Apart from North America, the Asia Pacific region is an expanding market due to increase in the incidence of respiratory diseases in the region.
Some of the key players operating in the global endotracheal tubes market include C. R. Bard, ConvaTec, GE Healthcare, Medline Industries, Medtronic, KindWell Medical, ROYAX, Fuji Systems, Smiths Medical, Teleflex, Neurovision Medical, and Intersurgical.
Check the report description at: Global Endotracheal Tubes Market Size, Trends & Analysis - Forecasts To 2026