The market for global flavonoids has witnessed rapid growth in recent times owing to its numerous applications in functional food and beverages, cosmetics, pharmaceuticals, and dietary supplements. The global flavonoids market is likely to record a compound annual growth rate (CAGR) of 4 percent in the forecast period of 2021-2026. Flavonoids comprise naturally occurring groups of phytonutrients including antioxidant properties and are commonly found in various plants. Flavonoids add color to any vegetable (like carrot, broccoli, peppers, eggplant), fruit (like berries, citrus fruits, squash), grain (like soybean), or flower. As a result, flavonoids can be used as sweetening and coloring agents in the global food industry. Flavonoids are also known to prevent cancer cell growth and infections and act as a cure for stomach ulcers.
However, one of the challenges of the global flavonoids market is the sluggish demand resulting from strict regulations on dietary supplements. This is because there are certain side effects to supplements. For example, a large amount of flavonoid intake through the consumption of supplements could harm health.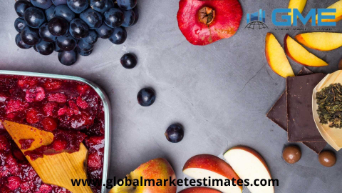 Product-wise, the global flavonoids market is dominated by anthocyanins, flavones, and anthoxanthins. Among these products, anthocyanins occupied the majority of the share in terms of volume and value in 2019. This is owing to the increased consumption due to growing awareness about wellness and health. The market for flavones is expected to witness the highest CAGR over the forecast period. Flavones are useful in the pharmaceuticals and personal care industries as they consist of anti-tumor, anti-inflammatory, anti-oxidant and anti-microbial properties.
Based on application, the functional beverages segment occupies the largest share of the global flavonoids market. This segment of the product is known to improve metabolic processes in the myocardium, thereby preventing thrombus formation. Consuming flavonoid-infused drinks leads to improving the immune system, regulate the problems of anthropogenesis, and inhibit the teratogenic mutagenic carcinogenic effect, resulting in boosting the market's growth in the forecast years.
Region-wise, North America is the largest market occupying more than 35 percent of the global revenue in 2019. The country has undergone an increasing number of incidences of preventable, diet-related chronic ailments including type 2 diabetes, cardiovascular diseases, overweight, and obesity. This has led to an increased demand for dietary products such as flavonoids. On the other hand, the Asia-Pacific region (APAC) has witnessed significant growth resulting from the rising consumption of nutraceutical products. This is pertaining to the changing consumer lifestyles, growing young demographics and rising popularity of sports is likely to impact the industry positively during the forecast period. In China and Japan, the improving standards of living and rising disposable incomes of consumers are likely to boost the growth of the global flavonoids market.
Some of the prominent players in the global flavonoids market include Cayman Chemical Company, Toroma organics Ltd, Quercegen Pharmaceuticals, Phytocompounds, Foodchem International Corporation, Extrasynthese, Pharmachem Laboratories Inc., Organic Herb Inc., Indena S.p.A., and INDOFINE Chemical Company, Inc., among others.
Check the report summary at https://www.globalmarketestimates.com/market-report/flavonoids-market-3008