The global induced pluripotent stem cells (iPSC) market is estimated to grow at a compound annual growth rate (CAGR) of 9 per cent for the forecast period [2020 to 2026]. The Induced Pluripotent Stem Cells (iPSC) refer to skin or blood cells that have been reprogrammed back into an embryonic-like pluripotent state that allows the development of an unlimited medium of any type of human cell needed for therapeutic objectives. The unique properties of iPSC cells offer extensive potential to numerous biopharmaceutical applications. The Induced Pluripotent Stem Cells are also implemented in toxicology testing, high throughput, disease modelling, and target identification. This type of stem cell has the ability to transform drug discovery by providing physiologically relevant cells for tool discovery, compound identification, and target validation. It is a novel medical procedure exercised for the treatment of cardiac arrhythmias and liver, prostate, kidney, lung, among other forms of cancer.
Region-wise, North America dominates the global induced pluripotent stem cells (iPSCs) market owing to increasing number of clinical trials and research while Europe will grow at the highest CAGR due to growth in the contact research industry.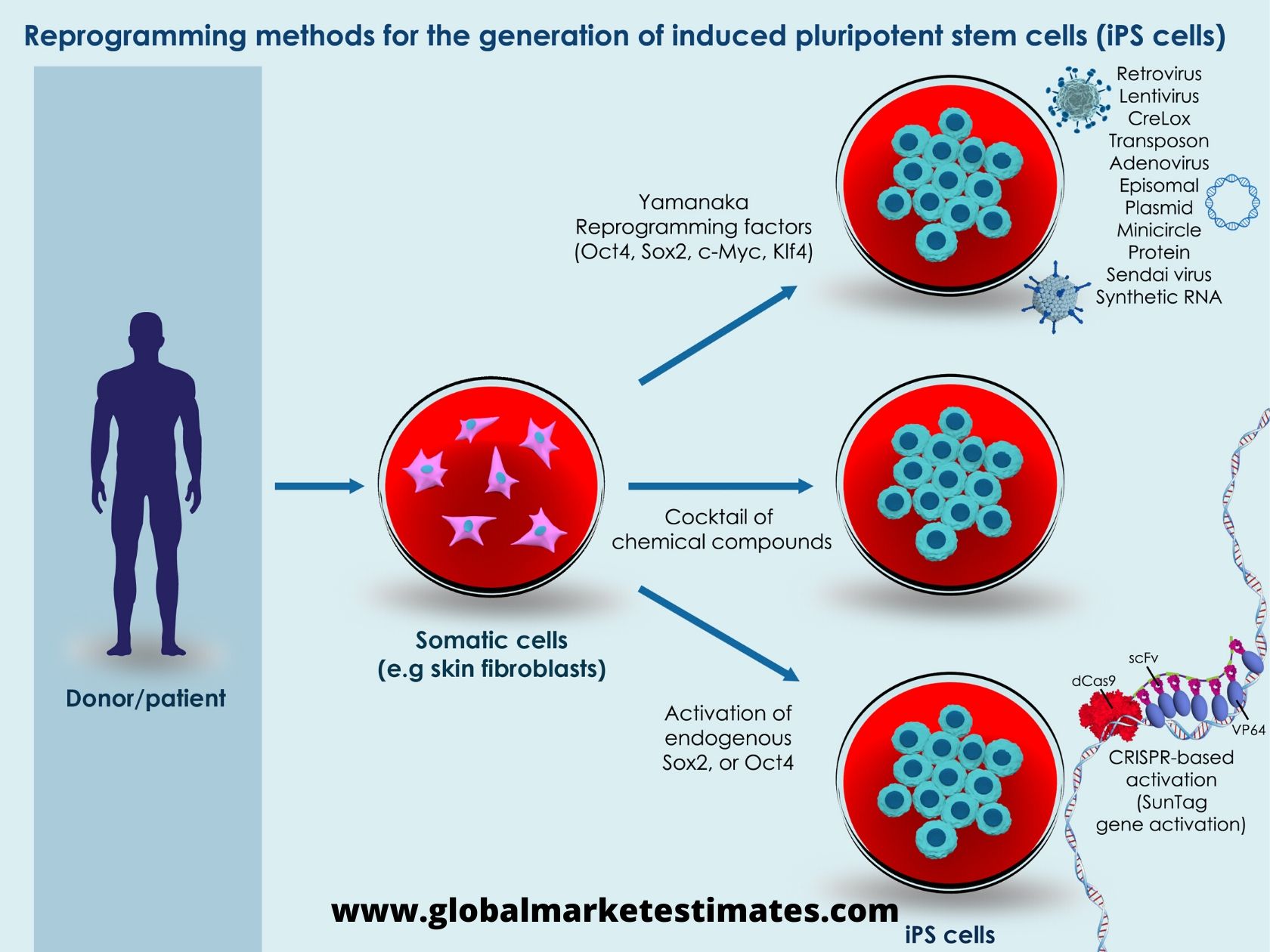 The global induced pluripotent stem market is mostly segmented into hepatocytes, fibroblasts, keratinocytes, amniotic cells, among other cell types. The global induced pluripotent stem cells market is evolving speedily. The primary factor for inclination towards application of induced pluripotent stem cells is their ability to make any cell or tissue required by the body to defend or combat diseases such as leukemia, spinal cord injury, heart disease, and diabetes. Another advantage is that iPSCs can be created from the tissue of the same patient that will obtain the transplantation, thus averting immune rejection. Other reasons supporting the growth of the global induced pluripotent stem market are the augmenting research funding, growth in number of genomics projects, and growing use of genome engineering in personalized medicine. However, adverse public of genetic research is likely to restrain the growth of the market.
Some of the key players engaged in the global induced pluripotent stem cells (iPSCs) market comprise Thermo Fisher Scientific Inc., Lonza Group AG, Evotec A.G., ViaCyte, Inc., FUJIFILM Corporation, Horizon Discovery Ltd., Takara Bio Inc, Cell Applications, Inc., Fate Therapeutics, Celgene Corporation, and Astellas Pharma Inc., among other domestic and global players.
Check the report description at: Global Induced Pluripotent Stem Cell Market, Size, Trends & Analysis - Forecasts To 2026