Since technological advancement and internet gaining popularity all over the countries across the globe, the Internet of things (IoT) system came into existence. IoT is a system of interrelated computing devices, mechanical and digital machine which does not require human-to-human or human-to-computer interaction to transfer data over a network. The IoT devices include connected cars, wearable, smart appliances, and smart meters among others, and are connected through sensors. About 19.92% of industrial organizations are expected to adopt IoT in 2020. IoT stats shows that 68% of the business leaders in this sector use IoT for monitoring and maintenance, and 54% for remote operations. Increased demand and usage of IoT requires management of the devices. The IoT device management is the process of authenticating, provisioning, configuring, monitoring, and maintaining the device firmware and software that provides its functional capabilities. This creates a high demand for the IOT device management market.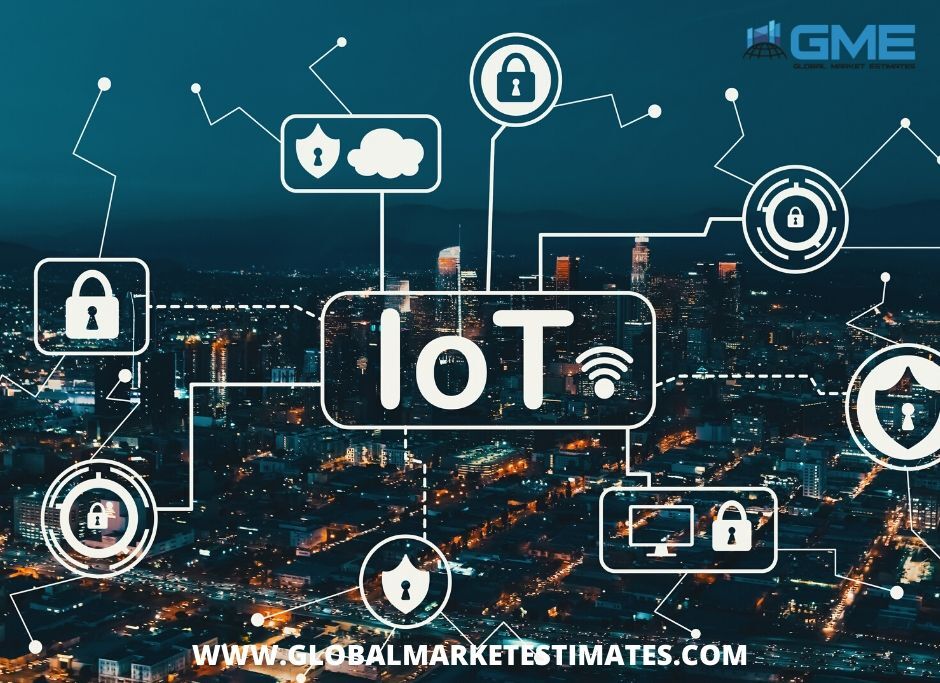 According to a new market research report published by Global Market Estimates, the global IoT device management market, based on its components is segmented into solution and service. The solution segment is expected to grow in the future period, owing to security concerns. Based on solution, the global IoT device management market is classified into data management, real-time streaming analytics, remote monitoring, and bandwidth management. The security solution is shooting up in the IoT device management market, as security concerns are increasing among clients who are availing IoT solutions, in which security of data becomes complex owing to the non-standardization and non- compatibility of devices. Additionally, it becomes easier for hackers/ attackers to perform malicious activities due to such varied protocols, applications, and devices. Thus, IoT vendors are investing a large amount of capital in research & development of security solutions. The service segment is also expected to grow because services help organizations to easily deploy software on the cloud. The service segment is further classified into professional services and managed services, among which professional services is expected to grow at a high CAGR in the coming years.
Based on organization size, the global IoT device management market is segmented into small and medium enterprises (SMEs), and large enterprises. SMEs employed workers between the range of 100 and 1000. SMEs are expected to grow in the future period as increasing competition has prompted SMEs to invest in this new technology and adopt go-to-market strategies to make an efficient decision for business growth.
The global IoT device management market is further segmented into a public cloud, private cloud, and hybrid cloud, based on development. The hybrid cloud development model is expected to grow at the highest CAGR because it reduces the overall cost while providing highly flexibility and scalable access to the clients. The vendors are providing a hybrid cloud-based development model to reduce the infrastructure cost for clients.
The application area is segmented into smart manufacturing, smart utilities, smart retail, and connected health among others. The smart retail market is on a rise because of large online purchases across the globe. The smart manufacturing market is projected to grow because the IoT device management solution is widely used in the production, procurement, and storage of goods/ materials.
Despite the rapid adoption of IoT device management in various application areas, there is a continuous exposure to security issues and lack of standardization, which are some of the challenging factors for the growth of this market.
Among different regions across the globe, North America is estimated to hold the largest market share. This region has a major dominance because of its sustainable and well- established economy, technological advancement, strong investment in research & development activities which leads to the development of new technologies in IoT security and analytics. Asia Pacific region is also expected to witness considerable growth in the IoT device management market due to the rapid expansion of its industries, dynamic adoption of smart cities and increasing investments by the government in IoT initiatives. Apart from this, increased foreign direct investment is one of the major factors propelling the growth of the IoT devices management market in the Middle East and Africa.
Since the above segments of the market are expected to grow in the coming years, it creates various opportunities for vendors and others to expand their horizons. Aries, Bosh Software Innovation GmbH, Microsoft Corporation are some of the key players operating in the Global IoT Device Management Market. It can be concluded that the IoT device management market has a large potential to grow in the upcoming years, which provides more business opportunities.
Browse through the report description @: Global IoT Device Management Market – Forecasts to 2026