Isomalt refers to a synthetic sugar alcohol and bulk sweetener which could be applied as a substitute for table sugar. Just like the other sugar alcohols, isomalt is derived from natural sources, such as, sugar beets. But it is generally not considered a natural product due to the extensive processing that it has to undergo. For industrial applications, isomalt is prepared from sucrose via a two-step enzymatic and chemical process.
Due to its low-calorie content, texture and taste that are similar to common sugar and other similar properties, isomalt is treated as an attractive product in various foods. It is widely used in variety of products that require sweetening like candies, dessert toppings, chewing gums, beverages and baked goods. Some of the major factors that influence the global isomalt market depend on the benefits it offers from an industrial point of view and the value it adds to consumers in terms of health. However, the presence of several sugar substitutes with a varying degree of prices and calorie contents makes the global isomalt market quite competitive. Price is a drawback in the global isomalt market as it is almost five times as costly as common sugar.
Such sugar substitutes or products have been purchased by consumers looking for weight management, diabetics or other patients with health conditions which are intensified by fats and sugars. But, the decision to purchase such products is a function of numerous other factors, such as, relative price, calorie content as well as the glycemic index (GI). In terms of calories and GI, isomalt contains about 2 calories per gram (2.4 calories per gram in EU) in contrast to table sugar, which contains about 4 calories per gram. The GI is a measure of how quickly a food can raise blood sugar levels.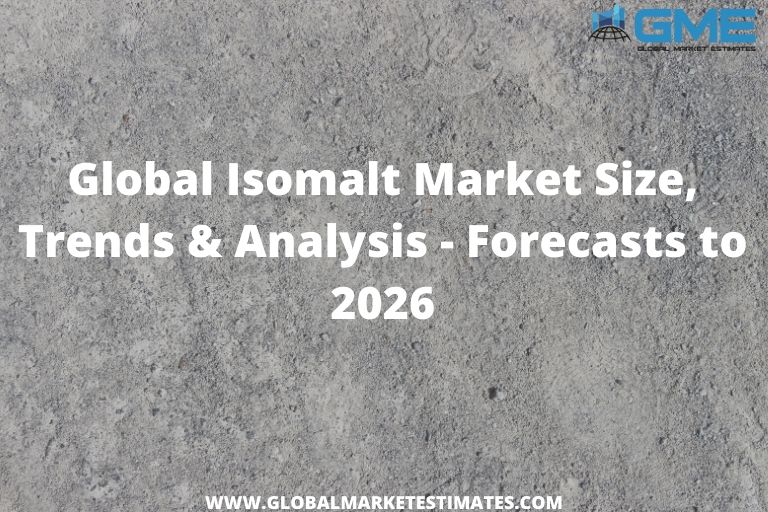 From a regulatory point of view, isomalt is approved for consumption in most countries. The U.S. FDA has also accepted a petition to grant isomalt as 'Generally Recognized as Safe' (GRAS) label. However, despite the favourable regulation for use of isomalt as an ingredient, labelling it with certain claims has been prohibited in certain regions. For instance, as per EU regulation food products containing labels such as 'diabetic' or 'suitable for diabetics' are banned.
The Asia-Pacific region is likely to register a high CAGR between 2019 and 2026. This is because Japan and China are the emerging producers of isomalt in this region. The growing food & beverage industry along with rapid increase in population across the region is one of the major factors driving the market growth. Europe is expected to hold the highest market share during the stated period. The presence of several isomalt manufactures and producers in the region along with abundant supply of key raw material for production of isomalts are the some of the major factors propelling the market growth in the region. The rising demand for isomalt products within the home bakers is also expected to boost the market growth in this region.
A recent report on the global isomalt market was published by Global Market Estimates Research and Consultants (GME) in March 2020. The market can be segmented on several grounds. On the basis of raw material type, the global market is segmented into genetically modified and non-genetically modified. On the basis of application, the market is segmented into food, beverages and pharmaceuticals among others. On the basis of region, the global market is segmented into North America, Europe, Asia Pacific, Central & South America and Middle East and Africa. The countries covered include: U.S., Canada, Mexico, Germany, France, UK, Italy, Spain, China, India, Japan, South Korea, Australia, Brazil, Saudi Arabia, UAE, and South Africa among others.
The key end-users of the markets are JBS, Nestle, Coca Cola, and Kraft Foods among others. Some of the key players operating in the Isomalt market are Roquette Freres, BENEO GmbH, Cargill, Incorporated, A & Z Food Additives Co., Ltd., Ingredion Inc., Atlantic Chemicals Trading GmbH (ACT), and Sanxinyuan Food Industry Corporation Limited among others.
Press Release published by Global Market Estimates Research & Consultants: Global Isomalt Market Research Report - Forecasts to 2026