Back in 2015, the global mannitol market size was valued at USD 209.4 million. Mannitol is extensively used to coat confectionery products like candies and gums for its unique non-hygroscopic properties. Mannitol exhibits similar sweetening property as sugar being a type of polyols. But mannitol contains fewer calories. With increasing demand for sugar-free chewing gums due to changing dietary trends and food consumption patterns is expected to aid the market demand in the ensuing years. The major factors that are driving the global mannitol market include growing population, changing lifestyle, and increase in some diseases across the urban areas. This product is used as excipients in the pharmaceutical industry to formulate pharmaceutical products along with treating diseases related to kidney, brain and heart. Additionally, mannitol is also used as a bulking agent for tableting applications. These trends are anticipated to benefit the growth for the global mannitol market in the next six years.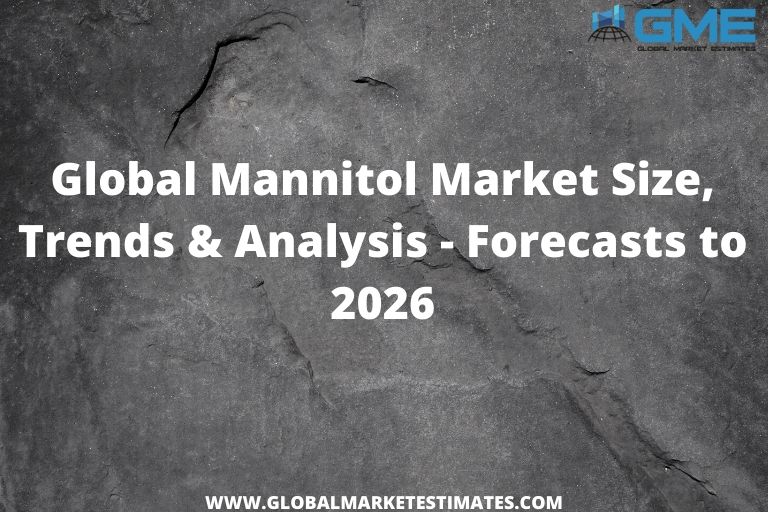 Mannitol exhibits some advantages and is mostly preferred by manufacturers owing to its good water solubility scope, low moldability, lesser sensitivity towards humidity and good wetting characteristics. Expansion of confectionery & baked food products demand and health awareness among consumers in developing regions are also expected to aid the global mannitol market. Also, because of its less calorie content, mannitol is increasingly gaining prominence among people suffering from diabetes. More number of geriatric and traveling patients who may not have ready access to water are most in need of chewable tablets or gums. There is a cooling sensation felt in the mouth due to the inclusion of mannitol in it. All these factors are supposed to positively affect the overall market growth in the future years. People are increasingly preferring sugar-free products among consumers due to health consciousness and changing lifestyle. This, along with the R&D initiatives, and absence of side effects of mannitol create ample opportunities for the global mannitol market across healthcare applications.
However, at present the prices of mannitol are high due to its usage in various applications but are anticipated to show a downward trend. This would be owing to its laxative property over the next eight years. Moreover, recent technological advancements are being made to produce mannitol with the help of cheaper raw materials. Innovations are under process for production with lactic acid bacteria which is expected to increase the yield coupled with high purity quality.
A recent report on the global mannitol market was published by Global Market Estimates Research and Consultants (GME) in March 2020. The market is segmented on several grounds. On the basis of form type, the global market is segmented by granular form, and powder form. On the basis of application, the global market is segmented into pharmaceutical, food, medical, and chemical industries. On the basis of region, the global market is segmented into North America, Europe, Asia Pacific, Central & South America and Middle East and Africa. The countries covered include: U.S., Canada, Mexico, Germany, France, UK, Italy, Spain, China, India, Japan, South Korea, Australia, Brazil, Saudi Arabia, UAE, and South Africa among others.
The key end-users of the market are Aria Foods, Associated British Foods, and Sunland Chemical, among others. Some of the key players operating in the mannitol market are Cargill, SPI Pharma, Roquette Frères Company, Pfanstiehl, Inc., Ingredion, FREUND Corporation, Qingdao Bright Moon Seaweed Group Co., Ltd., Singsino Group Ltd., Qingdao Yuanrun Chemical Co. Ltd., Moga International Ltd, Merck Millipore Corporation, Rongde Seaweed Co.,Ltd, and Hebei Huaxu Pharmaceutical Co. Ltd among others.
Press Release published by Global Market Estimates Research & Consultants: Global Mannitol Market Research Report - Forecasts to 2026