The global ozone generator market is expected to generate revenue amounting to USD 650.68 million in 2020, and is projected to reach to USD 977.3 million by 2026, growing at a CAGR of 6.95% over the forecast period.
Expanding industrial sector along with rising investments towards up-gradation and expansion of wastewater treatment facilities are the major factors expected to propel the market growth during the forecast period. Rapid urbanization across developing economies coupled with growing demand for water purification and wastewater treatment systems are driving the market growth for ozone generator. The ozone reacts with the pollutants and can effectively remove bacteria, microorganisms, odours, impurities, and metals from water or air. Increasing government measures towards improving water and outdoor and indoor air quality across urban cities are further propelling the market growth during the forecast period.
Furthermore, the European ozone generator market is estimated to be USD 195 million in which Germany holds the largest share of ~45% by country. Hence, the total market of Germany in 2020 is estimated to be around USD 87.7 million with a CAGR of around 6.8% to reach USD 130.4 million in 2026.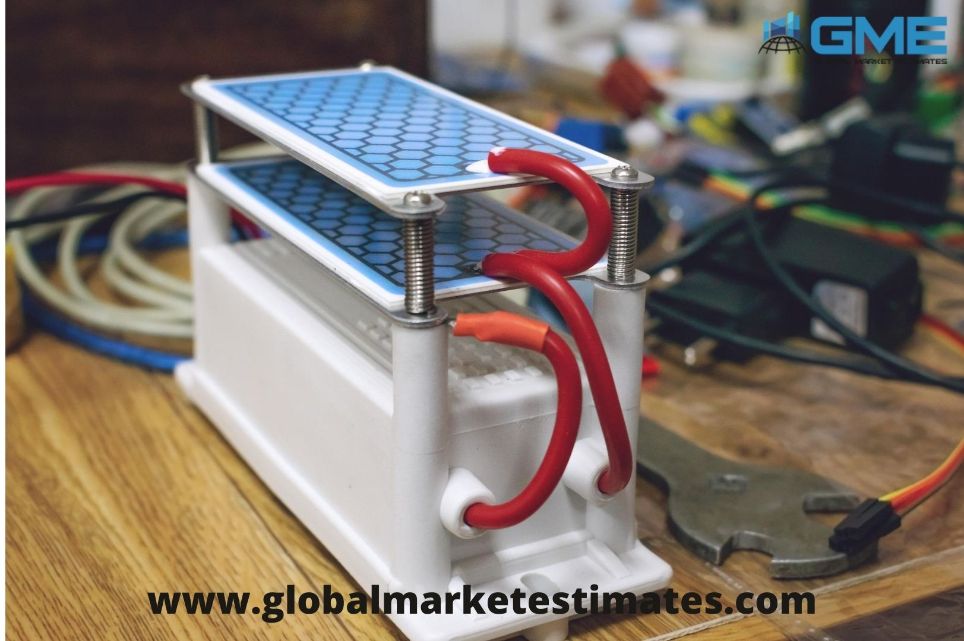 The top players in the ozone generators market are SEWEC OZON GmbH, Ozono Elettronica, Internazionale/Spartanwatertreatment, Ozonetech, Erwin Sander Elektroapparatebau GmbH, Rheno Umwelttechnik AG, Kaufmann Umwelttechnik GmbH, Ingapres S.L., Eco Sensors - Division of KWJ Engineering Inc., MAT Filtration Technologies and ESCO International (EI) among others.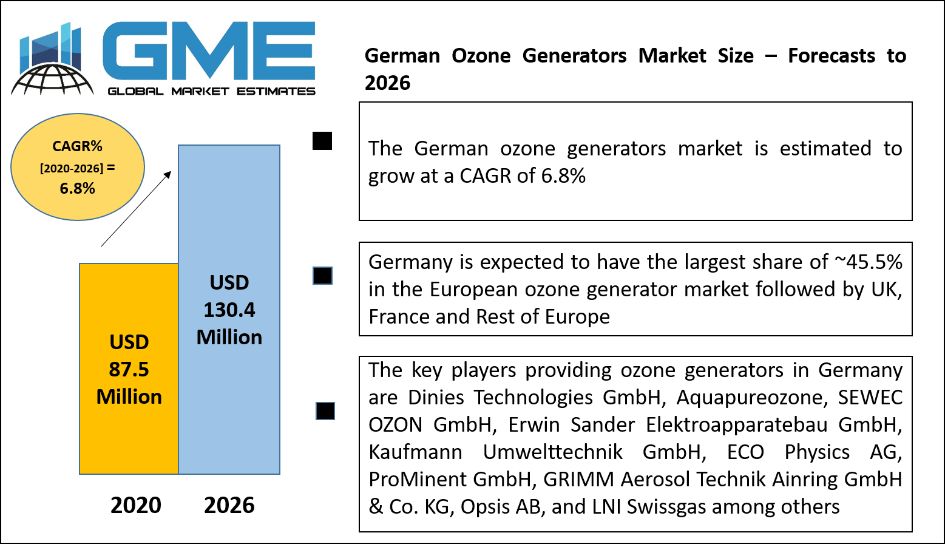 The increasing rate of industrialization mainly in Germany has been one of the major factors causing water pollution. Also, Germany has been considered to be the leader in wastewater management industry and has strict regulations to manage industrial waste water and household drinking water.
In Germany, the largest use for ozone resides in the use of treatment of municipal drinking and wastewater. In order to disinfect the polluted water and make it safe drinkable and useable, regulatory bodies across Germany have been supporting the use of ozone generation technologies.
For instance, Landeswasserversorgung (One of Germany's top water supply companies), opted for a state-of-the-art ozone system in order to upgrade its Langenau treatment plant. This plant treats the drinking water supplies to more than 250 cities and towns, including Stuttgart, Ulm and Aalen, with an annual output exceeding 23,775 million gallons per day.
Moreover, river water from the Danube River is disinfected using a combination of flocculation, ozonation and multilayer filtration. Furthermore, rising demand for air pollution monitoring in automotive, construction, food & beverage and healthcare industries will propel the German market to grow exponentially. Below are the statistics pertaining to driving factors which make Germany to be the leader in the ozone generator market.
However, the growing awareness regarding the adverse health effects associated with ozone may hamper the market growth during the forecast period.
Check the Global Ozone Generator Market Size, Trends & Analysis with Covid-19 Impact - Forecasts to 2026 report at: https://www.globalmarketestimates.com/market-report/global-ozone-generator-market-2199