Propyl gallate refers to an ester which is formed by the condensation of propanol and gallic acid. Propanol is the main alcohol that is formed naturally in small amounts during the various fermentation process. Whereas, gallic acid is procured from witch hazel, sumac, tea leaves, gallnuts and a variety of other plants.
Propyl gallate is primarily used as a food additive. It is added to foods comprising fats and oils and it acts as an antioxidant to protect against oxidation caused by free oxygen radicals and hydrogen peroxide. Propyl gallate, as a food additive, is commonly found in various food products, such as, meat products, soup mixes, chewing gum, mayonnaise, microwaveable popcorn, and other frozen and processed foods. Propyl gallate is used in packaging material and also used in some lubricants and adhesives. As an antioxidant, propyl gallate is extensively being used in cosmetic, in products such as bath products, skin care products, skin cleansing products, makeup products, sunscreen, lotion and various others. Therefore, the demand of propyl gallate is anticipated to significantly increase in cosmetics over the forecast period.
The global propyl gallate market is categorized across North America, Latin America, Western Europe, Eastern Europe, China, SEA and others of APAC, Japan and Middle East & Africa. The Asia Pacific region is expected to be a large market for Propyl Gallate given that majority of the Propyl Gallate vendors such as Leshan Sanjiang Biotech Co., Ltd., Hunan Linong Technology Co., Ltd. and Tianxin Medical&Chemical Industry Co. Ltd. are based in this region. Due to increasing concerns about health and increasing awareness in the North American region is also boosting the adoption of Propyl Gallate. Moreover, the growing popularity of Propyl Gallate in developing regions, such as APEJ, Latin America and parts of Africa, is attributed to the increasing awareness amongst people about the benefits of Propyl Gallate. Rising disposable income among people in the countries mentioned above is likely to augment the scope of penetration of Propyl Gallate in these regions in the ensuing years.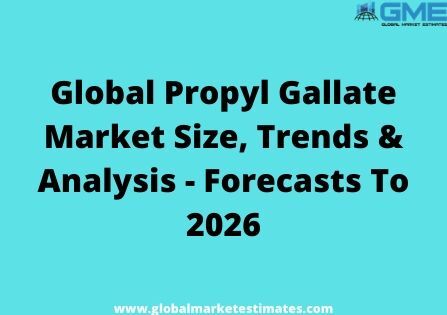 The Asia Pacific region is attributed to be the prominent market for propyl gallate and is estimated to witness substantial growth as a result of the rising urban population, rising self-awareness, and personal health consciousness, along with an increasing consumption of processed and packaged food. Developed market regions such as North America and Europe, are estimated to be the promising markets for propyl gallate due to the high consumption of packaged and processed food products, and cosmetics & personal care products. However, the increasing demand for bio-based products in Europe and North America regions has been creating ambiguities regarding the growth of the global propyl gallate market. With changing demographics, the demand for packaged food and personal care products in Latin America, Middle East & Africa has increased. The regions in combination is likely to establish substantial opportunities for the global propyl gallate market.
Some of the key market participants operating in the global propyl gallate market include Impextraco NV, Wufeng Chicheng Biotech Co.,Ltd., Leshan Sanjiang Bio-tech Co., Ltd., Kemin Industries, Inc., VEEPRHO PHARMACEUTICALS s.r.o, Minakem, Gallochem Co., Ltd., Haihang Industry Co., Ltd., Zhushan County Tianxin Medical & Chemical Industry Co., Ltd., and Xiangxi Gaoyuan Bio-technology Co., Ltd. among others.
Check the report description at: Global Propyl Gallate Market Size, Trends & Analysis- Forecasts to 2026