The global RNA sequencing market size is projected to grow from USD 2.06 billion in 2020 to USD 6.02 billion by 2026, recording a CAGR of 19.61 per cent during this period. The growth of the global RNA Sequencing market is primarily augmented by the advantages of RNA sequencing over conventional technologies, an increasing number of RNA sequencing grants, increasing number of research activities involving RNA sequencing and rapid growth in precision medicine market.
The global RNA sequencing is categorised on the basis of product and service. The sub-categories include RNA sequencing platforms & consumables, RNA sequencing services, and data analysis, storage & management. The RNA sequencing platforms and consumables segment accounted for the largest share of the global RNA sequencing market, by product & service, in 2018. The growth of this sub-category is likely to be attributed to the continuous technological advancements witnessed in this market and the increasing availability of innovative and cost-effective sequencing platforms.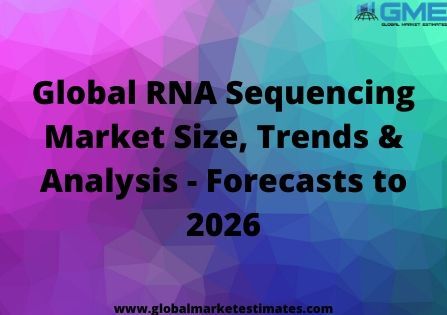 Based on technology, the NGS-based RNA sequencing market is segmented into sequencing by synthesis, ion semiconductor sequencing, single molecular real-time sequencing, and nanopore sequencing. With respect to segregation by technology, sequencing by synthesis segment accounted for the largest share of the global RNA sequencing market, in 2018. The dominance of this sub-category with this segment is driven mainly by the development of new and advanced NGS platforms and the increasing demand for Illumina's systems, as it is the major provider of NGS platforms that use the SBS technology (including the HiSeq and MiSeq series, NextSeq, and HiSeq X Ten).
Based on region, the global RNA sequencing market is categorized into North America, Europe, the Asia Pacific, CSA, and the Middle East & Africa. As of 2018, North America accounted for the largest share of the global RNA sequencing market. The growth in this region is primarily attributed to the government support through funds for genomics research, advancements in RNA sequencing products, growing prevalence of target diseases, increasing research on cancer and inherited rare diseases, and the strong presence of key players such as Illumina (US), Thermo Fisher (US), and Agilent Technologies (US).
Some of the key players in the global RNA sequencing market include Agilent Technologies, Inc. (US), BGI (China), PerkinElmer Inc. (US), QIAGEN (Germany), Illumina (US), Thermo Fischer Scientific (US) and Oxford Nanopore (UK), F. Hoffmann-La Roche Ltd (Switzerland), Takara Bio Inc. (Japan), GENEWIZ, Inc. (US), Eurofins Scientific (Luxembourg), Macrogen (South Korea), Hamilton Company (US), Zymo Research (US), and Tecan Genomics, Inc. (Switzerland) among others.
Check the report description at: Global RNA Sequencing Market Size, Trends & Analysis - Forecasts to 2026