The global silicone sealants market is projected to witness a high CAGR in the coming years. The key driver for the market growth is majorly due to the growing consumption of silicone sealants in the construction industry. The global silicone sealants market growth is owing to the superior chemical and physical properties of the products, including, resistance to chemicals, high and low temperatures, and weathering along with durability and strength.
Silicone sealants that are used in construction sector are viscous and have ability to tolerate shear force. The phenomenal properties of silicone are additionally enhanced by additives included in the production of sealants. These additives help in improving thermal, electrical, and mechanical resistance, and add characteristics comprising improved adhesion, UV resistance, and pigmentation.
Silicone sealants applied in the construction industry is beneficial in various ways. Silicone helps in achieving durability of exterior paints and coatings, ensure long-term maintenance and maintains appearance of façade, ensures reinforcement of natural strength and weather-ability of old joints and structures, and improves energy efficiency of the building. As a result, the growth of the building and construction industry is likely to have a direct and positive influence on the demand of silicone sealants during the forecast period.
Growing popularity of lightweight automobiles and electric vehicles is likely to further drive the market growth. Application of silicone sealants in the automotive industry helps in weight reduction of vehicles and in improving weather resistance and mechanical performance. According to the International Energy Agency, the number of electric vehicles on the road are expected to reach 125 million by 2030 from 3.1 million in 2017. This is a positive sign for the global silicone sealants market.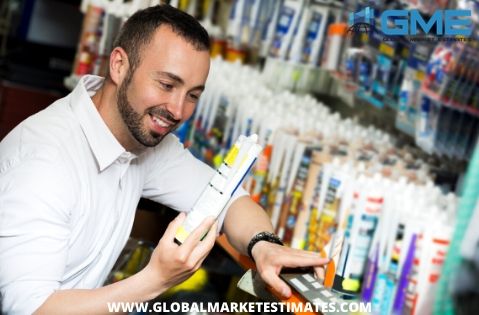 On the basis of technology, the global silicone sealants market is segmented into room temperature vulcanizing (RTV), thermoset or heat cured, radiation cured, and pressure sensitive. RTV captured the largest market segment as of 2018, accounting for a volume share of 65.4 per cent. The key drivers for RTV is increasing penetration of acetoxy, alkoxy, and oxime silicone sealants in structural applications in building & construction and automotive industries.
With respect to revenue, radiation cured segment is anticipated to record a growth rate of 5.7 per cent, during the review period. Thermoset or heat cured is estimated to be the fastest growing segment, in terms of revenue. It is likely to record a growth rate of 6.2 per cent, over the forecast period.
On the basis of application, the silicone sealants market is segmented in construction, insulating glass, automotive, industrial, and many others. The construction segment is expected to grow at a CAGR of 6 per cent, in terms of revenue, during 2020-2026. Silicone sealant is used in construction industry for numerous purposes such as bathroom & kitchen fittings, floor gap sealing, fire rated joints around pipes, electrical conduits, ducts and electrical wiring within building walls and ceilings.
Region-wise, North America is expected to register a CAGR of 4 per cent, on the basis of volume, during the forecast period. Europe held the second largest share of 29.8 per cent in 2018, in terms of revenue. Asia Pacific held the largest volume share of 54.8 per cent in 2018. The large share of the region is owing to the growing end-use industries in the developing economies.
Check the report description @: Global Silicone Sealants Market Size, Trends & Analysis - Forecasts To 2026