The global stationary fuel cell system market size is estimated to account for USD 7.58 billion by 2026. The global fuel cell system market was valued at USD 3.82 billion in 2020, recording a CAGR of 12.10 per cent between 2020 and 2026. Some of the major factors driving the global fuel cell system market constitute the increasing demand to decarbonize energy end-use, governmental regulation for desulphurization of refinery activities and increased demand for hydrogen in the transportation sector.
Stationary fuel cells are extensively used for commercial, industrial, and even residential purposes, since they provide clean power that is not connected to the grid. The low-emission factor, along with lower efficiency losses during transmission, as opposed to other clean technologies, has contributed to their rising popularity. A promising technology that is presently being used for stationary and portable applications is the proton exchange membrane fuel cells, which use water-based acidic polymer membranes as electrolytes. They are highly efficient, environment-friendly power sources, and accounts for around half of the total share of the global fuel cell system market by volume as of 2018.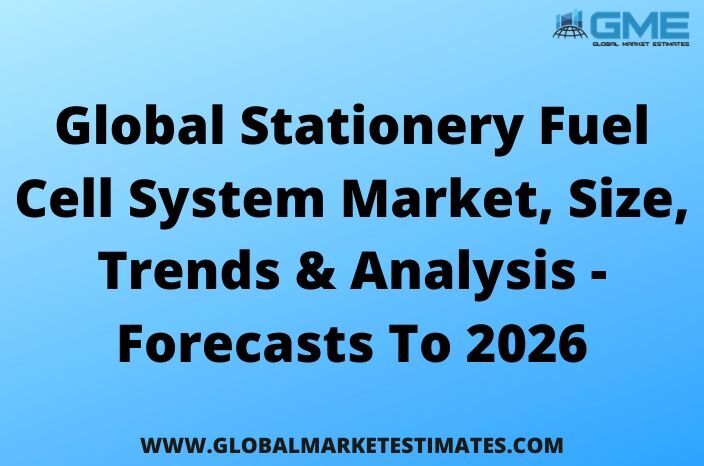 Stationary fuel cells are increasingly replacing conventional power sources (like, internal combustion engines and batteries) and are considered to be more advantageous in various respects. Benefits of fuel cells comprise greater efficiency in comparison to conventional fuels, thereby, making it their biggest advantage over conventional fuels. Additionally, fuel cells also generate less noise in comparison to internal combustion engines, making them more suitable for commercial settings, namely, hospitals. Fuel cells run on renewable energy and eliminate the emission of greenhouse gases, making it more environment-friendly around the world.
Fuel cells are also comparatively easier to maintain over their conventional fuel counterparts, owing to a fewer number of moving parts, also promoting their popularity in recent years. It is also a step forward in the global economy perspective, as they do not require fossil fuels and conventional sources of energy to produce electricity. This also reduces dependency on oil-producing countries, promoting energy security in the long run.
On the basis of application, the transport application segment is expected to grow at the highest rate within the global stationery fuel cell system market. The market growth in this segment can be attributed to the increase in fuel cell vehicle sales including FCEV and fuel cell buses in North America and Asia Pacific regions. Other economies, like, Japan, China, and South Korea have proposed strong fuel cell-based vehicle implementation commitments in order to reduce the growing dependency on gasoline fuel imports. Moreover, the development of supporting infrastructure such as hydrogen refuelling stations is also expected to drive the market in these regions.
PEMFC is one of the major types of fuel cells that offer various advantages, accounting for a market share of nearly 91 per cent in 2018. PEMFC has high operational efficiency and convenience in operations. Currently, the available PEMFC fuel cells offer 1,500 to 3,000 hours of life and 40%–50% of electrical efficiency.
Request for a sample copy of the report @: Stationery Fuel Cell System Market – Forecasts to 2026