Global Dental Composite Market Insights
The market report is designed to provide a complete view of the Global Dental Composite market. This business intelligence report has been categorized into qualitative and quantitative insights over the forecast period (2018-2026). The report provides the following market insights which enable the enterprises and consumers to make strategic business decisions.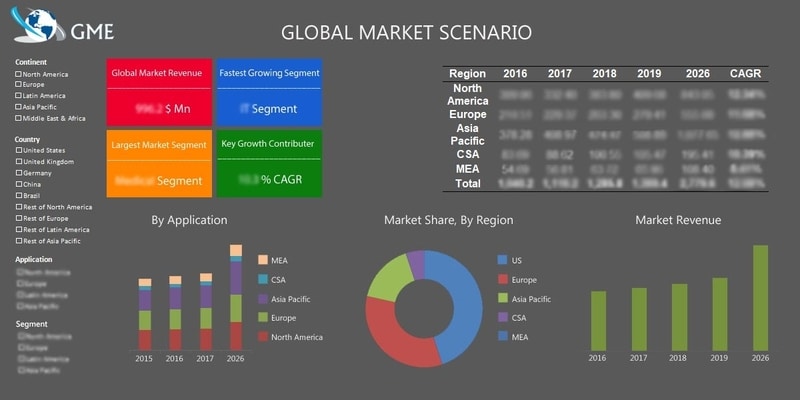 Strategic Market Entry - We provide detailed research support to our clients including mapping the product life cycle, key market players, consumer behaviour, and analysis of the company's market position.
Sales Maximization - The market research report explores different avenues of maximizing sales through threat evaluation, identifying potential clients and distributors and market risks. The report provides qualitative insights into the market scenario which in turn enables the customer to evaluate business profitability.
Consumer & Competitive Scenario - As a part of consumer analysis, the report provides macro as well as micro-level insights about consumer demand, and product preferences. Companies profiled in the report include a detailed analysis of their financial performance, strategic initiatives, and SWOT analysis. Porter's analysis provides' market intelligence to evaluate competitive threat.
Market Estimates & Forecasts - Quantitative analysis holds a major section of the market research report. The report analyses every business segment, its market drivers and restraints, market expansion opportunities and growth rates. The report also provides a region-wise and country-wise break-up of the global market and business segments.
Vendor and Customer analysis - The report identifies the key vendors in the market along with their product portfolio, patents held by them, their market presence and extent of distribution network. This chapter enables enterprises to choose the most suitable vendor to cater to their needs and requirements.
Global Dental Composite Market, By Material Type:
Diethaacrylates

Methyl Methacrylate (MMA)
Polymethyl Methacrylate (PMMA)
Bis-GMA (Bisphenol A-Glycidyl Methacrylate)
TEGDMA (Trithylene Glycol Dimethacrylate)
GPDM (Glycero-Phosphate Dimethacrylate)
UDMA (Urethane Dimethacrylate)
Bis-EMA or EBADMA (Ethoxylated Bisphenol-A Dimethacrylate)
DMAEA (Dimethylaminoethyl Acrylate)
Others

Organically Modified Ceramics (OrMoCers)
Global Dental Composite Market, By Application:
Restoration of primary teeth
Liners and bases
Core build-up material
Cervical erosion/Abrasion
Repair of defective margins in restorations
Sealing of root surface for over dentures
Retrograde filling material
Global Dental Composite Market, By Form/Physical State:
Powder dental resin composites
Liquid dental resin composites
Global Dental Composite Market, By Filler Size:
Macro-filler resin composite (0.1-100 µm)
Micro-filler resin composite (0.01-0.05 µm)
Hybrid resin composite (0.01-20 µm)
Nano-hybrid resin composite (20-1400 nm)
Global Dental Composite Market, By Region
North America
Europe
Asia-Pacific
Central & South America
Middle East & Africa
Global Dental Composite Market, By Country
U.S.
Canada
Mexico
Germany
UK
France
Italy
Russia
Spain
China
India
Japan
Indonesia
Thailand
Malaysia
South Korea
Saudi Arabia
UAE
Iran
Colombia
South Africa
Brazil
Vendor Landscape: Dental Composite Market
The report contains a chapter dedicated to vendors operating in the market, covering equipment developers, manufacturers, and distributors. The report provides these insights on a regional level. This section of the report entails contact details, experience, products manufactured/supplied, and geographical presence of companies.
End-User Landscape (Consumer Profile): Dental Composite Market
The report provides a detailed list of end-users operating across the world. The end-user landscape includes consumer contact details, geographical presence, revenue, product portfolio, organic and inorganic growth strategies among others.
Company Profiles: Dental Composite Market
The major companies profiled in the Dental Composite Market include Shofu dental, Esstech Inc., Kerr Corporation, Pentron Clinical Technologies LLC., Pulpdent Corporation, Dentsply Sirona, Coltene Holding, Kulzer Gmbh, 3M, Denmat Holdings, GC America Inc., Heraeus Kulzer Gmbh, Danaher corporation, Voco Gmbh, and Bisco Dental, among others. The Companies are investing in innovation/R&D, brand building, and fostering strong relationships with customers to enhance their competitive position.