Global Anti-Tremor Products Market Insights
The global anti-tremor products market is estimated to witness a moderate CAGR during the forecast period. Anti-tremor products are used to control and minimize the movement which occurs in the body. The demand for anti-tremor products is driven by increasing aging population in developed as well as developing countries. Growing incidences of accidents which causes brain damage, stress related diseases and drug reaction are also some of the factors for the growth of tremors in people across the world. The continuous research & development in the medical sector to improve the conditions of people may push the growth of the global anti-tremor products market.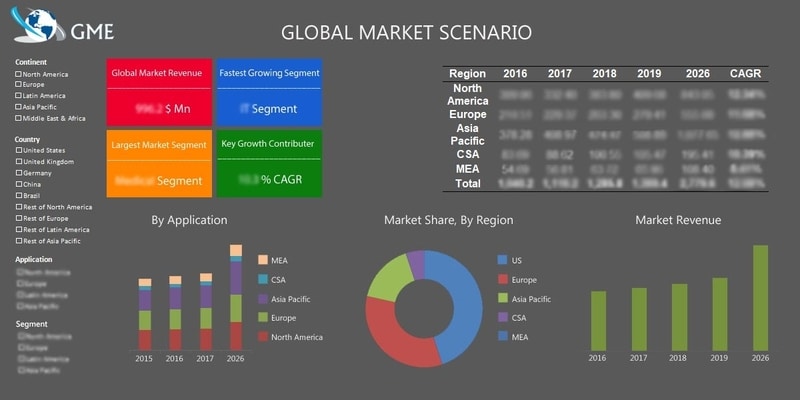 Anti-Tremor Products Market: By Tremor Type
The global anti-tremor products market is segmented into Essential Tremor, Parkinsonian Tremor, Dystonic Tremor, Cerebellar Tremor, Psychogenic Tremor, and Orthostatic Tremor among others on the basis of tremor type. The parkinsonian tremor is expected to grow at a high CAGR due to increasing aging population. Globally, neurological disorders are the leading cause of disability. The number of people living with Parkinson's doubled to more than 6.2 million, between the years 1990-2015. By the end of 2040, it is predicted that that number of patients suffering from Parkinson's disease will reach 12 million. Essential tremor is a nervous system (neurological) disorder that causes involuntary and rhythmic shaking. It can affect almost any part of the body, but the trembling occurs most often in the hands especially when a person does simple tasks, such as drinking from a glass or tying shoelaces. Dystonic tremor is a type of tremor which occurs in conjunction with dystonia, which is a neurological disorder where incorrect messages from the brain cause muscles to be over-active resulting abnormal postures or unwanted movement. Dystonic tremor usually appears in young adulthood or mid-life.
Anti-Tremor Products Market: By Product
On the basis of product, the global anti-tremor products market is classified into gloves, socks, spoon, mug, pen and others. The gloves segment is expected to grow at a considerable rate due to various applications that can be done by wearing the gloves. The gloves serves as a single tool to reduce both action and resting tremor patterns. The glove will come ready to pair with a smartphone app. The circuit board in the glove is equipped to record hand tremors and transmit that data to an app. This is intended to allow seamless monitoring and recording of a wearer's tremors, making it easier to track whether they are worsening or improving. The spoon and mug segment is also expected to grow owing to the easy gripping materialistic properties and easy usage of the products.
Anti-Tremor Products Market: By Distribution Channel
On the basis of distribution channel, the global anti-tremor products market is classified into Online and Offline. The online segment is expected to grow at a high CAGR owing to the use of internet. Recent studies predict that by the end of 2019, there will be more than 1.9 billion global digital buyers. Another study conducted by National Public Radio and Marist College found that more than three-fourths of adults in the United States shopped online. The offline segment consists of retail outlets, super markets, hyper market and specialty stores.
Anti-Tremor Products Market: By Region
The global anti-tremor products market in terms of region is dominated by North America owing to multiple factors such as developing economies, industrialization, advancement and increase in number of aging population. It is estimated that nearly 60,000 Americans are diagnosed with Parkinson's disease each year. Influx of technological reforms in glove segment has driven the growth of the market. Features such as tactile sensing and fine-motion control in robotics, increasing demand for health and monitoring application make it a potential market for the prospective customers and users.
Asia-Pacific is expected to witness considerable growth in the anti-tremor products market. The fast growing medical and healthcare industries in China, India, and South Korea are expected to be the prime factors contributing to the growth of anti-tremor products industry. By the year 2050, one in four people in Asia and the Pacific will be over 60 years old. The population of older persons (over 60) in the region will triple between 2010 and 2050, reaching close to 1.3 billion people.
The market of anti-tremor products is also expected to grow in Middle East and Africa. Increased foreign direct investment is one of the major factors propelling the market growth in MEA region.
Anti-Tremor Products Market: End Use Landscape
The end-user landscape entails a list of current and prospective consumers prevailing across the regions. This section briefs you about company addresses, contact details, products, and regional presence of companies who are purchasing or are likely to purchase. The key end-users of the markets are Johns Hopkins Hospital, Cleveland Clinic and Community Medical Centers among others.
Anti-Tremor Products Market: Vendor Landscape
The report contains a chapter dedicated to vendors operating in the market, covering raw material manufactures, equipment developers, manufacturers, and distributors. The report provides these insights on a regional level. This section of the report entails contact details, experience, products manufactured/supplied, and geographical presence of companies.
Anti-Tremor Products Market: Share & Competitor Analysis
Some of the key players operating in the anti-tremor products market are Gyenno, Gyroglove, Handsteady, Nospillcup, Readi-Steadi, Elispoon, Alimed, Dopa Solutions, Fidens, Performance Health, MANUS Neurodynamica Ltd and Microsoft's Emma Watch among others.
In July 2018, Alimed was awarded a group purchasing agreement for Mobile Medical Carts with Premier