Augmented Reality and Virtual Reality Market Insights:
The expanding integration of digitization and technology in healthcare due to increasing healthcare expenditure and focus on delivery of effective health services has created demand for Augmented Reality & Virtual Reality market. This system has a significant use while training healthcare professionals which has led to the rapid growth of the industry.
These technologies have been adopted for virtual training of surgeons for difficult surgeries, phobia buster in mental health treatment, 3D operation room simulations and chronic pain management. VR-based organ models play a crucial part to prepare surgeons for delicate and complicated operations that demand greater precision, reduced trauma, and fewer complications.
VR technologies are widely used in Eye Movement Desensitization and Reprocessing (EMDR) which reframes shocking memories through certain movement in eyes. This technology provides benefits in various areas of care management such as depression & autism therapy, cancer therapy and assisted living.
The expansion of these innovative technologies that provide better care management and real-time care services is expected to create demand for the Augmented Reality & Virtual Reality market in the forecast period. The growing importance of medical visualization, surgical robots, preventive medicines, and various health apps is leading to the penetration of these technologies in the healthcare sector.
Augmented Reality and Virtual Reality market - Component Insights:
Audio-visual simulations are a key component for creating visual and augmented reality in display devices. Application of head-mounted displays in education, visual data, simulations, telemedicine, video recording, and many others are creating demand for this industry. In 2016 the hardware segment held more than 65% of the revenue share in the Augmented Reality & Virtual Reality market.
Smart glasses are penetrating rapidly in the market as its wearable technology provides improved care and improves clinical outcomes. Goggle glass is commonly used widely during surgeries for video calling, data visualization, and video recording. Technological advancements are highly used to reduce healthcare complexity & increase efficiency in health care services.
Augmented Reality and Virtual Reality market - Technology Insights:
The leading segment in 2016 was augmented reality. Wide application of this technology has brought significant changes to the healthcare industry. This technology plays a significant role in the fitness sector as well with the AR-based apps built for fitness regimes. AR users do not lose contact with the real world; they get information in the eyesight as fast as possible.
Penetration of this technology in various areas of medical sector and associated advantages contribute to a large share of the Augmented Reality & Virtual Reality market. This market is expected to grow over the forecast period owing to the advantages it provides to the patients and the doctors to acquire information about the patients.
The most effective and commonly used apps in this field are MedicAR, a Google Glass app launched by Droiders which provides surgeons with data during surgeries, & necessary instructions. EyeDecide developed by OrcaMD that is used in conditions such as cataracts & Age-related Macular Degeneration.
VR is expected to witness growth in the forecast period due to its integration in the training & education, and healthcare. Usage of VR in telesurgery, therapy sessions, 3D-Stereovision, and visualization of autonomy is expected to create demand for this segment. Less time consumption and accuracy of this technology are expected to increase its demand in the Augmented Reality & Virtual Reality market in the forecast period.
Augmented Reality and Virtual Reality market - Application Insights:
AR is widely used in education, surgeries, rehabilitation, and training. Rising number of diseases along with the increase in technological development has led to the growth of this industry in the healthcare sector. AR- devices help the surgeons to perform an operation with ease and efficiency due to instruction and guidance it provides to reduce human errors.
VR devices are used in the processes such as exposure therapy, diagnostics, pain distraction, and rehabilitation. Medical schools and institutions are the main users of this technology as it provides greater hands-on experience in the medical education. In the application segment, VR held the maximum market share in 2016.
Augmented Reality and Virtual Reality market: End-Use Landscape
The end-user landscape entails a list of current and prospective consumers prevailing across the regions. This section provides company addresses, contact details, products, and regional presence of companies who are purchasing or are likely to purchase the distributed energy sources over the coming years. Some leading consumers of Augmented Reality (AR) & Virtual Reality (VR) markets are hospitals such as Mayo Clinic, Rochester, Minn, Cleveland Clinic, Massachusetts General Hospital, Boston, Johns Hopkins Hospital, and UCLA Medical Center, among others.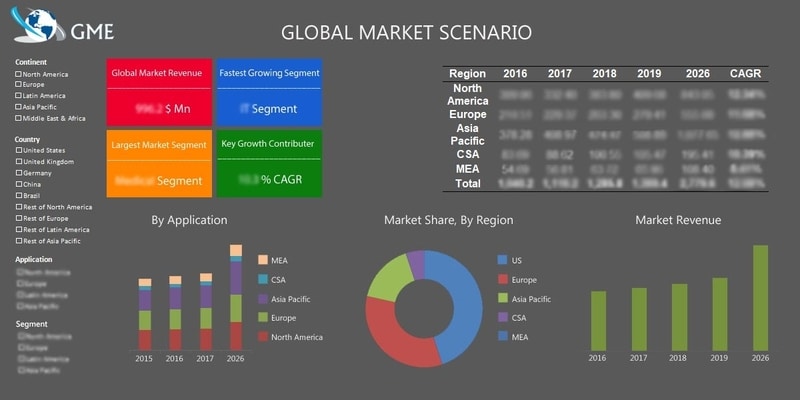 Augmented Reality and Virtual Reality market - Regional Insights:
Continuous advancement of technology in fields of neurological and psychological disorders and the increased adoption of such technologies in North America made it the dominant market in 2016. Asia Pacific is expected to grow at the fastest rate in the forecast period due to its prevalence chronic diseases and increase in smartphone and internet users using AR in apps.
Augmented Reality and Virtual Reality market - Competitive Insights:
MindMaze, a Sizz-based start-up, has developed VR hardware and software that intends to provide treatments for stroke patients. Another such initiative taken is LENSAR system by LENSAR Inc., which uses AR featured laser technology for performing precise and accurate cataract surgeries.
Major contributing manufacturers present in the market are Intuitive Surgical; CAE HEALTHCARE; 3D Systems, Inc.; Hologic Inc.; and Laerdal Medical among others.
Please note: This is not an exhaustive list of companies profiled in the report.
The global Augmented Reality and Virtual Reality market has been studied from the year 2016 till 2025. However, the CAGR provided in the report is from the year 2017 to 2025. The research methodology involved three stages: Desk research, Primary research, and Analysis & Output from the entire research process.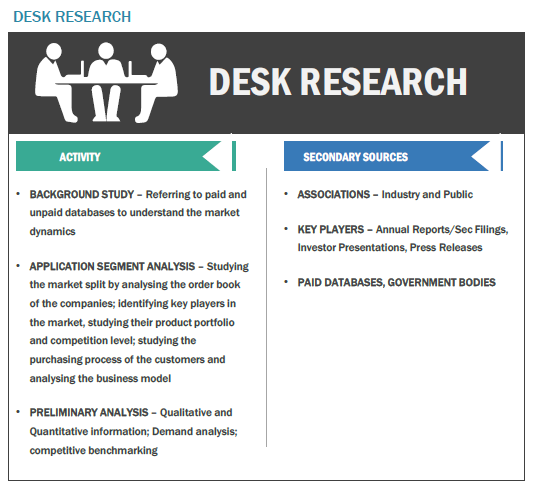 The desk research involved a robust background study which meant referring to paid and unpaid databases to understand the industry analysis; industry trends; market analysis; market trends; market dynamics; mapping contracts from press releases; identifying the key players in the market, studying their product portfolio, competition level, annual reports/SEC filings & investor presentations; and learning the demand and supply side analysis for the Augmented Reality and Virtual Reality market.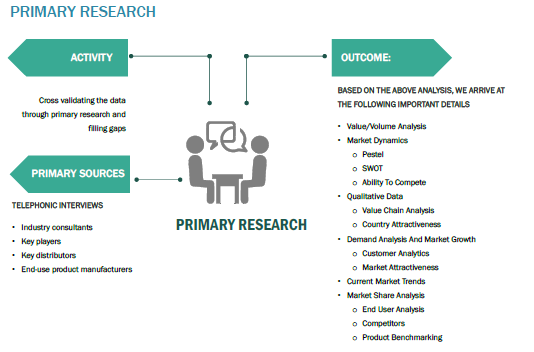 The primary research activity included telephonic conversations with more than 50 tier 1 industry consultants, VPs, CEOs, COOs, financial consultants, business consultants, strategy consultants, project management consultants, business management consultants, distributors, and end-use product manufacturers.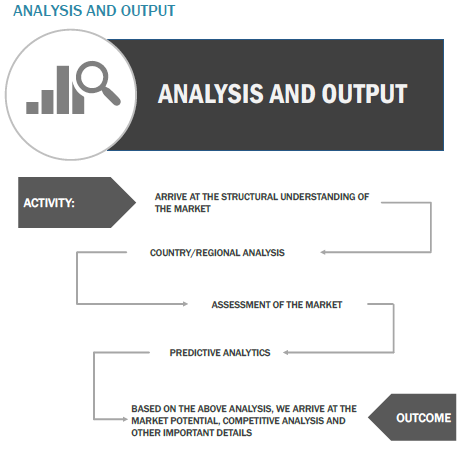 Finally, based on the above thorough research process, an in-depth analysis was carried out considering the following aspects: market attractiveness, current & future market trends, market share analysis, demand forecasting, SWOT analysis of the companies, and customer analytics.