Bone Broth Protein Market Insights
The rising production and consumption of the fitness and health segment of food and beverages have positively affected the bone broth protein market growth. The global market will register a peak growth rate with a high CAGR% between 2021-2026.
The clear, protein-rich liquid obtained from the simmering of meaty joints and bones in water is bone broth. Due to its long cooking time, it differentiates itself from stock. It can be used as a base for soups, stews, and risottos, much like a stock. The protein of the bone broth is regarded as a nutritious supplement with health benefits and healing properties that aid in weight loss, decrease in skin aging, decrease in joint pain, and low appetite due to which the bone broth protein market is gaining popularity. It is primarily derived from the simmering of chicken, beef, and fish bones and ligaments.
Bone broth attracts people who want to take care of their health, just as it did when it was being served at the initial restaurants in Europe. Nowadays, the Paleo Diet is one of the most common diets in the U.S., and in this low-carb, high-protein diet, bone broth is a key ingredient. Due to its consideration as a nutritional supplement by athletes, celebrities, and health lovers around the world, the tendency towards bone broth is also seen.
Recently, as part of the Gut and Psychology Syndrome (GAPS) diets for patients with autism and attention deficit hyperactivity disorder, bone broth has been increasingly prescribed (ADHD). Brand owners and distributors encourage bone broth growth as a functional commodity by saying that it can minimize inflammation, speed healing, relax allergies, fight against exhaustion and encourage satiety. Growing consumer awareness on a healthy diet and growing consumption of organic food are boosting the market growth.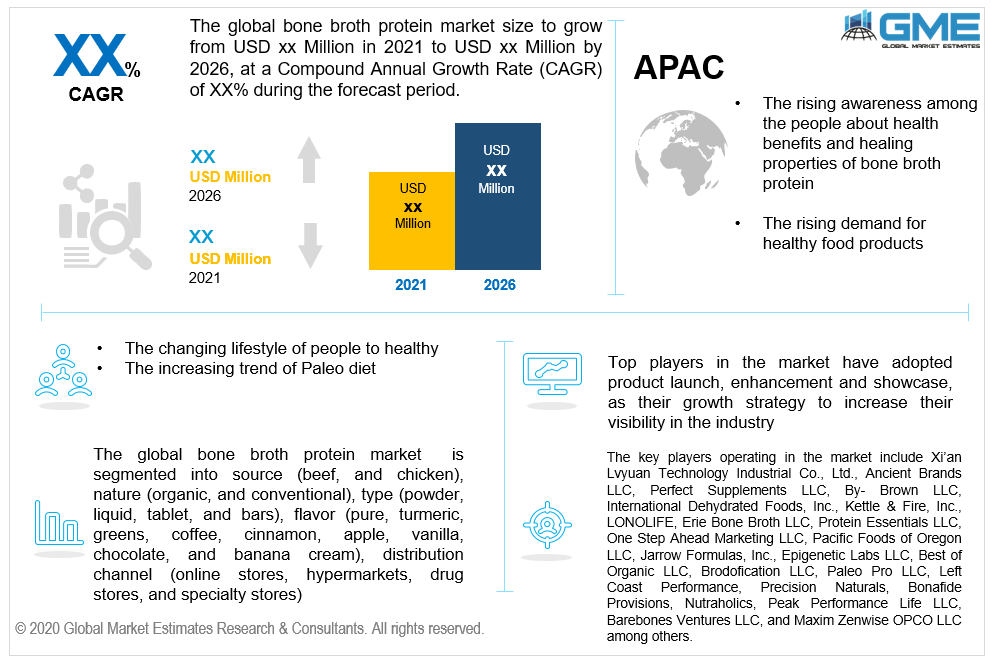 Bone Broth Protein Market: By Source
The chicken segment under source is estimated to be the dominating segment of the bone broth protein market. The ease of availability and larger acceptance of chicken bone broth in various countries is the main reason behind this domination.
There would be more moisturizing minerals like potassium, magnesium, and phosphorus in chicken. The chicken might be better for the skin and joints. The chicken bone broth will also be of great benefit to individuals working on these parts of their body. And, due to the current lifestyle and lack of time dedicated to self-care, people suffering from joint-related problems are growing. In the United States, approximately 54 million people are suffering from arthritis, of which 23 percent are adults. Approximately 24 million adults with arthritis have reduced movement, and more than 1 in 4 adults with arthritis experience serious joint pain.
Bone Broth Protein Market: By Nature
The organic segment is the dominating segment of the bone broth protein market, due to the growing consumer preference for organic products. The word organic implies that artificial fertilizers, pesticides, growth hormones, and/or antibiotics are omitted from the production methods used. Consuming vitamins, minerals, amino acids, and healthy fats is one of the ways to encourage healthy-looking skin. Although organic, grass-fed bone broth contains these nutrients, it also includes naturally occurring collagen.
Whereas, due to the cost-efficiency side of the traditional market, demand will also be important. Organic goods are pricey and all individuals are not able to afford them because of this, which raises the market for non-organic products. That is precisely what is happening here.
Bone Broth Protein Market: By Type
Based on the type, the market is classified into powder, bars, liquid, and tablets among others. The liquid segment in the market of bone broth protein market is expected to see rapid growth, which makes it easier for consumers to consume liquid bone broth and the ease of consuming the product that can be consumed even on the go.
The dominating segment, however, is projected to be the powder segment because it offers the flexibility to prepare the quality of the broth according to personal preference. In general, people who crave unique taste and consistency in their food are attracted to this segment.
Bone Broth Protein Market: By Flavor
In particular, the market for flavored segments of flavors such as chocolate, coffee, or vanilla is expected to see growth due to customer taste preferences across the globe. For most people, the usual taste of the broth is not very mouth-watering, but the flavors of their choosing only make it easier for them to drink. Especially if they intend to get health benefits from the bone broth.
Bone Broth Protein Market: By Distribution Channel
The online stores' segment is expected to experience fast growth due to the ease of reaching a large number of people, and the confront of ordering the product from your home without going outside. Around 40 percent of US individuals are drawn to online shopping, according to a study done by Google, as they spend much of their time online shopping.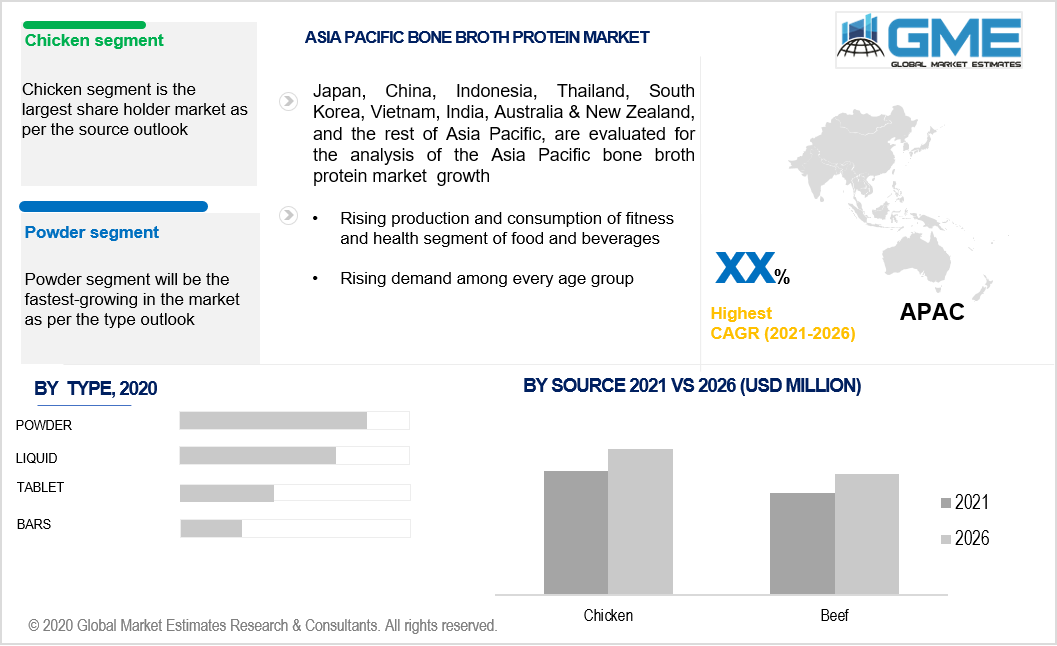 Bone Broth Protein Market: By Region
The North America region is expected to be the dominating region for the bone broth protein market because of the rising demand and preference of broth protein in the region for health and beauty purposes, and the emergence of fortified food preference in the region will be an added advantage for the market to capture the large share in the region.
The Asia Pacific region is estimated to witness fast growth during the forecast period due to healthy food and beverage demand rise as the lifestyle of people is changing in the region due to increasing awareness about the importance of health. The prevalence in the Asia-Pacific region estimates that chronic pain varies from 12% to 45% of the population which demands better food product consumption and increases the opportunity for bone broth protein market.
Bone Broth Protein Market Share and Competitor Analysis
Ancient Brands LLC, Protein Essentials LLC, Xi'an Lvyuan Technology Industrial Co., Ltd., One Step Ahead Marketing LLC, Perfect Supplements LLC, LONOLIFE, International Dehydrated Foods, Inc., Erie Bone Broth LLC, By- Brown LLC, Maxim Zenwise OPCO LLC, Kettle & Fire, Inc., Peak Performance Life LLC, Jarrow Formulas, Inc., Pacific Foods of Oregon LLC, Barebones Ventures LLC, Epigenetic Labs LLC, Nutraholics, Brodofication LLC, Best of Organic LLC, Bonafide Provisions, Paleo Pro LLC, Left Coast Performance, and Precision Naturals, among others, are the major companies accounted maximum share in the market.
Please note: This is not an exhaustive list of companies profiled in the report.
In September 2019, Lonolife a California-based company focused on introducing nutrition-rich and convenient products like bone broth, and collagen to its consumer by adding a new launch to its bone broth segment.
Check the Press Release on Bone Broth Protein Market Report