Care Coordination Software Market Size
The global care coordination software market is projected to grow from USD 2.10 billion in 2021 to USD 2.35 billion by 2026 at a CAGR value of 28.1% from 2021 to 2026.
Increasing number of research and development activities supported by modern technologies such as artificial intelligence and crypto currency, which facilitate information interchange and standardization inside an established clinical network, are some of the drivers supporting the market's growth.
Rising need to auto-trigger worklists and tailor intervention plans for chronic patient groups will continue to have a positive influence on the growth of this market from 2021 to 2026.
Healthcare professionals can get a real-time 360º perspective of all of their patients' treatment options and behaviours with the use of this software, and the care coordination software offers a convenient and simple at-a-glance snapshot of the patients' progress.
The emergence of COVID-19 has prompted enterprises in this industry to re-establish their distinct revenue tactics. Despite a severe economic downturn, the market has recovered by implementing new tactics and developing new talents. On both a national and global level, the market has begun to look for other funding sources and business models in order to stay afloat.
The continuance of fee-for-service reimbursement and the slow adoption of advanced IT for demographic health and care management are impeding market growth.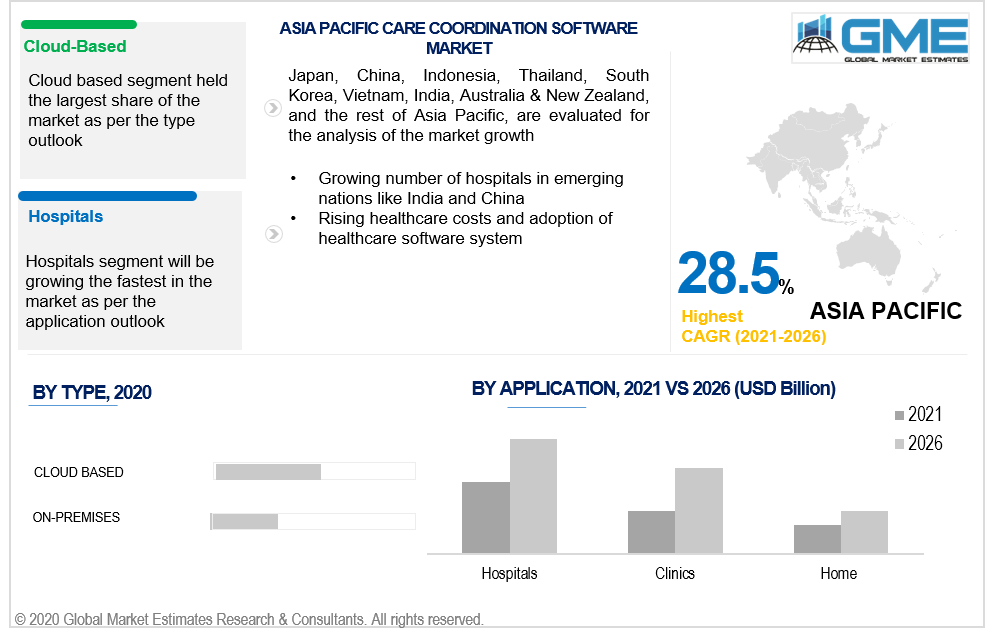 Care Coordination Software Market: By Product
Based on the product of care coordination software, the care coordination software market is segmented into cloud-based and on-premises. The market for cloud-based software is expected to dominate the market from 2021 to 2026. The data is stored in the cloud and is accessible to all users over the internet in this type of deployment arrangement. It is more widely used as it's user-friendly, cost effective, easy to install and administer. Premium security data centres, such as Cloudflare cloud security, AWS cloud security, and others, back up cloud-based services. On-premise solutions, on the other hand, are for tech-savvy clients and hence are expected to hold a smaller share of the market.
Care Coordination Software Market: By End-User
Based on the end-user, the market is segmented into hospital, clinic and home. The hospital segment is expected to hold a dominant share in the market from 2021 to 2026. Since the COVID-19 outbreak caught the globe off guard, the medical community has been under tremendous strain. It is critical for healthcare organisations to install software that reduces burden in order to focus on their core principle, which is patient care.
Physically managing care coordination programmes can consume a significant amount of staff time. Care managers can supervise up to 150 patients (and occasionally more) every month, which can quickly add up. During the forecast period, care coordination software market will dramatically cut the time spent managing patient care by automating various processes in the healthcare area.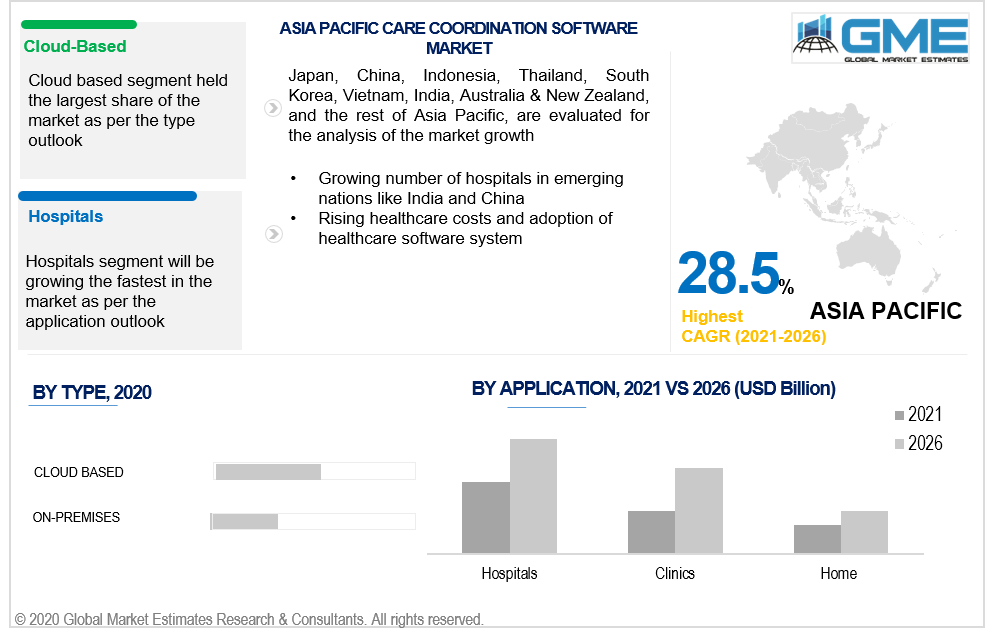 Care Coordination Software Market: By Region
Based on region, the market is segmented into various regions such as North America, Europe, Central and South America, Middle East and Africa, and the Asia Pacific. The North America region is expected to hold the largest share in the market. Burgeoning use of care coordination software by healthcare providers and payers to achieve the healthcare goals of improved quality treatment and cheaper costs has been one of the latest trends in the market.
Additionally, since the United States is home to many significant global corporations, the country has emerged as a powerhouse for competitive edge over the projected timeframe. The growing number of hospitals in emerging nations like India and China, as well as legislation encouraging patient-centred care, are expected to drive market expansion in APAC. Furthermore, factors such as payer restrictions that are becoming more stringent and the drive to reduce healthcare costs are predicted to move the market forward over the forecast period. South Asian countries will be the fastest growing regional segment as the growing healthcare industry in the region is expected to enhance the demand for care coordination software in the region.
Care Coordination Software Market Share and Competitor Analysis
With the presence of significant competitors, the market for care coordination software is partially fragmented and dynamic. Netsmart Technologies, Imprivata, iPatientCare, GetWellNetwork, CareHarmony, Buddy Healthcare, Thoroughfare, LTCO 360, Experian, Optum, Eccovia, and Dina, among others are the key players in the care coordination software market.
Please note: This is not an exhaustive list of companies profiled in the report.
Chapter 1 Methodology
1.1 Market Scope & Definitions
1.2 Estimates & Forecast Calculation
1.3 Historical Data Overview and Validation
1.4 Data Sources
1.4.1 Secondary
1.4.2 Primary
Chapter 2 Report Outlook
2.1 Care Coordination Software Industry Overview, 2021-2026
2.1.1 Industry Overview
2.1.2 Product Overview
2.1.3 Application Overview
2.1.4 Regional Overview
Chapter 3 Care Coordination Software Market Trends
3.1 Market Segmentation
3.2 Industry Background, 2021-2026
3.3 Market Key Trends
3.3.1 Positive Trends
3.3.1.1 Rising adoption of care coordination software
3.3.2 Industry Challenges
3.3.2.1 Dearth of qualified professionals in developing nations
3.4 Prospective Growth Scenario
3.4.1 Product Growth Scenario
3.4.2 Application Growth Scenario
3.5 COVID-19 Influence over Industry Growth
3.6 Porter's Analysis
3.7 PESTEL Analysis
3.8 Value Chain & Supply Chain Analysis
3.9 Regulatory Framework
3.9.1 North America
3.9.2 Europe
3.9.3 APAC
3.9.4 LATAM
3.9.5 MEA
3.10 Application Overview
3.11 Market Share Analysis, 2021
3.11.1 Company Positioning Overview, 2021
Chapter 4 Care Coordination Software Market, By Product
4.1 Product Outlook
4.2 Cloud Based
4.2.1 Market Size, By Region, 2021-2026 (USD Billion)
4.3 On-Premises
4.3.1 Market Size, By Region, 2021-2026 (USD Billion)
Chapter 5 Care Coordination Software Market, By Application
5.1 Application Outlook
5.2 Hospitals
5.2.1 Market Size, By Region, 2021-2026 (USD Billion)
5.3 Clinic
5.3.1 Market Size, By Region, 2021-2026 (USD Billion)
5.4 Home
Chapter 6 Care Coordination Software Market, By Region
6.1 Regional outlook
6.2 North America
6.2.1 Market Size, By Country 2021-2026 (USD Billion)
6.2.2 Market Size, By Product, 2021-2026 (USD Billion)
6.2.3 Market Size, By Application, 2021-2026 (USD Billion)
6.2.4 U.S.
6.2.4.1 Market Size, By Product, 2021-2026 (USD Billion)
6.2.4.2 Market Size, By Application, 2021-2026 (USD Billion)
6.2.5 Canada
6.2.5.1 Market Size, By Product, 2021-2026 (USD Billion)
6.2.5.2 Market Size, By Application, 2021-2026 (USD Billion)
6.3 Europe
6.3.1 Market Size, By Country 2021-2026 (USD Billion)
6.3.2 Market Size, By Product, 2021-2026 (USD Billion)
6.3.3 Market Size, By Application, 2021-2026 (USD Billion)
6.3.4 Germany
6.3.4.1 Market Size, By Product, 2021-2026 (USD Billion)
6.3.4.2 Market Size, By Application, 2021-2026 (USD Billion)
6.3.5 UK
6.3.5.1 Market Size, By Product, 2021-2026 (USD Billion)
6.3.5.2 Market Size, By Application, 2021-2026 (USD Billion)
6.3.6 France
6.3.6.1 Market Size, By Product, 2021-2026 (USD Billion)
6.3.6.2 Market Size, By Application, 2021-2026 (USD Billion)
6.3.7 Italy
6.3.7.1 Market Size, By Product, 2021-2026 (USD Billion)
6.3.7.2 Market Size, By Application, 2021-2026 (USD Billion)
6.3.8 Spain
6.3.8.1 Market Size, By Product, 2021-2026 (USD Billion)
6.3.8.2 Market Size, By Application, 2021-2026 (USD Billion)
6.3.9 Russia
6.3.9.1 Market Size, By Product, 2021-2026 (USD Billion)
6.3.9.2 Market Size, By Application, 2021-2026 (USD Billion)
6.4 Asia Pacific
6.4.1 Market Size, By Country 2021-2026 (USD Billion)
6.4.2 Market Size, By Product, 2021-2026 (USD Billion)
6.4.3 Market Size, By Application, 2021-2026 (USD Billion)
6.4.4 China
6.4.4.1 Market Size, By Product, 2021-2026 (USD Billion)
6.4.4.2 Market Size, By Application, 2021-2026 (USD Billion)
6.4.5 India
6.4.5.1 Market Size, By Product, 2021-2026 (USD Billion)
6.4.5.2 Market Size, By Application, 2021-2026 (USD Billion)
6.4.6 Japan
6.4.6.1 Market Size, By Product, 2021-2026 (USD Billion)
6.4.6.2 Market Size, By Application, 2021-2026 (USD Billion)
6.4.7 Australia
6.4.7.1 Market Size, By Product, 2021-2026 (USD Billion)
6.4.7.2 Market size, By Application, 2021-2026 (USD Billion)
6.4.8 South Korea
6.4.8.1 Market Size, By Product, 2021-2026 (USD Billion)
6.4.8.2 Market Size, By Application, 2021-2026 (USD Billion)
6.5 Latin America
6.5.1 Market Size, By Country 2021-2026 (USD Billion)
6.5.2 Market Size, By Product, 2021-2026 (USD Billion)
6.5.3 Market Size, By Application, 2021-2026 (USD Billion)
6.5.4 Brazil
6.5.4.1 Market Size, By Product, 2021-2026 (USD Billion)
6.5.4.2 Market Size, By Application, 2021-2026 (USD Billion)
6.5.5 Mexico
6.5.5.1 Market Size, By Product, 2021-2026 (USD Billion)
6.5.5.2 Market Size, By Application, 2021-2026 (USD Billion)
6.5.6 Argentina
6.5.6.1 Market Size, By Product, 2021-2026 (USD Billion)
6.5.6.2 Market Size, By Application, 2021-2026 (USD Billion)
6.6 MEA
6.6.1 Market Size, By Country 2021-2026 (USD Billion)
6.6.2 Market Size, By Product, 2021-2026 (USD Billion)
6.6.3 Market Size, By Application, 2021-2026 (USD Billion)
6.6.4 Saudi Arabia
6.6.4.1 Market Size, By Product, 2021-2026 (USD Billion)
6.6.4.2 Market Size, By Application, 2021-2026 (USD Billion)
6.6.5 UAE
6.6.5.1 Market Size, By Product, 2021-2026 (USD Billion)
6.6.5.2 Market Size, By Application, 2021-2026 (USD Billion)
6.6.6 South Africa
6.6.6.1 Market Size, By Product, 2021-2026 (USD Billion)
6.6.6.2 Market Size, By Application, 2021-2026 (USD Billion)
Chapter 7 Company Landscape
7.1 Competitive Analysis, 2021
7.2 Imprivata
7.2.1 Company Overview
7.2.2 Financial Analysis
7.2.3 Strategic Positioning
7.2.4 Info Graphic Analysis
7.3 iPatientCare
7.3.1 Company Overview
7.3.2 Financial Analysis
7.3.3 Strategic Positioning
7.3.4 Info Graphic Analysis
7.4 Netsmart Technologies
7.4.1 Company Overview
7.4.2 Financial Analysis
7.4.3 Strategic Positioning
7.4.4 Info Graphic Analysis
7.5 NextGen Healthcare
7.5.1 Company Overview
7.5.2 Financial Analysis
7.5.3 Strategic Positioning
7.5.4 Info Graphic Analysis
7.6 GetWellNetwork
7.6.1 Company Overview
7.6.2 Financial Analysis
7.6.3 Strategic Positioning
7.6.4 Info Graphic Analysis
7.7 CareHarmony
7.7.1 Company Overview
7.7.2 Financial Analysis
7.7.3 Strategic Positioning
7.7.4 Info Graphic Analysis
7.8 Preveta
7.8.1 Company Overview
7.8.2 Financial Analysis
7.8.3 Strategic Positioning
7.8.4 Info Graphic Analysis
7.9 Buddy Healthcare
7.9.1 Company Overview
7.9.2 Financial Analysis
7.9.3 Strategic Positioning
7.9.4 Info Graphic Analysis
7.10 ThoroughCare
7.10.1 Company Overview
7.10.2 Financial Analysis
7.10.3 Strategic Positioning
7.10.4 Info Graphic Analysis
7.11 Other Companies
7.11.1 Company Overview
7.11.2 Financial Analysis
7.11.3 Strategic Positioning
7.11.4 Info Graphic Analysis