Digital Wallet Market Insights
Changing payment dynamics due to the covid-19 pandemic has largely impacted the overall payments market. Change in consumer buying behavior, economic conditions, spending priorities, and health crises are critical factors to impact the consumer goods market and their payment methods.
The global digital wallet market size was valued at over USD 27 billion in 2020 and is expected to witness more than 18% growth up to 2026. The need to obtain a faster, reliable and less complex payment gateway in various industry verticals has instigated the adoption of digital wallets.
This payment method is technology-oriented and needs regular improvement and advancement. Safety of data, money, and detection of fraud is the utmost priority in this industry. Other important factors such as alignment with the regulatory policies, international standardization process, and versatility will uplift the industry acceptance on a global and international level.
An advanced and well-constructed online payment platform is productive and obtains better capabilities to incorporate new participants, methods, and currencies at high speed. Flexibility is another positive prospective in saving money, time, and exploration in the new market.
The industry may face restraints regarding international payment procedures. Lack of legislation and guidelines may result in in-efficiency in cross-country payments. Higher risk regarding fraud, compliance and regulatory guidelines may restrain the international transaction penetration. Other issues such as different functionality in multiple countries may result in more vague payment infrastructure for these payment methods.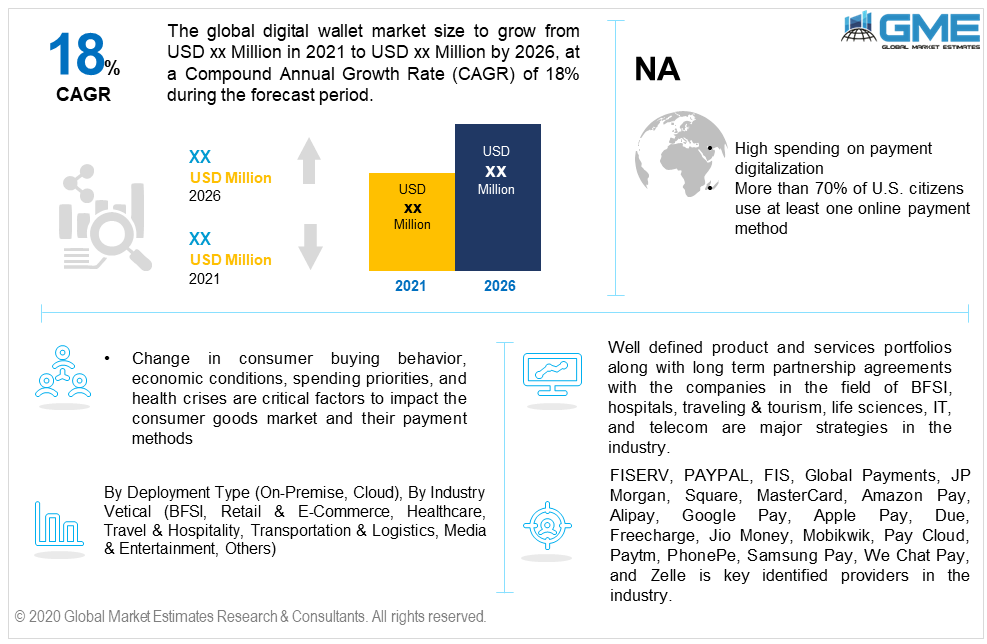 Digital Wallet Market: By Deployment Type
By deployment type, the market is divided into cloud-based and on-premise. As of now, the cloud and on-premise deployment hold almost equal revenue shares. Different requirements with diversified platforms and methods depending on the suitability are factors to decide the deployment type.
Prompt adoption, improved suitability, and networking, accompanied by advanced compatibility are major reasons to witness wider acceptance of the on-premise deployment. Other factors such as data security, integrity, and stringent will prompt the demand ib this segment. However, shifting industry necessities along with fluctuating buyer interest towards cloud-based methods will instigate penetration in this segment.
Cloud-based payment methods will witness the highest growth up to 2026. Better reach, suitability & compatibility with the user are key factors to influence penetration in this segment.
Digital Wallet Market: By Industry Vertical
By industry vertical, the market is segregated into BFSI, retail & e-commerce, healthcare, travel & hospitality, transportation, and media & entertainment. As of now, the BFSI industry led the global revenue share and accounted for more than 22% of the revenue generation in 2019. Timely implementation and better networking, along with higher requirements from the consumer side are key factors to observe high penetration in this industry vertical.
The Healthcare industry is likely to observe the highest gains of more than 20% in the coming years. Shifting trends towards telemedicine and teletherapy due to covid-19 impact has changed the consumer behavior regarding healthcare decision-making.
The retail & e-commerce industry holds the highest potential during the forecast period. Changing payment dynamics due to covid-19 has resulted in the high number of users and transactions in the previous year. Online shopping penetration along with lucrative deals related to mobile payments will lure more customers to use this method.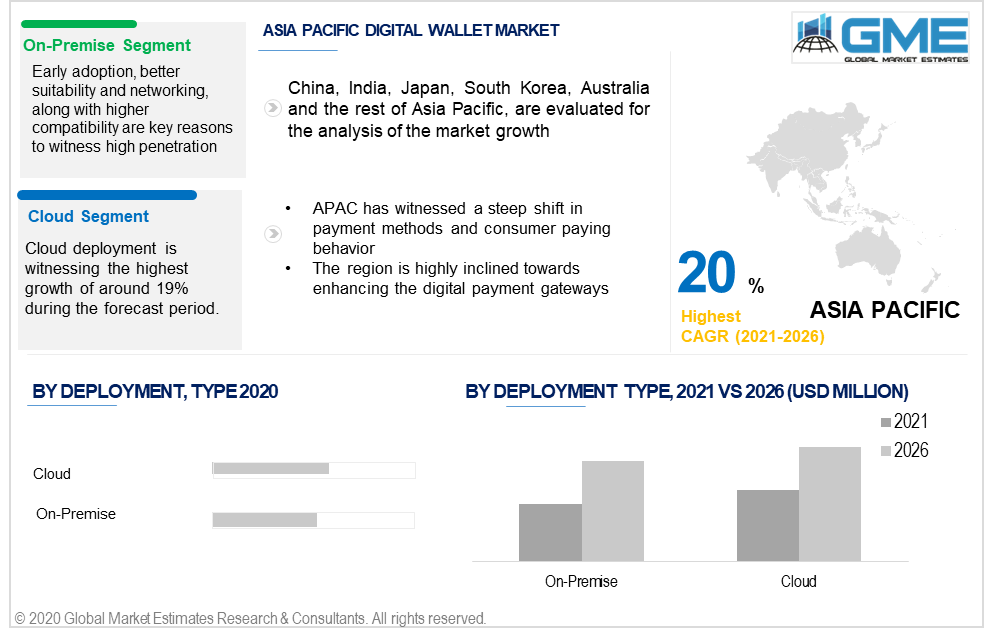 Digital Wallet Market: By Region
North America will observe a significant market revenue share of over 30% in 2019. High spending on payment digitalization along with heavy consumer engagement on e-commerce platforms are the major factors to drive regional demand. As per industry experts, more than 70% of U.S. citizens use at least one online payment method. The digital payments penetration has reached 78 percent in 2020 which promises a potential future.
It can be stated that retail industries did not witness a decline but a shift in consumer buying behavior. During the first six months of the covid-19 outbreak in 2020, consumers spent more than USD 345 Billion on online shopping transactions with U.S. retailers, which was more than 30% from the year's duration in 2019. Amazon witnessed over 40% year-over-year growth.
The Asia Pacific has witnessed a steep shift in payment methods and consumer paying behavior. Australia witnessed a fall in credit card spending by 5% from February to June 2020. The region has also witnessed the penetration of instant payment options and mobile payments. Credit cards retained their strong position in other countries which largely supported the POS transactions and e-commerce industry.
India is already one of the prepared nations in terms of e-payments and online shopping infrastructure. Change in consumer buying behavior since the demonetization in 2016. Due to the demonetization, the country faced a sudden and swift shift towards payment gateways such as Paytm, PayPal, and other UPI platforms. The country has a vast infrastructure for e-payments and e-tailers.
Digital Wallet Company Market Share and Competitor Analysis
The global company market share is highly competitive and scattered in nature as few companies hold large market share. FISERV, FIS, PAYPAL, Global Payments, Square, JP Morgan, MasterCard, Alipay, Amazon Pay, Google Pay, and Apple Pay are major players in the industry.
Well defined product and services portfolios along with long term partnership agreements with the companies in the field of BFSI, hospitals, traveling & tourism, life sciences, IT, and telecom are major strategies in the industry. Also providing consistent and advanced payment and security services to digitally enhance the payment gateways and transactions were the prime concerns among the providers.
Please note: This is not an exhaustive list of companies profiled in the report.
Chapter 1 Methodology
1.1 Market scope & definitions
1.2 Estimates & forecast calculation
1.3 Historical data overview and validation
1.4 Data sources
1.4.1 Secondary
1.4.2 Primary
Chapter 2 Report Outlook
2.1 Digital wallet industry overview, 2019-2026
2.1.1 Industry overview
2.1.2 Deployment type overview
2.1.3 Industry Vertical overview
2.1.4 Regional overview
Chapter 3 Digital Wallet Market Trends
3.1 Market segmentation
3.2 Industry background, 2019-2026
3.3 Market key trends
3.3.1 Positive trends
3.3.2 Industry challenges
3.4 Prospective growth scenario
3.4.1 Product growth scenario
3.5 Industry influence over product growth
3.6 Porter's analysis
3.7 PESTEL analysis
3.8 Value chain & supply chain analysis
3.9 Regulatory framework
3.9.1 North America
3.9.2 Europe
3.9.3 APAC
3.9.4 LATAM
3.9.5 MEA
3.10 Technology overview
3.11 Market share analysis, 2020
3.11.1 Company positioning overview, 2020
Chapter 4 Digital Wallet Market, By Deployment Type
4.1 Deployment Type Outlook
4.2 On-Premise
4.2.1 Market size, by region, 2019-2026 (USD Million)
4.3 Cloud
4.3.1 Market size, by region, 2019-2026 (USD Million)
Chapter 5 Digital Wallet Market, By Industry Vertical
5.1 Industry Vertical Outlook
5.2 BFSI
5.2.1 Market size, by region, 2019-2026 (USD Million)
5.3 Retail & E-commerce
5.3.1 Market size, by region, 2019-2026 (USD Million)
5.4 Healthcare
5.4.1 Market size, by region, 2019-2026 (USD Million)
5.5 Travel & Hospitality
5.5.1 Market size, by region, 2019-2026 (USD Million)
5.6 Transportation & Logistics
5.6.1 Market size, by region, 2019-2026 (USD Million)
5.7 Media & Entertainment
5.7.1 Market size, by region, 2019-2026 (USD Million)
5.8 Others
5.8.1 Market size, by region, 2019-2026 (USD Million)
Chapter 6 Digital Wallet Market, By Region
6.1 Regional outlook
6.2 North America
6.2.1 Market size, by country 2019-2026 (USD Million)
6.2.2 Market size, by deployment type, 2019-2026 (USD Million)
6.2.3 Market size, by industry vertical, 2019-2026 (USD Million)
6.2.4 U.S.
6.2.4.1 Market size, by deployment type, 2019-2026 (USD Million)
6.2.4.2 Market size, by industry vertical, 2019-2026 (USD Million)
6.2.5 Canada
6.2.5.1 Market size, by deployment type, 2019-2026 (USD Million)
6.2.5.2 Market size, by industry vertical, 2019-2026 (USD Million)
6.3 Europe
6.3.1 Market size, by country 2019-2026 (USD Million)
6.3.2 Market size, by deployment type, 2019-2026 (USD Million)
6.3.3 Market size, by industry vertical, 2019-2026 (USD Million)
6.3.4 Germany
6.2.4.1 Market size, by deployment type, 2019-2026 (USD Million)
6.2.4.2 Market size, by industry vertical, 2019-2026 (USD Million)
6.3.5 UK
6.3.5.1 Market size, by deployment type, 2019-2026 (USD Million)
6.3.5.2 Market size, by industry vertical, 2019-2026 (USD Million)
6.3.6 France
6.3.6.1 Market size, by deployment type, 2019-2026 (USD Million)
6.3.6.2 Market size, by industry vertical, 2019-2026 (USD Million)
6.3.7 Italy
6.3.7.1 Market size, by deployment type, 2019-2026 (USD Million)
6.3.7.2 Market size, by industry vertical, 2019-2026 (USD Million)
6.3.8 ROE
6.3.8.1 Market size, by deployment type, 2019-2026 (USD Million)
6.3.8.2 Market size, by industry vertical, 2019-2026 (USD Million)
6.4 Asia Pacific
6.4.1 Market size, by country 2019-2026 (USD Million)
6.4.2 Market size, by deployment type, 2019-2026 (USD Million)
6.4.3 Market size, by industry vertical, 2019-2026 (USD Million)
6.4.4 China
6.4.4.1 Market size, by deployment type, 2019-2026 (USD Million)
6.4.4.2 Market size, by industry vertical, 2019-2026 (USD Million)
6.4.5 Japan
6.4.5.1 Market size, by deployment type, 2019-2026 (USD Million)
6.4.5.2 Market size, by industry vertical, 2019-2026 (USD Million)
6.4.6 Australia
6.4.6.1 Market size, by deployment type, 2019-2026 (USD Million)
6.4.6.2 Market size, by industry vertical, 2019-2026 (USD Million)
6.4.7 India
6.4.7.1 Market size, by deployment type, 2019-2026 (USD Million)
6.4.7.2 Market size, by industry vertical, 2019-2026 (USD Million)
6.4.8 ROAPAC
6.4.8.1 Market size, by deployment type, 2019-2026 (USD Million)
6.4.8.2 Market size, by industry vertical, 2019-2026 (USD Million)
6.5 Latin America
6.5.1 Market size, by country 2019-2026 (USD Million)
6.5.2 Market size, by deployment type, 2019-2026 (USD Million)
6.5.3 Market size, by industry vertical, 2019-2026 (USD Million)
6.5.4 Brazil
6.5.4.1 Market size, by deployment type, 2019-2026 (USD Million)
6.5.4.2 Market size, by industry vertical, 2019-2026 (USD Million)
6.5.5 Rest of Latin America
6.5.5.1 Market size, by deployment type, 2019-2026 (USD Million)
6.5.5.2 Market size, by industry vertical, 2019-2026 (USD Million)
6.6 MEA
6.6.1 Market size, by country 2019-2026 (USD Million)
6.6.2 Market size, by deployment type, 2019-2026 (USD Million)
6.6.3 Market size, by industry vertical, 2019-2026 (USD Million)
6.6.4 Saudi Arabia
6.6.4.1 Market size, by deployment type, 2019-2026 (USD Million)
6.6.4.2 Market size, by industry vertical, 2019-2026 (USD Million)
6.6.5 UAE
6.6.5.1 Market size, by deployment type, 2019-2026 (USD Million)
6.6.5.2 Market size, by industry vertical, 2019-2026 (USD Million)
6.6.6 ROMEA
6.6.6.1 Market size, by deployment type, 2019-2026 (USD Million)
6.6.6.2 Market size, by industry vertical, 2019-2026 (USD Million)
Chapter 7 Company Landscape
7.1 Competitive analysis, 2020
7.2 FISERV
7.2.1 Company overview
7.2.2 Financial analysis
7.2.3 Strategic positioning
7.2.4 Info graphic analysis
7.3 PAYPAL
7.3.1 Company overview
7.3.2 Financial analysis
7.3.3 Strategic positioning
7.3.4 Info graphic analysis
7.4 FIS
7.4.1 Company overview
7.4.2 Financial analysis
7.4.3 Strategic positioning
7.4.4 Info graphic analysis
7.5 Global Payments
7.5.1 Company overview
7.5.2 Financial analysis
7.5.3 Strategic positioning
7.5.4 Info graphic analysis
7.6 JP Morgan
7.6.1 Company overview
7.6.2 Financial analysis
7.6.3 Strategic positioning
7.6.4 Info graphic analysis
7.7 Square
7.7.1 Company overview
7.7.2 Financial analysis
7.7.3 Strategic positioning
7.7.4 Info graphic analysis
7.8 MasterCard
7.8.1 Company overview
7.8.2 Financial analysis
7.8.3 Strategic positioning
7.8.4 Info graphic analysis
7.9 Amazon Pay
7.9.1 Company overview
7.9.2 Financial analysis
7.9.3 Strategic positioning
7.9.4 Info graphic analysis
7.10 Alipay
7.10.1 Company overview
7.10.2 Financial analysis
7.10.3 Strategic positioning
7.10.4 Info graphic analysis
7.11 Google Pay
7.11.1 Company overview
7.11.2 Financial analysis
7.11.3 Strategic positioning
7.11.4 Info graphic analysis
7.12 Apple Pay
7.12.1 Company overview
7.12.2 Financial analysis
7.12.3 Strategic positioning
7.12.4 Info graphic analysis
7.13 Due
7.13.1 Company overview
7.13.2 Financial analysis
7.13.3 Strategic positioning
7.13.4 Info graphic analysis
7.14 Freecharge
7.14.1 Company overview
7.14.2 Financial analysis
7.14.3 Strategic positioning
7.14.4 Info graphic analysis
7.15 Jio Money
7.15.1 Company overview
7.15.2 Financial analysis
7.15.3 Strategic positioning
7.15.4 Info graphic analysis
7.16 Mobikwik
7.16.1 Company overview
7.16.2 Financial analysis
7.16.3 Strategic positioning
7.16.4 Info graphic analysis
7.17 Pay Cloud
7.17.1 Company overview
7.17.2 Financial analysis
7.17.3 Strategic positioning
7.17.4 Info graphic analysis
7.18 Paytm
7.18.1 Company overview
7.18.2 Financial analysis
7.18.3 Strategic positioning
7.18.4 Info graphic analysis
7.19 PhonePe
7.19.1 Company overview
7.19.2 Financial analysis
7.19.3 Strategic positioning
7.19.4 Info graphic analysis
7.20 We Chat Pay
7.20.1 Company overview
7.20.2 Financial analysis
7.20.3 Strategic positioning
7.20.4 Info graphic analysis
7.21 Zelle
7.21.1 Company overview
7.21.2 Financial analysis
7.21.3 Strategic positioning
7.21.4 Info graphic analysis