Food Thickeners Market Insights
The global food thickeners market is estimated to grow at a CAGR of approximately 6% from 2017 to 2025. Rising demand for convenience foods and consumer awareness toward healthy diet coupled with multiple applications of food thickeners are factors likely to drive the market.
Food thickeners are multifunctional, compatible with most ingredients, economical and abundant in supply. However, high R&D expenditure associated with the development and manufacturing of food thickeners and frequent fluctuations in raw material prices of hydrocolloids can have a negative impact on market growth.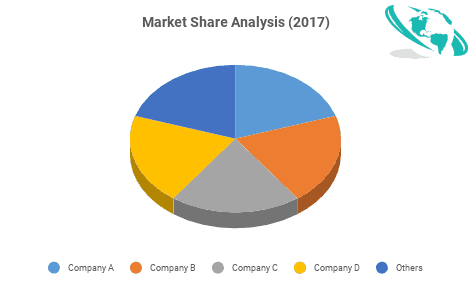 Food Thickeners Market: Type Insights
The global food thickeners market, based on type, can be segmented into hydrocolloids, proteins, and starch. The starch segment is expected to dominate the market and is also projected to grow at the fastest rate during the forecast period. The high consumption of starch as food thickeners is due to their easy availability, abundant supply, and low cost. Starch does not to have any negative impact on the properties of food products which is why they are preferred over other food thickeners.
Food Thickeners Market: Source Insights
The global food thickeners market, based on source, is classified into the plant, animal, and microbial. Plant-sourced food thickeners are estimated to be the fastest growing food thickener in the market, and also holds the largest market share. This is due to their cost-effectiveness, abundant supply, and availability with a large number of suppliers. Plant-sourced food thickeners have nutritional value at par with other sources, and better acceptability by both vegan and non-vegan individuals.
Food Thickeners Market: Application Insights
The food thickeners market, by application, can be segmented into the bakery, confectionery, sauces, marinades & gravies, beverages, dairy, and convenience foods. The dairy & frozen desserts application segment held the largest share in 2017 due to the wide usage of food thickeners for flavor and texture enhancements along with thickening. The beverages segment is estimated to grow at the fastest rate during the forecast period. Innovations in the beverage sector, along with additional properties of food thickeners such as fat replacement, water binding, emulsifying, and texturizing, are driving their application in the various beverage applications.
Food Thickeners Market: Regional Insights
North America is expected to hold largest market share in the food thickeners market. The large share of the North American region is due to its high consumption of hydrocolloids, proteins, and starch & starch derivatives in a diverse range of food & beverage applications. The Asia-Pacific region is estimated to grow at the highest CAGR on account of increasing importance given to product innovation, improving health aspects, and functional characteristics such as texture and flavor.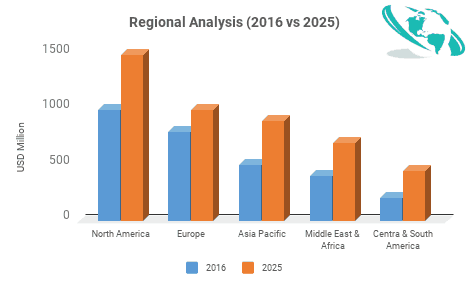 Food Thickeners Market: End-Use Landscape
The end-use landscape entails a list of current and prospective consumers prevailing across the regions. This section provides company addresses, contact details, products, and regional presence of companies who are purchasing or are likely to purchase Food Thickenersover the coming years. Some leading consumers of this market are Häagen-Dazs, Finsbury Food Group, and Yamazaki Baking among others.
Food Thickeners Market: Vendor Landscape
The report contains a chapter dedicated to vendors operating in the market, covering raw material manufactures, equipment developers, manufacturers, and distributors. The report provides these insights on a regional level. This section of the report entails contact details, experience, products manufactured/supplied, and geographical presence of companies.
Food Thickeners Market Share & Competitor Analysis
Some key players in the food thickeners market include Cargill, Darling ingredients, TIC Gums, Archer Daniels Midland Company, E. I. Du Pont De Nemours and Company, Ashland Specialty Ingredients , Tate & Lyle PLC , Ingredion Incorporated, Fuerst Day Lawson and Kerry Group Plc.
Please note: This is not an exhaustive list of companies profiled in the report.
In 2016, Cargill set up a new innovation center in China named Cargill ONE. This would help the company to expand its expertise in taste, flavors, food ingredients, and menus that appeal to changing consumer demand in Asia.
In 2016, Ingredion Incorporated acquired Tic Gums for USD 400 million. The pickup expanded its range of thickeners beyond starch-based products generally found in quiches, cheesecakes and instant mayonnaise to non-starch, agriculturally-derived ingredients such as gum acacia and guar.
The global Food Thickeners Market has been studied from the year 2016 till 2025. However, the CAGR provided in the report is from the year 2017 to 2025. The research methodology involved three stages: Desk research, Primary research, and Analysis & Output from the entire research process.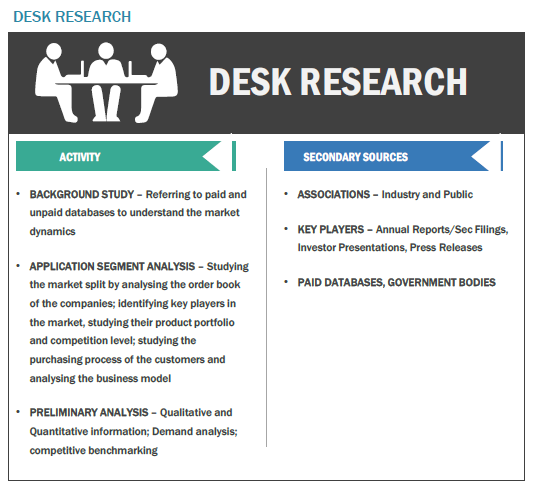 The desk research involved a robust background study which meant referring to paid and unpaid databases to understand the market dynamics; mapping contracts from press releases; identifying the key players in the market, studying their product portfolio, competition level, annual reports/SEC filings & investor presentations; and learning the demand and supply side analysis for the Food Thickeners Market.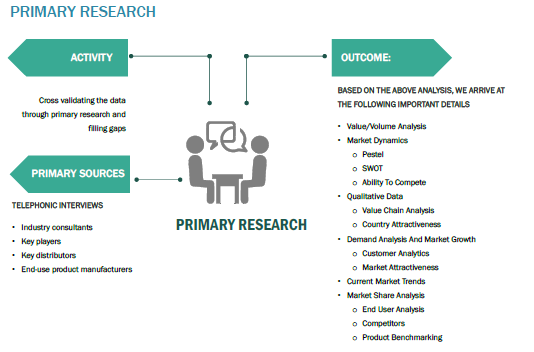 The primary research activity included telephonic conversations with more than 50 tier 1 industry consultants, distributors, and end-use product manufacturers.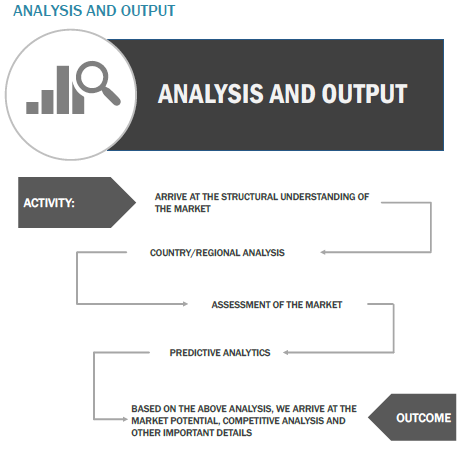 Finally, based on the above thorough research process, an in-depth analysis was carried out considering the following aspects: market attractiveness, current & future market trends, market share analysis, SWOT analysis of the company and customer analytics.