Market Insights:
The gas separation membrane is used to purify and separate a specific component from the rest of the vapor and gas mixture. They are widely used for gas processing application in the petrochemical, chemical, and manufacturing industries. The market is projected to grow at a high CAGR over the forecast period.
Membrane-based separation is introduced instead of the conventional separation technologies such as absorption and cryogenic distillation. Gas separation membranes are broadly used in food & beverage processing, pharmaceutical & medical application, water & wastewater treatment, chemical processing, and industrial gas processing among other applications.
Gas separation membrane technology is projected to play an important role in reducing costs of industrial processes and environmental impact. This process has been adapted due to the various advantages provided by this product such as energy efficiency, low capital investment, operation & maintenance cost, light weight, simplicity & ease of installation, less space requirement, and high process flexibility.
Material Insights:
The polyimide & polyaramide segment of this industry is estimated to have highest market share due to the properties such as thermal stability and selectivity. Fiber fillers are used to lower coefficient of thermal expansion (CTE) of the overall adhesive to match (or nearly match) the CTE of other materials such as silicon wafers, metal, other polymers including polyimide.
Polysulfones are known for the toughness and stability they offer at high temperatures. Polysulfones are used in specialty applications and are often a better replacement for polycarbonates. It allows easy production of membranes, with reproducible properties and controllable size of pores as low as 40 nanometers. This can be used easily for wastewater recover and food & beverage processing among others.
Cellulose acetate is used as a film base in photography as it is far less flammable and cheaper. It is also used as frame material for eyeglasses, coating component, and synthetic fiber for the production of playing cards and cigarette filters.
Application Insights:
Gas separation membranes are utilized in water & waste treatments, food & beverage processing, pharmaceuticals & medical, and chemical processing among others. The chemical and thermal resistance that these membranes posses are one of the factors resulting in their increased preference. These products are used in oxygen enrichment, hydrogen recovery, and carbon dioxide removal.
The carbon dioxide removal segment occupied the largest share in the forecast period due to the rising need to extract acid gases to safeguard equipment and pipelines from corrosion. It is extensively used in natural gas pipelines for safe transmission of elements through it.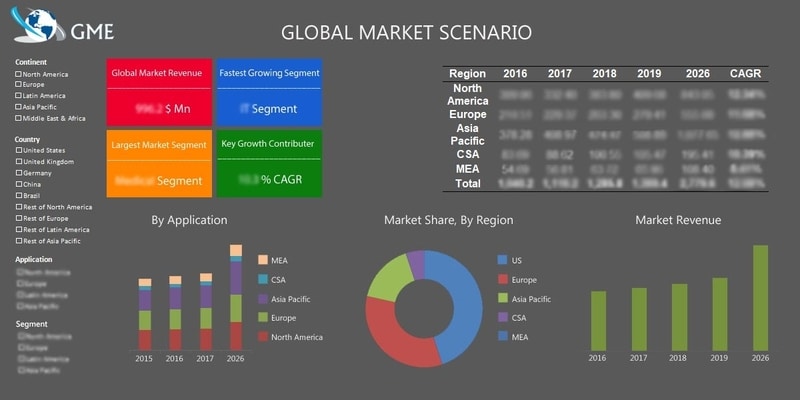 Regional Insights:
Asia Pacific is the largest market for the gas separation membranes. Asia Pacific dominated this industry due to growing industrialization which led to increasing gas processing activities. This region is projected to register the fastest growth during the forecast period due to increasing demand for energy-efficient and cost-effective gas separation techniques.
End Use Landscape:
The end-user landscape entails a list of current and prospective consumers prevailing across the regions. This section provides company addresses, contact details, products, and regional presence of companies who are purchasing or are likely to purchase the distributed energy sources over the coming years. Some leading consumers of organic personal care markets are ANDRITZ separation, Membrane Srl, Membrane Systems Europe BV, BORSIG Membrane Technology GmbH among others.
Competitor Analysis:
The lifespan of the membrane is the major challenge faced by companies operating in the market. As the products durability decreases there is an immediate need for replacement. Replacement of the membrane on a regular basis increases the maintenance & operational cost of a company. Major companies are projected to expand in developing economies by opening regional sales offices to cater to the domestic demands.
Major membrane system providers are Air Liquid (PoroGen Corporation), Air Products and Chemicals Incorporated, Evonik Resource Efficiency GmbH, and GE Water & Process Technologies among others.
1 RESEARCH METHODOLOGY
1.1 DESK RESEARCH
1.2 PRIMARY RESEARCH
1.3 ANALYSIS AND OUTPUT
1.4 FINAL OUTPUT FROM DESK AND PRIMARY RESEARCH
2 ECOSYSTEM OVERVIEW
3 TECHNOLOGICAL TRENDS IN GAS SEPARATION MEMBRANE MARKET
4 DEMAND AND SUPPLY MATRIX
4.1 INTRODUCTION
4.2 DEMAND SIDE ANALYSIS
4.2.1 MARKET DRIVERS
4.2.2 MARKET RESTRAINTS
4.2.3 MARKET OPPORTUNITIES
4.2.4 MARKET CHALLENGES
4.3 SUPPLY SIDE ANALYSIS
4.3.1 FUTURE SCENARIO (CAGR% VS. COUNTRY)
4.3.2 MAPPING KEY GAS SEPARATION MEMBRANE MANUFACTURERS
4.3.3 PORTER'S FIVE FORCES ANALYSIS
4.3.3.1 Threat of new entrants
4.3.3.2 Threat of substitutes
4.3.3.3 Bargaining power of buyers
4.3.3.4 Bargaining power of suppliers
4.3.3.5 Intensity of competitive rivalry
4.3.4 GAS SEPARATION MEMBRANE MARKET: TREND ANALYSIS
4.4 PESTLE ANALYSIS
4.5 IMPACT ANALYSIS
4.6 PATENT LISTING
4.7 BEHAVIOURAL ANALYSIS
4.7.1 KEY MACRO INDICATORS
4.7.2 KEY MICRO INDICATORS
5 REGULATORY FRAMEWORK
6 GAS SEPARATION MEMBRANE MARKET, BY MATERIAL
6.1 INTRODUCTION
6.2 POLYIMIDE & POLYARAMIDE
6.3 POLYSULFONE
6.4 CELLULOSE ACETATE
6.5 OTHERS
7 GAS SEPARATION MEMBRANE MARKET, BY APPLICATION
7.1 INTRODUCTION
7.2 NITROGEN GENERATION & OXYGEN ENRICHMENT
7.3 HYDROGEN RECOVERY
7.4 CARBON DIOXIDE REMOVAL
8 GAS SEPARATION MEMBRANE MARKET, BY REGION
8.1 INTRODUCTION
8.2 NORTH AMERICA
8.2.1 BY MATERIAL
8.2.2 BY APPLICATION
8.2.3 BY COUNTRY
8.2.3.1 U.S.
8.2.3.1.1 By material
8.2.3.1.2 By application
8.2.3.2 CANADA
8.2.3.2.1 By material
8.2.3.2.2 By application
8.2.3.3 MEXICO
8.2.3.3.1 By material
8.2.3.3.2 By application
8.3 EUROPE
8.3.1 BY MATERIAL
8.3.2 BY APPLICATION
8.3.3 BY COUNTRY
8.3.3.1 UK
8.3.3.1.1 By material
8.3.3.1.2 By application
8.3.3.2 GERMANY
8.3.3.2.1 By material
8.3.3.2.2 By application
8.3.3.3 FRANCE
8.3.3.3.1 By material
8.3.3.3.2 By application
8.3.3.4 ITALY
8.3.3.4.1 By material
8.3.3.4.2 By application
8.3.3.5 RUSSIA
8.3.3.5.1 By material
8.3.3.5.2 By application
8.4 ASIA PACIFIC
8.4.1 BY MATERIAL
8.4.2 BY APPLICATION
8.4.3 BY COUNTRY
8.4.3.1 CHINA
8.4.3.1.1 By material
8.4.3.1.2 By application
8.4.3.2 JAPAN
8.4.3.2.1 By material
8.4.3.2.2 By application
8.4.3.3 INDIA
8.4.3.3.1 By material
8.4.3.3.2 By application
8.4.3.4 AUSTRALIA
8.4.3.4.1 By material
8.4.3.4.2 By application
8.5 CENTRAL & SOUTH AMERICA
8.5.1 BY MATERIAL
8.5.2 BY APPLICATION
8.5.3 BY COUNTRY
8.5.3.1 ARGENTINA
8.5.3.1.1 By material
8.5.3.1.2 By application
8.5.3.2 BRAZIL
8.5.3.2.1 By material
8.5.3.2.2 By application
8.5.3.2.3
8.6 MIDDLE EAST & AFRICA
8.6.1 BY MATERIAL
8.6.2 BY APPLICATION
8.6.3 BY COUNTRY
8.6.3.1 SOUTH AFRICA
8.6.3.1.1 By material
8.6.3.1.2 By application
8.6.3.2 SAUDI ARABIA
8.6.3.2.1 By material
8.6.3.2.2 By application
8.6.3.3 TURKEY
8.6.3.3.1 By material
8.6.3.3.2 By application
9 VENDOR LANDSCAPE (SUPPLIERS/MANUFACTURERS/DISTRIBUTORS)
9.1 NORTH AMERICA
9.2 EUROPE
9.3 ASIA-PACIFIC
9.4 REST OF THE WORLD
10 COMPANY PROFILE
10.1 UBE INDUSTRIES LTD.
10.1.1 BUSINESS DESCRIPTION
10.1.2 FINANCIAL PERFORMANCE
10.1.3 SWOT ANALYSIS
10.1.4 PRODUCTS AND SERVICES OFFERED
10.1.5 STRATEGIC INITIATIVES
10.2 AIR LIQUIDE ADVANCED SEPARATIONS LLC
10.2.1 BUSINESS DESCRIPTION
10.2.2 FINANCIAL PERFORMANCE
10.2.3 SWOT ANALYSIS
10.2.4 PRODUCTS AND SERVICES OFFERED
10.2.5 STRATEGIC INITIATIVES
10.3 AIR PRODUCTS AND CHEMICALS INC..
10.3.1 BUSINESS DESCRIPTION
10.3.2 FINANCIAL PERFORMANCE
10.3.3 SWOT ANALYSIS
10.3.4 PRODUCTS AND SERVICES OFFERED
10.3.5 STRATEGIC INITIATIVES
10.4 GENERON IGS INC.
10.4.1 BUSINESS DESCRIPTION
10.4.2 FINANCIAL PERFORMANCE
10.4.3 SWOT ANALYSIS
10.4.4 PRODUCTS AND SERVICES OFFERED
10.4.5 STRATEGIC INITIATIVES
10.5 HONEYWELL UOP LLC.
10.5.1 BUSINESS DESCRIPTION
10.5.2 FINANCIAL PERFORMANCE
10.5.3 SWOT ANALYSIS
10.5.4 PRODUCTS AND SERVICES OFFERED
10.5.5 STRATEGIC INITIATIVES
10.6 FUJIFILM MANUFACTURING EUROPE B.V.
10.6.1 BUSINESS DESCRIPTION
10.6.2 FINANCIAL PERFORMANCE
10.6.3 SWOT ANALYSIS
10.6.4 PRODUCTS AND SERVICES OFFERED
10.6.5 STRATEGIC INITIATIVES
10.7 SCHLUMBERGER LTD.
10.7.1 BUSINESS DESCRIPTION
10.7.2 FINANCIAL PERFORMANCE
10.7.3 SWOT ANALYSIS
10.7.4 PRODUCTS AND SERVICES OFFERED
10.7.5 STRATEGIC INITIATIVES
10.8 PARKER-HANNIFIN CORPORATION
10.8.1 BUSINESS DESCRIPTION
10.8.2 FINANCIAL PERFORMANCE
10.8.3 SWOT ANALYSIS
10.8.4 PRODUCTS AND SERVICES OFFERED
10.8.5 STRATEGIC INITIATIVES
10.9 DIC CORPORATION
10.9.1 BUSINESS DESCRIPTION
10.9.2 FINANCIAL PERFORMANCE
10.9.3 SWOT ANALYSIS
10.9.4 PRODUCTS AND SERVICES OFFERED
10.9.5 STRATEGIC INITIATIVES
10.10 MEMBRANE TECHNOLOGY AND RESEARCH INC.
10.10.1 BUSINESS DESCRIPTION
10.10.2 FINANCIAL PERFORMANCE
10.10.3 SWOT ANALYSIS
10.10.4 PRODUCTS AND SERVICES OFFERED
10.10.5 STRATEGIC INITIATIVES
10.11 ADVANTEC
10.11.1 BUSINESS DESCRIPTION
10.11.2 FINANCIAL PERFORMANCE
10.11.3 SWOT ANALYSIS
10.11.4 PRODUCTS AND SERVICES OFFERED
10.11.5 STRATEGIC INITIATIVES
10.12 ASAHI GLASS CO., LTD.
10.12.1 BUSINESS DESCRIPTION
10.12.2 FINANCIAL PERFORMANCE
10.12.3 SWOT ANALYSIS
10.12.4 PRODUCTS AND SERVICES OFFERED
10.12.5 STRATEGIC INITIATIVES
10.13 GMT MEMBRANTECHNIK
10.13.1 BUSINESS DESCRIPTION
10.13.2 FINANCIAL PERFORMANCE
10.13.3 SWOT ANALYSIS
10.13.4 PRODUCTS AND SERVICES OFFERED
10.13.5 STRATEGIC INITIATIVES
10.14 GRASYS
10.14.1 BUSINESS DESCRIPTION
10.14.2 FINANCIAL PERFORMANCE
10.14.3 SWOT ANALYSIS
10.14.4 PRODUCTS AND SERVICES OFFERED
10.14.5 STRATEGIC INITIATIVES
10.15 ASTOM CORPORATION
10.15.1 BUSINESS DESCRIPTION
10.15.2 FINANCIAL PERFORMANCE
10.15.3 SWOT ANALYSIS
10.15.4 PRODUCTS AND SERVICES OFFERED
10.15.5 STRATEGIC INITIATIVES
The global gas separation membrane market has been studied from the year 2016 till 2025. However, the CAGR provided in the report is from the year 2017 to 2025. The research methodology involved three stages: Desk research, Primary research, and Analysis & Output from the entire research process.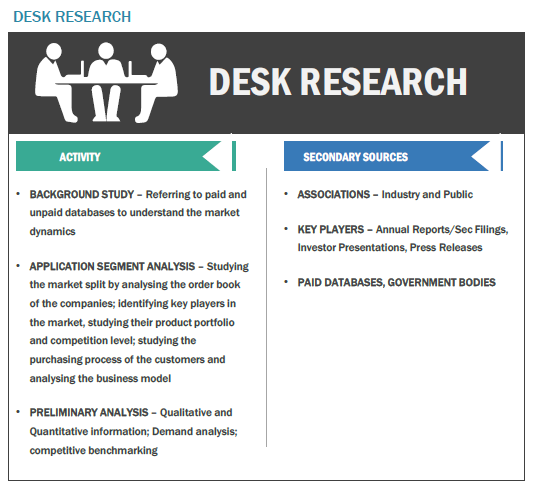 The desk research involved a robust background study which meant referring to paid and unpaid databases to understand the industry analysis; industry trends; market analysis; market trends; market dynamics; mapping contracts from press releases; identifying the key players in the market, studying their product portfolio, competition level, annual reports/SEC filings & investor presentations; and learning the demand and supply side analysis for the gas separation membrane market.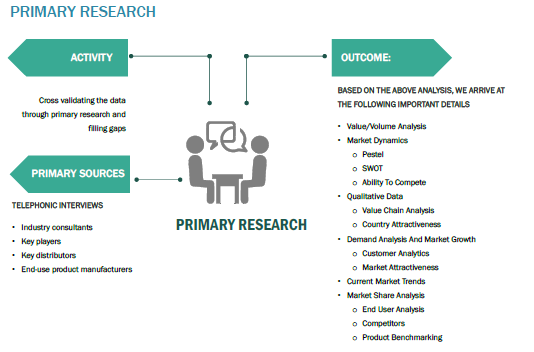 The primary research activity included telephonic conversations with more than 50 tier 1 industry consultants, VPs, CEOs, COOs, financial consultants, business consultants, strategy consultants, project management consultants, business management consultants, distributors, and end-use product manufacturers.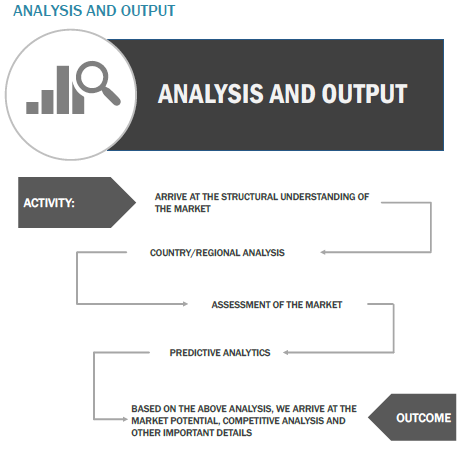 Finally, based on the above thorough research process, an in-depth analysis was carried out considering the following aspects: market attractiveness, current & future market trends, demand forecasting, market share analysis, SWOT analysis of the companies, and customer analytics.