3D Scanner Market: Insights
3D scanning is a method of capturing an object's three-dimensional properties as well as detail such as color and texture. This technology aids in the reduction of time, expense, and effort in the manufacturing process, thus improving output efficiency. 3D scanners have developed into a vital method for reducing product production and processing time, offering players a strategic advantage. Continuous technical advances in terms of portability, scanning range, and image quality have extended the reach of this equipment's applications.
3D scanners use lasers, illumination, or x-rays to record the dimensions of physical objects and create point clouds, which are then used to generate a 3D model of the scanned object utilizing the software. 3D scanners have been powerful instruments in several fields, including manufacturing, aerospace and security, entertainment and media, automobile, healthcare, and others. Earlier, 3D scanners were mostly used for industrial and technical purposes, such as scanning a construction site or making digital models for film. However, with recent advancements in this field and the removal of price barriers, 3D scanning is becoming more available to customers. In recent years, automakers have reduced their product development cycles, allowing them to launch new products more quickly.
Enhanced hardware efficiency and improved internet connectivity have allowed increasing customer access to advanced resources from remote places, especially healthcare facilities or research institute departments. Advanced 3D scanner tech is evolving to meet the needs of more advanced applications that necessitate specialized post-processing. One of the major factors driving the adoption of 3D printers is the growing use of the technology in different industries. As more consumers use 3D printers, the demand for 3D scanning systems will expand in parallel, propelling the industry growth.
The COVID-19 epidemic is wreaking havoc on the industries of all electronic manufactures around the world. Raw material supply shortages are also affecting 3D scanner vendors, with total shipping delays of five weeks. Furthermore, sectors such as manufacturing and automobile contribute significantly to the development of the 3D scanner industry, but the coronavirus pandemic harmed industries significantly. The use of 3D scanning as a non-contact method aids COVID-19 thoracic chest scanning. Following the occurrence of this respiratory disease, 3D scanning technology was found to be a valuable method for detecting and quantifying COVID 19 virus.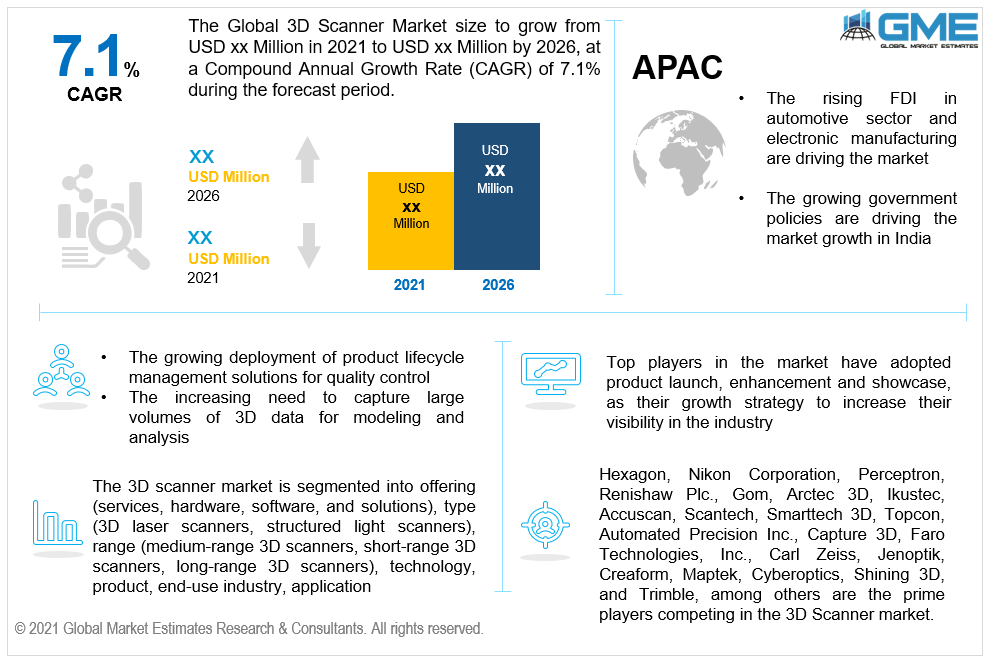 3D Scanner Market: By Component
Over the forecast period, the services segment will generate the most revenue and expand at a high CAGR rate. Different tasks in the automotive sector for quality management and component inspection are expected to contribute to development. The services assist producers in ensuring that components are below-defined tolerance ranges, boosting the services segment over the forecast period. Manufacturing firms are contracting 3D metrology measurement and inspection jobs to service providers to attain shorter measurement cycles, lower measurement complexity, and process stability, which is propelling the 3D scanner services industry.
The largest market share in 2019 was held by the hardware division, owing to the rising demand for components for 3D scanners and technical advances in printing and imaging applications.
3D Scanner Market: By Type
The 3D laser scanners will grow at the fastest CAGR during the forecast era. Laser scanning is increasingly being used for examining and mapping underground environments, and survey teams are seeing an increase in the number of customers requesting laser scanning services. Because of the scanners' extensive coverage and 3D-viewing capability, 3D laser scanners not only enable specialist surveying companies to perform precision surveys with high accuracy and time, but they often give clients more confidence in the data collected.
3D Scanner Market: By Product
During the forecast era, the fixed CMM based segment is projected to hold the largest share of the market based on the type of product. These 3D scanners allow for the capturing of an entire object from different angles at a fixed position, which is fueling demand.
Furthermore, the portable CMM-based segment is expected to rise at a healthy rate over the projected era. As compared to fixed 3D scanners, these scanners are more robust and scalable. These scanners can capture three-dimensional images of objects of different dimensions.
3D Scanner Market: By Application
The quality management and inspection segment is expected to hold the largest market share over the projected period, based on application. It's because people are getting more conscious of innovative medical treatments and the need to collect vast quantities of 3D data for the study.
Inspection is performed mostly in the automobile, aerospace, and defense sectors. In the automobile industry, 3D scanning is primarily used to inspect automotive and powertrain parts. It's also used for full-body vehicle inspections, as well as maintaining accuracy and consistency in various processes in car assembly plants.
3D Scanner Market: By Range
Short-range 3D scanners dominated the market, owing to the low price and portability of scanning instruments, as well as growing awareness of numerous application areas including product design, modeling, and content testing.
From 2019 to 2026, the medium-range segment is expected to rise at a healthy pace. These products have a scale of 1 to 300 meters and are used in several industries including heritage, civil engineering, architecture, automotive manufacturing, and archaeology.
3D Scanner Market: By End-Use Industry
During the forecast era, the automotive industry segment holds the largest market share. In the automobile industry, 3D scanners are used in the early stages of designing, assembling, and building single parts and finished goods, as well as the construction of automated production lines. Quality management and inspection are critical for manufacturing because they allow for a quicker response to quality problems, resulting in an increasing market for 3D scanning systems in the automotive industry.
By 2026, the healthcare sector is expected to become more popular. This expansion can be due to the use of technology in a variety of healthcare applications. One such application is a graphical model of cross-sectional human anatomy, which can help in further analyzing and generating accurate findings.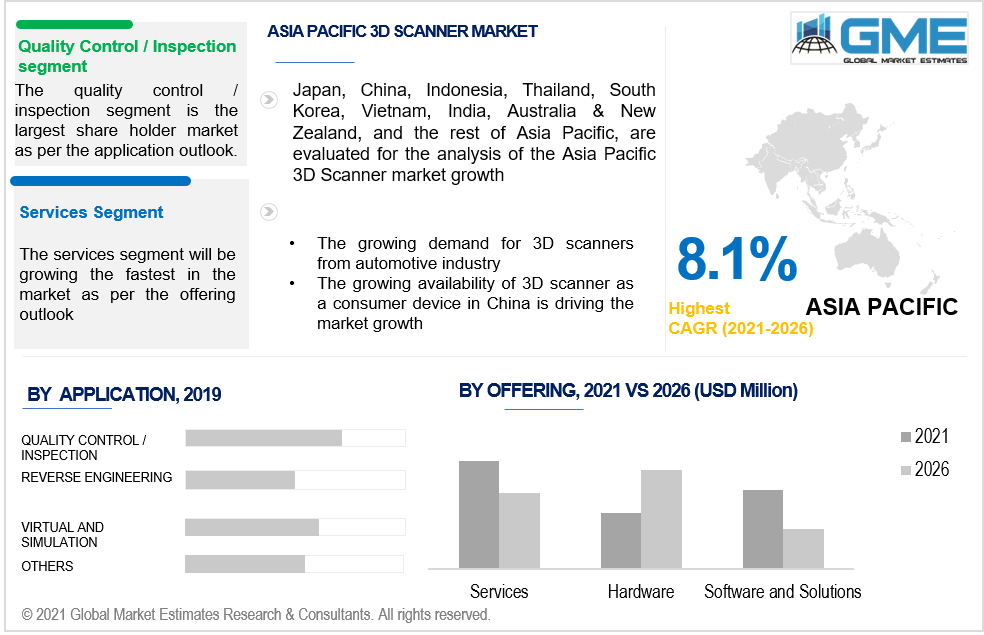 3D Scanner Market: By Region
The North American region will continue to lead in terms of revenue in the coming years. Increasing R&D investment, along with widespread adoption of technologies in the automotive industry and environmental scanning and modeling operations, is expected to boost regional development in the coming years. Furthermore, For artists of all types, 3D scanning opens up a world of possibility, enabling them to bring their most fantastic creations to life. The technology propels the film and video game industries forward; certain stunts and special effects would have been difficult, if not impossible, to achieve before 3D scanning.
Furthermore, due to the rising infrastructural developments and automation in manufacturing, the Asia-Pacific region will show a significant CAGR rate over the forecasted timeframe. Countries like India and China are embracing new technologies, providing the necessary impetus for the global 3D Scanner market to grow. Several infrastructure construction programs in APAC are currently ongoing or will be completed within the forecast timeframe.
3D Scanner Market: Share & Competitor Analysis
Hexagon, Nikon Corporation, Perceptron, Renishaw Plc., Gom, Arctec 3D, Ikustec, Accuscan, Scantech, Smarttech 3D, Topcon, Automated Precision Inc., Capture 3D, Faro Technologies, Inc., Carl Zeiss, Jenoptik, Creaform, Maptek, Cyberoptics, Shining 3D, and Trimble, among others are the prime players competing in the 3D Scanner market.
Please note: This is not an exhaustive list of companies profiled in the report.
In July 2020, MetraSCAN BLACK was launched, a 3D scanner from Creaform which is capable of measuring complicated components and structures on the production floor for industries like heavy industries, aerospace, and power generation.
In February 2020, with the latest RS-SQUARED Area Scanner, Hexagon AB rendered its structured light scanning technology portable measuring arms.