4D Bioprinting Market Insights
The global 4D bioprinting market will grow at a high growth rate between the forecast period (2020-2026). 4D printing is an upgraded version of 3D printing in which a physical object is created using a blueprint. However, in 4D printing, the formed 3D object gets transformed into different shapes and sizes when exposed to pre-determined stimulus or energy such as heat, pressure, ultraviolet rays, or other energy sources. For this, 4D printers require special printing material which can self-transform on getting exposed to an external energy source.
Factors such as rapidly increasing technological advancements in healthcare sectors and growing research on 4D printers for potential application is prevailing 4D printers market in the healthcare sector. Wide areas of application ranging from chemotherapy, tissue engineering to biomaterials of human scale are boosting the overall 4D printers market. Increasing investment of various companies for 4D printer manufacturing and shift of interest of consumers from 3D to 4D printer is expected to show the largest market in the forecast period.
However, high production costs, hazards associated with the safety of the product, and strict government regulatory norms are the key parameters hindering the overall 4D printing market.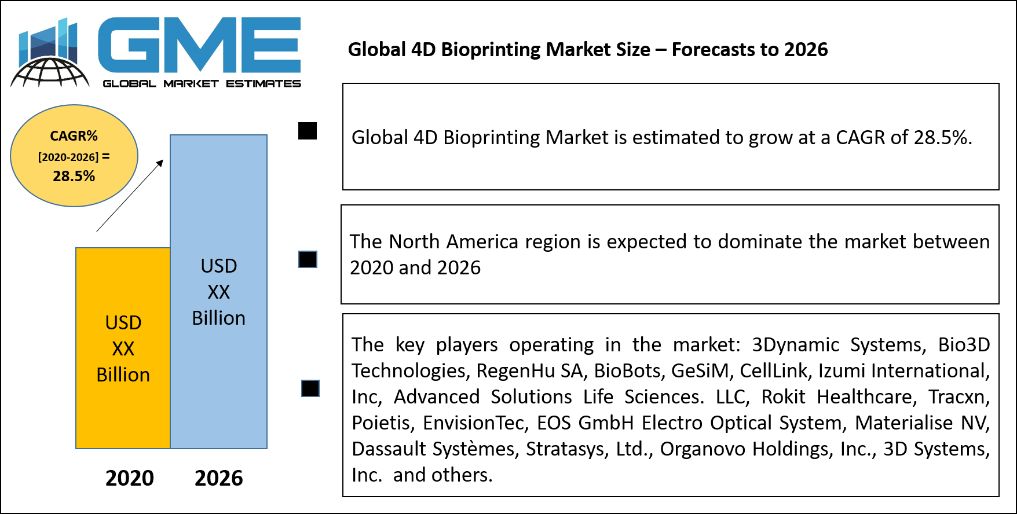 4D Bioprinting Market: By Type of Component
Based on the type of component, the market is segmented into programmable materials [living cells, hydrogels, and shape-memory materials] 3D bioprinting equipment, and software & service.
The software & services segment is expected to grow at the highest growth rate in the forecast year due to the diverse range of 4D technology applications in prototyping development and to change shape and size. However 4D printing process requires fully supporting software, which is still under development as the technology is at its initial stage.
Programmable materials are the most recent and advanced segment of 4D printing which involves cells or biocompatible responsive materials as printed objects which are capable of transforming its function or shape when exposed to external stimulus. This technology has widened the 4D bioprinting market and the most favored market if of drug delivery and tissue engineering which make this segment grow at the fastest rate, especially in developing countries.
4D Bioprinting Market: By Type of Technology
Based on technology type, the market is segmented into fused deposition modeling, polyjet, stereolithography, and selective laser sintering.
Fused deposition modeling is expected to bring the largest share in the coming years however polyjet is the most promising segment for the highest growth in the projected period. The reason behind polyjet market is the technology is capable of producing any complex structure with detailing and features. Technology offers products in different shapes and colors with a reduction in material wastage due to the high precision of deposited material.
4D Bioprinting Market: By Application
Based on application, biomedical application, patient-specific implants, and research models. The medical and research segment which involve both hospital and research laboratories are accounted to be the largest shareholder segment. The model manufactured in research and medical laboratories can be customized based on the patient pathology which reduces both time and cost. 4D printers are capable of manufacturing smart medical model which can transform both the medical sector and the overall 4D printing market in coming years.
Targeted drug delivery and organ transplant is another 4D printing application in medical and dental clinics which is emerging as a booster to the overall 4D printing market.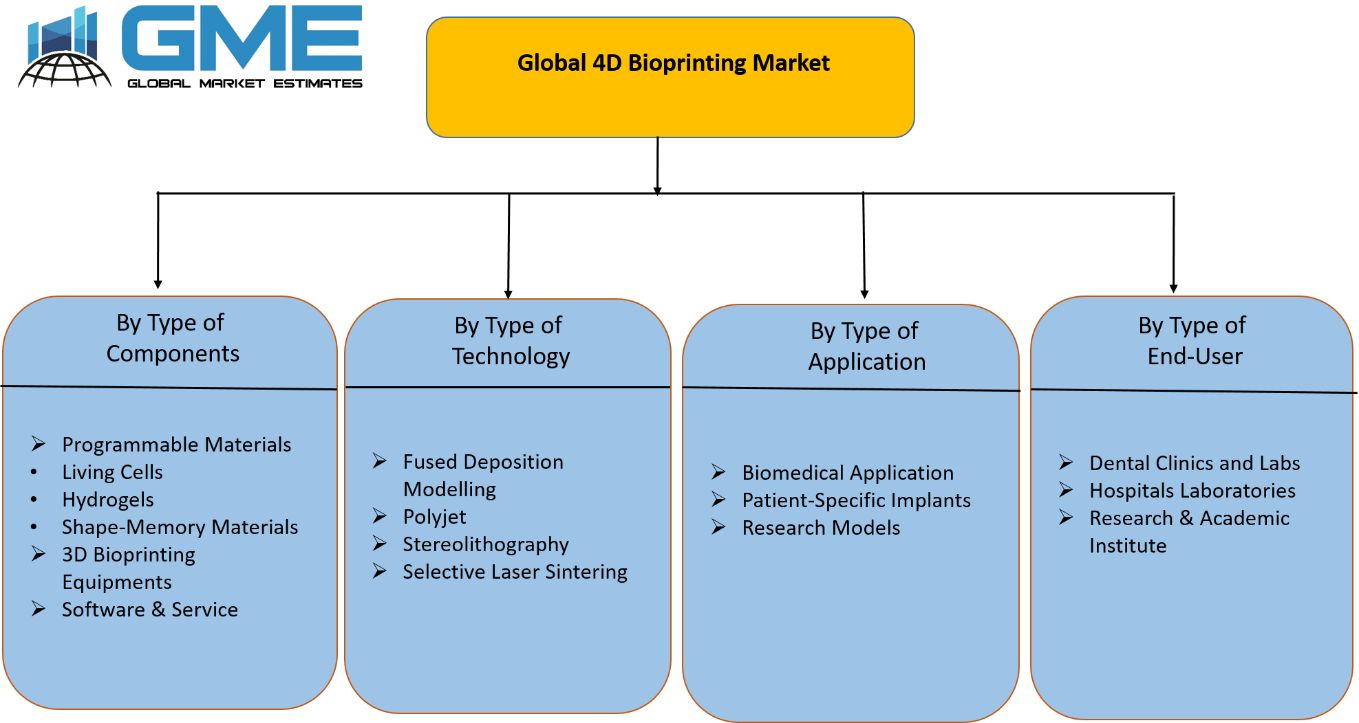 4D Bioprinting Market: By End User
Given by the end-users, the market is divided into dental clinics and labs, hospital laboratories, and research & academic institute.
Dental clinics are expected to grow at the highest end-user segment in the projected year due to increasing demand for 4D printers in dental implants which act as soft support to prevent tooth injuries.
Research and academic institutes are always among the hot area of the 4D printing market due to increase investment from the government and rising 4D printing based start-ups are expected to accelerate its overall market in the coming years.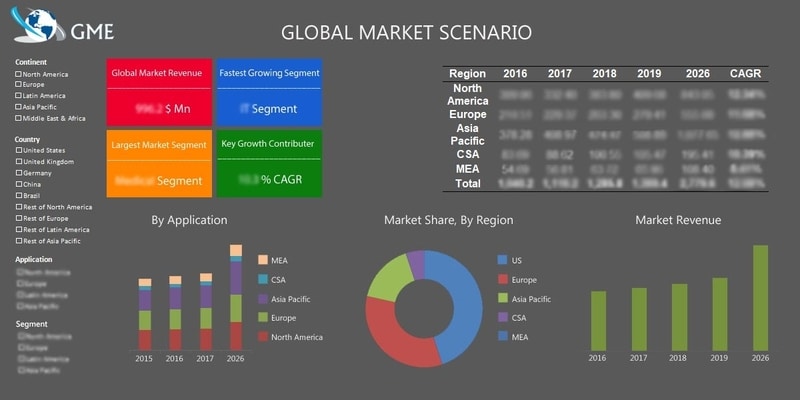 4D Bioprinting Market: By Region
Based on the region, the market is segmented into North America, Asia-Pacific, Europe, Middle East, and Africa, and Central & South America. The North American region will dominate the global 4D bioprinting market between the forecast period. The rising demand for organ transplants and growing technological innovation in the region are the prime factors supporting the market growth.
Asia-Pacific is another region that is estimated to follow the North America market trend in the forecast period. Advancement in technology and growing investment in new products by the government are triggering its market-leading to generate immense opportunities for 4D printing start-ups. However high investment cost remains to be the biggest challenge for the market.
4D Bioprinting Market Share and Competitor Analysis
The key players operating in the market include 3Dynamic Systems, Bio3D Technologies, RegenHu SA, BioBots, GeSiM, CellLink, Izumi International, Inc, Advanced Solutions Life Sciences. LLC, Rokit Healthcare, Tracxn, Poietis, EnvisionTEC, EOS GmbH Electro-Optical System, Materialise NV, Dassault Systèmes, Stratasys, Ltd., Organovo Holdings, Inc., 3D Systems, Inc., and others.
Please note: This is not an exhaustive list of companies profiled in the report.
In August 2020, Stratasys, Ltd. launched a 3D printing based next-generation platform, MakerBot CloudPrint. The platform provides familiar software with a more efficient 3D printing solution.
In September 2020, Dassault Systèmes launched SOLIDWORKS 2021. The latest release shows the 3D portfolio design and engineering applications.
In September 2020, Poietis collaborated with an internal pharmaceutical company, Servier. This scientific partnership aims to produce liver tissues using the 4D bioprinting technology of Poietis.
In July 2020, DRADS Capital announced its investment in Rokit healthcare for developing innovative 4D bioprinting technology
Check the Press Release on Global 4D Bioprinting Market Report
Textured Vegetable Protein Market: By Type
Introduction

Textured Vegetable Protein Market, By Type, 2019-2026 (USD Million)

Slices

Slices: Textured Vegetable Protein Market, 2019-2026 (USD Million)

Flakes

Flakes: Textured Vegetable Protein Market, 2019-2026 (USD Million)

Granules

Granules: Textured Vegetable Protein Market, 2019-2026 (USD Million)

Chunks

Chunks: Textured Vegetable Protein Market, 2019-2026 (USD Million)
Textured Vegetable Protein Market: By Form
Introduction

Textured Vegetable Protein Market, By Form, 2019-2026 (USD Million)

Dry

Dry: Textured Vegetable Protein Market, 2019-2026 (USD Million)

Form

Form: Textured Vegetable Protein Market, 2019-2026 (USD Million)
Textured Vegetable Protein Market: By Source
Introduction

Textured Vegetable Protein Market, By Source, 2019-2026 (USD Million)

Soy Protein

Soy Protein: Textured Vegetable Protein Market, 2019-2026 (USD Million)

Pea Protein

Pea Protein: Textured Vegetable Protein Market, 2019-2026 (USD Million)

Wheat Protein

Wheat Protein: Textured Vegetable Protein Market, 2019-2026 (USD Million)
Textured Vegetable Protein Market: By Application
Introduction

Textured Vegetable Protein Market, By Application, 2019-2026 (USD Million)

Meat Alternatives

Meat Alternatives: Textured Vegetable Protein Market, 2019-2026 (USD Million)

Cereals & Snacks

Cereals & Snacks: Textured Vegetable Protein Market, 2019-2026 (USD Million)

Others

Others: Textured Vegetable Protein Market, 2019-2026 (USD Million)
Textured Vegetable Protein Market: By Region
Introduction

Global Textured Vegetable Protein Market, Regional Analysis, 2019-2026 (USD Million)

North America

North America Textured Vegetable Protein Market, Regional Analysis, 2019-2026 (USD Million)

By Type

North America Textured Vegetable Protein Market, By Type, 2019-2026 (USD Million)

By Form

North America Textured Vegetable Protein Market, By Form, 2019-2026 (USD Million)

By Source

North America Textured Vegetable Protein Market, By Source, 2019-2026 (USD Million)

By Application

North America Textured Vegetable Protein Market, By Application, 2019-2026 (USD Million)

By Country

U.S

By Type

U.S Textured Vegetable Protein Market, By Type, 2019-2026 (USD Million)

By Form

U.S Textured Vegetable Protein Market, By Form, 2019-2026 (USD Million)

By Source

U.S Textured Vegetable Protein Market, By Source, 2019-2026 (USD Million)

By Application

U.S Textured Vegetable Protein Market, By Application, 2019-2026 (USD Million)

Canada.

By Type

Canada Textured Vegetable Protein Market, By Type, 2019-2026 (USD Million)

By Form

Canada Textured Vegetable Protein Market, By Form, 2019-2026 (USD Million)

By Source

Canada Textured Vegetable Protein Market, By Source, 2019-2026 (USD Million)

By Application

Canada Textured Vegetable Protein Market, By Application, 2019-2026 (USD Million)

Mexico

By Type

Mexico Textured Vegetable Protein Market, By Type, 2019-2026 (USD Million)

By Form

Mexico Textured Vegetable Protein Market, By Form, 2019-2026 (USD Million)

By Source

Mexico Textured Vegetable Protein Market, By Source, 2019-2026 (USD Million)

By Application

Mexico Textured Vegetable Protein Market, By Application, 2019-2026 (USD Million)

Europe

Europe Textured Vegetable Protein Market, Regional Analysis, 2019-2026 (USD Million)

By Type

Europe Textured Vegetable Protein Market, By Type, 2019-2026 (USD Million)

By Form

Europe Textured Vegetable Protein Market, By Form, 2019-2026 (USD Million)

By Source

Europe Textured Vegetable Protein Market, By Source, 2019-2026 (USD Million)

By Application

Europe Textured Vegetable Protein Market, By Application, 2019-2026 (USD Million)

By Country

Germany

By Type

Germany Textured Vegetable Protein Market, By Type, 2019-2026 (USD Million)

By Form

Germany Textured Vegetable Protein Market, By Form, 2019-2026 (USD Million)

By Source

Germany Textured Vegetable Protein Market, By Source, 2019-2026 (USD Million)

By Application

Germany Textured Vegetable Protein Market, By Application, 2019-2026 (USD Million)

UK

By Type

UK Textured Vegetable Protein Market, By Type, 2019-2026 (USD Million)

By Form

UK Textured Vegetable Protein Market, By Form, 2019-2026 (USD Million)

By Source

UK Textured Vegetable Protein Market, By Source, 2019-2026 (USD Million)

By Application

UK Textured Vegetable Protein Market, By Application, 2019-2026 (USD Million)

France

By Type

France Textured Vegetable Protein Market, By Type, 2019-2026 (USD Million)

By Form

France Textured Vegetable Protein Market, By Form, 2019-2026 (USD Million)

By Source

France Textured Vegetable Protein Market, By Source, 2019-2026 (USD Million)

By Application

France Textured Vegetable Protein Market, By Application, 2019-2026 (USD Million)

Italy

By Type

Italy Textured Vegetable Protein Market, By Type, 2019-2026 (USD Million)

By Form

Italy Textured Vegetable Protein Market, By Form, 2019-2026 (USD Million)

By Source

Italy Textured Vegetable Protein Market, By Source, 2019-2026 (USD Million)

By Application

Italy Textured Vegetable Protein Market, By Application, 2019-2026 (USD Million)

Rest Of Europe

By Type

Rest Of Europe Textured Vegetable Protein Market, By Type, 2019-2026 (USD Million)

By Form

Rest Of Europe Textured Vegetable Protein Market, By Form, 2019-2026 (USD Million)

By Source

Rest Of Europe Textured Vegetable Protein Market, By Source, 2019-2026 (USD Million)

By Application

Rest Of Europe Textured Vegetable Protein Market, By Application, 2019-2026 (USD Million)

Asia Pacific

Asia Pacific Textured Vegetable Protein Market, Regional Analysis, 2019-2026 (USD Million)

By Type

Asia Pacific Textured Vegetable Protein Market, By Type, 2019-2026 (USD Million)

By Form

Asia Pacific Textured Vegetable Protein Market, By Form, 2019-2026 (USD Million)

By Source

Asia Pacific Textured Vegetable Protein Market, By Source, 2019-2026 (USD Million)

By Application

Asia Pacific Textured Vegetable Protein Market, By Application, 2019-2026 (USD Million)

By Country

China

By Type

China Textured Vegetable Protein Market, By Type, 2019-2026 (USD Million)

By Form

China Textured Vegetable Protein Market, By Form, 2019-2026 (USD Million)

By Source

China Textured Vegetable Protein Market, By Source, 2019-2026 (USD Million)

By Application

China Textured Vegetable Protein Market, By Application, 2019-2026 (USD Million)

Japan

By Type

Japan Textured Vegetable Protein Market, By Type, 2019-2026 (USD Million)

By Form

Japan Textured Vegetable Protein Market, By Form, 2019-2026 (USD Million)

By Source

Japan Textured Vegetable Protein Market, By Source, 2019-2026 (USD Million)

By Application

Japan Textured Vegetable Protein Market, By Application, 2019-2026 (USD Million)

India

By Type

India Textured Vegetable Protein Market, By Type, 2019-2026 (USD Million)

By Form

India Textured Vegetable Protein Market, By Form, 2019-2026 (USD Million)

By Source

India Textured Vegetable Protein Market, By Source, 2019-2026 (USD Million)

By Application

India Textured Vegetable Protein Market, By Application, 2019-2026 (USD Million)

South Korea

By Type

South Korea Textured Vegetable Protein Market, By Type, 2019-2026 (USD Million)

By Form

South Korea Textured Vegetable Protein Market, By Form, 2019-2026 (USD Million)

By Source

South Korea Textured Vegetable Protein Market, By Source, 2019-2026 (USD Million)

By Application

South Korea Textured Vegetable Protein Market, By Application, 2019-2026 (USD Million)

Central & South America

Central & South America Textured Vegetable Protein Market, Regional Analysis, 2019-2026 (USD Million)

By Type

Central & South America Textured Vegetable Protein Market, By Type, 2019-2026 (USD Million)

By Form

Central & South America Textured Vegetable Protein Market, By Form, 2019-2026 (USD Million)

By Source

Central & South America Textured Vegetable Protein Market, By Source, 2019-2026 (USD Million)

By Application

Central & South America Textured Vegetable Protein Market, By Application, 2019-2026 (USD Million)

By Country

Brazil

By Type

Brazil Textured Vegetable Protein Market, By Type, 2019-2026 (USD Million)

By Form

Brazil Textured Vegetable Protein Market, By Form, 2019-2026 (USD Million)

By Source

Brazil Textured Vegetable Protein Market, By Source, 2019-2026 (USD Million)

By Application

Brazil Textured Vegetable Protein Market, By Application, 2019-2026 (USD Million)

Middle East & Africa

Middle East & Africa Textured Vegetable Protein Market, Regional Analysis, 2019-2026 (USD Million)

By Type

Middle East & Africa Textured Vegetable Protein Market, By Type, 2019-2026 (USD Million)

By Form

Middle East & Africa Textured Vegetable Protein Market, By Form, 2019-2026 (USD Million)

By Source

Middle East & Africa Textured Vegetable Protein Market, By Source, 2019-2026 (USD Million)

By Application

Middle East & Africa Textured Vegetable Protein Market, By Application, 2019-2026 (USD Million)

By Country

Saudi Arabia

By Type

Saudi Arabia Textured Vegetable Protein Market, By Type, 2019-2026 (USD Million)

By Form

Saudi Arabia Textured Vegetable Protein Market, By Form, 2019-2026 (USD Million)

By Source

Saudi Arabia Textured Vegetable Protein Market, By Source, 2019-2026 (USD Million)

By Application

Saudi Arabia Textured Vegetable Protein Market, By Application, 2019-2026 (USD Million)

UAE

By Type

UAE Textured Vegetable Protein Market, By Type, 2019-2026 (USD Million)

By Form

UAE Textured Vegetable Protein Market, By Form, 2019-2026 (USD Million)

By Source

UAE Textured Vegetable Protein Market, By Source, 2019-2026 (USD Million)

By Application

UAE Textured Vegetable Protein Market, By Application, 2019-2026 (USD Million)