ASA Polymers Market Insights
ASA polymers are qualified as a thermoplastic elastomer. This kind of copolymer has excellent resistance to heat, UV irradiation, moisture, and stress cracking, and possibly of all acrylonitrile elastomers, has the best weathering resistance. It also has high impact strength and good chemical resistance. Its mechanical features are like acrylonitrile butadiene styrene (ABS) elastomers. The products are resulting in enhanced UV resistance compared to diene rubbers.
For Acrylonitrile Styrene Acrylate (ASA), automotive body parts like mirror housings and radiator grills are among the most important markets. Acrylonitrile Styrene Acrylate (ASA) thermoplastics are also widely used in the appliance, building & construction, electrical or electronics, and sports goods industries. The ASA products offer unique physical properties and help to enhance the buildings and automobile parts for a longer period. It is mostly used in the manufacturing of automobile exteriors parts and furniture and construction activities. Furthermore, its toughness, high stability, and resistance to yellowing & aging make it appropriate in construction applications.
Additionally, Acrylonitrile Styrene Acrylate (ASA) is also used in other fields like home appliances, packaging, consumer electronics, and sports accessories. Acrylonitrile Styrene Acrylate (ASA) has significant properties like high tensile strength and high surface finish compared to other materials. They are also used in manufacturing interior parts, instrument panels, hoods, lighting, electrical components, and others in a vehicle.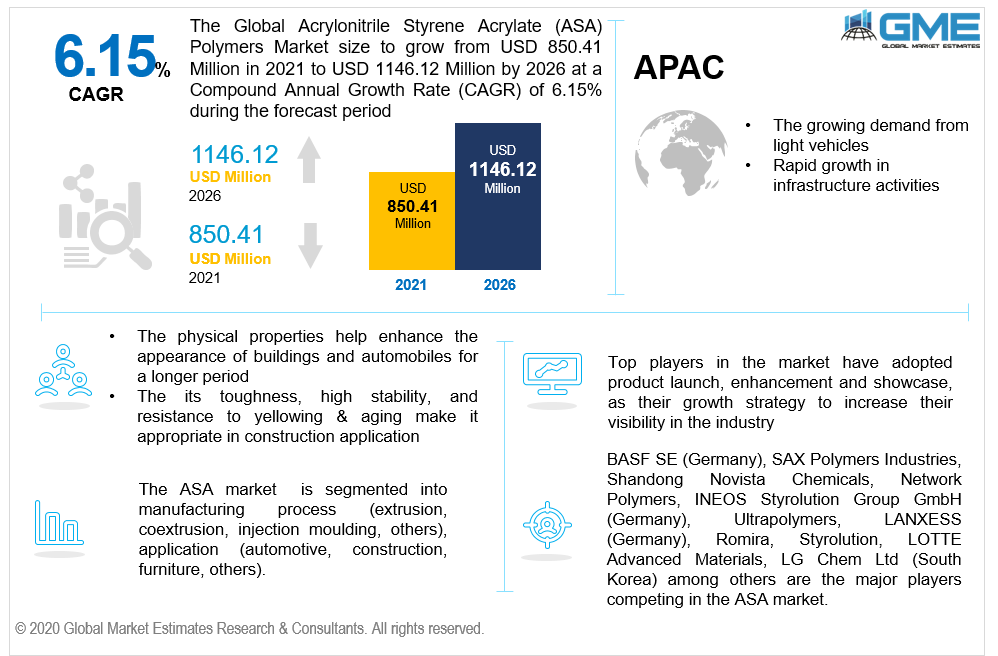 ASA Polymers Market: By Manufacturing Process
By manufacturing process, the market is segmented into extrusion, coextrusion, and injection molding, among others. The extrusion segment will register a healthy CAGR due to its expanding application in the automotive industry.
Many conventional methods can process ASA polymers. These include injection molding, profile and sheet extrusion and coextrusion, extrusion blow molding, and structural foam molding. The extruded sheet is thermoformed. Acrylonitrile Styrene Acrylate (ASA) is to be blow-molded using extruders with cooled, grooved, and thermally insulated feed segments.
Acrylonitrile Styrene Acrylate (ASA) parts are welded using spin and thermal techniques, and in some cases, even ultrasonic welding is possible. Acrylonitrile Styrene Acrylate (ASA) parts can also be solvent welded using dichloroethylene, or cyclohexane, and 2-butanone. The Acrylonitrile Styrene Acrylate (ASA) parts easily retain and accept coatings and print without preceding surface treatment. By conventional methods, even vacuum metalizing is possible.
ASA Polymers Market: By Application
By application, the market is categorized into automotive, construction, and furniture among others.
The automotive segment will witness the highest CAGR in the forecast period. Acrylonitrile ASA polymers play an important role in the automotive industry. The lightweight polymers increase the fuel efficiency of automobiles. The fuel efficiency protocols coerce automobile manufacturers to reduce their overall weight by using acrylic styrene acrylonitrile. These polymers are is used to manufacture window profiles, radiators grille, and side mirrors, Additionally, the technological advancements in the automotive industry will increase the requirement for high-performance plastics. Acrylonitrile Styrene Acrylate (ASA) helps design complex geometries for automobile parts, which is tough with traditional metals.
The products are used to reduce CO2 emissions and enhance energy efficiency in automobiles. According to the OICA, automobile manufacturing has remarkably increased in Malaysia, India, Brazil, Thailand, and South Africa.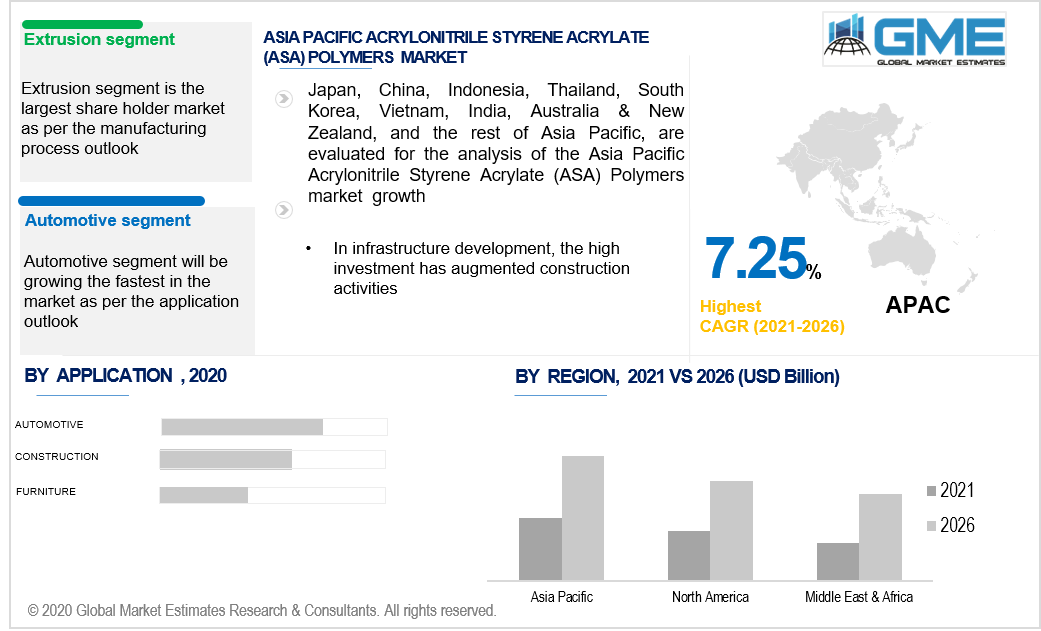 ASA Polymers Market: By Region
The Asia-Pacific region will play a dominant role in the global market. The growing production of lightweight passenger vehicles in the region along with the presence of leading automobile players such as Hyundai, Honda, Toyota, and KIA among others is boosting the regional growth. Rapid infrastructure development has augmented construction activities in countries like China, India, South Korea, Indonesia, and Singapore, which will be boosting the growth of the regional market.
The presence of automobile manufacturers, and the increasing application of (ASA) polymers in the automotive industry, are boosting the European market.
North America will likely witness steady growth due to the increasing application of Acrylonitrile Styrene Acrylate (ASA) polymers in construction activities to improve the weather resistance properties. The increasing number of residential projects in the US will support the region's growth.
ASA Polymers Market Share and Competitor Analysis
BASF SE (Germany), Techno-UMG Co., Ltd., Formosa Chemicals and Fibre Corporation, Entec Polymers (US), Run Feng Sci. and Tech, Chi Mei Corporation (Taiwan), Lauren International (US), Ascend Performance Materials, SABIC (Saudi Arabia), NIPPON AandL, A. Schulman (US), KUMHO-SUNNY, SAX Polymers Industries, Shandong Novista Chemicals, Network Polymers, INEOS Styrolution Group GmbH (Germany), Ultrapolymers, LANXESS (Germany), Romira, Styrolution, LOTTE Advanced Materials, LG Chem Ltd (South Korea) are some of the recognized market players.
Please note: This is not an exhaustive list of companies profiled in the report.
In December 2018, a Germany-based styrene supplier, INEOS Styrolution, had announced the construction of a new plant for the production of 100,000 tons of Acrylonitrile Styrene Acrylate (ASA) polymers per year by 2021.
The Global Acrylonitrile Styrene Acrylate (ASA) Polymers Market has been studied from the year 2019 till 2026. However, the CAGR provided in the report is from the year 2021 to 2026. The research methodology involved three stages: Desk research, Primary research, and Analysis & Output from the entire research process.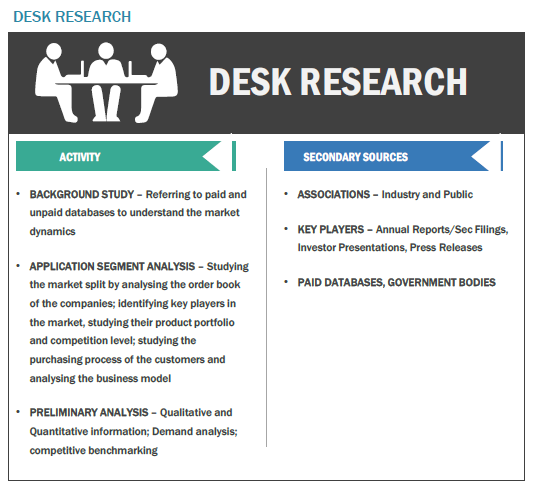 The desk research involved a robust background study which meant referring to paid and unpaid databases to understand the market dynamics; mapping contracts from press releases; identifying the key players in the market, studying their product portfolio, competition level, annual reports/SEC filings & investor presentations; and learning the demand and supply-side analysis for the Acrylonitrile Styrene Acrylate (ASA) Polymers Market.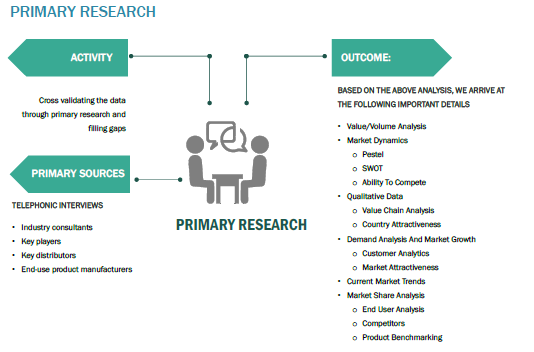 The primary research activity included telephonic conversations with more than 50 tier 1 industry consultants, distributors, and end-use product manufacturers.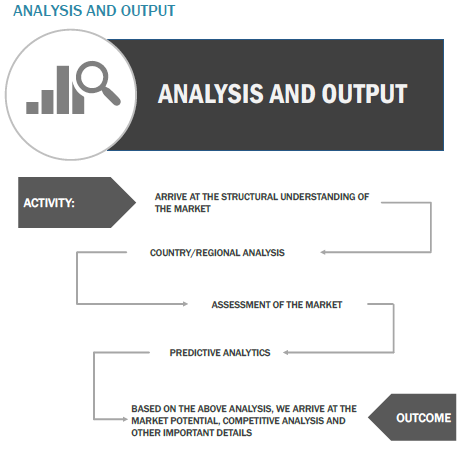 Finally, based on the above thorough research process, an in-depth analysis was carried out considering the following aspects: market attractiveness, current & future market trends, market share analysis, SWOT analysis of the company and customer analytics.