Aerospace Carbon Nanotube Market Insights
Increasing preference for more reliable, strong, tough, and long-lasting aircraft components has influenced aircraft makers to invest heavily in novel technologies and materials. Carbon Nanotube (CNT) is among the most suitable and promising alternatives to conventional materials. It is lighter in weight and has better electromagnetic & insulation properties which make them ideal for any aviation applications. Improved component functionality, enhanced surface protection, and elongated component life are major factors driving aerospace carbon nanotube demand.
Reducing flying cost is among the central concern for the whole aviation industry, which can be achieved through lighter weight and fewer maintenance components. Thus, CNTs are becoming the major studied and researched material in the aircraft manufacturing industry. Recently, the Department of Aeronautics at the Massachusetts Institute of Technology and Metis Design Corp has developed CNT heater-based technology which is for electrothermal ice protection on aircraft components. This development will improve the component's life cycle and save them from early deterioration.
CNTs are hollow tubesthat consist of carbon only which makes them extremely lightweight. A recent study explored that CNTs are among the strongest and hardest materials in the world. They consist of low density, high length diameter ratio, and high conductivity. Aviation being aninvestment and research-intensive industry needsregularadvancements. Cost-effectiveness and operational safety are among the keyjargons in the industry. Hence, resulting in continuoustechnicalinnovations across the aviation industry.
The overall technical innovationsdepict the key focus on components such as lightweight structural body parts, turbine blades, compressors, heat exchanges, valves, and airfoils. The other improvements emphasizeelectromagnetic interference, radio frequency interference, and de-icing. It has become essential to prevent the components from a harsh environment, high temperature, and pressure which may damage the surface area.
Aviation industry expansion along with heavy investment in new technologies will develop the Aerospace Carbon Nanotube adoption. Increasing need to meet the essential requirements such as aircraft energy efficiency, performance, appearance, and weight will positively influence industrial growth.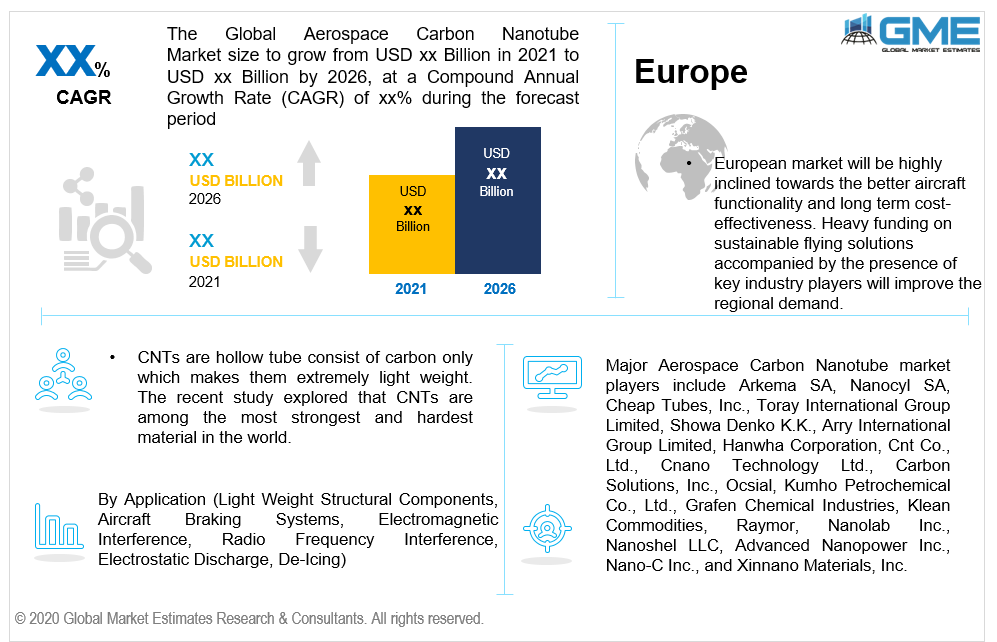 Aerospace Carbon Nanotube Market: By Type
Single-walled and multi-walled are two types available in the Aerospace Carbon Nanotube industry. The product usage is highly dependent on the application nature and purpose to deploy the component. The aircraft parts which are exposed in harsh environment and high temperature need multi-walled CNT to get better prevention. However, the components which are on the inside and involve less mechanical functionality need single-walled CNT. The multi-walled CNT are projected to attain maximum share owing to the rising demand for lighter weight particles and braking systems.
Aerospace Carbon Nanotube Market: By Application
Lightweight structural components, aircraft braking systems, electromagnetic interference, radio frequency interference, electrostatic discharge, and de-icing are major applications in the Aerospace Carbon Nanotube Market. Increasing demand for lighter-weight components to enhance the overall aircraft cost-effectiveness will influence the product penetration.
De-icing is projected to witness the highest gains during the forecast period. Rising demand to improve the aircraft functionality by obtaining properties such as de-icing will promote the CNT penetration in the aviation industry. The de-icing functionality protects the aircraft systems by preventing ice accumulation over the wings, stabilizers, and engine nacelles.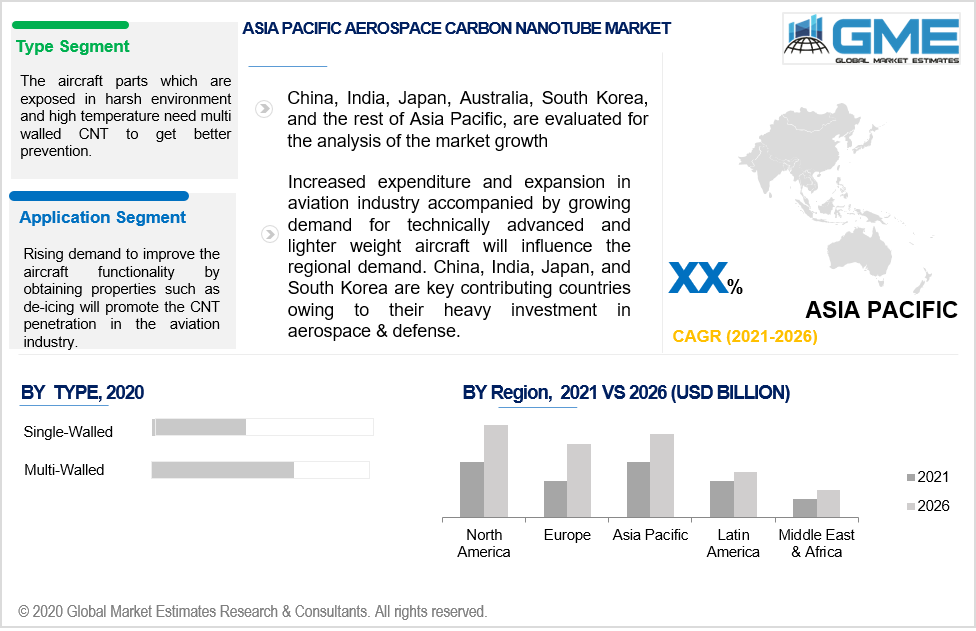 Aerospace Carbon Nanotubes Market: By Region
Asia Pacific Aerospace Carbon Nanotube Market will account for the maximum share during the forecast period. Increased expenditure and expansion in the aviation industry accompanied by growing demand for technically advanced and lighter-weight aircraft will influence the regional demand. China, India, Japan, and South Korea are key contributing countries owing to their heavy investment in aerospace &defense. Also, the presence of major industry manufacturers in China and Japan will drive product penetration.
North America Aerospace Carbon Nanotube will witness the highest gains in the coming years. Large-scale investments and research in nanotechnology to deploy lighter-weight components in aircraft have stimulated market penetration. The European market will be highly inclined towards better aircraft functionality and long-term cost-effectiveness. Heavy funding on sustainable flying solutions accompanied by the presence of key industry players will improve the regional demand.
Aerospace Carbon Nanotube Market Share and Competitor Analysis
Major Aerospace Carbon Nanotube market players include Arkema SA, Nanocyl SA, Cheap Tubes, Inc., Toray International Group Limited, Showa Denko K.K., Arry International Group Limited, Hanwha Corporation, Cnt Co., Ltd., Cnano Technology Ltd., Carbon Solutions, Inc., Ocsial, Kumho Petrochemical Co., Ltd., Grafen Chemical Industries, Klean Commodities, Raymor, Nanolab Inc., Nanoshel LLC, Advanced Nanopower Inc., Nano-C Inc., and Xinnano Materials, Inc.
Please note: This is not an exhaustive list of companies profiled in the report.
The industry share is at its development stage due to its niche market coverage. Product development and extended reach are major strategies observed in the industry.
Reinste Nano Ventures, Continental Carbon Nanotechnologies, Hyperion Catalysis International Inc., Future Carbon GmbH, Nanothinx S.A., Chasm Advanced Materials, Inc., Thomas Swan & Co. Limited, and Chengdu Organic Chemicals Co. Ltd.are other notable participants in the market.
Check the Press Release on Global Aerospace Carbon Nanotube Market Report
The Global Aerospace Carbon Nanotube Market has been studied from the year 2019 till 2026. However, the CAGR provided in the report is from the year 2021 to 2026. The research methodology involved three stages: Desk research, Primary research, and Analysis & Output from the entire research process.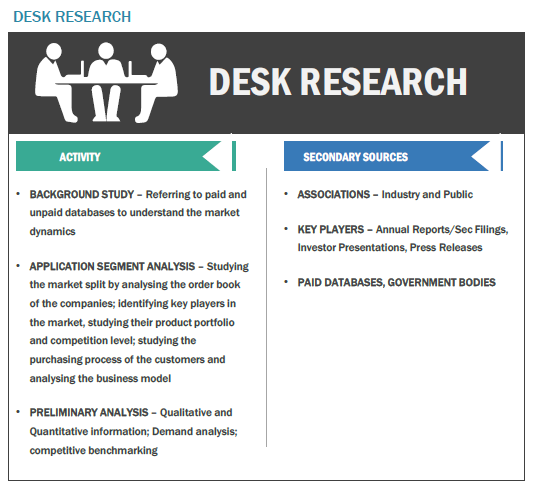 The desk research involved a robust background study which meant referring to paid and unpaid databases to understand the market dynamics; mapping contracts from press releases; identifying the key players in the market, studying their product portfolio, competition level, annual reports/SEC filings & investor presentations; and learning the demand and supply-side analysis for the Aerospace Carbon Nanotube Market.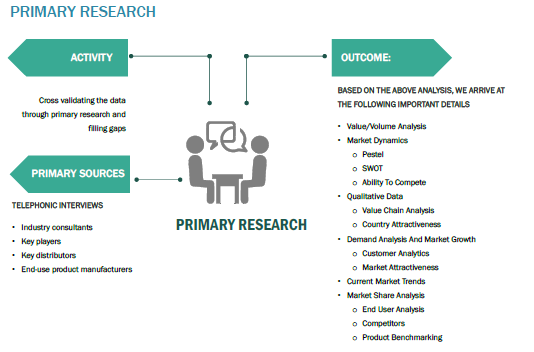 The primary research activity included telephonic conversations with more than 50 tier 1 industry consultants, distributors, and end-use product manufacturers.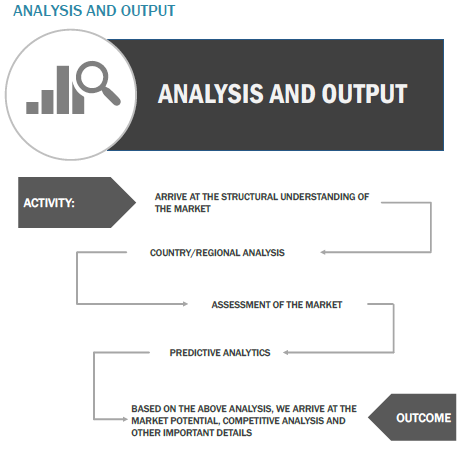 Finally, based on the above thorough research process, an in-depth analysis was carried out considering the following aspects: market attractiveness, current & future market trends, market share analysis, SWOT analysis of the company and customer analytics.