Agrochemical Additives Market: Insights
In every country, agricultural activities remain at the core of the economy and agrochemical additives serve as its backbone. Agrochemical addictives act as a building block, salification agents, chelating agents, and pH regulators. The demand for agrochemical additives is directly related to that of agricultural products and food needs of the consumers, as they help in improving efficiencies and productivity of the produce, henceforth many farmers are shifting towards the practice. As more consumers and households demand more food, the pressure of producing to fulfill those needs fall on land whose productivity can be only improved by the usage of varied agrochemical addictives. Agrochemical addictives act as colorization of fertilizer, seed treatment, and crop protection among others. Dispersants, organic or inorganic pigment, solvents, defoamers, emulsions, surfactants are some examples of agrochemical addictives.
The growing consumption and demand for crops lead many countries to grow more crops and food per acre land, shifting the framers to opt for agrochemical additives. The rise in consumer awareness and demand for commercial goods and imported products has lead to farmers focusing on the same. The government in many countries has started rolling out special schemes and financial institutes have started providing low-rate loans for farmers especially for the purchase of agrochemical additives.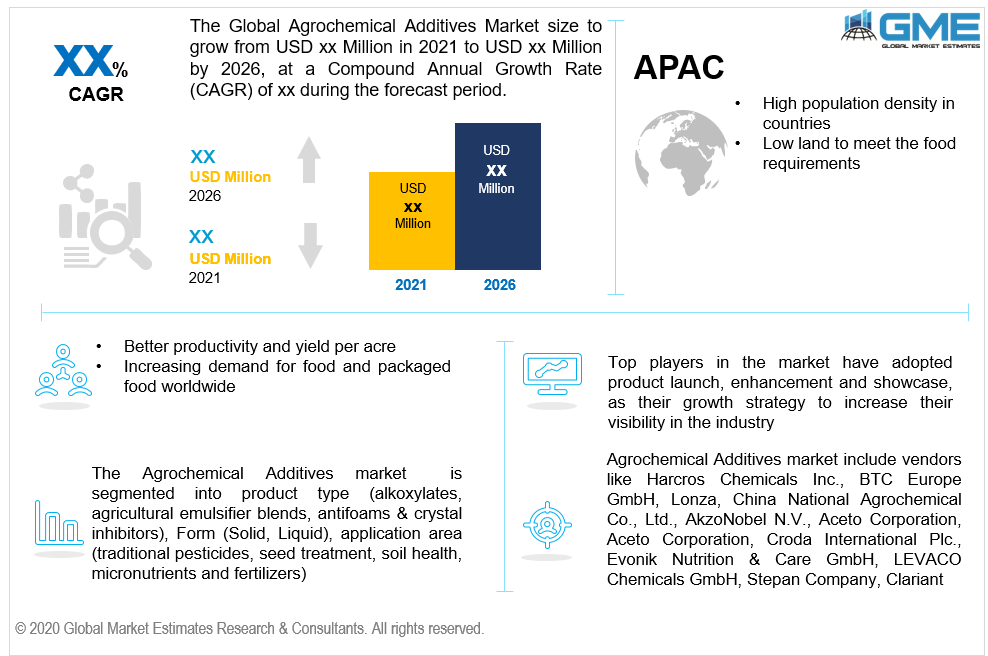 Agrochemical Additives Market: By Product Type
The market for Agrochemical Additives is bifurcated into Alkoxylates, Agricultural Emulsifier Blends, Anitifoams & Crystal Inhibitors, Dispersing, Oil Enhancers, Emulsifiers, and Others. Emulsifiers are further divided into Anionic Emulsifiers and Non-ionic Emulsifiers. Varied products are used for various purposes and are demanded in their area of use. Alkoxylates holds a significant share of the market as it is used as a spreading agent for various emulsifiers, which are used to make pesticides. As the population booms in many countries and the urge to have self-sufficiency, consumers demand food and packaged food consumption has hiked worldwide. Consumers all over the world have started demanding commercial produces and packaged food, with that the growth of farm goods not suitable for a particular type of land has also increased. This leads to the crops being more prone to rot and pests, for reducing such risk use of agrochemical additives becomes a necessity.
Agrochemical Additives Market: By Form
The market for Agrochemical Additives is bifurcated into two, Solids and Liquids based on form. The liquid segment holds the highest revenue share because of its ease to use and application. They can be easily applied by any farmer without much special care and help in higher efficiency and yield per acre from the land. Crops that are prone to pests and damage can be easily protected, as liquid form is much trouble-free in terms of application. They can also cover huge pieces of property in a shorter duration of time. Many government schemes also include special trainers to train farmers on how to properly use varied forms of agrochemical additives and encourage soil health tests to understand the texture and productivity of a particular land. After the discovery of agrochemical additives, many countries were able to shift their population's food needs from importing grains, vegetables, commercial crops to self-sufficiency.
Agrochemical Additives Market: By Application Area
By application, the market is bifurcated into Soil Health, Traditional Pesticides, Micronutrients, and Fertilizers, and Seed Treatment among others. Each of these segments holds a significant role in the betterment of crop production per acre of land. Traditional pesticides hold the largest market share, this is contributed because many commercial crops are prone to insects and weeds causing huge damage to the farmers. Many farmers use varied methods of pesticide distribution, like jet sprays, for easy application. However high usage of pesticides can cause permanent damage to the productivity of the soil, therefore many consumers have started shifting towards pesticide alternatives like Seed treatment, micronutrients, and soil health, for a sustainable increase in overall crop production. Many countries have multiple schemes and farmer support centers for encouraging awareness about sustainable crop productivity amongst farmers.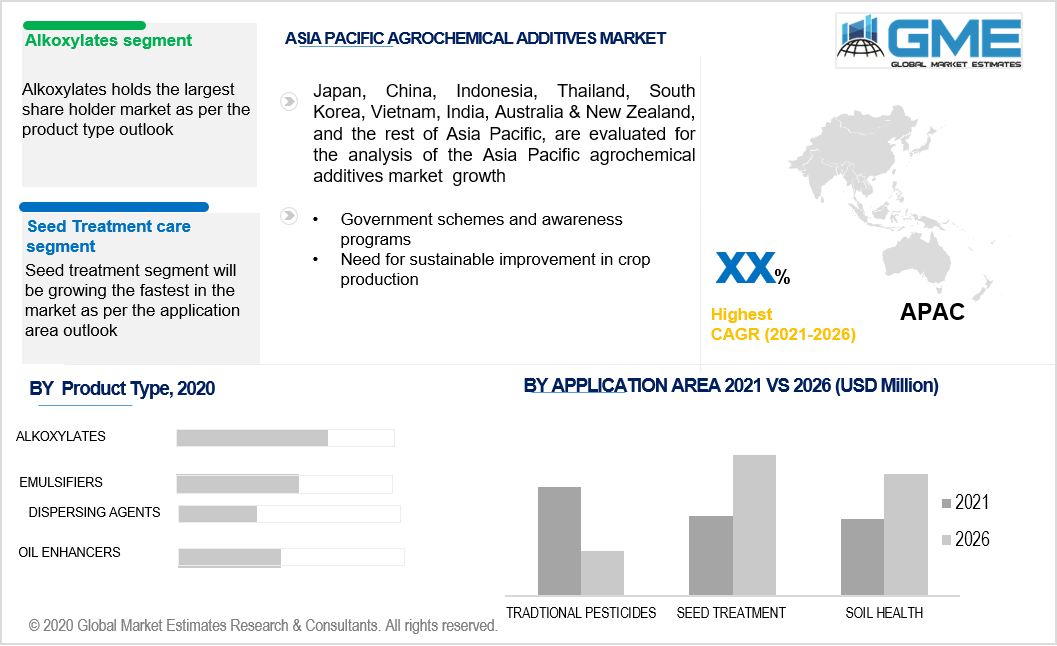 Agrochemical Additives Market: By Region
The regional analysis is mainly dominated by Asia Pacific countries, followed by North America. This is because many developing countries have agriculture as their prime job, along which the high population boast in the countries with limited land requires the use of agrochemical additive to increase yield per acre land. Most agrochemical additives are promoted in these countries by their respective government through laws and schemes for farmers. Agrochemical Additives hike up the productivity for a country helping consumers become self-sufficient. Crops that are commercialized and are exported are highly encouraged to be produced for their better price fetching qualities and the same producers of said crops get better incentives like cheaper fertilizers, seeds, a lower rate of loans, etc. Developing countries, due to their high employment in the primary sector see a constant and sometimes even overflow of labor supply. To help and encourage this overflow of labor use of agrochemical, additives will lead to more production rates in the same piece of land creating jobs for the extra labor employed. North America has had a self-sufficient yield for its population and the agriculture sector is a minor part of their gross domestic product, therefore the geographical share of the country is not that high. However, the countries do have a significantly faster adaption to new improvements due to being the center is innovation.
Agrochemical Additives Market: Share & Competitor Analysis
Various competitors in the Agrochemical Additives include Harcros Chemicals Inc., BTC Europe GmbH, Lonza., AkzoNobel N.V., Aceto Corporation, Aceto Corporation, Croda International Plc., Evonik Nutrition & Care GmbH, LEVACO Chemicals GmbH, China National Agrochemical Co., Ltd, Stepan Company, and Clariant amongst others.
Please note: This is not an exhaustive list of companies profiled in the report.
The Global Agrochemical Additives Market has been studied from the year 2019 till 2026. However, the CAGR provided in the report is from the year 2021 to 2026. The research methodology involved three stages: Desk research, Primary research, and Analysis & Output from the entire research process.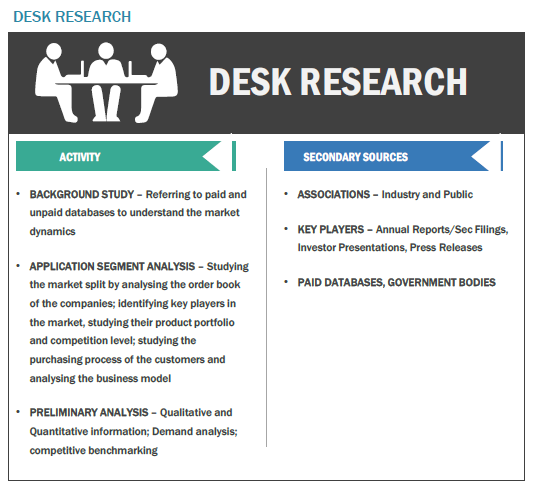 The desk research involved a robust background study which meant referring to paid and unpaid databases to understand the market dynamics; mapping contracts from press releases; identifying the key players in the market, studying their product portfolio, competition level, annual reports/SEC filings & investor presentations; and learning the demand and supply-side analysis for the Agrochemical Additives Market.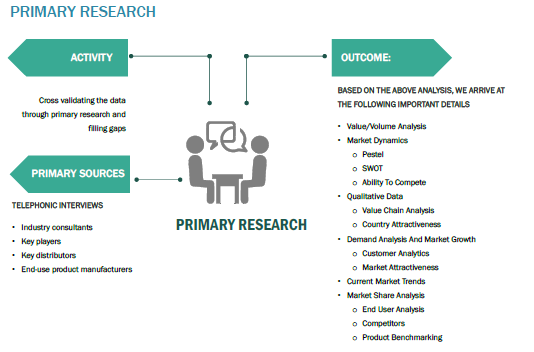 The primary research activity included telephonic conversations with more than 50 tier 1 industry consultants, distributors, and end-use product manufacturers.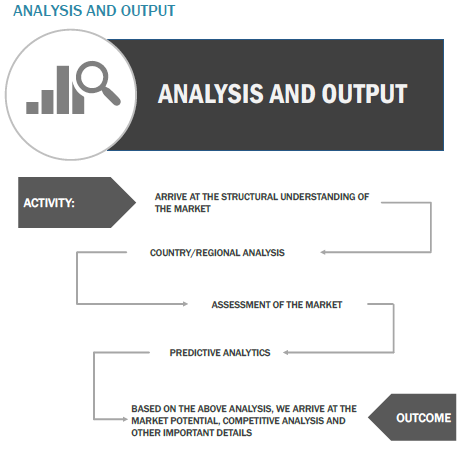 Finally, based on the above thorough research process, an in-depth analysis was carried out considering the following aspects: market attractiveness, current & future market trends, market share analysis, SWOT analysis of the company and customer analytics.