Anti-Fog Polycarbonate Films and Sheets Market: Insights
The product is a layer of thin sheets taken out of polycarbonate resin. It is coated with materials to make it anti-fog, scratch-resistant, temperature resistant, chemical resistant, and optically of better quality. This market is projected to grow rapidly between the forecast period [2021 to 2026].
The growing demand for products from different sectors like the food and beverage industry, automotive industry, electronics and electricals, consumer goods, construction and building industry, and healthcare sector, are supporting the market growth. Primarily, the sheets were only used to make medical equipment such as face shields, and surgical eyeglasses but now they are widely being used after coated with the anti-fog and anti-scratch coating on one side of the film using dipping or spraying techniques.
The products are also used in the making of sports goggles, industrial eye guards, windshields, motorcycle vision mirrors, instrumental and telecom lenses, sunglasses, freezers, refrigerators, and other numerous applications which is making this market grow.
On the other hand, the growing use for making the safety wear for fields like defense, healthcare is enhancing the market demand. Along with that, the changing environment and natural disasters are increasing the demand for polycarbonate films as it is almost weather-proof. However, to overcome whatever restraints it has, constant research and development are going on to achieve the perfect coating and material.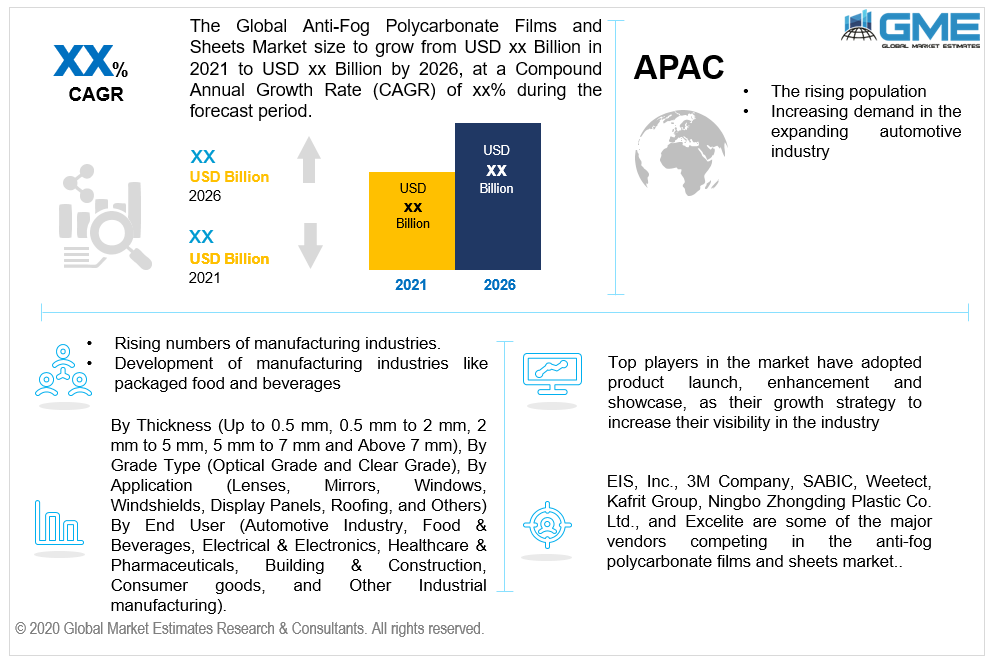 Anti-Fog Polycarbonate Films and Sheets Market: By Thickness
Based on the thickness, the market can be divided into five ranges, up to 0.5 mm, 0.5 to 2 mm, 2 to 5 mm, 5 to 7 mm, and above 7mm.
Among these, up to 0.5 millimeters are the most demanded ones as it is perfect for layering in automotive windows and mirrors to protect it from fog, rain, and high temperatures as well as scratches. It also provides a clear vision during watery or humid days. Up to 0.5 mm offers flexible quality and is used in more ways than the others, which end up helping the market demand to grow.
Anti-Fog Polycarbonate Films and Sheets Market: By Grade Type
Based on the grade type analysis, the market is explained and categorized into optical grade, and clarity grade. Between these two, optical grades are expected to grow the most during the forecasting time frame. With the increasing need for optical clarity in various systems and commodities, this market is estimated to grow at the fastest rate too. It is used in automotive interiors, electronic commodities and household appliances. Because of its resistance power to sunlight, temperature, snow, and rain, it is preferable in many cases. It also gives the products better shelf-lives as it does not fade or discolor and makes things cost-effective.
Anti-Fog Polycarbonate Films and Sheets Market: By Application
The product finds its usage in different applications such as roofing, lenses, windows, display panels, mirrors and windshields among others. Due to the rapid boost in the automotive market, mirrors and windshields are expected to witness the fastest growth. It is used in this industry to make the mirrors glare less when lights reflect, to make the mirrors durable and rainproof among others.
Although with the increasing construction business the segment of windows, display panels, and roofing are also facing a significant rise in their market demands. These coated polycarbonate sheets make the glass windows and panels safe from the sun's UV rays.
Anti-Fog Polycarbonate Films and Sheets Market: By End User
Based on the end-users, this market is segmented into seven components, automotive industry, food and beverages, electrical and electronics, healthcare and pharmaceuticals, building and construction, consumer goods, and other industrial manufacturing. Out of all these, globally the automotive industry is expected to achieve the fastest growth in the foreseen years.
With the rising demand for automotive and the rising need for this product in the automotive industry mainly due to its resistance power to high temperatures, snow, and rain, its high light transmission, and toughness. The product is also used for the production of regular cars, trucks, boats, motorcycles, trains, and buses windows and mirrors. The anti-fog polycarbonate films and sheets are used in many recreational vehicles too, such as water ski mobile, snow ski mobile, gondolas, airplanes' cockpits, etc. The rising transportation norms and road safety regulations are further causing a rise in the demand for these films and sheets as it provides greater visibility, even under extreme weather conditions.
Whereas, the construction industry will hold the maximum share between 2021-2026. The rising need for polycarbonate films in this industry coupled with the increasing constructions especially in developing countries like India, Indonesia, China, UAE is driving the market to grow rapidly. The building of modern and advanced designs in the construction sites like skylights, rooftop domes where the sheets need to be temperature resistant, inflammable, and with high optical clarity influencing this market demand to rise. It is available with several color tints, metallic embossments, transparent, and in several other ways, that increases its popularity in the building and construction industry.

Anti-Fog Polycarbonate Films and Sheets Market: By Region
Geographically, the market of anti-fog polycarbonate films and sheets is largest in the North American and European regions as these regions are full of manufacturing industries where these films and sheets are demanded the most. Europe is one of the largest shareholders in this market, as the major end-user industry of this market, automotive industry leaders and giants are set up in this region, resulting in the emergence of many polycarbonate sheet producers here.
Apart from that, the growing demand for sportswear sunglasses, goggles for eye safety from snow due to the high standard of living and extremely cold weather especially in the countries like France, Germany, the Netherlands, Norway, Sweden are influencing this market positively.
But the Asia Pacific region is expected to acquire the highest CAGR and therefore the fastest growth during the forecasting time-frame due to the rising population and increasing demand in the automotive industry, healthcare sector, electronics, and electrical goods sector.
Anti-Fog Polycarbonate Films and Sheets Market: Share & Competitor Analysis
EIS, Inc., Excelite, 3M Company, Ningbo Zhongding Plastic Co. Ltd., Kafrit Group, SABIC, and Weetect are the key players operating in the market.
Please note: This is not an exhaustive list of companies profiled in the report.