Assistive Robotics Market: Insights
An assistive robot possesses interactive cognitive skills whether it is operator-dependent or independent. It operates dynamically or remotely, depending on the operator's setup. An assistive robot is being used to accomplish duties for disabled people, the elderly, infants, and industrial applications. Detectors and advanced analytics allow an assistive robot to interact with people, function independently, and take action on its own.
Assistive robotics is explicitly designed with the customer's physical and intellectual interests in mind. These are often used in medical institutions to help with the operation or disabled support. Furthermore, due to the multiple benefits they provide, such robots are increasingly infiltrating multiple fields and are often used by a majority of manufacturers. The marketplace for assistive robotics is steadily expanding its presence to grow shortly.
The rising number of cardiovascular and neurological disorders, as well as growing healthcare coverage for diagnostic prostheses and operations, are boosting overall growth. Furthermore, the global population is increasingly aging and as a proportion of the populace retires, it is having a detrimental effect on medical systems functionality. The market for assistive robots is gradually increasing to cater to demands like improved rehab facilities, enhanced independent living skills, and military applications. Furthermore, the incorporation of Artificial Intelligence (AI) in assistive robots boosts the demand for these machines among the elderly and disabled.
Given the global assistive robotics industry's impressive pace of growth, the market's growth is still being limited by the availability of public knowledge of the benefits of implementing assistive robotic systems. This may prove problematic for the assistive robotics market, specifically for aged assistance, where their varying views of robotic equipment may prevent them from taking advantage of the features.
There is still no better substitution for assistive robots, as this acts as a growth gateway and minimizes the aforementioned barriers. Nowadays, assistive robots use highly advanced analytics and detectors to communicate with users, allowing them to function independently and efficiently. As a result, the demand for assistive robots is expected to expand at a steady pace over the projected period.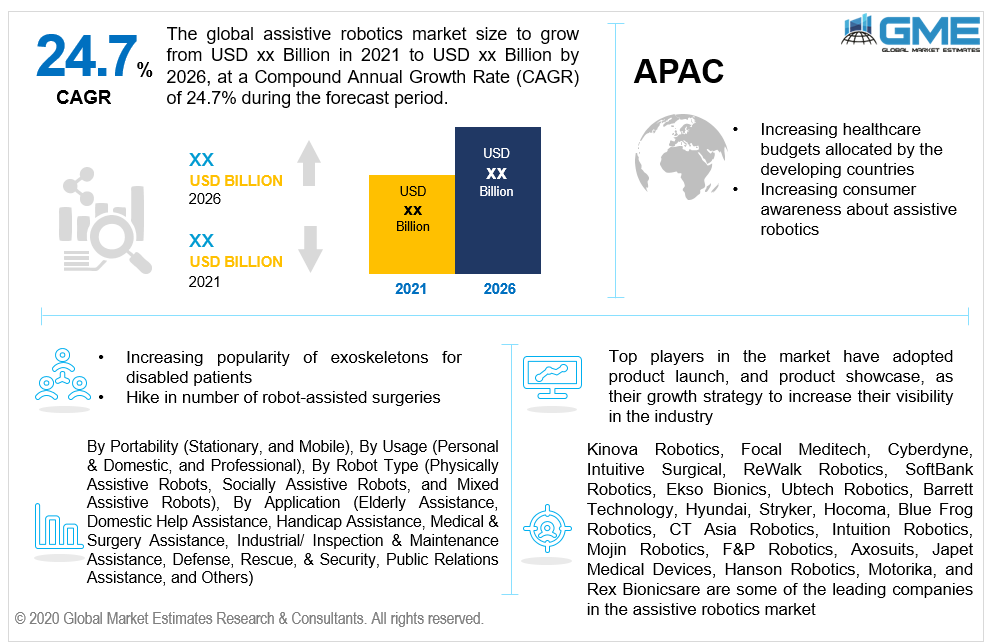 Assistive Robotics Market: By Portability
Based on the type of portability, the market is categorized into two forms: stationary, and mobile. Mobile holds the largest market segment. Mobile robots will top the market segment as they are capable to connect with several other digital technology-driven devices such as smart tablets, desktop computers, phones, etc. to evaluate and simulate an intelligent user experience. Also, they can trace their position, complete a pre-programmed mission, and act as a mobile video recorder, these features would boost their acceptance.
Assistive Robotics Market: By Usage
Based on the usage, the market has been segmented into, personal & domestic, and professional. The market for personal & domestic will be the largest because of the rise in the geriatric population who needs rehabilitation robots for assistance. Furthermore, the growing number of disabled individuals is stimulating the market's expansion.
Assistive Robotics Market: By Robot Type
The market is classified into three categories based on the type of robot: physically assistive robots, emotionally assistive robots, and mixed assistive robots. The physically assistive robots currently have the largest share. These robots help disabled people to gain independence and promote wellness. In the treatment facilities centers of hospitals and the military, these exoskeletons robots act as assistive systems for spinal cord injury surgeries.
Assistive Robotics Market: By Application
Based on the types of applications, the market is divided into elderly assistance, domestic help assistance, handicap assistance, medical & surgery assistance, industrial/ inspection & maintenance assistance, defense, rescue, and security, public relations assistance, and others (logistics; construction; space; agriculture; entertainment, educational; and sports and fitness assistance). During the forecast period, the medical & surgery assistance services market segment is expected to expand at the fastest rate. As opposed to conventional methods, specialists who are using the robotic system claim that it improves accuracy, versatility, and efficiency during surgery.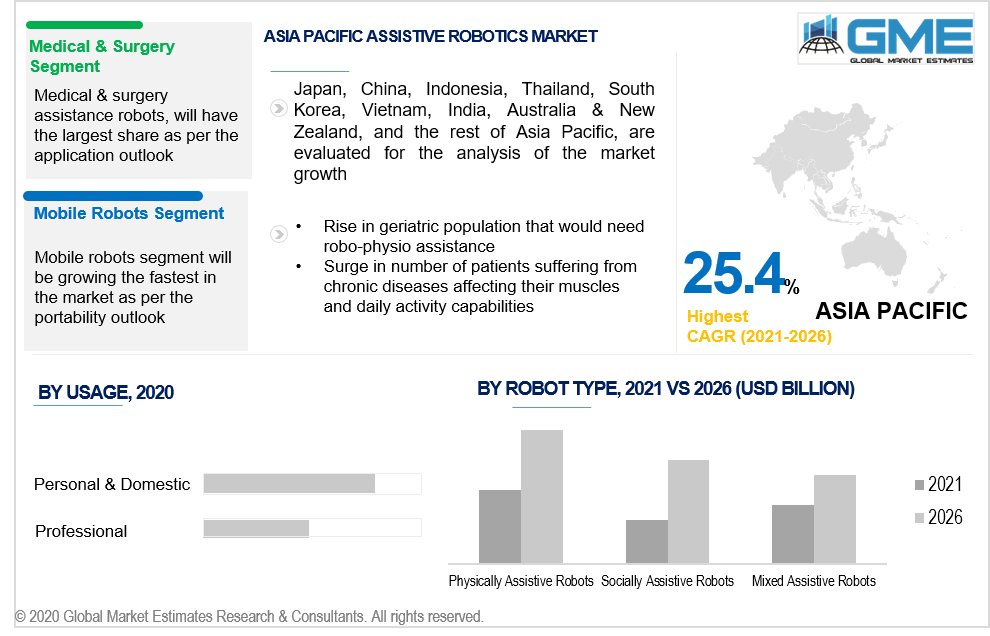 Assistive Robotics Market: By Region
As per the geographical analysis, the market can be classified into North America (the United States, Canada, and Mexico), Asia Pacific (India, China, Japan, Malaysia, Singapore, and Rest of Asia Pacific), Europe (Germany, United Kingdom, Italy, France, Spain, Netherlands, and Rest of Europe), Middle East & Africa (Saudi Arabia, United Arab Emirates, and Rest of the Middle East & Africa) and Central South America (Brazil, Argentina, and Rest of Central and South America). North America led the global assistive robotics market due to favorable insurance conditions and increased per capita healthcare costs. Furthermore, the extent of healthcare investments and the rate of application of advanced innovative robotic care units in different sectors is extremely high in this region. The Asia-Pacific market would have the largest share in terms of CAGR because of the rise in awareness about effective treatment procedures for major disabilities. Furthermore, as the number of people with disabilities in the area rises, so does the need for assistive robotic systems. Emerging economies like India & China are improving their healthcare infrastructure, which will enable the region's global assistive robot demand to grow at a decent pace.
Assistive Robotics Market Share and Competitor Analysis
Kinova Robotics, Focal Meditech, Cyberdyne, Intuitive Surgical, ReWalk Robotics, SoftBank Robotics, Ekso Bionics, Ubtech Robotics, Barrett Technology, Hyundai, Stryker, Hocoma, Blue Frog Robotics, DreamFace Technologies, Double Robotics, Fourier Intelligence, CT Asia Robotics, Intuition Robotics, Mojin Robotics, F&P Robotics, Axosuits, Japet Medical Devices, Hanson Robotics, Motorika, and Rex Bionicsare are some of the leading companies in the assistive robotics market.
Please note: This is not an exhaustive list of companies profiled in the report.
In 2021, BKK Mobil Oil Insurance signed a deal with ReWalk Robotics, Ltd., a top manufacturing company of robotic medical equipment for patients with extreme cases of disability, to offer ReWalk Personal Exoskeleton systems with its qualifying patients with spinal injury.
The Global Assistive Robotics Market has been studied from the year 2019 till 2026. However, the CAGR provided in the report is from the year 2021 to 2026. The research methodology involved three stages: Desk research, Primary research, and Analysis & Output from the entire research process.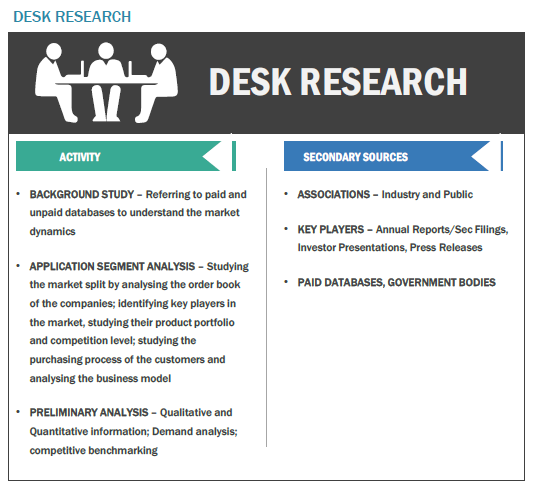 The desk research involved a robust background study which meant referring to paid and unpaid databases to understand the market dynamics; mapping contracts from press releases; identifying the key players in the market, studying their product portfolio, competition level, annual reports/SEC filings & investor presentations; and learning the demand and supply-side analysis for the Assistive Robotics Market.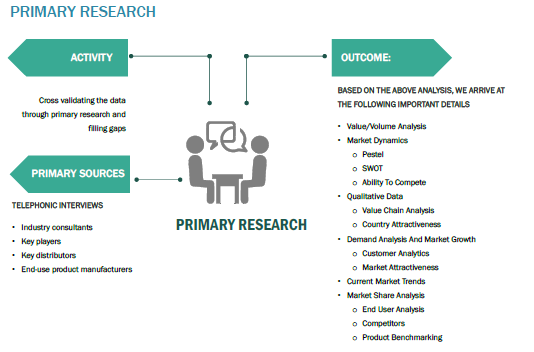 The primary research activity included telephonic conversations with more than 50 tier 1 industry consultants, distributors, and end-use product manufacturers.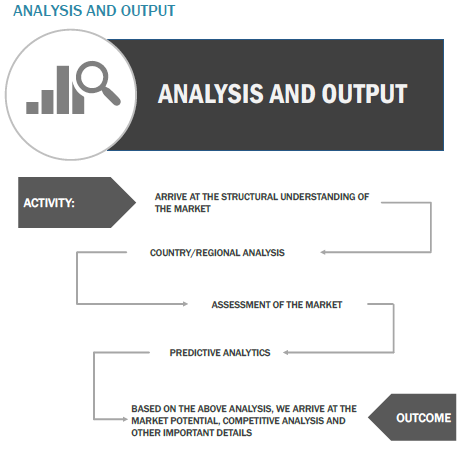 Finally, based on the above thorough research process, an in-depth analysis was carried out considering the following aspects: market attractiveness, current & future market trends, market share analysis, SWOT analysis of the company and customer analytics.