Bio-Based Solvent Market: Insights
Solvents are generally known as chemicals used indifferent commercial applications across various industries. Annually, millions of tonnes of solvents are used in a vast number of industries, ranging from textiles, paints & coatings, pharmaceuticals, plastics & rubber, construction, oil & gas, and chemical synthesis, among many others. Due to the implementation of stringent regulations by EPA, DEFRA, and REACH on the use of harmful chemical substances like petroleum feedstock, bio-based solvents are being preferred by the industries. As petroleum feedstock has ill-effects on the environment, industries are expected to cooperate in these times of increasing environmental concerns. The volatile petrochemical prices,along with growing health concerns because of thepresence of VOC in conventional solvents, have affected the bio-solvents market globally.
Bio-based solvents or bio-solvents are produced using green and environment-friendly feedstock like sugars, cellulose, agricultural products, oils & fats, among various others. These bio-based solvents are free from volatile organic compounds, non-toxic, carbon-neutral, and sustainable alternatives. As these sustainable bio solvents are going through advanced developments, making them efficacious and efficient, they will give momentum in the estimated period. The increase in the penetration and adoption of bio solvents across various industries will stimulate the bio solvents market's growth.
Furthermore, the steady growth of essential industries like industrial cleaning, paints & coatings, textiles & printing inks, agrochemicals, and adhesives & sealants across developing regions across the globe will drive this market significantly. The increasing awarenessabout conventional solvents' harmful effects in pharmaceutical products and personal care products is another critical driver for the demand forbio solvents in such applications.
Pharmaceutical, cosmetics, and paints & coatings applications are predicted to witness high growth prospects for bio-solvents. The companies such as Revlon, Rossmann, and Symrise AG are companies involved in developingbio-based cosmetic products that contain alpha-bisabolol. The bio-based cosmetic products are free from antibacterial, antifungal, and anti-inflammatory properties.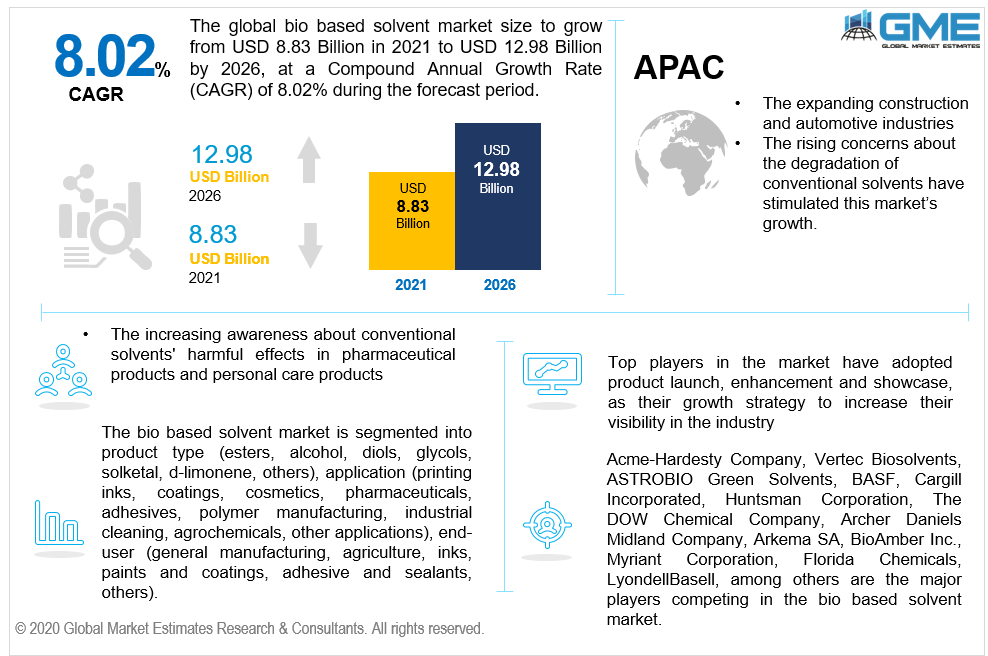 Bio-Based Solvent Market: By Product Type
Based on the product type, the market is explained in five different categories includeesters, alcohol, diols, glycols, solketal, and d-limonene, amongothers.
The category of glycols is expected to exhibit the fastest CAGR in the estimated timeframe.This is due to its rise in demand from paint, printing inks, automotive coating, and industrial coating industries. The features like slow evaporation rate and high blush resistance of glycol solvents are the reason for its high demand in these industries. Lactate ester is also a significant product segment. The growing demand forlactate ester solvents in printing inks,coatings, and industrial applications is anticipated to drive the market growth over the estimatedtime frame.
Methyl soyate is also a fast-growing bio-solvent because it's widely preferred as a bio-based alternative in industrial solvent applications.
Bio-Based Solvent Market: By Application
According to the application analysis, the market is segregated intonine segments knowinglyprinting inks, coatings, cosmetics, pharmaceuticals, adhesives, polymer manufacturing, industrial cleaning, agrochemicals, and other applications.
The coatings segment is analyzed as a leading segment in the market. In emerging markets like China, Brazil, Mexico, and India, construction spending will be rising, coupled with rapid urbanization and industrialization. Along with them, the shift in using eco-friendly paints will propel this market's growth.
Bio-Based Solvent Market: By End-User
Based on the end-user study, the market iscategorized and explained into general manufacturing, agriculture, inks, paints and coatings, adhesive and sealants, and others. The leading segment in the estimated time frame will be paints and coatings. This is due to its massive demand in the construction and automotive industries, which are growing due to rapid urbanization and industrialization.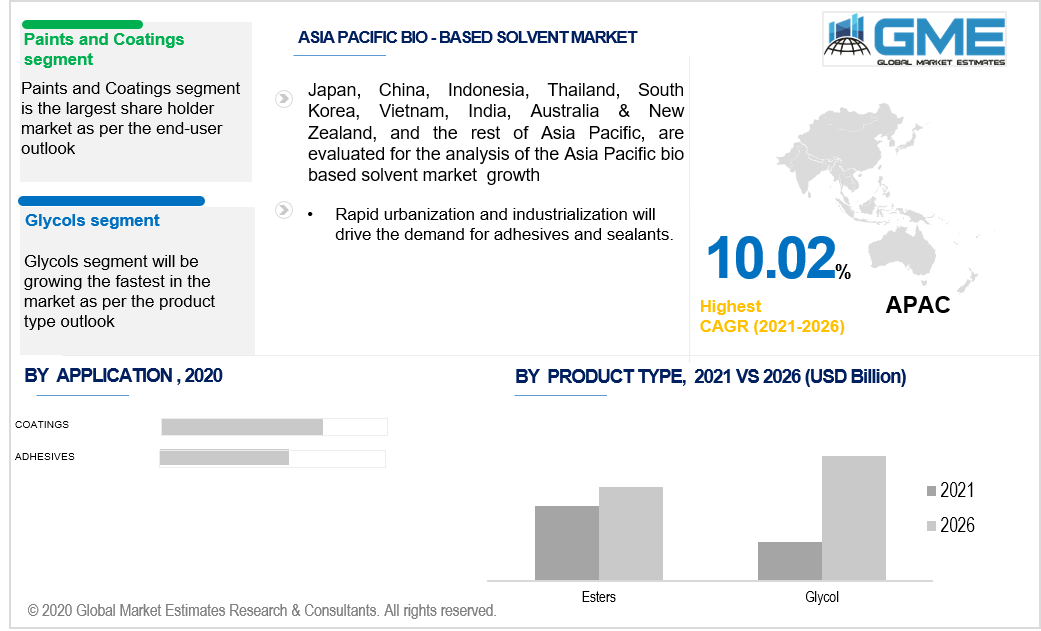 Bio-Based Solvent Market: By Region
The Asia-Pacific region is showing a dominating position in the global market, due to theexpanding construction and automotive industries. Rapid urbanization and industrialization will drive the demand for bio-based solvents. Additionally, rising concerns about the degradation of conventional solvents have stimulated this market's growth.
The APACis one of the key regions in supplying raw materials for the production and manufacturing of bio-solvents. Adopting bio-solvents in the area is comparatively low. Nevertheless, it is expected to show a relatively faster growth during the estimated period, fronted by China. The growing pharmaceutical and cosmetics sectors in the developing nations also boosting regional growth.
The North America AND Europe regions also hold a decent share in the global market between 2021 to 2026.The changing economical and political dynamics in the European Countries are propelling growth. The growing automotive manufacturing sector in Germany is supporting the region's growth.
Government backing and incentives will differ widely since it depends on the respective country's precise conditions. The market in emerging and developing countries is dependent on the bio-solvent guidelines in the European Union and the U.S., where the determined targets can only just be met domestically.
Bio-Based Solvent Market: Share & Competitor Analysis
Acme-Hardesty Company, LyondellBasell, VertecBiosolvents, Florida Chemicals, ASTROBIO Green Solvents, Myriant Corporation, BASF, BioAmber Inc., Cargill Incorporated, DOW Chemical, Huntsman Corporation, and The Archer Daniels Midland Company among others,are the significantvendors competing in the market.
Please note: This is not an exhaustive list of companies profiled in the report.
Check the Press Release on Global Bio-Based Solvent Market Report