Business Productivity System Market: Insights
The Business Productivity System are applications used by varied businesses, from large to small, at every level of their workings. These applications could include worksheets, presentations, word files, video recordings, etc, which come especially in handy to reduce paperwork and save the firm a lot of time and cost. These applications are dynamic, multifunctional, easy to use, flexible, and grant their users a level of privacy. Many major players like Microsoft, Google, Intel, etc have gained massive profits from the industry due to their relatively high demand and the right to copyright these companies get, making completion entry in the market hard. On the other hand, to cope up with rising demand, many fresh graduates are entering the industry along with outsourcing, providing an equilibrium of demand and supply in the market. The market is estimated to grow during the forecast duration due to innovation, invention, and the rising growth of the population using said applications. Not only are they being used, due to their diversity and rising demand many educational institutes also ensure to impart such technological education to their students.
In the estimated duration the demand for business productivity systems is bound to grow at a skyrocketing rate, this is also because, with the rise in population density and personal disposable income among the lower and middle-class group, more people can afford smart devices equipped with all necessary productivity systems. The technology offers convenience and flexibility to the users. Also during the lockdown and coronavirus pandemic, many workers and students were forced to shift to online studies and work from home, making the use of the business productivity system even more so relevant. Now in the forecasted duration, this usage is estimated to grow to other sectors as well.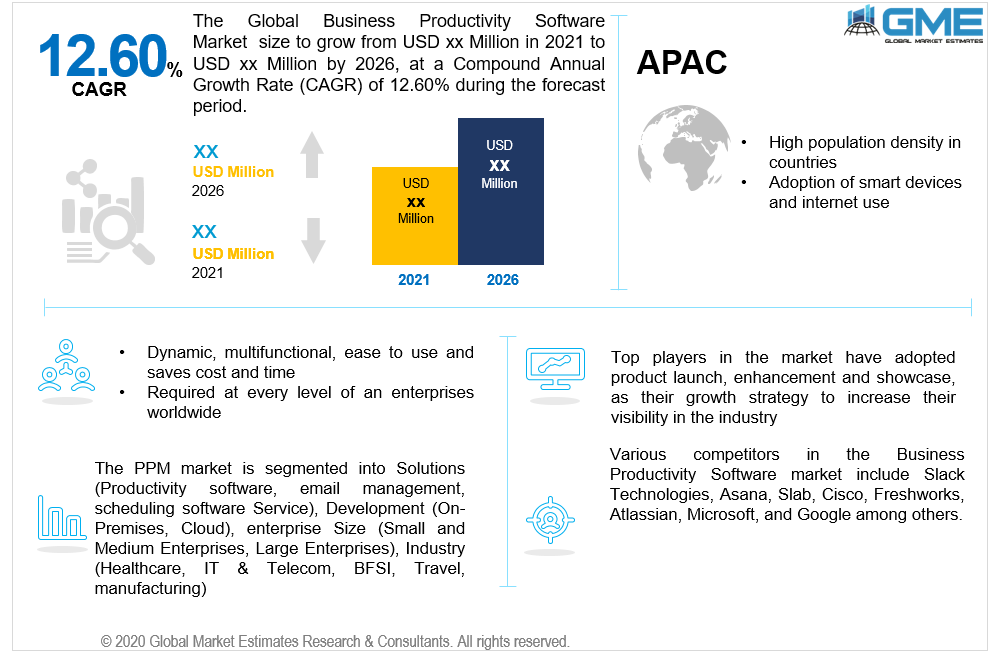 Business Productivity System Market: By Solution
Based on the solution type the market is studied and explained into Software, Scheduling Software, Team Collaboration, Time Management, and Email Management among others. Whereas the Service segment is further divided into Integration Service, Consulting, Technical Support. The Productivity Software segment dominates the market in terms of Solution analysis during the forecast duration. This is contributed due to multiple level usage of said applications, like word, presentation, audio / video recording, etc, throughout an organization. The use of productivity software provides minimum training and skill development and has been thoroughly applied in all forms of organizations. Many organizations, for security purposes, hire a team of professionals that customize productivity software. This comes especially handy for organizations that want a personal impression on their consumers or want a coded software used by their employees for preventing a data breach.
Business Productivity System Market: By Development Mode
The cloud model of development occupies a major chunk and generates huge revenue in the forecasted duration. This is because of the growing innovation and adaption of newer software. Cloud-based software also provides a reduction of data loss and has a flexible working module. More and more companies are shifting towards cloud-based development as it provides backup against data loss, gives a strategic edge against the competition, easy sharing and flow of information for quick working and decision making, cost-reducing and saving, and provides unlimited data storage, amongst other advantages. On the other hand, cloud development has its back draws, because it is still in its developing stages, cloud-based business productivity systems are more prone to hack and security breaches. Many companies and institutes can suffer a huge amount of losses due to that, therefore they prefer the on-premises model of development due to its higher security rigidness.
Business Productivity System Market: By Enterprise Size
The market is ruled by large enterprises and generates high revenue between 2021-2026, due to the easy usage of technology. Business productivity system serves as a quick and cost-reducing method for Large scale forms. Also, large firms have much higher investment and capacity, and the capability to hire professionals. On the other hand, the rise in foreign direct investment (FDI) and supporting government schemes have helped small and medium enterprises to start using business productivity systems to get a competitive edge in the market.
Business Productivity System Market: By Industry
The Industry analysis bifurcates the business productivity system market into BFSI, IT & Telecom, Healthcare, Travel & Hospitality, Retail & e-commerce, Manufacturing, Others. BFSI holds the highest market share due to the complex nature and high level of private data entry required in the sector. During the pandemic, the use of the business productivity system grew by a significate rate from the healthcare sector. This was contributed due to a sudden hike in patient data entry and the requirements to store varied information like medication, phases of recovery, etc amongst the users.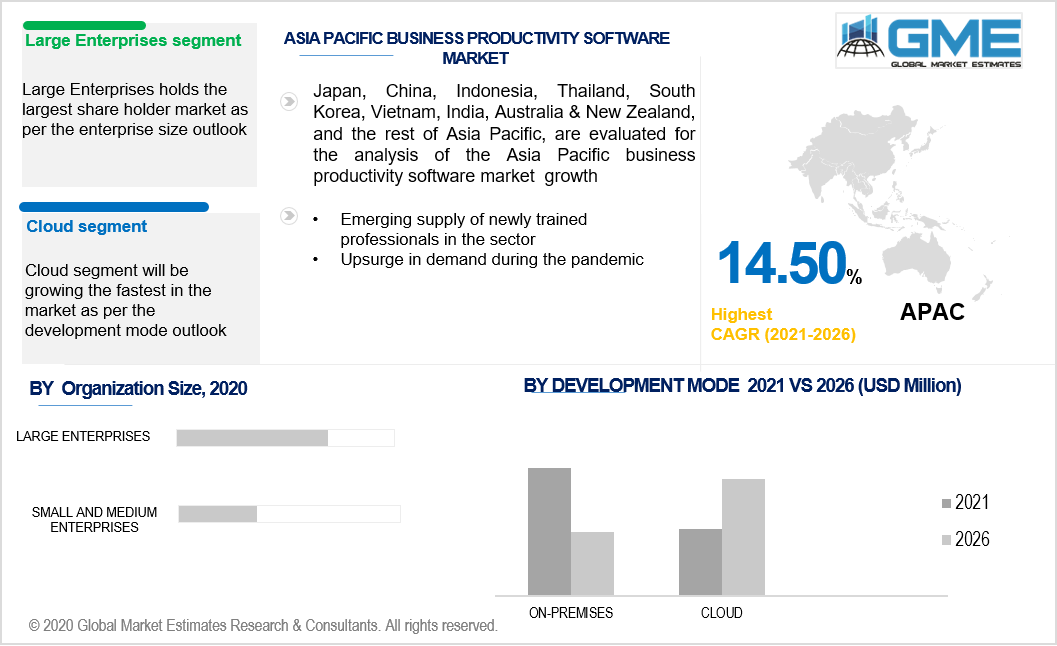 Business Productivity System Market: By Region
The North America region and Asia Pacific are dominating the market. This is due to the advancement in information technology and the cluster of major vendors in North America. On the other hand, Asia Pacific has estimated to have the fastest growth during the forecast duration, this is contributed due to the increasing population and rise in personal disposable income of middle and lower class income groups. Also as smart devices become affordable and internet providers give high-speed data, many users have started using business productivity systems with convenience.
Business Productivity System Market: Share & Competitor Analysis
Key competitors include Slack Technologies, Asana, Slab, Cisco, Freshworks, Atlassian, Microsoft, SAP Se, Google, Broadcom.Inc, Salesforce, Appscales Systems, and Amazon among others.
Please note: This is not an exhaustive list of companies profiled in the report.
The Global Business Productivity System Market has been studied from the year 2019 till 2026. However, the CAGR provided in the report is from the year 2021 to 2026. The research methodology involved three stages: Desk research, Primary research, and Analysis & Output from the entire research process.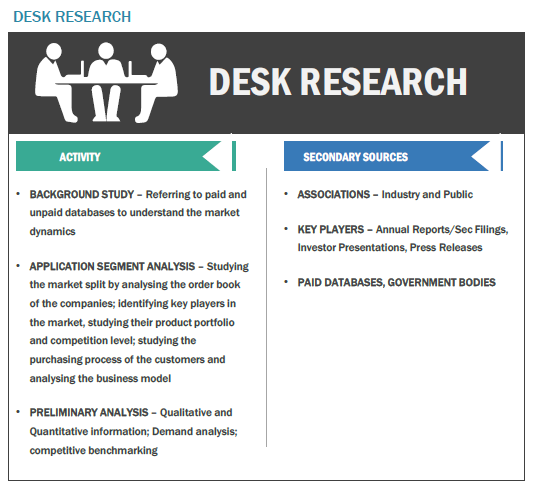 The desk research involved a robust background study which meant referring to paid and unpaid databases to understand the market dynamics; mapping contracts from press releases; identifying the key players in the market, studying their product portfolio, competition level, annual reports/SEC filings & investor presentations; and learning the demand and supply-side analysis for the Business Productivity System Market.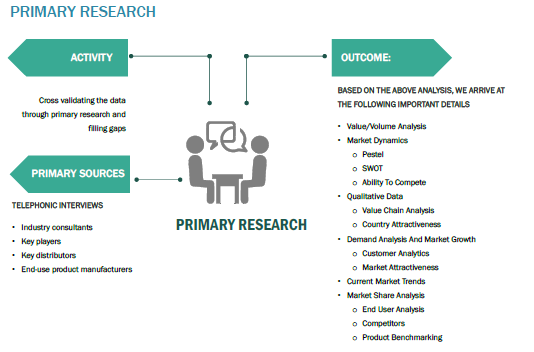 The primary research activity included telephonic conversations with more than 50 tier 1 industry consultants, distributors, and end-use product manufacturers.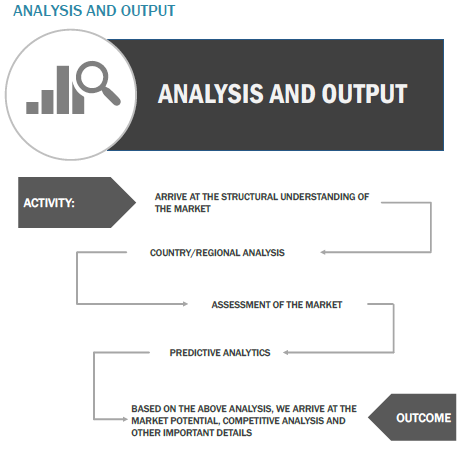 Finally, based on the above thorough research process, an in-depth analysis was carried out considering the following aspects: market attractiveness, current & future market trends, market share analysis, SWOT analysis of the company and customer analytics.