Caramel Ingredients Market Insights
Caramel is a sweet confectionery component that is used as a flavoring, filling, and topping in a wide range of foods and beverages. It's made by heating a certain type of sugar to a specific temperature. Caramel ingredients come in several shapes and sizes, and they're used in a wide range of applications. Because of its utility, caramel ingredient market players are concentrating their efforts on expanding, launching new products, and developing new varieties. The idea of caramel ingredients arose from the trend of fancy food eating, cake and ice-cream decoration, and fusion in traditional dishes. Granular and powdered caramel ingredients are becoming increasingly popular in confections.Since packaged foods are becoming increasingly popular, powdered and granular caramel ingredients are preferred over others due to their longer shelf life. Furthermore, as the popularity of dining outside has grown, food manufacturers have begun to concentrate on using caramel to make their goods more attractive and tempting to consumers. Also, people prefer frozen baking products and ready-to-eat products over conventional slow cookers due to their busy lifestyles.
The caramel ingredients market isdriven by the rapidly rising confectionery and bakery industries around the world.The convenience food industry's development is expected to have a direct impact on the caramel ingredients market, rising demand for clean/natural label products and growing demand because of their ease of preparation and lower packaging requirements, bakery ingredients and products are becoming more common.Of all of its uses, the caramel component is most commonly used in confectionery. The global market for caramel ingredients is expanding due to consumer preferences, demand for bakery products, and the use of caramel ingredients in confectionery products.Other factors driving the global caramel ingredient demand include an increase in disposable income and the adoption of an urban lifestyle.
The beverage industry has expanded considerably, including both alcoholic and non-alcoholic drinks. Caramel additives such as fluid and powdered caramel colours, as well as caramelized sugar syrups, are used in both alcoholic and non-alcoholic beverages such as beer, fruit drinks, powdered drink mixes, lemonade, tea, and other beverages. This expands the demand for caramel ingredients.
The global caramel ingredients market is being driven by an increase in customer demand for convenience foods as a result of evolving lifestyles and eating habits. Furthermore, increasing consumer demand for bakery and confectionery products, as well as the expansion of the processed food industry in developing countries, are driving the global market growth. Also, the increasing trend for food decorations to make food production more appealing to consumers is expected to drive the global caramel ingredients market forward over the forecast era.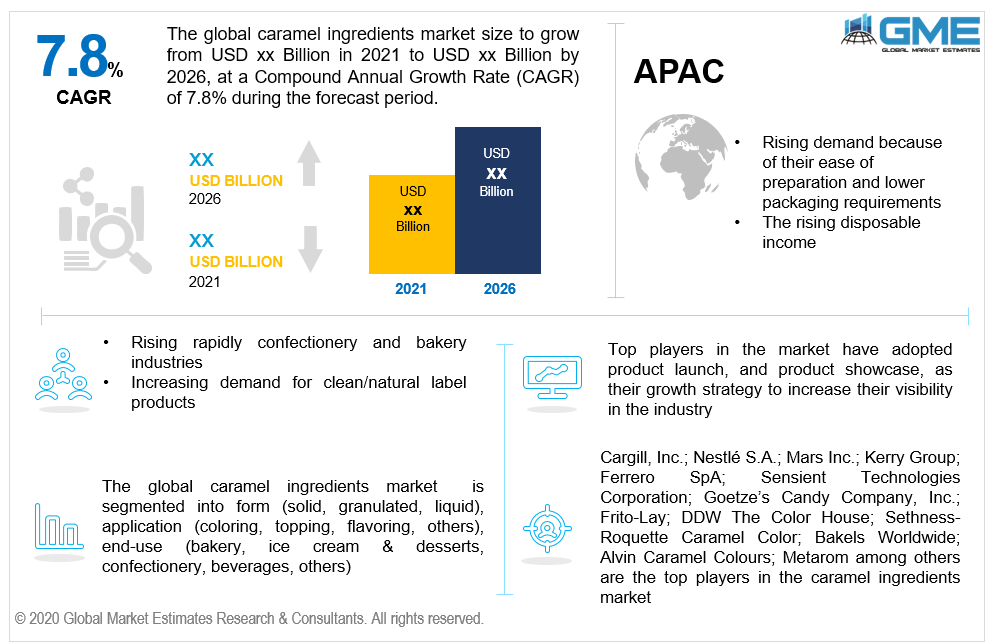 Caramel Ingredients Market: By Form
Based on the form, the market is segmented into solid, granulated, and liquid.During the forecast period, the liquid form is expected to dominate the market. The granulated form of the ingredient is projected to grow at the highest rate over the projected timeline because it has a longer life span than other varieties.It is widely used as a topping and flavoring component in bakery and processed food items.
Caramel Ingredients Market: By Application
Based on the application, the market is segmented into coloring, topping, and flavoring, among others.Colors accounted for the largest share of the caramel ingredient market, led by flavours. Caramel color ingredients are commonly used in food coloring and are widely used in the food and beverage industry. Caramel is commonly used as a coloring agent in soft drinks, baked goods, sauces, and alcohol. However, over the last decade, reports have raised questions about some forms of caramel colouring, indicating that the chemicals used in these colours could be carcinogenic.
The toppings segment of the caramel ingredient market is projected to rise at the fastest pace. This is due to an increase in customer preference for dining out, which is driving the market for food decoration (to make it more appealing) and, in turn, increasing product demand.Caramel toppings are extremely popular in a variety of shakes, frozen desserts, chocolates, baked goods, and smoothies, and this ingredient is among the most common additions to fall menu options in North America.
Caramel Ingredients Market: By End-Use
Based on the end-use, the market is segmented into bakery, ice cream & desserts, confectionery, and beverages, among others. Throughout the forecast era, the confectionery segment will lead. Caramel has long been a common ingredient in confectionery and will continue to be popular in the future. As small and large confectionery producers realize the benefits and potential of this versatile ingredient, they have been experimenting with new and interesting combinations. Caramel has proved to be an essential ingredient in a variety of confectionery products and will continue to be so in the industry.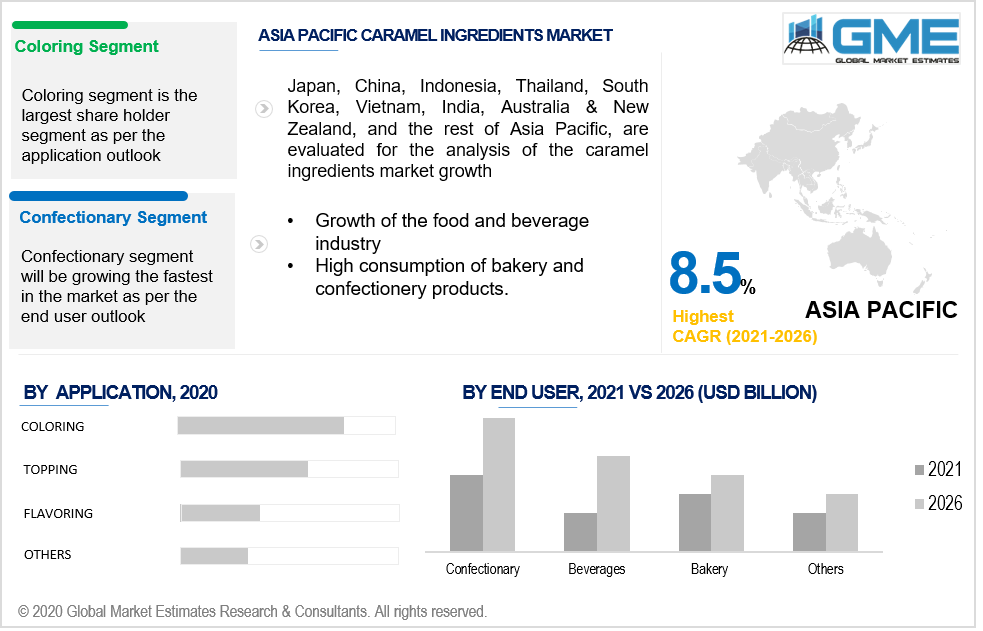 Caramel Ingredients Market: By Region
As per the geographical analysis, the market can be classified into North America (the US, Canada, and Mexico), Asia Pacific (India, China, Japan, Malaysia, Singapore, and Rest of Asia Pacific), Europe (Germany, United Kingdom, Italy, France, Spain, Netherlands, and Rest of Europe), Middle East & Africa and Central South America.
North America and Europe continue to provide value-creation opportunities due to the strong presence of leading producers and the thriving frozen and processed food industries.In established regions, market participants place a premium on innovation and seasonal favorites. In terms of sales, North America accounted for the largest share, followed by Europe, Latin America, and the Middle East, and Africa. The caramel ingredients market in North America is growing due to the rising demand for packaged and frozen food items in North American countries. Over the predicted timeline, the Asia Pacific market is projected to rise at the fastest rate in terms of sales. Individuals' increasing consumption of bakery and confectionery items is a key factor supporting the target market's growth in this area.The rapid growth of the caramel ingredients market in the Asia Pacific can be attributed to improved logistics and an expanding food and beverage industry in the future. Another factor expected to drive the growth of the caramel ingredient market in the Asia Pacific is a growing population and increasing disposable income in countries such as China and India. Furthermore, the growing food and beverage industry in this area, owing to the availability of low-cost raw materials and labour, is expected to boost the target market's growth.
Caramel Ingredients Market Share and Competitor Analysis
Cargill, Inc.; Nestlé S.A.; Mars Inc.; Kerry Group; Ferrero SpA; Sensient Technologies Corporation; Goetze's Candy Company, Inc.; Frito-Lay; DDW The Color House; Sethness-Roquette Caramel Color; Bakels Worldwide; Alvin Caramel Colours; Metarom are the top players in the global caramel ingredients market.
Please note: This is not an exhaustive list of companies profiled in the report.
The Global Caramel Ingredients Market has been studied from the year 2019 till 2026. However, the CAGR provided in the report is from the year 2021 to 2026. The research methodology involved three stages: Desk research, Primary research, and Analysis & Output from the entire research process.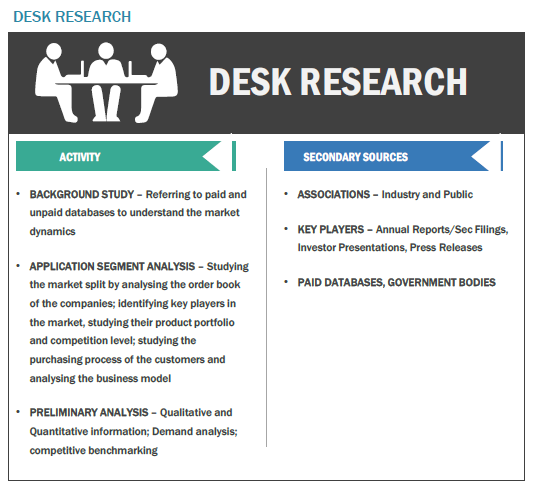 The desk research involved a robust background study which meant referring to paid and unpaid databases to understand the market dynamics; mapping contracts from press releases; identifying the key players in the market, studying their product portfolio, competition level, annual reports/SEC filings & investor presentations; and learning the demand and supply-side analysis for the Caramel Ingredients Market.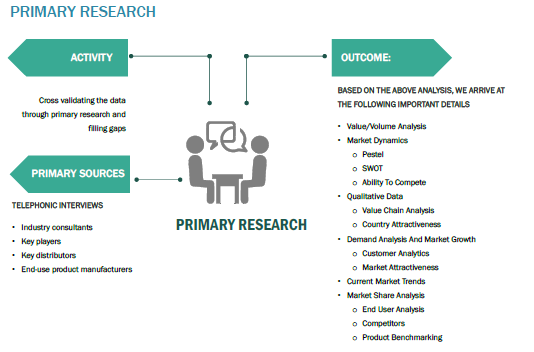 The primary research activity included telephonic conversations with more than 50 tier 1 industry consultants, distributors, and end-use product manufacturers.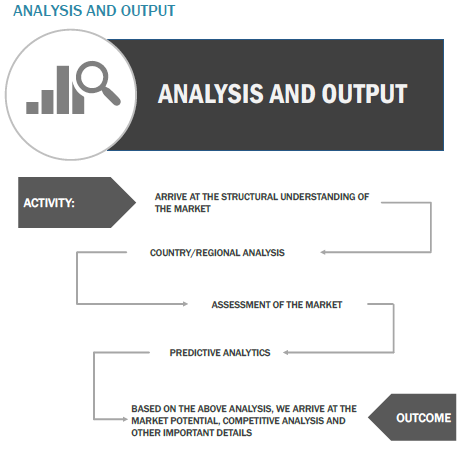 Finally, based on the above thorough research process, an in-depth analysis was carried out considering the following aspects: market attractiveness, current & future market trends, market share analysis, SWOT analysis of the company and customer analytics.