Centrifugal Chiller System Market Insights
In commercial and industrial cooling and refrigeration systems, a centrifugal chiller system is essential. The centrifugal chiller machine maintains a consistent temperature for industrial entities and provides chilled water to a variety of end-users, including commercial buildings, food manufacturing, and automotive, among others. A centrifugal chiller system can be used to provide managed cooling for a variety of heat-producing manufacturing processes, including injection molding, blow molding, casting, and so on. They are usually the most cost-effective alternatives for cooling large buildings.
They're often used to cool and dehumidify gases as part of a temperature-control device in a variety of industries, ranging from small to large. They come in a wide variety of capacities, from manufacturing chillers with a capacity of 60 to 2,700 tonnes to field assembled chillers with a capacity of up to 9,000 tonnes.
To have a cooling effect, they use a vapor compression cycle. A coolant is piped into the four major components of the chiller system: an expansion valve, a pump, an evaporator, and a condenser. Coolant that has been transformed to vapors and has stored the hot gas from the reaction goes into the divergent blower, which expands the pressure as it approaches the condenser tubes' limits.
Water or air going through the condenser chamber cools the vapors inside and causes them to condense into a liquid. At the same time, the coolant's abundant energy is delivered into the water or air and carried away. The coolant liquid continues flowing into a development valve that diminishes the pressure which then causes evaporation. This evaporation that happens at the expansion valve cools the fluid.
Centrifugal chillers are extremely strong and simple to maintain because they have few friction-causing components. They don't generate a lot of pressure, but they're suitable for popular applications like refrigeration and air conditioning. They are among the most common and cost-effective air-cooling systems for hospitals, offices, manufacturing facilities, and schools.
The global demand for centrifugal chiller systems is expected to be driven by the need for cold water in cooling equipment and process machinery in these industries. In the coming years, demand is expected to be driven by an increase in the number of power plants, which are one of the largest users of centrifugal chiller systems.
The demand for centrifugal chiller systems is expected to increase as medical and educational facilities in metropolitan cities expand. In response to the customer demand, key manufacturers in the centrifugal chiller device market are concentrating on product innovation. As per the OECD Employment and Labour Market Statistics, about 62 percent of the female workforce in the United States works for themselves, which has boosted the frozen food industry. Since the last decade, there has been a gradual increase in the whole frozen food market in Western Europe.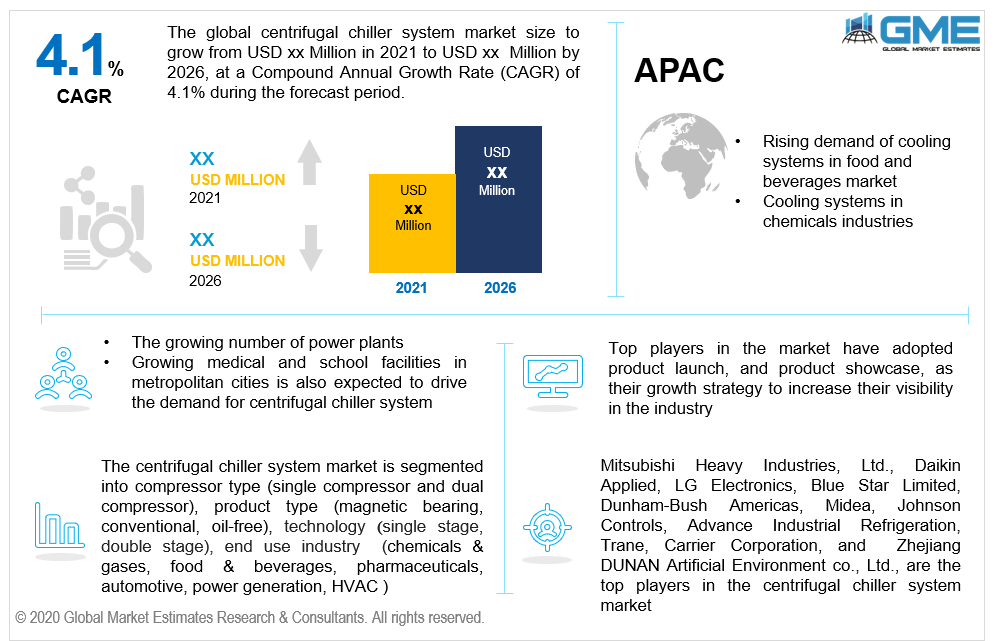 Centrifugal Chiller System Market: By Compressor Type
The market can be further divided into two compressor types i.e., single compressor centrifugal chiller system and dual compressor centrifugal chiller system. A single compressor centrifugal chiller provides maximum and part-load output for increased energy reserves and a very good financial return on investment. These chillers effectively communicate with building automated systems, are seismic compliant, and have a broad working scope to enable operation at various lift conditions, thanks to the use of ozone-friendly refrigerant.
A dual compressor centrifugal chiller provides complete and part-load efficiency while consuming less energy and performing the work of two separate chillers at a fraction of the cost. This modern chiller takes up less floor space than multiple single compressor chillers while delivering the same performance and saving money on unnecessary hardware. A dual compressor chiller can save up to 35% on installation costs as compared to two separate chillers.
Centrifugal Chiller System Market: By Product Type
The market can be further divided into three compressor types i.e., magnetic bearing centrifugal chiller, conventional centrifugal chiller, and oil-free centrifugal chiller.
Oil is required for the operation of conventional centrifugal chillers. The refrigerant circuit contains a small amount of gasoline. Oil will collect in the evaporator in the operation, covering heat transfer surfaces and reducing the unit's productivity. Magnetic bearings replace traditional bearings in oil-free centrifugal chillers; these magnetic bearings do not need any oil for lubrication, thus increasing the chiller's performance. It not only improves performance but also reduces the amount of noise generated and the amount of power required to start the chiller.
Centrifugal Chiller System Market: By End-Use Industry
Based on the end-user industry analysis, the market can be segmented into chemicals & gases, food & beverages, pharmaceuticals, automotive, power generation and HVAC, and other end users. According to the research, the demand for food and beverages will expand at the fastest pace.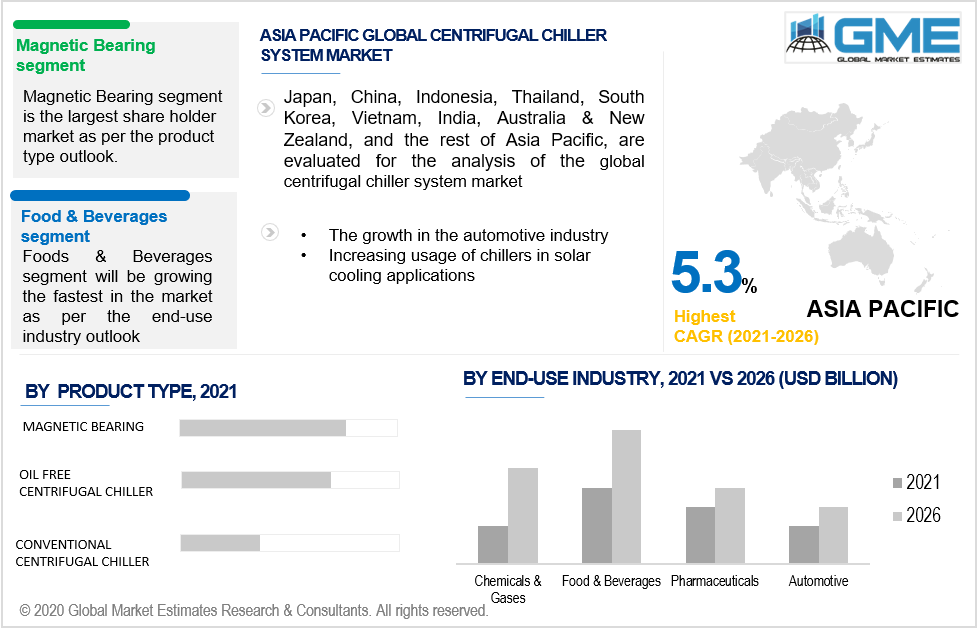 Centrifugal Chiller System Market: By Region
As per the geographical analysis, the market of digital medical dynamometer can be classified into North America (the US, Canada, and Mexico), Asia Pacific (India, China, Japan, Malaysia, Singapore, and Rest of Asia Pacific), Europe (Germany, United Kingdom, Italy, France, Spain, Netherlands, and Rest of Europe), Middle East & Africa and Central South America. North America is projected to have the largest market share in the centrifugal chiller system market owing to the region's well-established power generation, commercial, and food processing industries. The market for the Asia Pacific is expected to grow at the fastest growth rate. The demand for centrifugal chillers is expected to increase as the number of power plants and the automotive sector in China, South Korea, and India grows. Plastic, chemical and petrochemical, and food and beverage industries are all seeing steady growth and significant investments throughout the APAC region. In comparison to other regions, the Middle East and Africa centrifugal chiller systems market is expected to rise slowly.
Centrifugal Chiller System Market Share and Competitor Analysis
Mitsubishi Heavy Industries, Ltd., Daikin Applied, LG Electronics, Blue Star Limited, Dunham-Bush Americas, Midea, Johnson Controls, Advance Industrial Refrigeration, Trane, Carrier Corporation, and Zhejiang DUNAN Artificial Environment Co., Ltd., are the top players in the centrifugal chiller system market.
Please note: This is not an exhaustive list of companies profiled in the report.
In November 2019, Johnson Controls acquired Synchrony to help them improve the effectiveness of their operations by using magnetic bearings, which are known for their reliability and oil-free operation
The Global Centrifugal Chiller System Market has been studied from the year 2019 till 2026. However, the CAGR provided in the report is from the year 2021 to 2026. The research methodology involved three stages: Desk research, Primary research, and Analysis & Output from the entire research process.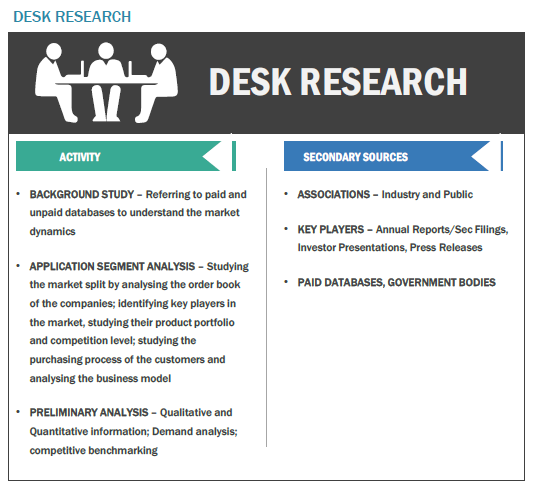 The desk research involved a robust background study which meant referring to paid and unpaid databases to understand the market dynamics; mapping contracts from press releases; identifying the key players in the market, studying their product portfolio, competition level, annual reports/SEC filings & investor presentations; and learning the demand and supply-side analysis for the Centrifugal Chiller System Market.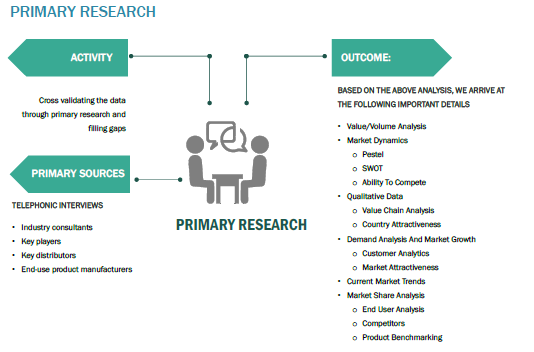 The primary research activity included telephonic conversations with more than 50 tier 1 industry consultants, distributors, and end-use product manufacturers.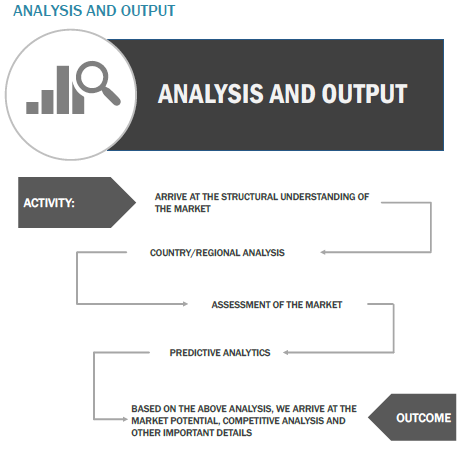 Finally, based on the above thorough research process, an in-depth analysis was carried out considering the following aspects: market attractiveness, current & future market trends, market share analysis, SWOT analysis of the company and customer analytics.