Clean Label Ingredients Market: Insights
Clean Label Ingredients are natural, organic, consumer-friendly, non-GMO, and are free from preservatives. Consumers are becoming more aware that food & beverage products containing artificial and synthetic ingredients are not a healthy choice. Changing consumer's focus on good quality food products is driving the market. More importantly, they have adverse health effects, and this customer base is widening at a fast pace. Furthermore, clean label ingredients have nutritional attributes, all of which propel this market's growth.
According to the same, properly evaluating planning strategies and consumer behavior has been a vital success factor in the industry. Companies have enhanced their labeling and design of their products to attract the customer's attention easily. For instance, companies efficiently use the communication opportunity at the forefront of the product packaging and use words like natural, organic, and free from preservatives that have a high consumer demand and recollection. In addition to this, an ingredient list and compliances are also added to further strike a chord with the consumer. Balancing the ingredient mix to match consumer choices is a significant challenge faced by the ingredient formulators. The development of a wide variety of products has led to a rise in the number of difficulties like shelf life and processing requirements. Consumers are demanding further simplified ingredients as well as briefer clean labels. However, they are not keen to compromise on quality or taste. Maintaining a balance is a chief challenge to the ingredient formulators and product manufacturers the same. Companies have started investing extensively in R&D activities to achieve a market share by developing more recent products significantly. However, the development of a clean label product is an extremely complex process. It encompasses tedious operations like removing ingredients with high functionality that have been conventionally used for specific purposes and replacing the same with a clean label ingredient without compromising the quality of the product and overall taste.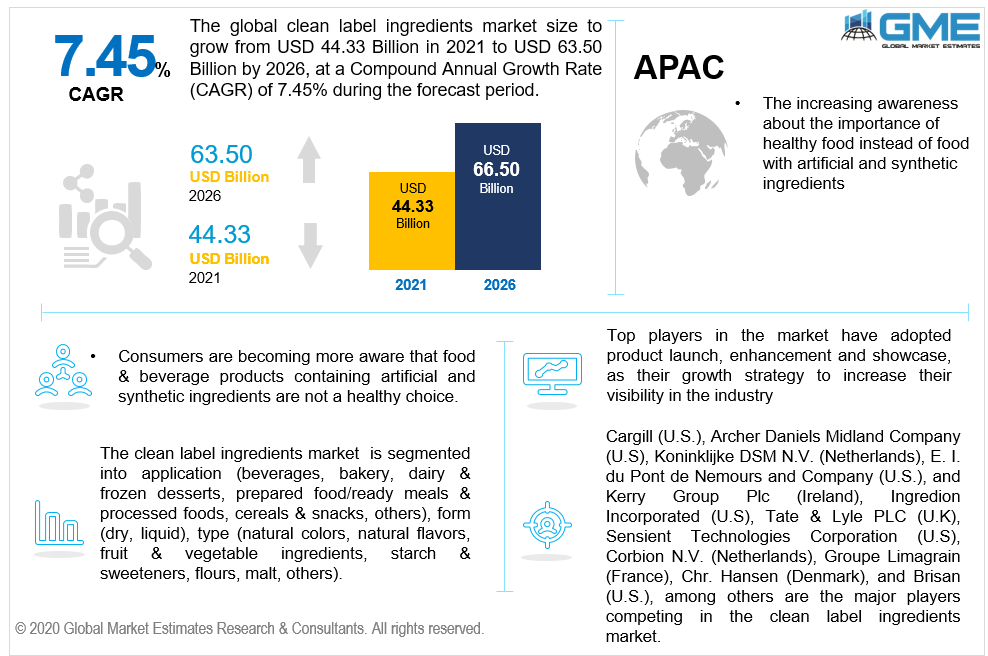 Clean Label Ingredients Market: By Application
The products are used in different applications such as beverages, cereals & snacks, bakery, processed foods, dairy & frozen desserts, and prepared food/ready meals among others. The products are also used in confectionery, culinary products, spreads, dressings, sauces, and dips among others.
The category of prepared food/ready meals & processed foods is the largest shareholder over the estimated time frame. This is due to consumers' changing preference for healthy convenience food over junk food due to busy lifestyles and growing awareness about the adverse effects of intaking artificial food additives.
The beverages segment is also expected to witness a high growth rate over the estimated period. The development of clean-label beverage products providing customers with new tastes and beverages, thus broadening the product portfolios, is a few factors promoting this segment's growth.
Clean Label Ingredients Market: By Form
According to the form analysis, the two segments are dry and liquid. The dry segment is studied to be the dominant In terms of revenue, this is due to its features of being easy to pack & transport, easy to handle & store while aiding the optimization of value chains. Furthermore, production takes place at a lower cost, and it can be used in a wide range of food & beverage products, which is a major driver for this market.
Clean Label Ingredients Market: By Type
Based on the type analysis, the market is divided into seven categories namely natural colors, malt, natural flavors, flours, fruit & vegetable ingredients, and starch & sweeteners among others. The other segment considered natural preservatives, emulsifiers, fermentation ingredients, and oils & shortenings, and brans & fibers among others.
The flours segment is expected to experience the fastest CAGR in the estimated time frame. This is because flour is used to manufacture a wide range of products, hence generating massive demand in the market. Companies have enhanced the process of flour manufacturing to adhere to the clean label concept. To avoid using artificial ingredients, clean label flour uses cultured whey, wheat flour, concentrated raisin juice, sorbic acid, and live cultures as preservatives. These developments have proved to be significant drivers in pushing up the demand for clean label flours, mostly in developed markets.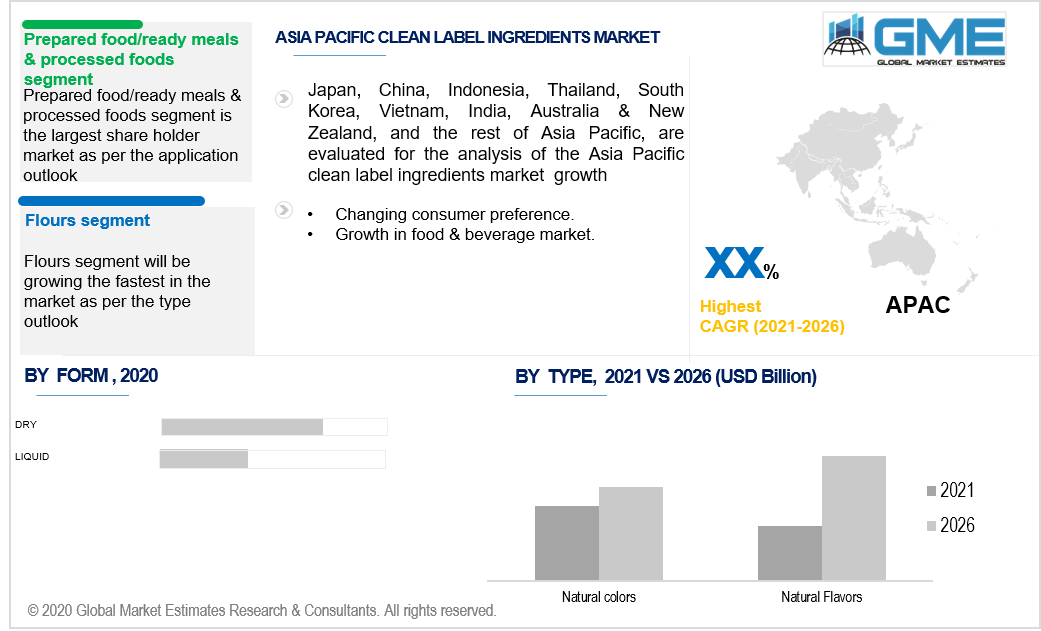 Clean Label Ingredients Market: By Region
The dominant market segment is held by the European region in terms of revenue generation. This is attributed to many clean label products and, hence, a vast consumption base. It has been observed that there has been a shift in brand loyalty with a rising preference towards consuming healthy foods, irrespective of the brand. Thus premium food brands having slight or no healthy food quotient are at a high risk of bypassing. These factors, coupled with high industry rivalry, companies have started focusing on R&D activities to build processes and manufacturing techniques that include more and more clean label ingredients.
Asia-Pacific is expected to note a high growth rate and is estimated to continue the trend. The increasing awareness about the importance of healthy food instead of food with artificial and synthetic ingredients pushes manufacturers to use clean label ingredients. The standard of living of consumers has increased, there is more awareness about health and well-being, thus creating more demand to consume healthy food.
Clean Label Ingredients Market: Share & Competitor Analysis
Cargill (U.S.), Brisan, Archer Daniels Midland Company (U.S), Chr. Hansen (Denmark), Koninklijke DSM N.V., Groupe Limagrain, E. I. du Pont de Nemours and Company (U.S.), Corbion N.V. (Netherlands), Kerry Group Plc, Sensient Technologies Corporation (U.S), Ingredion Incorporated (U.S), and Tate & Lyle PLC among others, are the major vendors in the market.
Please note: This is not an exhaustive list of companies profiled in the report.
The Global Clean Label Ingredients Market has been studied from the year 2019 till 2026. However, the CAGR provided in the report is from the year 2021 to 2026. The research methodology involved three stages: Desk research, Primary research, and Analysis & Output from the entire research process.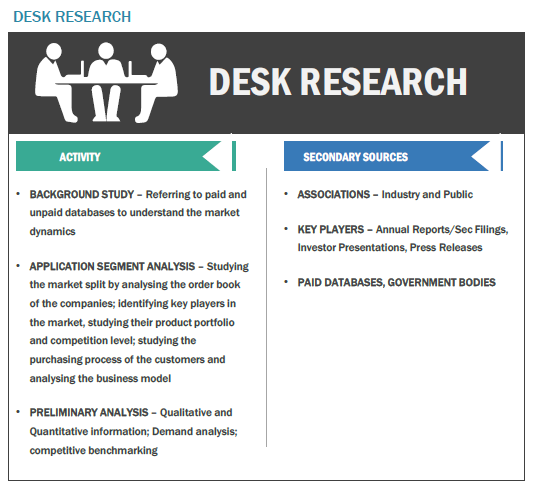 The desk research involved a robust background study which meant referring to paid and unpaid databases to understand the market dynamics; mapping contracts from press releases; identifying the key players in the market, studying their product portfolio, competition level, annual reports/SEC filings & investor presentations; and learning the demand and supply-side analysis for the Clean Label Ingredients Market.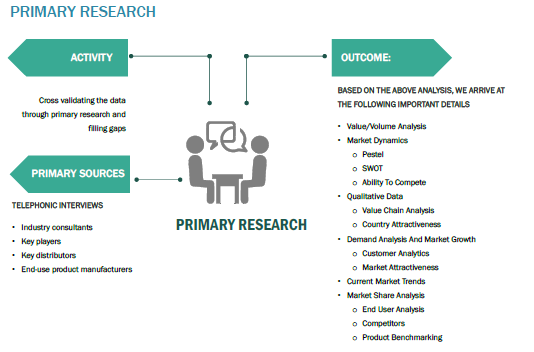 The primary research activity included telephonic conversations with more than 50 tier 1 industry consultants, distributors, and end-use product manufacturers.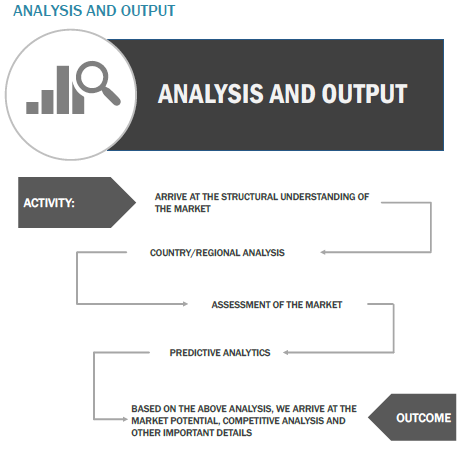 Finally, based on the above thorough research process, an in-depth analysis was carried out considering the following aspects: market attractiveness, current & future market trends, market share analysis, SWOT analysis of the company and customer analytics.