Clinical Laboratory Tests Market: Insights
Clinical laboratories are medical services that provide a variety of research techniques to assist doctors in the diagnosis, therapeutic interventions, and supervision of patients. Medical technologists (clinical laboratory physicists) operate these labs and are qualified to conduct experimental work on collections of biological samples obtained from their patients. The majority of clinical labs are located within or near medical premises, making them accessible to both doctors and their patients. Clinical laboratory categorizations show that these facilities can include high-quality laboratory experiments that are essential for meeting clinical and public health demands. Even though the latest fields of laboratory medicine are constantly emerging, the categorization should not be used as a set reference for labeling clinical laboratories since the clinical quality attributes of all laboratory tests differ greatly on the scale of diagnostic precision labels namely, responsiveness and accuracy. The appropriate laboratory test to order will differ based on the intent of the test. Before delving into this part of laboratory test collection, it's important to recognize the terminology used to characterize the diagnostic performance. Prevalence, responsiveness, accuracy, performance, and statistical accuracy are examples of these expressions.
The importance of clinical laboratories as an indispensable part of the health care ecosystem is increasing all the time. More doctors have recognized the necessity for laboratory testing to increase diagnostic procedure accuracy and to aid in the evaluation of their patients' response to the therapy over time.Aside from its proven usefulness to core patients demographics, clinical laboratories' robust versatility was often employed for screening and monitoring multiple medical disorders.
The stringent governmental guidelines and regulations on laboratory research, on the other hand, are the main factors limiting the market growth. Because of the many unexploited therapeutic research markets, the global market has considerable growth potential.People's understanding ofthe management of the disease and early identification will boost the market growth. The emergence of a possible solution for a medical illness, along with advances in testing, would drive up demand for clinical tests.Furthermore, new infectious diseases can inflict significant morbidity, mortality rates, and economic disruption. Efforts to avoid new infectious diseases will fuel consumer demand even higher.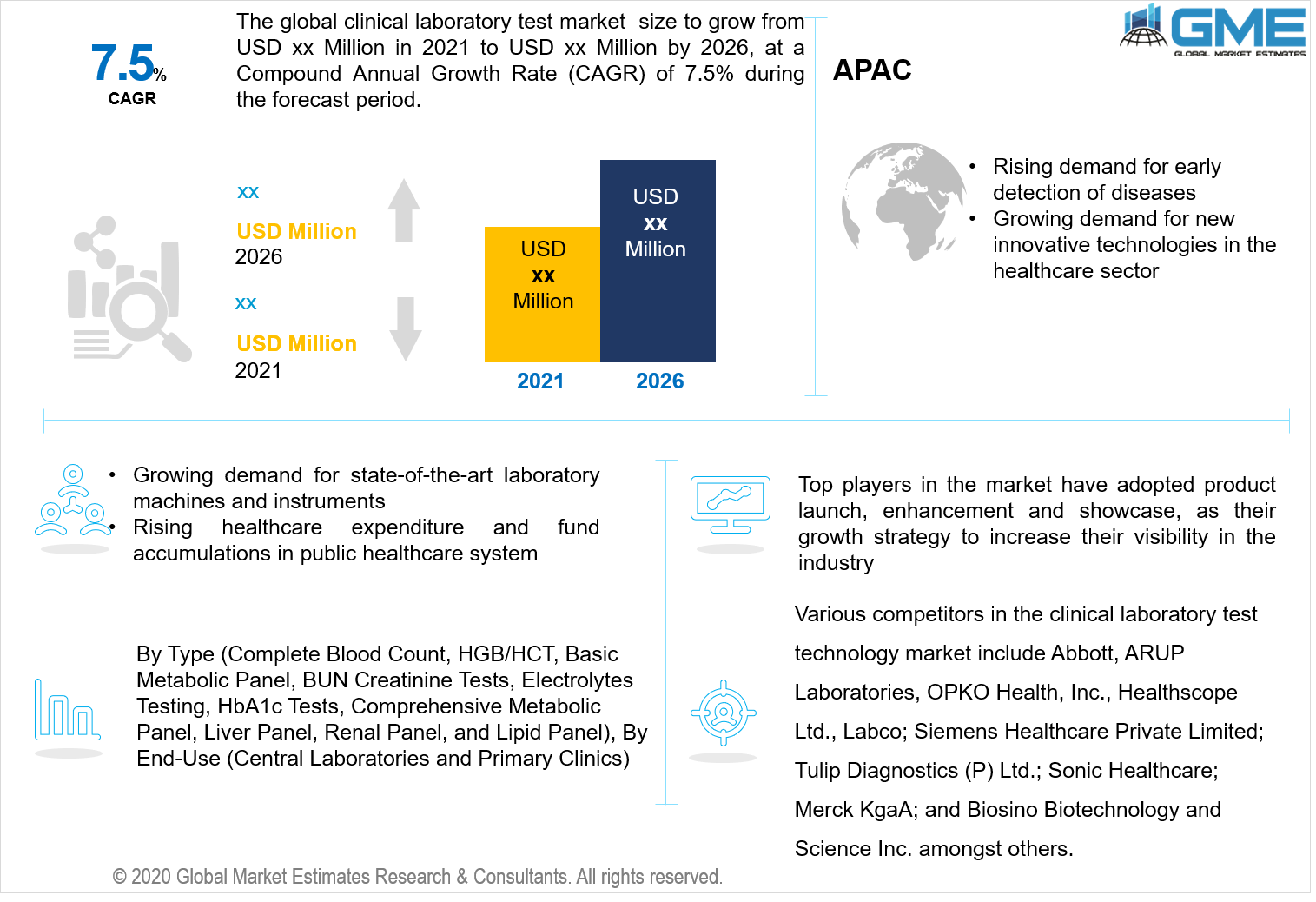 Clinical Laboratory Tests Market: By Type
The market for the clinical laboratory testsmarket is bifurcated into complete blood count, HGB/HCT,basic metabolic panel, BUN creatinine tests, electrolytes testing,HbA1c tests, comprehensive metabolic panel, liver panel, renal penal, and lipid panel. The basic metabolic panelsegment is projected to dominate the market during the forecast period.
Due to the extremely growing incidence of lifestyle-related disorders such as metabolic anomalies and obesity, normal metabolic testing contributed to a significant portion of the global demand for clinical laboratory tests. Moreover, with increased concern about the pervasiveness of cardiovascular diseases and diabetes the basic metabolic panel segment is a market leader.
The lipid panel is estimated as the fastest-growing segment due to increasing cardiovascular disorders and diabetes.This exam, also regarded as PT and Pro Time, determines the time taken by the blood to clot. A lipid panel is a set of measures used to assess heart risk. It considers cholesterol and triglyceride amounts. This coagulation procedure detects and monitors the involvement and function of 5 distinct blood coagulation.This test can detect bleeding complications and is often used to track drug therapies that inhibit blood clot development.
Clinical Laboratory Tests Market: By End-Use
The market for the clinical laboratory tests market is bifurcatedinto central laboratories, and primary clinics. The central laboratories segment dominates the market in terms of application analysis during the forecast period.The clinical laboratory is a facility wherein experiments are performed on clinical samples to acquire knowledge regarding a patient's condition to assist in disease detection, recovery, and mitigation. Clinical medicine laboratories are examples of applied science, as compared to pure science research labs used in several educational universities.
Medical laboratories differ in scale and sophistication, and as a result, they have a wide range of research facilities. Acute-care clinics and treatment centers have more extensive services, with diagnostic tests accounting for 70% of clinical decision-making. Laboratories that offer relatively specific laboratory resources can be found in physician's clinics and hospitals, as well as specialized nursing and long-term treatment centers.Commercial medical laboratories are self-contained corporations that offer research that may otherwise be unavailable in other environments due to limited test capacity or difficulty.
The central laboratory section offers a wide range of equipment that can be used in big and medium clinical laboratories. Performance data collection begins with protocol- and session specimen collection packages that have been correctly assembled and arrive at investigator premises on schedule.Specific test reports can be viewed, patterns can be tracked, specimen shipments can be tracked, site correspondence can be verified, kits can be ordered, and version-controlled lab guides can be accessed right from the central laboratory. As a result, the above considerations are being regarded as a significant driving force behind the central laboratory's supremacy.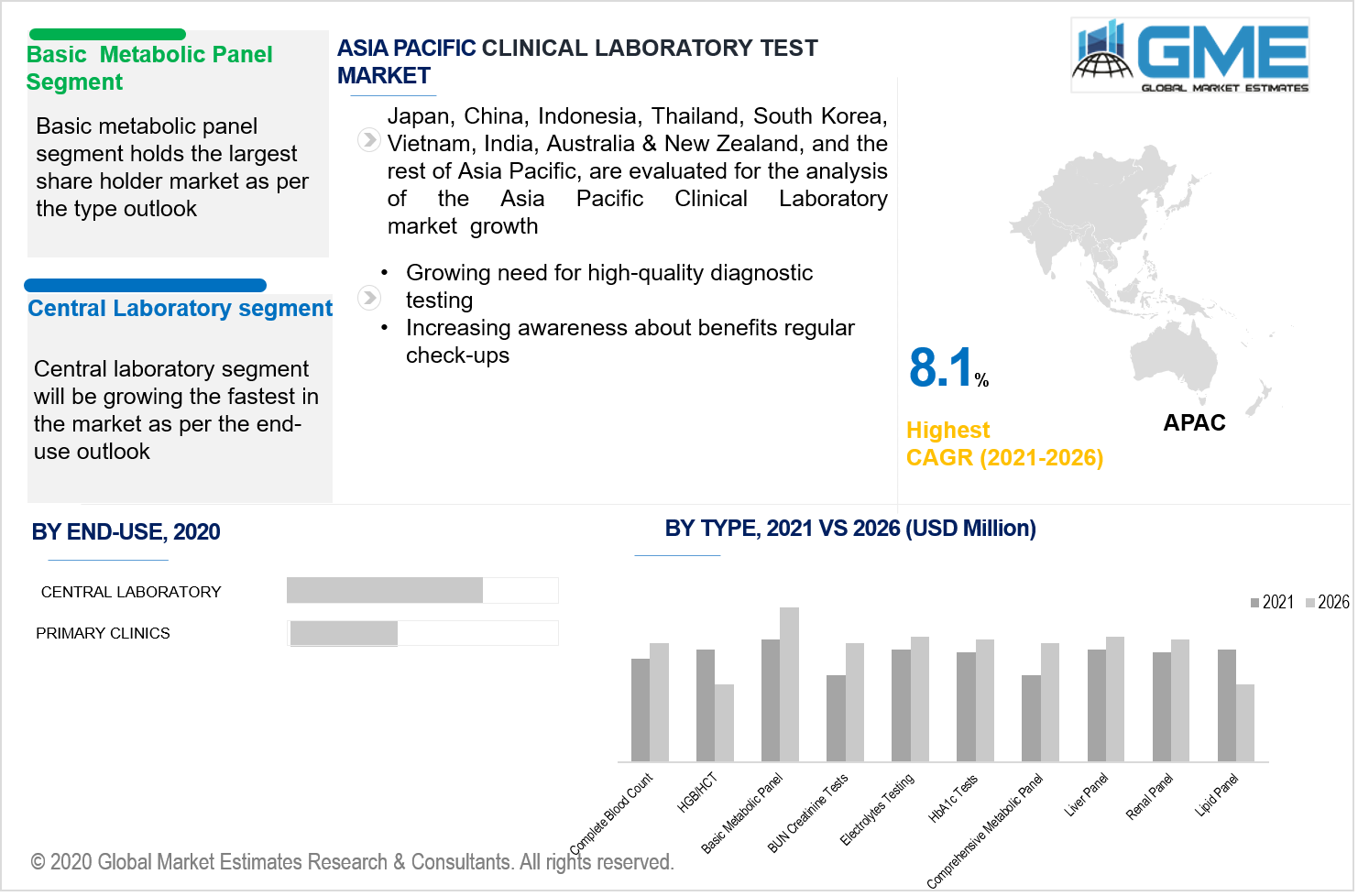 Clinical Laboratory Tests Market: By Region
As per the geographical analysis, the market can be classified into North America (the United States, Canada, and Mexico), Asia Pacific (India, China, Japan, Malaysia, Singapore, and Rest of Asia Pacific), Europe (Germany, United Kingdom, Italy, France, Spain, Netherlands, and Rest of Europe), Middle East & Africa (Saudi Arabia, United Arab Emirates, and Rest of the Middle East & Africa) and Central South America (Brazil, Argentina, and Rest of Central and South America). Early diagnosis instrument advancements in developed regions such as North America have fueled new prospects in the clinical laboratory testing market. Furthermore, the existence of clinical facilities increases the demand for cutting-edge lab machinery and instruments. Because of the increasing prevalence of various pharmaceuticals as well as the prevalence of clinical laboratory testing in North America, the region regulates the clinical laboratory test market. Furthermore, as the senile population grows, so does the need for diagnostic techniques, which can be a driving force in the regional market. Due to improvements in healthcare infrastructure promoting the introduction of innovative diagnostic technology in emerging economies, Asia Pacific is anticipated to hold the highest share of the CAGRin the clinical laboratory test technology market during the forecast period. Furthermore, undiscovered prospects in the context of unfulfilled patients demand sustainable economic development and expanding avenues of medical study are amongst the core contributors of the Asia Pacific clinical laboratory tests technology market.
Clinical Laboratory Tests Market: Share & Competitor Analysis
Various competitors in the clinical laboratory test technology market include Abbott, ARUP Laboratories, OPKO Health, Inc., Bioscientia Institutfür Medizinische Diagnostik GmbH, Charles River, NeoGenomics Laboratories, Inc., Genoptix, Inc., Healthscope Ltd., Labco; Laboratory Corporation of America Holdings (LabCorp), Fresenius Medical Care, QIAGEN, and Quest Diagnostics; Siemens Healthcare Private Limited; Tulip Diagnostics (P) Ltd.; Sonic Healthcare; Merck KgaA; and Biosino Biotechnology and Science Inc. among others.
Please note: This is not an exhaustive list of companies profiled in the report.
The Global Clinical Laboratory Tests Market has been studied from the year 2019 till 2026. However, the CAGR provided in the report is from the year 2021 to 2026. The research methodology involved three stages: Desk research, Primary research, and Analysis & Output from the entire research process.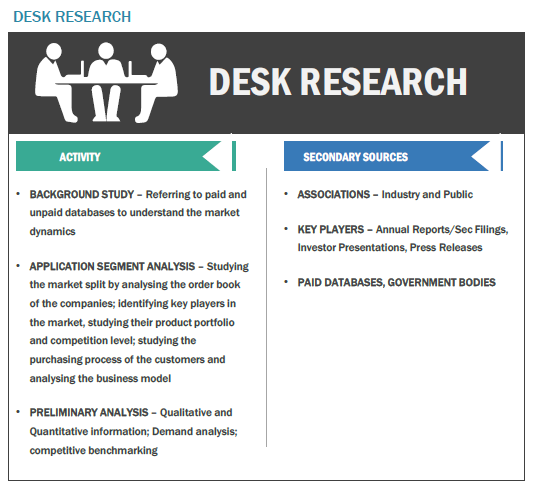 The desk research involved a robust background study which meant referring to paid and unpaid databases to understand the market dynamics; mapping contracts from press releases; identifying the key players in the market, studying their product portfolio, competition level, annual reports/SEC filings & investor presentations; and learning the demand and supply-side analysis for the Clinical Laboratory Tests Market.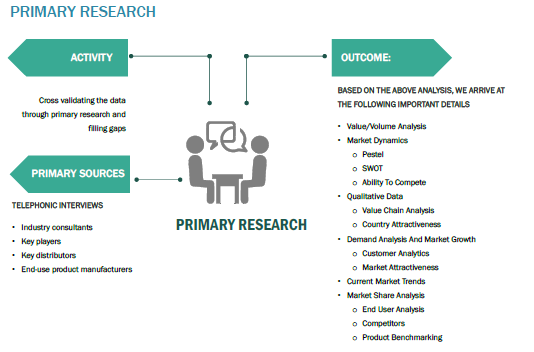 The primary research activity included telephonic conversations with more than 50 tier 1 industry consultants, distributors, and end-use product manufacturers.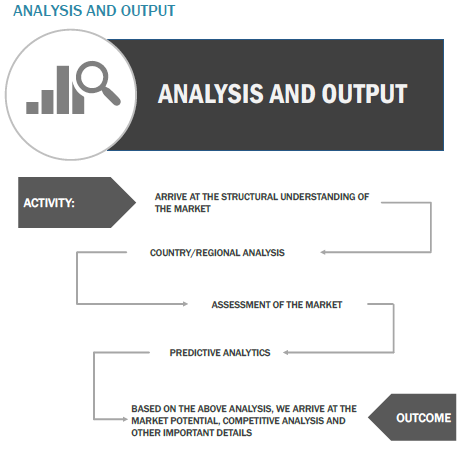 Finally, based on the above thorough research process, an in-depth analysis was carried out considering the following aspects: market attractiveness, current & future market trends, market share analysis, SWOT analysis of the company and customer analytics.