Composable Infrastructure Market Insights
Composable infrastructure allows for a fully integrated data center architecture with deeply abstracted services, software-defined features managed by powerful platforms, and APIs that enable diverse environments to work together as a single, fluid pool of resources. Composable infrastructure can be said as a framework through which the resources of the device get decoupled to regard them as administrations. Storage and network fabric infrastructure, as well as physical computing, are some examples of device resources that can be considered utilities. The goal of a composable architecture is to allow a data center to keep its existing system while reducing the time it takes to implement a new program.
The objective of a composable infrastructure is to permit an organization's data center to utilize its actual framework in a more financially savvy way by diminishing waste through and the measure of time it takes to deploy another application. The need for IT managers to be concerned with the exact field of framework segments is eliminated with a modular infrastructure. This means that executives aren't required to fully comprehend hardware to assist explicit programming applications.
Increased enterprise analytics workload, the introduction of methodologies such as DevOps, increased consumer demand, the rise of automation and standardization tools, and the advent of hybrid cloud are all expected to fuel growth in composable technology adoption. The increasing need for composable infrastructure to increase performance, upgrade the use of faster framework provisioning, storage space obligation, and applications, and minimize downtime and operating costs are the key factors driving the market's growth. The demand for composable infrastructure is being driven by the increased capacity of composable infrastructure to manage a large and growing amount of responsibility. The implementation of a virtualized and modernized architecture is also a demand catalyst for composable infrastructure. Because of the growing number of large enterprise applications and demand in complex hardware requirements to make IT foundations more light-footed and flexible, developing interest in composable system hardware is a golden opportunity for the composable framework hardware. The growing need to transcend any barriers between traditional and modern frameworks, as well as the high adaptability and spryness of composable infrastructure, are the key factors driving the overall market growth. A driving force for the composable infrastructure industry is the increased capacity of composable infrastructure to handle large and increasing amounts of workload. The demand for composable infrastructure is being driven by an increase in the adoption of virtual and modernized infrastructure.
Technology providers are assisting companies in all future markets with their creative composable infrastructure technologies amid the COVID-19 pandemic. With a strategic partnership with Hewlett Packard Enterprise, First Technology Inc. will help any size company leverage the existing IT infrastructure, which is especially important given the current economic environment.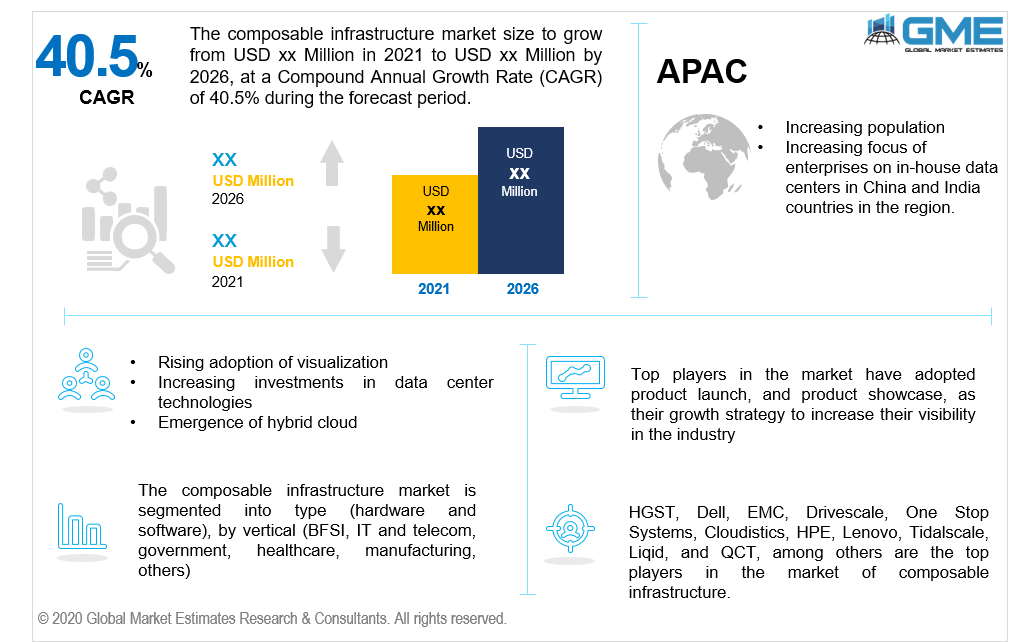 Composable Infrastructure Market: By Type
According to the type, the composable infrastructure is bifurcated into hardware and software. The composable infrastructure hardware section is relied upon to develop at a higher CAGR during the predicted period. The rising need for composable infrastructure hardware is primarily due to the growing number of enterprise applications and the demand for complex hardware specifications to make IT infrastructure more flexible and scalable. The developing interest in composable infrastructure solutions is principal because of the expanding number of big business applications and interest in dynamic hardware prerequisites to make IT framework spryer and more versatile.
Where it comes to software composable networks, IT departments build out the infrastructure by integrating physical resources that appear to be a physical server, using the same dimensions that are needed for the application, using software and APIs. Static architectures, dynamic implementations, and on-demand infrastructure are all part of it.
Composable Infrastructure Market: By Vertical
The composable infrastructure market can be classified into BFSI, IT and telecom, government, healthcare, and manufacturing among others. To avoid billion-dollar losses due to interruptions when handling a critical amount of data, the BFSI segment must implement composable infrastructure solutions at the highest CAGR during the forecast time and speed across different verticals. This framework is required to help financial organizations and monetary specialist co-ops improve their operational proficiency and profitability.
IT and telecommunications companies must enhance the productivity at which they receive information, develop software, and progress. This necessitates the need to more efficiently handle conventional exposed metal and virtualization systems while simultaneously embracing containerized applications with programming-driven automation, as well as a versatile pool of resources that can be customized to the individual needs of users. To ensure a reliable fast environment, IT groups needed to put the shared insights about the platform and workloads into bits of knowledge-driven practices as tech firms progressed from a product-defined server to an autonomous one. Composable infrastructure transforms the framework into code through a simple to-utilize programming interface.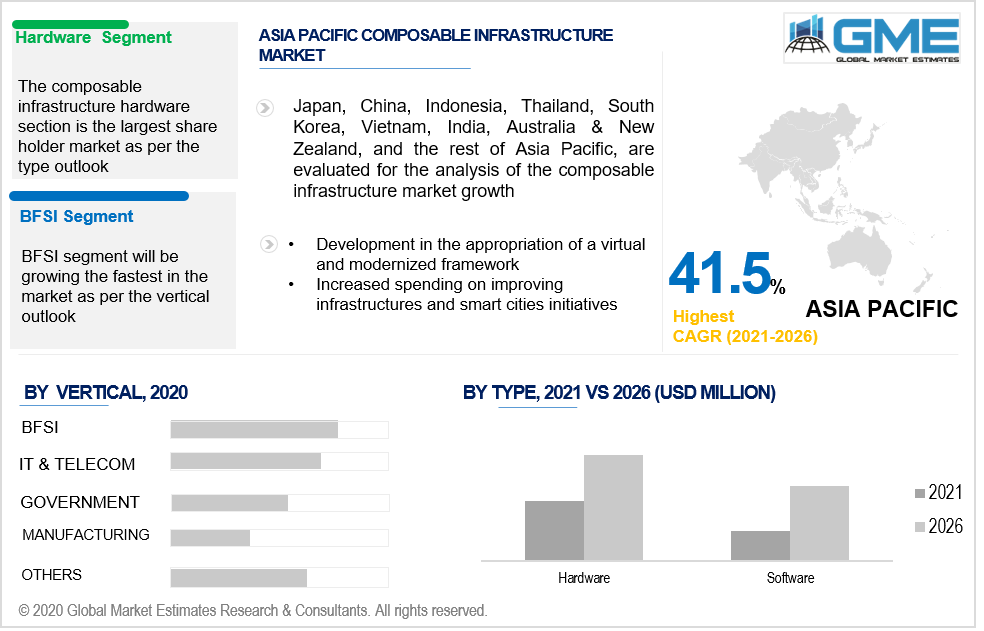 Composable Infrastructure Market: By Region
As per the regional analysis, the market is classified into North America, Asia Pacific, Europe, Middle East & Africa, and Central & South America. North America's geographic fragment is relied upon to hold a huge share over the expected timeframe. The essential driver for the development of the North America region is the presence of well-established companies, simplification of current IT with the introduction of new technology, the demand for business software, reduction in overhead expense, increasing need for scalability in solutions, and low overall ownership cost on IT infrastructure are all contributing factors.
During the forecast era, Asia Pacific (APAC) is projected to rise at the fastest pace and is relied upon to accomplish the most noteworthy development because of developing numbers of data centers that are shifting towards composable infrastructure in China, Japan, India, Singapore, Australia, and other Asian nations.
Composable Infrastructure Market Share and Competitor Analysis
HGST, Dell, EMC, Drivescale, One Stop Systems, Cloudistics, HPE, Lenovo, Tidalscale, Liqid, and QCT, among others are the top players in the market of composable infrastructure.
Please note: This is not an exhaustive list of companies profiled in the report.
In July 2018, Lenovo has introduced the ThinkAgile CP Series composable storage model to its ThinkAgile collection, which provides all of the benefits of a shared cloud system while being stable behind the customer's own data center firewall.
The Global Composable Infrastructure Market has been studied from the year 2019 till 2026. However, the CAGR provided in the report is from the year 2021 to 2026. The research methodology involved three stages: Desk research, Primary research, and Analysis & Output from the entire research process.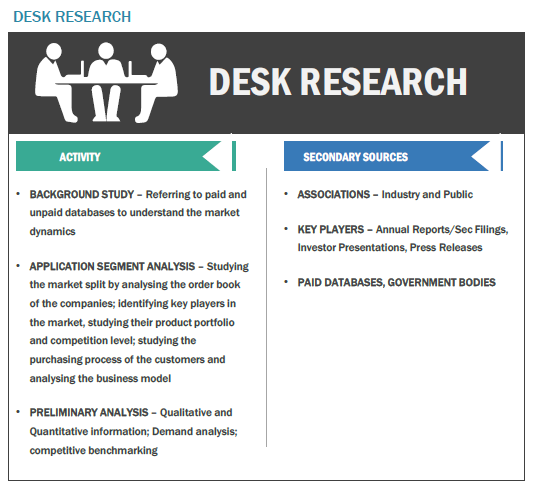 The desk research involved a robust background study which meant referring to paid and unpaid databases to understand the market dynamics; mapping contracts from press releases; identifying the key players in the market, studying their product portfolio, competition level, annual reports/SEC filings & investor presentations; and learning the demand and supply-side analysis for the Composable Infrastructure Market.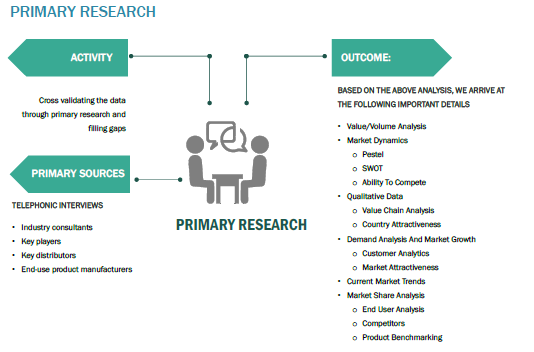 The primary research activity included telephonic conversations with more than 50 tier 1 industry consultants, distributors, and end-use product manufacturers.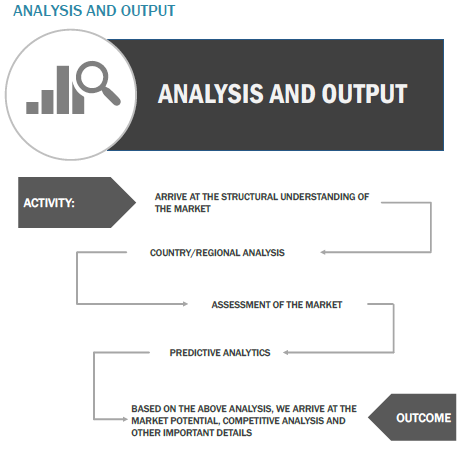 Finally, based on the above thorough research process, an in-depth analysis was carried out considering the following aspects: market attractiveness, current & future market trends, market share analysis, SWOT analysis of the company and customer analytics.