Connected Medical Devices Market Insights
The global connected medical devices market is estimated to witness significant growth during the forecast period (2020-2026) with a CAGR of ~25.2%, because of the advantages of IoT based or connected medical devices such as easy transfer of patient medical records, health data, lower medical errors, lower dependency on the medical staff, evolved patient safety, encouraging patient engagement scenario and efficient patient monitoring. The market is seeing growth due to the advent of the internet and telecommunication with healthcare service along with the evolution of high-speed networking and rising adoption of smartphones with healthcare.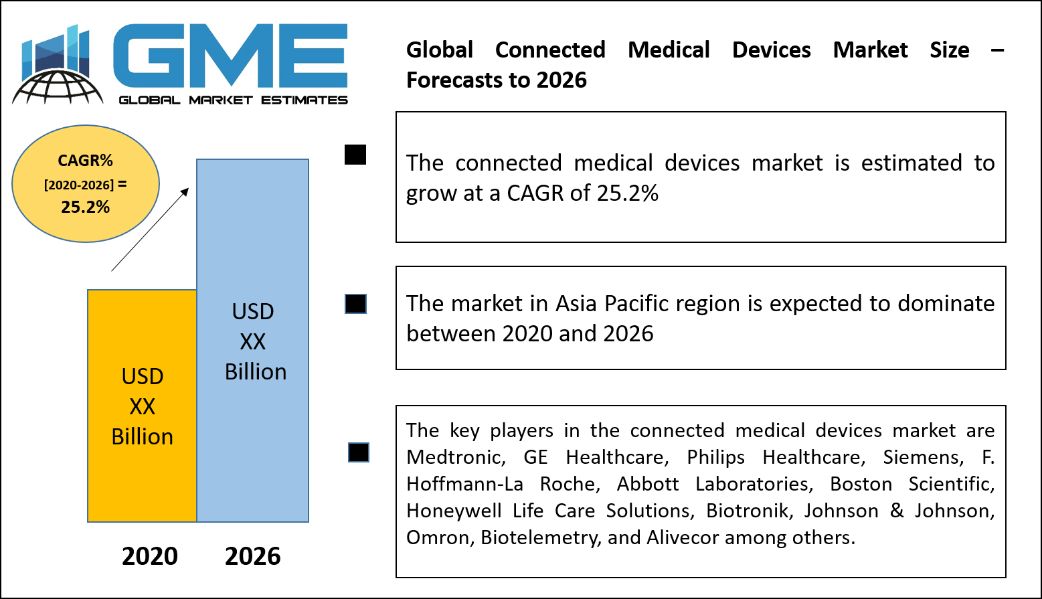 Connected Medical Devices Market: By Component
Based on components, the market is divided into products/medical devices and integrated software and apps. The products/medical devices segment is further split into medical imaging devices, vital sign & patient monitoring devices, implantable devices, infusion pump, Ingesters sensors, insulin pens, inhalers, neurological devices, hearing devices, foetal monitoring devices, ventilators, portable GPS trackers, biometric sensors, connected contact lenses, sleep Apnea monitors, and fitness and wellness monitors/ sensors/ wearable. Furthermore, the vital sign and patient monitoring segment are split into Blood Glucose Monitors, ECG/heart rate monitors, BP monitors, Multiparameter monitors, Oximeters, coagulation monitors, Holter monitors, blood gas monitors, temperature monitors, respiratory monitors, and anaesthesia monitors, whereas, the implantable device is further segmented into Cardioverter defibrillators, pacemakers, and implantable cardiac monitors. From the broader perspective the vital sign and patient monitoring devices will hold the largest share in the market during the forecast period owing to the growing incidence of chronic diseases like arthritis, diabetes, cardiovascular disease, and cancer, rising preference for self-monitoring of patient vital signs at home care setting, increasing purchasing power of IoT based medical devices, high portability of the devices, added advantage of quick diagnosis and analysis of vital signs. Moreover, patient admission for diagnosis and monitoring at the hospital setting gets extremely difficult due to lack of space, loss of time, patient administration queue, increased the burden on the medical staff. Hence this is giving rise to increasing adoption of the use of portable medical devices that are IoT based.
Connected Medical Devices Market: By Portability
Based on the portability of connected medical devices, the market is segmented into standalone and wired devices, internally embedded devices, and wireless/ wearable/ portable devices. The wireless devices segment will be the segment with the highest CAGR. The reason for this is the high portability offered by the device that allows the patient to monitor and diagnose their vital signs anywhere, anytime and anyplace regardless of any healthcare staff's help. Moreover, aggressive marketing strategies taken up by several medical device companies for selling their portable and wearable vital sign monitors will help increase the adoption of the products in the market. The low cost, reliable and ease of use type feature will help the segment maintain its high growth position in the market.
Connected Medical Devices Market: By Application
Based on application, connected medical devices can be used for monitoring, diagnosis, and treatment. The monitoring segment can be further explained by remote monitoring, and bedside monitoring & self-consultation. The self-consultation segment will be the fastest-growing segment owing to the availability of these connected devices at lower cost and awareness regarding self-screening for potential health disorders.
Connected Medical Devices Market: By Connectivity
Based on connectivity, the market is segmented into Wi-Fi, Bluetooth, Zigbee, Wireless Medical Telemetry Service and GSM/GPS. The Wi-Fi segment will be the fastest-growing technology for connecting the medical devices as it offers high bandwidth so that patients can check their vital signs, speak to their doctors via telemedicine platforms, and send their medical data to other communication devices, tablet, or computer.
Connected Medical Devices Market: By Continuity
Continuity of the medical device can be explained in two ways, namely, continuous monitoring and non-continuous monitoring. The non-continuous monitoring market will have a larger market share as compared to the latter on owing to the patient population which fall under the category of fit to mildly affected patients which do not require continuous vital sign monitoring. Moreover, the high availability of non-continuous monitoring devices will help propel the market during 2020-2026.
Connected Medical Devices Market: By Platform
Based on the platform the connected medical devices can be split into cloud and enterprise-based. The cloud-based segment will be the faster-growing segment as compared to the traditional enterprise one mainly due to the ability of multi-sharing of a single patient's data, easy storage of huge patient data of one hospital or one region, more than one user access to medical insights generated while using the continuously connected devices.

Connected Medical Devices Market: By End User
The end-user segment is divided into home care settings, research and institutes, diagnostic imaging and pathology laboratories, Pharma and biotechnology industries and hospitals & others. The home care setting will be the fastest-growing segment with the highest CAGR during the forecast period mainly due to factors like ease of use of these devices, affordability, portability, quick access to health data, point of care analysis and treatment, and at-home monitoring of vital signs and other aspects.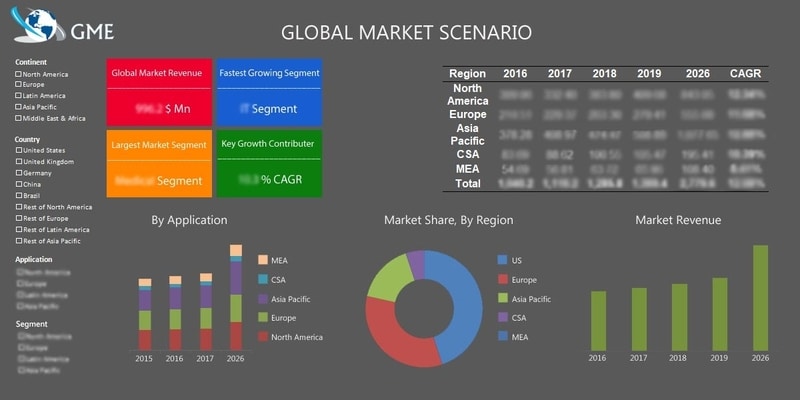 Connected Medical Devices Market: By Region
Based on the region, the market is segmented into North America, Asia-Pacific, Europe, Middle East and Africa and Central & South America. North America is expected to dominate the market during the forecast period. The most important driver for this growth is the growing awareness of patient engagement in medical diagnosis and monitoring, rising affordability for advanced connected devices, and increasing launches of innovative medical devices. Furthermore, the Asia-Pacific region is expected to grow at a high CAGR during the forecast period. The huge patient population is one of the prime reason for the fastest growth along with the increasing use of smartphones.
Connected Medical Devices Market Share and Competitor Analysis
The key players operating in the market include Medtronic, GE Healthcare, Philips Healthcare, Siemens, F. Hoffmann-La Roche, Abbott Laboratories, Boston Scientific, Honeywell Life Care Solutions, Biotronik, Johnson & Johnson, Omron, Biotelemetry, and Alivecor among others. (Other company includes Agamatrix, Stanley Healthcare, Welch Allyn, Analog Devices, Inc., Semiconductor, Inc., Infineon Technologies, Renesas Electronics Corporation, Stmicroelectronics, Texas Instruments, HeartFlow, Sotera, MediBeacon, Vincense, iHealth Lab Inc., Withings, Muse, SpaceLabs, Schiller, Masimo, Suntech Medical, HingMed, FitBit Inc., and Garmin).
Please note: This is not an exhaustive list of companies profiled in the report.
In February 2020, Alivecore a company which offers portable medical devices, recently received approval from the Federal Commission for the Protection against Sanitary Risk (COFEPRIS), for its product namely, KardiaMobile.
In December 2017, Medtronic (U.S.) successfully received the CE Mark and FDA approval for its Intellis platform for spinal cord stimulation (SCS) and peripheral nerve stimulation (PNS), and Azure pacemakers respectively.
Check the Press Release on Global Connected Medical Devices Market Report
Connected Medical Devices Market: By Connectivity
Introduction

Connected Medical Devices Market, By Connectivity, 2020-2026 (USD Million)

Wireless Medical Telemetry Service

Wireless Medical Telemetry Service: Connected Medical Devices Market, 2020-2026 (USD Million)

Bluetooth

Bluetooth: Connected Medical Devices Market, 2020-2026 (USD Million)

Zigbee

Zigbee: Connected Medical Devices Market, 2020-2026 (USD Million)

GSM/GPS

GSM/GPS: Connected Medical Devices Market, 2020-2026 (USD Million)

Wi-Fi

Wi-Fi: Connected Medical Devices Market, 2020-2026 (USD Million)
Connected Medical Devices Market: By Continuity
Introduction

Connected Medical Devices Market, By Continuity, 2020-2026 (USD Million)

Continuous Monitoring

Continuous Monitoring: Connected Medical Devices Market, 2020-2026 (USD Million)

Non-Continuous Monitoring

Non-Continuous Monitoring: Connected Medical Devices Market, 2020-2026 (USD Million)
Connected Medical Devices Market: By End-User
Introduction

Connected Medical Devices Market, By End-User , 2020-2026 (USD Million)

Diagnostic Imaging & Pathology Laboratories

Diagnostic Imaging & Pathology Laboratories: Connected Medical Devices Market, 2020-2026 (USD Million)

Pharma & Biotechnology Industries

Pharma & Biotechnology Industries: Connected Medical Devices Market, 2020-2026 (USD Million

Research & Institutes

Research & Institutes: Connected Medical Devices Market, 2020-2026 (USD Million

Home Care Settings

Home Care Settings: Connected Medical Devices Market, 2020-2026 (USD Million

Hospitals & Other Medical Centers

Hospitals & Other Medical Centers: Connected Medical Devices Market, 2020-2026 (USD Million)
Connected Medical Devices Market: By Portability
Introduction

Connected Medical Devices Market, By Portability, 2020-2026 (USD Million)

Internally Embedded Devices

Internally Embedded Devices: Connected Medical Devices Market, 2020-2026 (USD Million)

Standalone or Wired Devices

Standalone or Wired Devices: Connected Medical Devices Market, 2020-2026 (USD Million)

Wireless/ Wearable/ Portable Devices

Wireless/ Wearable/ Portable Devices: Connected Medical Devices Market, 2020-2026 (USD Million)
Connected Medical Devices Market: By Application
Introduction

Connected Medical Devices Market, By Application, 2020-2026 (USD Million)

Monitoring

Monitoring: Connected Medical Devices Market, 2020-2026 (USD Million)

Remote Monitoring & Bed Side Monitoring: Connected Medical Devices Market, 2020-2026 (USD Million)
Self Consultation: Connected Medical Devices Market, 2020-2026 (USD Million)

Diagnostic

Diagnostic: Connected Medical Devices Market, 2020-2026 (USD Million)

Treatment

Treatment: Connected Medical Devices Market, 2020-2026 (USD Million)
Connected Medical Devices Market: By Platform
Introduction

Connected Medical Devices Market, By Platform, 2020-2026 (USD Million)

Cloud

Cloud: Connected Medical Devices Market, 2020-2026 (USD Million)

Enterprise

Enterprise: Connected Medical Devices Market, 2020-2026 (USD Million)
Connected Medical Devices Market: By Components
Introduction

Connected Medical Devices Market, By Components, 2020-2026 (USD Million)

Products/Medical Devices

Products/Medical Devices: Connected Medical Devices Market, 2020-2026 (USD Million)

Medical Imaging Devices: Connected Medical Devices Market, 2020-2026 (USD Million)
Vital Sign & Patient Monitoring: Connected Medical Devices Market, 2020-2026 (USD Million)

Blood Glucose Monitors: Connected Medical Devices Market, 2020-2026 (USD Million)
ECG / Heart Monitors: Connected Medical Devices Market, 2020-2026 (USD Million)
BP Monitors: Connected Medical Devices Market, 2020-2026 (USD Million)
Multiparameter Monitors: Connected Medical Devices Market, 2020-2026 (USD Million)
Oximeters: Connected Medical Devices Market, 2020-2026 (USD Million)
Holter Monitors: Connected Medical Devices Market, 2020-2026 (USD Million)
Blood Gas Monitors: Connected Medical Devices Market, 2020-2026 (USD Million)
Temperature Monitors: Connected Medical Devices Market, 2020-2026 (USD Million)
Respiratory Monitors: Connected Medical Devices Market, 2020-2026 (USD Million)
Anaesthesia Monitors: Connected Medical Devices Market, 2020-2026 (USD Million)

Implantable Devices: Connected Medical Devices Market, 2020-2026 (USD Million)

Cardioverter Defibrillators: Connected Medical Devices Market, 2020-2026 (USD Million)
Pacemakers: Connected Medical Devices Market, 2020-2026 (USD Million)
Implantable Cardiac Monitors: Connected Medical Devices Market, 2020-2026 (USD Million)

Infusion Pump: Connected Medical Devices Market, 2020-2026 (USD Million)
Ingesters: Connected Medical Devices Market, 2020-2026 (USD Million)
Sensors: Connected Medical Devices Market, 2020-2026 (USD Million)
Neurological Devices: Connected Medical Devices Market, 2020-2026 (USD Million)
Insulin Pens: Connected Medical Devices Market, 2020-2026 (USD Million)
Hearing Devices: Connected Medical Devices Market, 2020-2026 (USD Million)
Foetal Monitoring Devices: Connected Medical Devices Market, 2020-2026 (USD Million)
Portable GPS Trackers: Connected Medical Devices Market, 2020-2026 (USD Million)
Biometric Sensors: Connected Medical Devices Market, 2020-2026 (USD Million)
Ventilators: Connected Medical Devices Market, 2020-2026 (USD Million)
Connected Contact Lenses: Connected Medical Devices Market, 2020-2026 (USD Million)
Sleep Apnea Monitors: Connected Medical Devices Market, 2020-2026 (USD Million)
Fitness and Wellness Monitors/Sensors/Wearable: Connected Medical Devices Market, 2020-2026 (USD Million)

Integrated Software & Apps

Integrated Software & Apps: Connected Medical Devices Market, 2020-2026 (USD Million)
Connected Medical Devices Market: By Region
Introduction

Global Connected Medical Devices Market, Regional Analysis, 2020-2026 (USD Million)

North America

North America Connected Medical Devices Market, Regional Analysis, 2020-2026 (USD Million)

By Connectivity

North America Connected Medical Devices Market, By Connectivity, 2020-2026 (USD Million)

By Continuity

North America Connected Medical Devices Market, By Continuity, 2020-2026 (USD Million)

By End-User

North America Connected Medical Devices Market, By End-User , 2020-2026 (USD Million)

By Portability

North America Connected Medical Devices Market, By Portability, 2020-2026 (USD Million)

By Application

North America Connected Medical Devices Market, By Application, 2020-2026 (USD Million)

By Platform

North America Connected Medical Devices Market, By Platform, 2020-2026 (USD Million)

By Components

North America Connected Medical Devices Market, By Components, 2020-2026 (USD Million)

By Country

U.S

By Connectivity

U.S Connected Medical Devices Market, By Connectivity, 2020-2026 (USD Million)

By Continuity

U.S Connected Medical Devices Market, By Continuity, 2020-2026 (USD Million)

By End-User

U.S Connected Medical Devices Market, By End-User , 2020-2026 (USD Million)

By Portability

U.S Connected Medical Devices Market, By Portability, 2020-2026 (USD Million)

By Application

U.S Connected Medical Devices Market, By Application, 2020-2026 (USD Million)

By Platform

U.S Connected Medical Devices Market, By Platform, 2020-2026 (USD Million)

By Components

U.S Connected Medical Devices Market, By Components, 2020-2026 (USD Million)

Canada.

By Connectivity

Canada Connected Medical Devices Market, By Connectivity, 2020-2026 (USD Million)

By Continuity

Canada Connected Medical Devices Market, By Continuity, 2020-2026 (USD Million)

By End-User

Canada Connected Medical Devices Market, By End-User, 2020-2026 (USD Million)

By Portability

Canada Connected Medical Devices Market, By Portability, 2020-2026 (USD Million)

By Application

Canada Connected Medical Devices Market, By Application, 2020-2026 (USD Million)

By Platform

Canada Connected Medical Devices Market, By Platform, 2020-2026 (USD Million)

By Components

Canada Connected Medical Devices Market, By Components, 2020-2026 (USD Million)

Mexico

By Connectivity

Mexico Connected Medical Devices Market, By Connectivity, 2020-2026 (USD Million)

By Continuity

Mexico Connected Medical Devices Market, By Continuity, 2020-2026 (USD Million)

By End-User

Mexico Connected Medical Devices Market, By End-User, 2020-2026 (USD Million)

By Portability

Mexico Connected Medical Devices Market, By Portability, 2020-2026 (USD Million)

By Application

Mexico Connected Medical Devices Market, By Application, 2020-2026 (USD Million)

By Platform

Mexico Connected Medical Devices Market, By Platform, 2020-2026 (USD Million)

By Components

Mexico Connected Medical Devices Market, By Components, 2020-2026 (USD Million)

Europe

Europe Connected Medical Devices Market, Regional Analysis, 2020-2026 (USD Million)

By Connectivity

Europe Connected Medical Devices Market, By Connectivity, 2020-2026 (USD Million)

By Continuity

Europe Connected Medical Devices Market, By Continuity, 2020-2026 (USD Million)

By End-User

Europe Connected Medical Devices Market, By End-User , 2020-2026 (USD Million)

By Portability

Europe Connected Medical Devices Market, By Portability, 2020-2026 (USD Million)

By Application

Europe Connected Medical Devices Market, By Application, 2020-2026 (USD Million)

By Platform

Europe Connected Medical Devices Market, By Platform, 2020-2026 (USD Million)

By Components

Europe Connected Medical Devices Market, By Components, 2020-2026 (USD Million)

By Country

Germany

By Connectivity

Germany Connected Medical Devices Market, By Connectivity, 2020-2026 (USD Million)

By Continuity

Germany Connected Medical Devices Market, By Continuity, 2020-2026 (USD Million)

By End-User

Germany Connected Medical Devices Market, By End-User , 2020-2026 (USD Million)

By Portability

Germany Connected Medical Devices Market, By Portability, 2020-2026 (USD Million)

By Application

Germany Connected Medical Devices Market, By Application, 2020-2026 (USD Million)

By Platform

Germany Connected Medical Devices Market, By Platform, 2020-2026 (USD Million)

By Components

Germany Connected Medical Devices Market, By Components, 2020-2026 (USD Million)

UK

By Connectivity

UK Connected Medical Devices Market, By Connectivity, 2020-2026 (USD Million)

By Continuity

UK Connected Medical Devices Market, By Continuity, 2020-2026 (USD Million)

By End-User

UK Connected Medical Devices Market, By End-User , 2020-2026 (USD Million)

By Portability

UK Connected Medical Devices Market, By Portability, 2020-2026 (USD Million)

By Application

UK Connected Medical Devices Market, By Application, 2020-2026 (USD Million)

By Platform

UK Connected Medical Devices Market, By Platform, 2020-2026 (USD Million)

By Components

UK Connected Medical Devices Market, By Components, 2020-2026 (USD Million)

France

By Connectivity

France Connected Medical Devices Market, By Connectivity, 2020-2026 (USD Million)

By Continuity

France Connected Medical Devices Market, By Continuity, 2020-2026 (USD Million)

By End-User

France Connected Medical Devices Market, By End-User, 2020-2026 (USD Million)

By Portability

France Connected Medical Devices Market, By Portability, 2020-2026 (USD Million)

By Application

France Connected Medical Devices Market, By Application, 2020-2026 (USD Million)

By Platform

France Connected Medical Devices Market, By Platform, 2020-2026 (USD Million)

By Components

France Connected Medical Devices Market, By Components, 2020-2026 (USD Million)

Italy

By Connectivity

Italy Connected Medical Devices Market, By Connectivity, 2020-2026 (USD Million)

By Continuity

Italy Connected Medical Devices Market, By Continuity, 2020-2026 (USD Million)

By End-User

Italy Connected Medical Devices Market, By End-User , 2020-2026 (USD Million)

By Portability

Italy Connected Medical Devices Market, By Portability, 2020-2026 (USD Million)

By Application

Italy Connected Medical Devices Market, By Application, 2020-2026 (USD Million)

By Platform

Italy Connected Medical Devices Market, By Platform, 2020-2026 (USD Million)

By Components

Italy Connected Medical Devices Market, By Components, 2020-2026 (USD Million)

Rest Of Europe

By Connectivity

Rest Of Europe Connected Medical Devices Market, By Connectivity, 2020-2026 (USD Million)

By Continuity

Rest Of Europe Connected Medical Devices Market, By Continuity, 2020-2026 (USD Million)

By End-User

Rest Of Europe Connected Medical Devices Market, By End-User , 2020-2026 (USD Million)

By Portability

Rest Of Europe Connected Medical Devices Market, By Portability, 2020-2026 (USD Million)

By Application

Rest Of Europe Connected Medical Devices Market, By Application, 2020-2026 (USD Million)

By Platform

Rest Of Europe Connected Medical Devices Market, By Platform, 2020-2026 (USD Million)

By Components

Rest Of Europe Connected Medical Devices Market, By Components, 2020-2026 (USD Million)

Asia Pacific

Asia Pacific Connected Medical Devices Market, Regional Analysis, 2020-2026 (USD Million)

By Connectivity

Asia Pacific Connected Medical Devices Market, By Connectivity, 2020-2026 (USD Million)

By Continuity

Asia Pacific Connected Medical Devices Market, By Continuity, 2020-2026 (USD Million)

By End-User

Asia Pacific Connected Medical Devices Market, By End-User , 2020-2026 (USD Million)

By Portability

Europe Connected Medical Devices Market, By Portability, 2020-2026 (USD Million)

By Application

Asia Pacific Connected Medical Devices Market, By Application, 2020-2026 (USD Million)

By Platform

Asia Pacific Connected Medical Devices Market, By Platform, 2020-2026 (USD Million)

By Components

Asia Pacific Connected Medical Devices Market, By Components, 2020-2026 (USD Million)

By Country

China

By Connectivity

China Connected Medical Devices Market, By Connectivity, 2020-2026 (USD Million)

By Continuity

China Connected Medical Devices Market, By Continuity, 2020-2026 (USD Million)

By End-User

China Connected Medical Devices Market, By End-User , 2020-2026 (USD Million)

By Portability

China Connected Medical Devices Market, By Portability, 2020-2026 (USD Million)

By Application

China Connected Medical Devices Market, By Application, 2020-2026 (USD Million)

By Platform

China Connected Medical Devices Market, By Platform, 2020-2026 (USD Million)

By Components

China Connected Medical Devices Market, By Components, 2020-2026 (USD Million)

Japan

By Connectivity

Japan Connected Medical Devices Market, By Connectivity, 2020-2026 (USD Million)

By Continuity

Japan Connected Medical Devices Market, By Continuity, 2020-2026 (USD Million)

By End-User

Japan Connected Medical Devices Market, By End-User , 2020-2026 (USD Million)

By Portability

Japan Connected Medical Devices Market, By Portability, 2020-2026 (USD Million)

By Application

Japan Connected Medical Devices Market, By Application, 2020-2026 (USD Million)

By Platform

Japan Connected Medical Devices Market, By Platform, 2020-2026 (USD Million)

By Components

Japan Connected Medical Devices Market, By Components, 2020-2026 (USD Million)

India

By Connectivity

India Connected Medical Devices Market, By Connectivity, 2020-2026 (USD Million)

By Continuity

India Connected Medical Devices Market, By Continuity, 2020-2026 (USD Million)

By End-User

India Connected Medical Devices Market, By End-User , 2020-2026 (USD Million)

By Portability

India Connected Medical Devices Market, By Portability, 2020-2026 (USD Million)

By Application

India Connected Medical Devices Market, By Application, 2020-2026 (USD Million)

By Platform

India Connected Medical Devices Market, By Platform, 2020-2026 (USD Million)

By Components

India Connected Medical Devices Market, By Components, 2020-2026 (USD Million)

Central & South America

Central & South America Connected Medical Devices Market, Regional Analysis, 2020-2026 (USD Million)

By Connectivity

Central & South America Connected Medical Devices Market, By Connectivity, 2020-2026 (USD Million)

By Continuity

Central & South America Connected Medical Devices Market, By Continuity, 2020-2026 (USD Million)

By End-User

Central & South America Connected Medical Devices Market, By End-User , 2020-2026 (USD Million)

By Portability

Central & South America Connected Medical Devices Market, By Portability, 2020-2026 (USD Million)

By Application

Central & South America Connected Medical Devices Market, By Application, 2020-2026 (USD Million)

By Platform

Central & South America Connected Medical Devices Market, By Platform, 2020-2026 (USD Million)

By Components

Central & South America Connected Medical Devices Market, By Components, 2020-2026 (USD Million)

By Country

Brazil

By Connectivity

Brazil Connected Medical Devices Market, By Connectivity, 2020-2026 (USD Million)

By Continuity

Brazil Connected Medical Devices Market, By Continuity, 2020-2026 (USD Million)

By End-User

Brazil Connected Medical Devices Market, By End-User , 2020-2026 (USD Million)

By Portability

Brazil Connected Medical Devices Market, By Portability, 2020-2026 (USD Million)

By Application

Brazil Connected Medical Devices Market, By Application, 2020-2026 (USD Million)

By Platform

Brazil Connected Medical Devices Market, By Platform, 2020-2026 (USD Million)

By Components

Brazil Connected Medical Devices Market, By Components, 2020-2026 (USD Million)

Middle East & Africa

Middle East & Africa Connected Medical Devices Market, Regional Analysis, 2020-2026 (USD Million)

By Connectivity

Middle East & Africa Connected Medical Devices Market, By Connectivity, 2020-2026 (USD Million)

By Continuity

Middle East & Africa Connected Medical Devices Market, By Continuity, 2020-2026 (USD Million)

By End-User

Middle East & Africa Connected Medical Devices Market, By End-User , 2020-2026 (USD Million)

By Portability

Middle East & Africa Connected Medical Devices Market, By Portability, 2020-2026 (USD Million)

By Application

Middle East & Africa Connected Medical Devices Market, By Application, 2020-2026 (USD Million)

By Platform

Middle East & Africa Connected Medical Devices Market, By Platform, 2020-2026 (USD Million)

By Components

Middle East & Africa Connected Medical Devices Market, By Components, 2020-2026 (USD Million)

By Country

Saudi Arabia

By Connectivity

Saudi Arabia Connected Medical Devices Market, By Connectivity, 2020-2026 (USD Million)

By Continuity

Saudi Arabia Connected Medical Devices Market, By Continuity, 2020-2026 (USD Million)

By End-User

Saudi Arabia Connected Medical Devices Market, By End-User , 2020-2026 (USD Million)

By Portability

Saudi Arabia Connected Medical Devices Market, By Portability, 2020-2026 (USD Million)

By Application

Saudi Arabia Connected Medical Devices Market, By Application, 2020-2026 (USD Million)

By Platform

Saudi Arabia Connected Medical Devices Market, By Platform, 2020-2026 (USD Million)

By Components

Saudi Arabia Connected Medical Devices Market, By Components, 2020-2026 (USD Million)

UAE

By Connectivity

UAE Connected Medical Devices Market, By Connectivity, 2020-2026 (USD Million)

By Continuity

UAE Connected Medical Devices Market, By Continuity, 2020-2026 (USD Million)

By End-User

UAE Connected Medical Devices Market, By End-User , 2020-2026 (USD Million)

By Portability

UAE Connected Medical Devices Market, By Portability, 2020-2026 (USD Million)

By Application

UAE Connected Medical Devices Market, By Application, 2020-2026 (USD Million)

By Platform

UAE Connected Medical Devices Market, By Platform, 2020-2026 (USD Million)

By Components

UAE Connected Medical Devices Market, By Components, 2020-2026 (USD Million)