Cosmetic Dentistry Market: Insights
The cosmetic dentistry market has witnessed an uprise in demand as more and more consumers are becoming aware of its benefits. Cosmetic dentistry has all sorts of dental treatment for improvement in the appearance of gums and teeth under its umbrella. Cosmetic dentistry improves dental aesthetics and changing lifestyles among the young generation are boosting the market growth. Dental aesthetics is involved in improving position, shape, color, size, alignment, and improve smile appearance. The field is high in demand due to increasing income amongdeveloping economies. There is also a rise in awareness for dental hygiene and the trend of beauty associated with smiles and gorgeous teeth which has further hyped the industry. According to a journal published in 2017, by Clinical and Diagnostic Research, an improvement in dental health also leads to the betterment of a patient's mental health as things like bad breath, crooked teeth, and damaged gums can deprive individuals of a properly functioning social life. Countries like South Korea, Japan, and China among others have seen an upsurge in their aging population, above sixty-year-olds, require a higher number of dental treatments, like cavity fill, root canal, cleaning, orthodontal treatment, capping, etc from this population dynamic.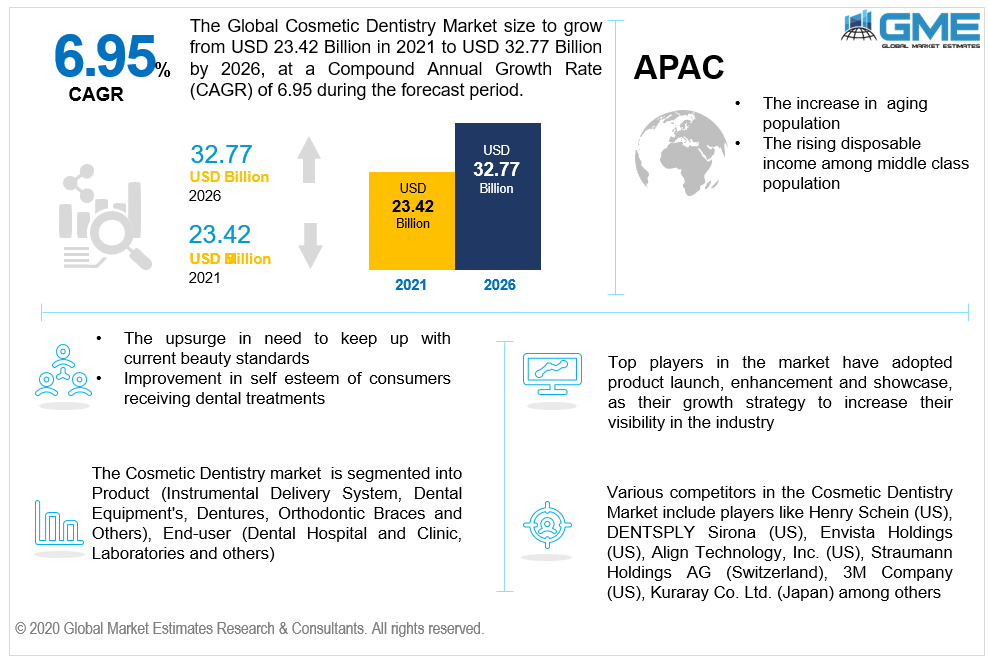 Cosmetic Dentistry Market: By Product
Based on the product, the market is explained into Instrumental Delivery System, Inlays, Dental Chairs, Onlays, Dental Handpieces, Bonding Agents, Dental Scaling Units, Composites, Light Curing Equipment, Orthodontic Braces, Dental CAD/CAM System, Dentures, Dental laser, Dental Veneers, Dental Radiology Equipment, Dental Crowns, Dental Implants, and Dental Bridges among others. Dental CAD/CAM Systems is further divided into Dental Radiology Equipment and In-office and In-Lab CAD/CAM systems among others.
Amongal,l the highest revenue share was from the demand of Instrumental Delivery System segment followed byvaried pieces of equipment, which include Dental Chairs, Dental Handpieces, Dental Scaling Units, Light Curing Equipment, Dental CAD/CAM System, Dental laser, Dental Radiology Equipment. This was due to worldwide usage for various procedures performed like cavity fill, root canal, teeth fixture, orthodontal treatment, capping, etc. Furthermore,with the inauguration of new dental hospitals and clinics all over the world, the need to install new pieces of equipment is needed. Dental studies have seen growth during the recent period and new graduates tend to open clinics for their practice.
Cosmetic Dentistry Market: By End User
The end user analysis bifurcates Cosmetic Dentistry Market intoDental Hospitals and Clinics, Dental Laboratories, and Others. Currently, Dental Hospitals and Clinics hold the highest market share due to the rise in awareness among consumers regarding dental health and dental beauty. New graduates from dentistry studies, tend to first practice under a specialist in hospitals and then move on to open their practice. As the demand for dental treatments and dental health is high, usually these single-run clinics have a good inflow of patients and profit earned. Patients prefer to visit their nearest clinics as supposed to big hospitals due to their convenience, quick treatment, and personal and comfortable treatment from the doctor. After dental hospitals and clinics, Dental laboratories are projected to hold the second-highest market revenue share during the forecasted duration. This is because they are the backbone of dental hospitals and clinics, they provide and customize all kinds of fixtures and tools used in dental treatments. Their demand is directly related to the demand for dental treatments and they aid in the demand of dental hospitals and clinics. Unlike dental hospitals and clinics, they are fewer in number providing raw material for varied dental treatments.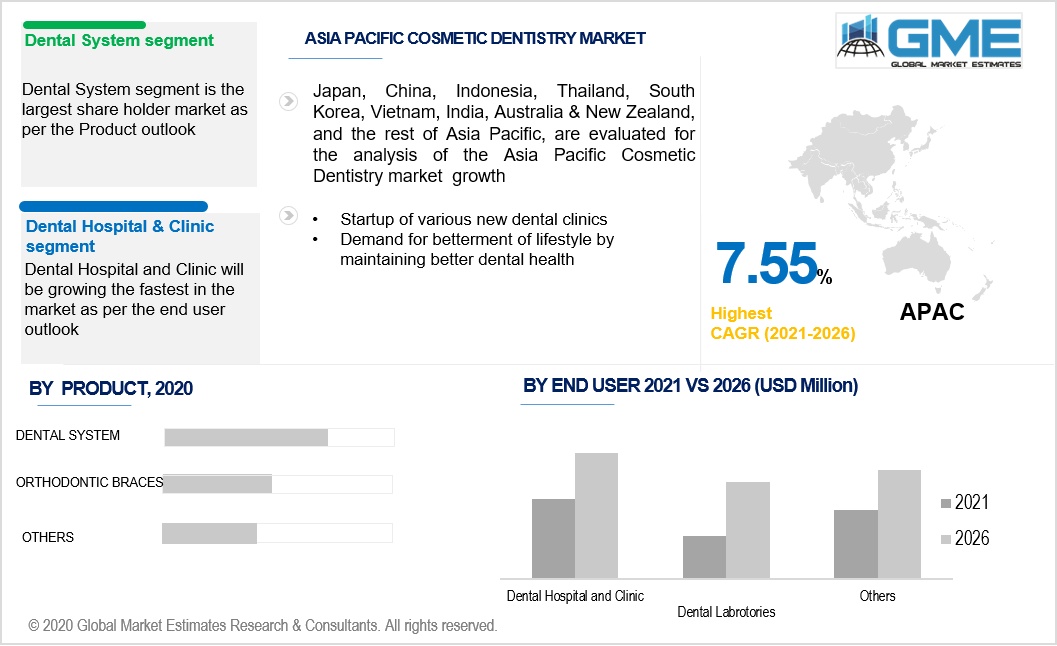 Cosmetic Dentistry Market: By Region
Europe holds the highest market share according to regional analysis, followed by North America and Asia-Pacific. This driveis contributed due to the rise in consumer awareness with regards to dental health and hygiene. Europe has seen a hike in beauty standards and perfect smiles over the years due to the existence of major fashion houses in the continent. The European trend is followed by North America and Asia-Pacific. The Asia Pacific has seen a recent growth in the cosmetic dentistry market, this can be contributed to a rising aging population that required varied dental treatments, along with a rise in personal disposable income and savings of middle-class income group in many countries. Also, countries like China and South Korea have their hub of fashion in Asia or the East, whose standards also demand to have presentable teeth and dental hygiene.
Cosmetic Dentistry Market: Share & Competitor Analysis
Various competitors in the cosmetic dentistry market include players like Henry Schein, DentalEZ, Inc, DENTSPLY Sirona (US), Brasseler USA, Envista Holdings (US), Takara Belmont Corporation, Align Technology, Inc, Carestream Dental LLC, Straumann Holdings AG, Millennium Dental Technologies, Inc, 3M Company, Yoshida Dental Mfg. Co., Ltd, Kuraray Co. Ltd, PreXion, Inc., Planmeca Group, J. Morita Corp, Zimmer Biomet Holdings, Inc, Runyes Medical Instrument, Roland DG, GC Corporation, BIOLASE, Inc, IvoclarVivadent AG (Liechtenstein), Midmark Corporation, 3Shape A/S, and A-dec (US) among others.
Please note: This is not an exhaustive list of companies profiled in the report.
In March of 2018, DENTSPLY announced the acquisition of an industry provider of an innovative 3-D technology solution, OraMetrix.
The Global Cosmetic Dentistry Market has been studied from the year 2019 till 2026. However, the CAGR provided in the report is from the year 2021 to 2026. The research methodology involved three stages: Desk research, Primary research, and Analysis & Output from the entire research process.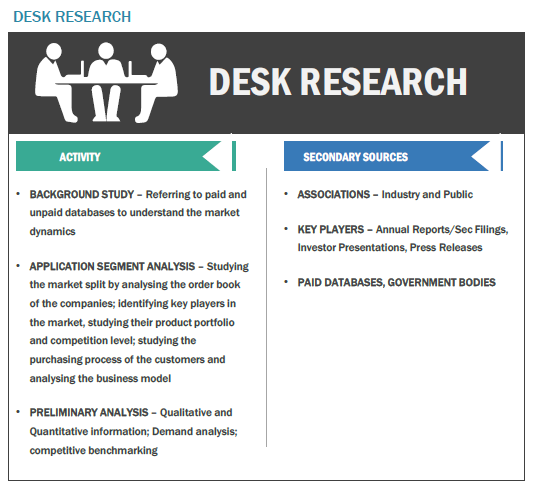 The desk research involved a robust background study which meant referring to paid and unpaid databases to understand the market dynamics; mapping contracts from press releases; identifying the key players in the market, studying their product portfolio, competition level, annual reports/SEC filings & investor presentations; and learning the demand and supply-side analysis for the Cosmetic Dentistry Market.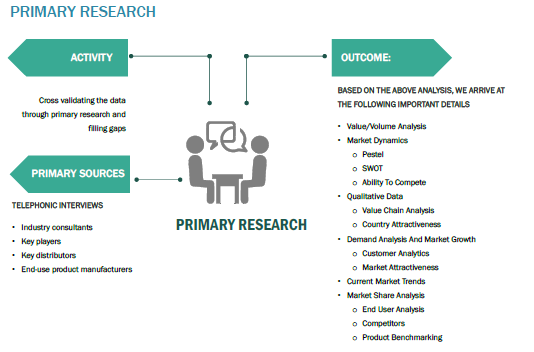 The primary research activity included telephonic conversations with more than 50 tier 1 industry consultants, distributors, and end-use product manufacturers.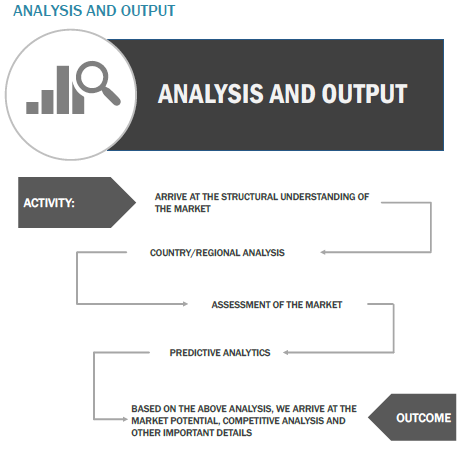 Finally, based on the above thorough research process, an in-depth analysis was carried out considering the following aspects: market attractiveness, current & future market trends, market share analysis, SWOT analysis of the company and customer analytics.