Critical Infrastructure Protection Market: Insights
Critical Infrastructure Protection (CIP) is a term that refers to the vigilance and reaction to serious incidents affecting a regions or nations critical infrastructure. Banking and finance, transportation, food production and distribution, electricity, water systems, police agencies, federal and local facilities, and additional emergency services- both private and government are all part of essential infrastructure.Critical infrastructure security is growing more automated and integrated. Despite this, technical advances in infrastructure security have developed new vulnerabilities to human error, physical, cyber-attacks, and faulty equipment. Several private and public entities are introducing technology to safeguard critical networks, secure critical infrastructure from malicious objects, and respond quickly to suspicious activity.
The market is also boosted by increasing IT investment, the implementation of automation solutions, and productive policies and regulations. Many industries are worried about adversaries growing ability to infiltrate networks that control all facets of critical infrastructure. As a result, further investments are being made to promote cybersecurity research and development to launch innovative critical infrastructure safety solutions. Governments are also promoting the need for CIP by enacting asset protection measures that are advantageous to the market.
The critical infrastructure market is being driven by government policies and procedures, as well as an increase in cyber threats.As a result, many companies are adopting critical infrastructure solutions. Furthermore, organizations are increasingly embracing cloud computing for critical infrastructure security, which is accelerating the markets growth.The demand for transportation systems has always been strong, but with the increasing number of transportation incidents, the problem of safety and security has become increasingly relevant and a source of concern.
The increasing number of adverse accidents in electric infrastructure, the growing significance of disaster management information, and the need to stimulate critical infrastructure protection (CIP) implementation in the private sector are some of the factors contributing to the growing critical infrastructure protection market.
Industrial control systems are another vital component of the industrial ecosystems critical information infrastructure, supervising and regulating processes in industrial infrastructures including electrical distribution and power transmission, oil and gas pipelines, water treatment systems, bulk energy generation systems, and chemical plants and refineries, among others.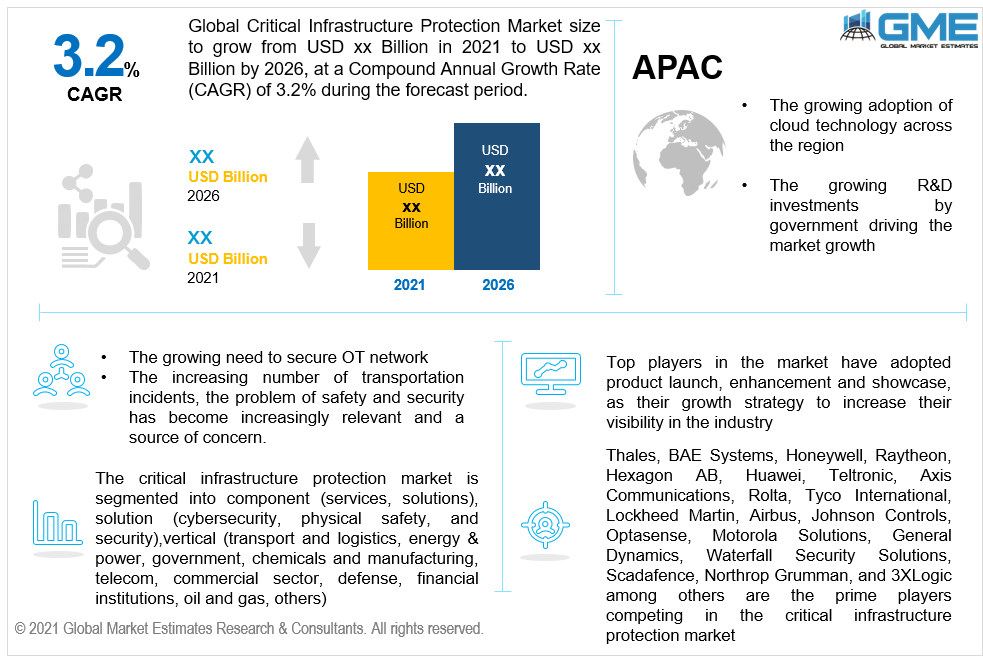 Critical Infrastructure Protection Market: By Component
Over the forecast period, the services segment will generate the most revenue.CIP maintains a solid security posture via robust evaluation services and expert guidance. Consultants guarantee that the OT and IT infrastructures are fully aligned to meet the problems that companies face. As the demand for infrastructure security increases, consulting services are offering a mix of physical infrastructure safety, cyber, information, incident management, and disaster recovery to ensure overall enterprise resilience to threats. Furthermore, designing a personalized solution for clients that meets or exceeds their protection and compliance targets is increasing to boost the growth of the market over the forecast era.
Critical Infrastructure Protection Market: By Solution
From 2021 to2026, the most rapid growth is expected in the physical security and safety segment.The protection of physical properties, such as hardware, premises, personal data, and programs, from physical threats, is known as physical safety and security. Ignoring these hazards will result in severe consequences for the owner and users. Critical infrastructures must implement strategies that go beyond conventional protection measures to keep up with the changing threat environment.Several physical safety and protection technologies are being implemented across multiple critical infrastructures to track current processes in or around the site, including high-quality video monitoring systems and perimeter security systems.Since the introduction of video analytics and new technologies like biometric authentication and thermal cameras, video surveillance has advanced significantly.
Critical Infrastructure Protection Market: By Vertical
Over the forecasted period, the energy & power segment will grow at the fastest growth rate to generate the most revenue.The advent of the smart grid has necessitated the introduction of rigorous critical infrastructure safety to ensure the reliability and stability of infrastructure.
To ensure effective security controls, industries have made a major voluntary effort to improve planning and readiness against cyber-attacks around the globe.
During the forecast era, the commercial sector segment holds the largest market share.Hospitals, malls, theatres, stadiums,offices,auditoriums, and holy places all fall under the commercial sector, and protecting these places is critical for a countrys security and economy.Even with the introduction of CCTV cameras and the screening of passes of people entering the building, proper protection cannot be guaranteed.Terrorists are using a modern technique of using explosive vehicles to detonate explosives in public areas. As a consequence, the commercial sectors security is essential.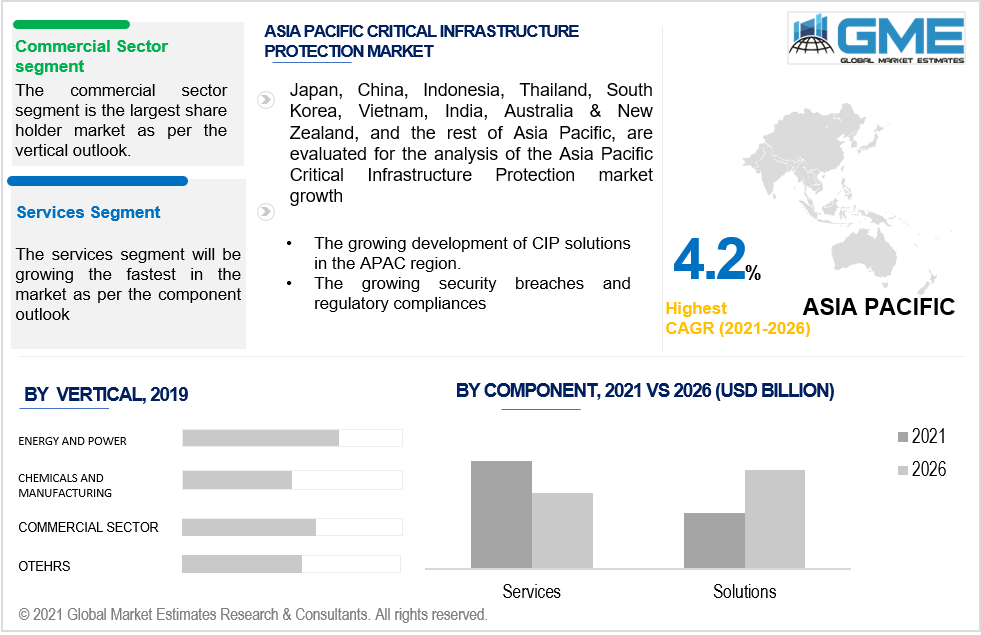 Critical Infrastructure Protection Market: By Region
In terms of revenue, the North American region will continue to lead in the coming years due to the wide range of resources for investing in new technologies. The introduction ofthe National Strategy and Action Plan for Critical Infrastructure has developed a risk-based approach for enhancing the adaptability of Canadas critical resources and systems, supplementing the overall growth of the market over the forecast era. Moreover, the United States is a key market in North America, despite its cyber hijacking, vulnerability to terrorist activity, and other local challenges.
Furthermore, over the projected timeframe, the Asia-Pacific region will display a significant CAGR rate.During the forecast timeframe, the regions critical infrastructure protection market is expected to grow due to the ongoing terrorist threat, rising infrastructure investment protection, and growing cyber threats.Moreover, the technology proliferation in defense and industrial systems are the main factors driving regional market development.
Critical Infrastructure Protection Market: Share & Competitor Analysis
Thales, BAE Systems, Honeywell, Raytheon, Hexagon Ab, Huawei, Teltronic, Axis Communications, Rolta, Tyco International, Lockheed Martin, Airbus, Johnson Controls, Optasense, Motorola Solutions, General Dynamics,Waterfall Security Solutions, Scadafence, Northrop Grumman, and 3XLogic among others are the prime players competing in the Critical Infrastructure Protection market.
Please note: This is not an exhaustive list of companies profiled in the report.
In December 2019, the synthetic training environment soldier digital trainer is a dismounted soldier training simulator introduced by Raytheon.
In September 2019, BAE Systems and the Defense Advanced Development Projects Agency collaborated to create new space situational awareness tools.
The Global Critical Infrastructure Protection Market has been studied from the year 2019 till 2026. However, the CAGR provided in the report is from the year 2021 to 2026. The research methodology involved three stages: Desk research, Primary research, and Analysis & Output from the entire research process.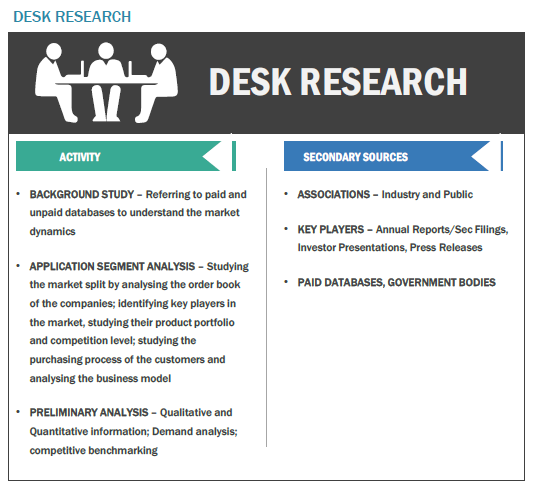 The desk research involved a robust background study which meant referring to paid and unpaid databases to understand the market dynamics; mapping contracts from press releases; identifying the key players in the market, studying their product portfolio, competition level, annual reports/SEC filings & investor presentations; and learning the demand and supply-side analysis for the Critical Infrastructure Protection Market.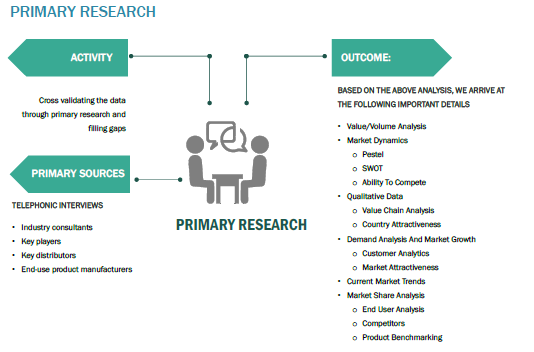 The primary research activity included telephonic conversations with more than 50 tier 1 industry consultants, distributors, and end-use product manufacturers.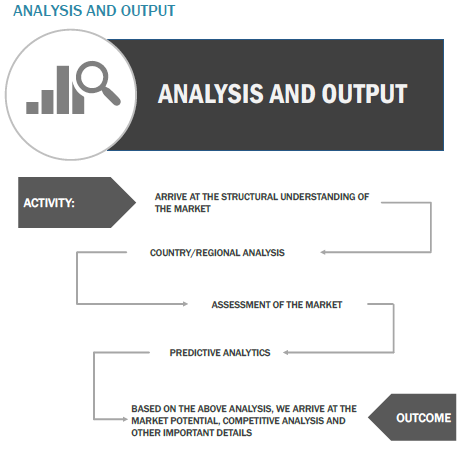 Finally, based on the above thorough research process, an in-depth analysis was carried out considering the following aspects: market attractiveness, current & future market trends, market share analysis, SWOT analysis of the company and customer analytics.