Data Center Rack Market: Insights
A data center rack is a steel structure and electronic platform primarily designed to house various data centres computing equipment such as computers, servers, cables, and other equipment. They are mainly used to reduce the amount of floor space needed and to combine network resources. The rack server in a data center is made up of bays, which are mounting slots. Hardware modules are stacked in the bay and sealed with bolted enclosures. As compared to the more costly tower server, the data center rack server is less expensive. The data center rack server is designed in such a way that it can stack multiple servers one on top of the other to support multiple servers.
Increasing demand for high-density servers, growing demand for flexible data centers, lower in Opex and Capex, and ease of upgrading to new technology are some of the factors driving the data center rack server market. Highly temperature-sensitive electronics are protected by data center racks from external damage and a variety of weather conditions. They are beneficial from safety and organizational perspective. The increasing number of data centers for storing large amounts of data, as well as technological advancements, are likely to provide multiple growth opportunities for the market.
Furthermore, due to the advances in the software-defined security market, increasing adoption of rack servers is expected to drive market growth over the next few years. The industry has seen a shift toward server-based rack data centers, which is expected to be important in enabling IT teams to meet rapidly changing corporate business needs while lowering operating costs. In the coming years, the growth of cloud-related technology and data centers will be a major driver of the data center rack server industry. Another primary opportunity for business growth is continued rapid growth in data center traffic.
The most essential systems in a network are located in data centers because they are vital for the continuation of everyday activities. Since data centers house a networks most sensitive structures that are essential to the continuation of daily tasks, the security and reliability of data centers and the information stored inside them are important. In the coming years, most customers expect to expand their use of the private and public cloud. Furthermore, multiple customers are now transferring data through public clouds as well as other commercial facilities such as colocation sites and network providers current locations.
Racks are used in colocation facilities in numbers ranging from a few hundred to over 5,000. The majority of operators are constructing data centers with modular infrastructure that provides prefabricated containment solutions and containerized modules. Colocation facilities are being constructed with the ability to build rack infrastructure that is taller, bigger, and broader.
Numerous Organizations use hyperscale data center web services to apply algorithms to industry-specific models that can identify, classify, and analyze data relationships, which can then be used to suggest content, tag photos, and deliver related ads. Due to the significant increase in data consumption that has resulted in the development of server infrastructure, the demand for server racks has accelerated following COVID-19. The report accurately forecasts the contribution of each segment to the overall growth of the data center rack market.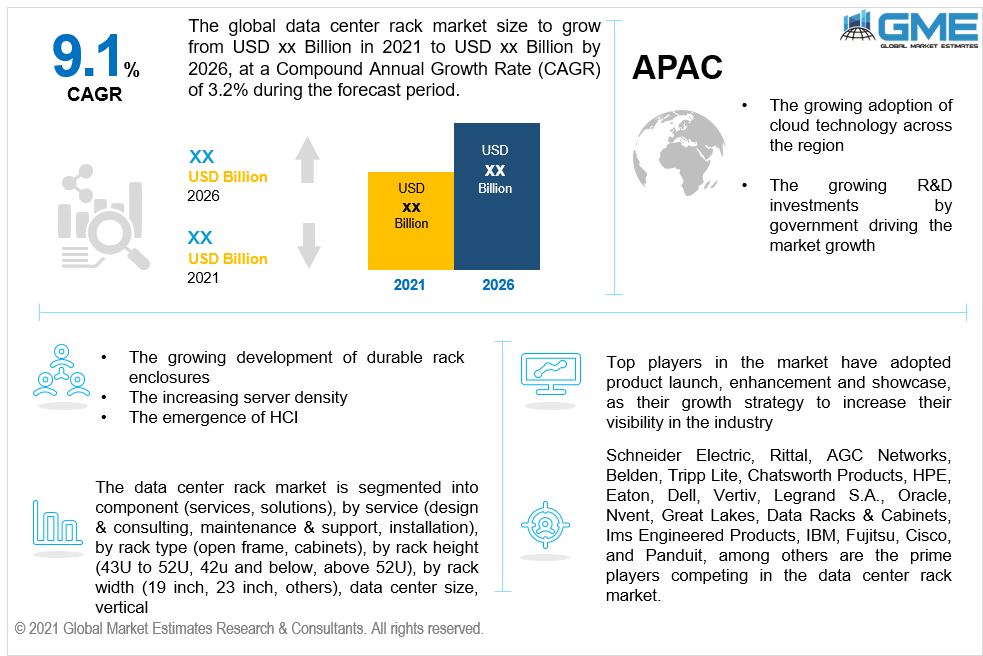 Data Center Rack Market: By Component
Over the forecast period, the services segment will generate the most revenue.As the demand for infrastructure security increases, consulting services are offering a mix of physical infrastructure safety, cyber, information, incident management, and disaster recovery to ensure overall enterprise resilience to threats. Furthermore, designing a personalized solution for clients that meets or exceeds their protection and compliance targets is increasing to boost the growth of the market over the forecast era.
Data Center Rack Market: By Service
The installation segment is projected to have the largest share of the market over the forecast period. Datacenter setup is a complicated process that necessitates expert technical assistance. Datacenter rack enclosures are inspected with the assistance of installation service providers. Mounting the server, power, wiring facilities,and cooling over the data center racks, as well as fitting this equipment so that it remains secure and does not shift out of place, are all included in installation services.
The support and repair segment will grow at the fastest CAGR during the forecast era. Maintenance refers to any measures taken to prevent a piece of equipment from failing or to repair a piece of machinery that has fallen or been damaged.Disk integrity and restoration are also part of rack server maintenance. It also covers the upkeep of supporting infrastructures like air conditioning, electrical wiring, and a fire suppression system.
Data Center Rack Market: By Rack Height
During the forecast era, the 42U and below segment is projected to hold the largest share of the market based on rack height. The 42U rack is a standard rack that works with a wide range of servers and networking gear. Other common rack sizes, such as 36U racks, were widely adopted a decade ago. On the other hand,36U cabinets are no longer the industry norm. Standard 42U racks are widely used because they are compatible with the majority of popular IT and networking gear.
Data Center Rack Market: By Data Center Size
Based on data center scale, the large data centers segment is projected to maintain the largest market share over the forecast timeframe. Data centers with more than 20,000 sqft of storage space are included in the big data centers category. There are typically more than 800 racks in these data centers. Workloads must be balanced across many servers in large data centers and hyperscale facilities. They must also ensure that the cooling system is as efficient as possible. To ensure redundancy, these data centers must host multiple infrastructures.
The acceptance of data center rack servers among medium-sized data centers is expected to witness the fastest growth during the forecast timeframe. Rack servers, which are commonly found in mid-sized data centers, enable businesses to store and compute data at a lower cost, which is advantageous for their personal or private use.
Data Center Rack Market: By Vertical
During the forecast era, the BFSI segment holds the largest market share. The industry also has several monitoring tools that must deal with a variety of challenges, such as resource allocation optimization, processing time reduction, and daily data center uptimes. The BFSI sector includes companies that provide banking services, such as core banking, private banking, investment banking, and cards, as well as financial services, such as mutual funds, payment gateways, and stockbroking. It also includes companies that provide insurance services.During the digitization revolution, cloud and data centers have become the backbone of the BFSI market. Increasing competition and demand for online services in the financial services sector are driving the market for data centers, and by extension, data center racks.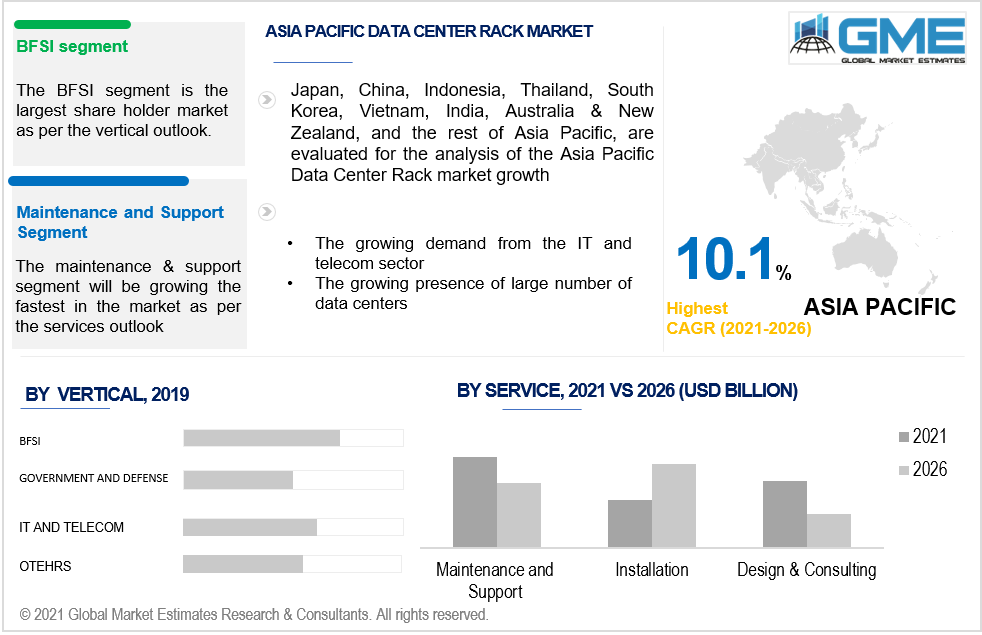 Data Center Rack Market: By Region
Due to the growing number of data center facilities and the availability of advanced technology, the North American region will continue to lead in terms of revenue in the coming years. Furthermore, the development of the North American data center rack server market has been fueled by a more mature technology environment and increased user knowledge. A significant number of data centers are also located in the region. Several businesses are transitioning from hardware to software-based services, and this is expected to be a market for data center installations. Furthermore, according to the cloud scene, the United States has over 2500 data centers and Canada has over 250 data centers.
Furthermore, due to the huge demand from the IT and telecoms sectors, the Asia-Pacific region will show a significant CAGR rate over the forecasted timeframe.Countries like India and China are embracing new technologies, providing the necessary impetus for the global data center rack market to grow.
Data Center Rack Market: Share & Competitor Analysis
Schneider Electric, Rittal, AGC Networks, Belden, Tripp Lite, Chatsworth Products, HPE, Eaton, Dell, Vertiv, Legrand S.A., Oracle, Nvent, Great Lakes, Data Racks & Cabinets, Ims Engineered Products, IBM, Fujitsu, Cisco, and Panduit, among others are the prime players competing in the data center rack market.
Please note: This is not an exhaustive list of companies profiled in the report.
In July 2020, Hewlett Packard Enterprise had been selected to power the Edinburgh International Data Facility, Europes first regional data innovation center, which will be located at the University of Edinburgh EPCC in Scotlands
In November 2019, Rittal had introduced its two new enclosure ranges i.e the KX small enclosure and AX compact enclosure ranges. The latest AX compact enclosure and KX small enclosure series have a solution for any requirement