Global Disposable Surgical Devices Market: Insights
Todays world population has reached the ultimate high, and still, many developing and underdeveloped countries with a lack of population regulative rules are experiencing an exponential increase in their population rates. With such high population rates, the number of public health issues is increasing as well. Many countries have been focusing on surveillance and preventing the spread of infectious diseases.
Today, diseases like cerebrovascular issues, heart diseases, cancer, diabetes, and many other injuries have drastically increased in low income and middle-income countries. Studies have proved that surgical services are highly essential to bring down this increasing number of diseases from the public health systems of various countries. Many international agencies like World Health Organisation (WHO) and the World bank have emphasized that surgical services are very crucial for global health development. These surgical services require some specifically designed devices and instruments that enable the professionals to execute their service with utmost efficiency. Many high-income countries, as well as middle-income countries, have been showing keen interest in increasing their expenditure on surgical devices to improve their current performances.
The World Health Organisation surveys have shown that approximately more than 234.2 million surgeries are carried out every year across the world. As per surveys and reports, in a country like the USA, approximately 61.4% of cancer patients are admitted to hospitals to carry out surgical measures. Also, for all type 2 diabetes patients, bariatric surgeries are suggested by professionals. Surveys conducted by the American Society for Metabolic and Bariatric surgery have shown that 135000 patients in the USA have shown significant improvement in various health aspects. These surgical procedures are carried out using various surgical devices, especially disposable ones, with single time efficiency.
These disposable surgical devices are single time use devices that are required to be disposed of after use. Unlike any other surgical device that can be used multiple times, these disposable devices also serve the same purpose. However, these devices deliver much more safety and convenience as compared to reusable instruments. A new surgical device is used for every new patient and is then disposed of to avoid any further spread of the infectious disease. This feature of these disposable surgical devices decreases the probability of cross-contamination from patient to patient.
Besides facilitating safety and easy usability, studies have compared the cost of disposable and reusable surgical devices. These have proved that disposable surgical devices cost approximately 38 dollars in countries like the USA, whereas reusable surgical devices cost approximately 415 dollars. Also, many healthcare centres like hospitals and clinic, buy these disposable surgical devices in bulk from the contractors, which make it more reasonable and cost-effective for them to deliver their surgical services.
COVID-19 pandemic, with its contagious nature, has encouraged doctors, clinics, and hospitals to strictly use disposable surgical devices to prevent the spread of the COVID-19 virus. Many countries and health care departments have been spreading awareness and implementing stringent rules concerning utilizing disposable surgical devices for carrying out surgical procedures and avoid further complications.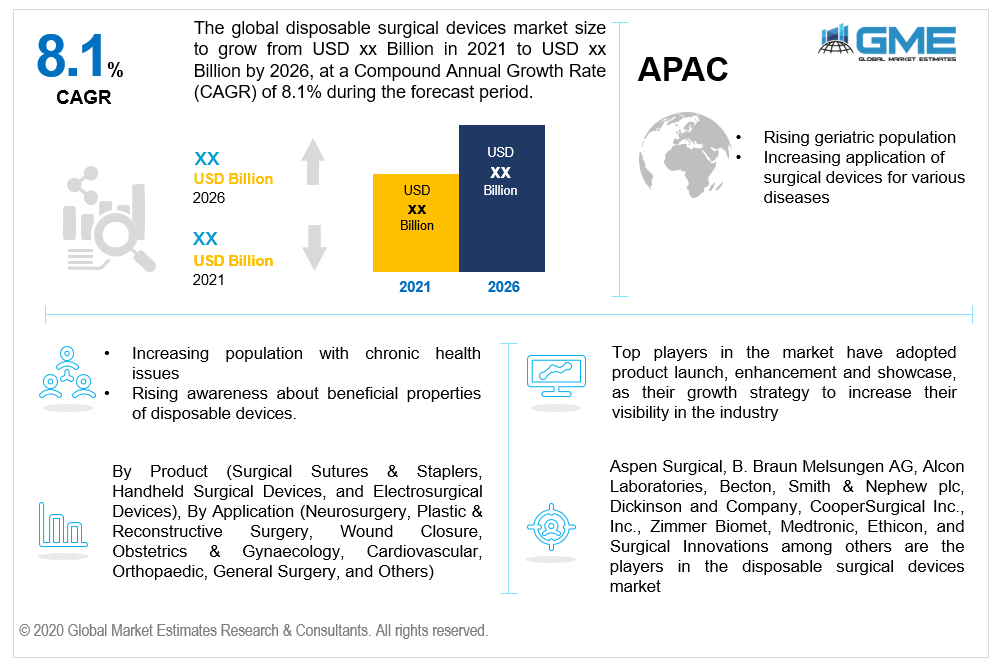 Global Disposable Surgical Devices Market: By Product
Based on the type of product, the market is segmented into, surgical sutures & staplers, handheld surgical devices, electrosurgical devices.Surgical sutures and staplers are most dominantly used across various verticals of the healthcare sector while carrying out surgical procedures. These surgical sutures and staplers are extensively used due to their ability to cause less pain while treating wounds as compared to stitches. These are also highly utilized in minimally invasive surgeries. These staplers also exhibit features that are beneficial while working with a wound in tight skin against bone areas or surgeries with organ transplants or removals, thus to rejoint or reconnect the internal parts.
These surgical sutures and stapler devices are extremely easy to use and enable quicker insertions into the skin, causing less pain. Also, these types of surgical products have strong and durable features, which make them more demanded by professionals during surgical procedures. They facilitate reliability, durability, and assurance of safe surgical services to the patients. Besides the easy application and less cause of pain, these surgical staplers have tremendously easy removal procedures, which make them more preferred among patients as well as among surgeons. Unlike stitches or any other products and devices, surgical sutures and staplers also require significantly less time for the patient to be on anaesthesia, as it has considerably less pain and surgery time.
Electrosurgical devices are predicted to witness fast growth during the forecasted period owing to the properties that enable the professionals to carry out cutting and coagulating simultaneously and make it easy for them to carry out the surgical procedures.
Global Disposable Surgical Devices Market: By Application
Based on application, the market is classified into neurosurgery, plastic & reconstructive surgery, wound closure, obstetrics & gynaecology, cardiovascular, orthopaedic, general surgery, others.General Surgeries are the most prominently carried out applicational purposes of disposable surgical devices. According to the American College of Surgeons and American Medical Association, general surgeries are most commonly undertaken and required all across the world, compared to the rest of the types of surgeries.
Followed by general surgeries, wound closure surgeries are also highly undertaken in the public health sectors, with extensive application of disposable surgical devices. Patients with minimal wounds can be advised to take time and let the wound heal itself. However, in cases with severe wounds, secondary intention healing that can take more than two weeks to a month to recover cannot be a suitable solution, and that is when surgical procedures are undertaken to seal and treat the severe wounds. These surgical methods facilitate quick wound closure, prevent the wound from getting exposed to germs and other contaminated bacterias, and facilitate fast recovery. Various surgical techniques like skin flat and skin graft are used for wound closure. Many disposable surgical products like staplers are used to undertake these wound closures.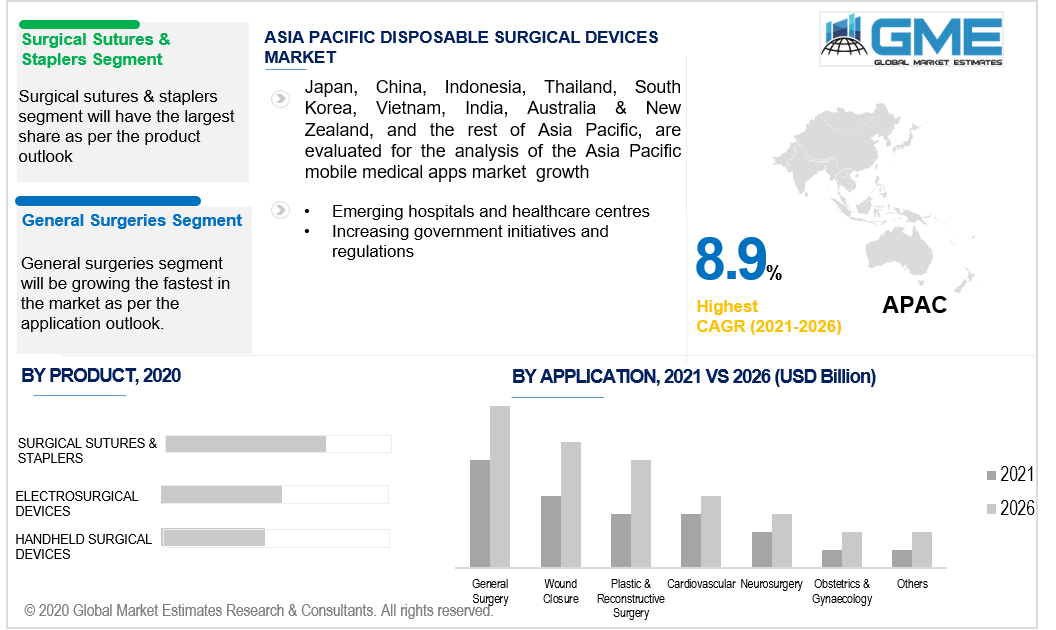 Global Disposable Surgical Devices Market: By Region
North America has its dominance in the disposable surgical devices market. The organisations like American Medical Association and many others like this have been extensively promoting the usage of disposable surgical devices in all public as well as independently run hospitals and clinics. The rate of diagnosis of various cerebrovascular diseases, heart diseases, cancer, diabetes, and other injury rates are significantly high in the countries within the North American region.
Asia Pacific region is expected to witness fast growth in the usage of disposable surgical devices. The countries in the Asia Pacific region like India, Japan, Thailand, China, are experiencinga surge in their population rates, and also these countries hold a massive population with senior citizens of about 60 years ago. This group of population are highly experiencing diseases like heart issues, various transplants, diabetes and others, which require surgical procedures to be undertaken, thus boosting the demand for disposable devices. The awareness about patient-to-patient cross-contamination is also highly possible in such countries with high population, which makes it more important for these countries to avoid used reusable devices and utilize disposable ones. The health care sectors in the APAC countries have also been implementing stringent rules and regulation concerning utilizing disposable surgical devices in hospitals and clinics.
Global Disposable Surgical Devices Market: By Share & Competitor Analysis
Aspen Surgical, B. Braun Melsungen AG, Becton, Smith & Nephew plc, Alcon Laboratories, CooperSurgical Inc., Inc., Zimmer Biomet, Medtronic, Dickinson and Company, Ethicon, and Surgical Innovations are the major companies in the disposable surgical devices market.
Please note: This is not an exhaustive list of companies profiled in the report.
The Global Disposable Surgical Devices Market has been studied from the year 2019 till 2026. However, the CAGR provided in the report is from the year 2021 to 2026. The research methodology involved three stages: Desk research, Primary research, and Analysis & Output from the entire research process.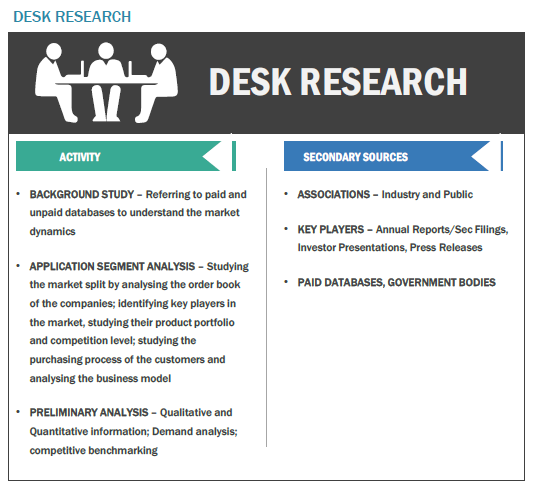 The desk research involved a robust background study which meant referring to paid and unpaid databases to understand the market dynamics; mapping contracts from press releases; identifying the key players in the market, studying their product portfolio, competition level, annual reports/SEC filings & investor presentations; and learning the demand and supply-side analysis for the Disposable Surgical Devices Market.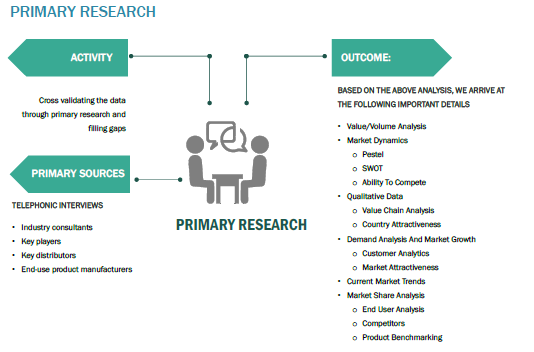 The primary research activity included telephonic conversations with more than 50 tier 1 industry consultants, distributors, and end-use product manufacturers.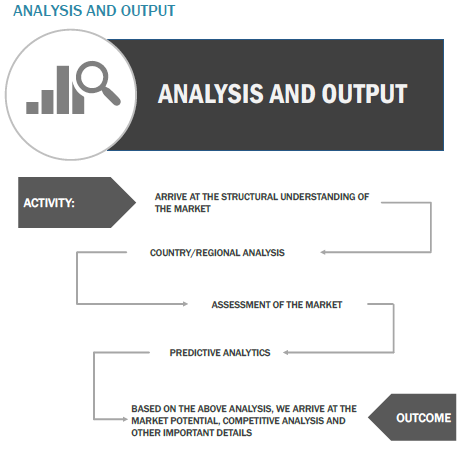 Finally, based on the above thorough research process, an in-depth analysis was carried out considering the following aspects: market attractiveness, current & future market trends, market share analysis, SWOT analysis of the company and customer analytics.