Global Driving Simulator Market Insights:
The global driving simulator market is estimated to generate revenue of USD 1590.00 million in 2018, and is projected to grow to USD 2640.00 million by 2026. The market is driven by growing awareness about security features in the automotive industry coupled with on-going technological advancements in driving simulator technology. The market is also expected to be positively impacted by growing shortage of skilled drivers in the global logistics & transportation industry. Driving simulators are used extensively for training purposes, which makes it a lucrative market in the automotive electronics industry.
The market can be segmented on the basis of application type into research & training and testing. The research & testing segment is projected to hold the largest market share in 2018. The market for driving simulators in the testing segment is driven by growing testing activities by major automotive manufacturers using driving simulators. Access to compact driving simulators and their cost-effectiveness is also expected to have a positive impact on the market.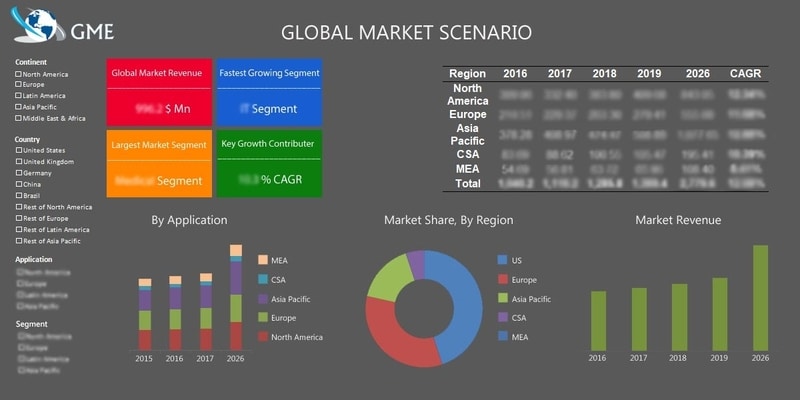 The global driving simulator market can be classified on the basis of simulator type into driving training simulator and advanced driving simulator. The driving training simulator segment is further classified into compact driving simulators and full scale driving simulators. The compact driving simulators market is expected to hold the larger market share owing to their cost-effectiveness and ability to serve the same purpose as full scale driving simulators.
On the basis of vehicle type, the driving simulator market can be segmented into car simulator and truck & bus simulator. The market for truck & bus simulators is expected to grow at a CAGR of 6.07% during the forecast period. The car simulator segment is estimated to grow at a higher CAGR of 7.09% in the coming years.
Request a sample copy of the report @: Global Driving Simulator Market
Europe is expected to dominate the global market for driving simulators with a projected CAGR of 6.82% during the forecast period. This growth can be attributed to growing experiments by European automobile manufacturers and companies with semi-autonomous and autonomous cars. Growing use of artificial intelligence in driving simulation and investment in research & development is further expected to boost market growth. North America is expected to hold the second largest market share by 2026.
Global Driving Simulator Market: Technological Landscape
Driving simulators are motion simulators which include hardware components such as driving controls, screens, resolutions and mirrors among others which can be used for multiple research and training applications. One of the most recent driving simulator technologies is based on electronic motion systems which are used by automotive manufacturers to test vehicle performance and features. They are also used to make a detailed assessment of vehicle dynamics with drivers by testing their behaviour, evaluate driver assistance features and train new drivers as well. In 2017, researchers at the Driving Simulator Lab in the Department of Civil, Environmental and Architectural Engineering in the University of Kansas' School of Engineering began researching on driver behaviour and how different drivers drive in different scenarios to enhance their work on driver safety. The simulator at the lab has four screens—three screens display the front and one screen for the back.
Latest driving simulator solutions include customized motion control solutions with motion mechanisms, software systems, control loading systems cockpit and operating work stations. Driving simulators play an important role in the on-going research on self-driving cars. Autonomous Intelligent Driving, a subsidiary of Audi AG has a fleet of test vehicles which run on an autonomous vehicle simulation platform. This platform has been developed by Cognata, an Israeli artificial intelligence (AI) and deep learning company. Cognata's platform uses AI, computer vision and deep learning along with safe simulation environments to validate autonomous vehicles. Incorporation of artificial intelligence in driving simulators is therefore expected to open up numerous opportunities in the market in terms of research and development.
Driving simulators also play an important role in research about in-vehicle human machine interfaces. Human-machine-interfaces (HMI) are an effective way of improving driving practices, and functions by informing the driver about safe driving methods, effective methods to optimize fuel consumption and driver safety. The platforms provide audio-visual advice and feedback to the driver, and driver behavior can be studied using a driving simulator. Similarly, driving simulators are also extensively used to test advanced driver assistance system features in vehicles. Virtual reality driving simulators are also being used mainly for gaming purposes, but are also likely to be seen in the market for different applications as well in near future.
Global Driving Simulator Market Drivers:
Shortage of skilled drivers - One of the major factors driving the global driving simulator market is the lack of skilled drivers. The global logistics and transportation industry requires a huge number of skilled drivers to transport goods within the country and state. Growing cases of shortage of drivers especially in European countries has seen an increase owing to multiple factors such as job risk, long working hours, bad pay scale and working conditions. According to a research survey conducted by the American Trucking Association, the shortage of truck drivers in the U.S. has grown at the steady rate, and the situation is expected to further worsen in the coming years. One of the major reasons for this growing shortage is increase in the average age of over the road drivers, which was 49 as of 2014. Another reason is that the job fails to attract a uniform segment of population such as women, which constituted merely 5.8% of the truck drivers' workforce.
The trucking industry in the U.S. was 38,000 drivers short in 2014, which is expected to grow to 1,75,000 by 2024. According to the report, lack of eligibility was one of the major reasons for rejection of applications of individuals to drive trucks in the country. These statistics show that use of driving simulators for training truck and trailer drivers are capable of bridging the gap between driver availability and demand. The report predicts that the trucking industry in the U.S. will need to hire 89,000 new drivers every year for the next decade. Growing demand for truck drivers and growth in the logistics and transportation industry is therefore expected to drive growth in the driving simulator market.
Growing demand for safety features in vehicles: One of the major applications of driving simulators is in research and development facilities which are involved in vehicle feature testing. According to annual road crash statistics, more than 125 million people die in road crashes globally. This has given rise to automotive manufacturers investing in research and development activities in order to improve safety of their vehicles. The latest innovations that can benefit from driver simulation are advanced driver assistance systems. These systems are built to automate, adapt and enhance vehicle systems for better driving and safety. Safety features in the system are designed to prevent collisions on the road by implementation of safeguards. Advanced driver assistance systems account for a major share in the automotive electronics market, with features such as adaptive cruise control, lane keeping, blind spot detection, collision avoidance and emergency maneuvers among others.
Driving simulator labs have controlled environments and are equipped with design of road-like conditions which help the driver to drive like they would under normal circumstances. Driving simulators are a great tool used to study driver behavior and safety. These simulators enable the researchers to record how the drivers drive, how they react to stimuli which they see on the roadway. They also record the age groups of the drivers and how differently they react and drive in terms of geometric design. After implementation of advanced security features, driving simulator labs look at driver behavior in terms of their attitude towards lane-changing and indicating among others. This helps the researchers to understand the impact of these systems on the driver's behavior and safety. Growing technological advancements and use of artificial intelligence for development of human-machine-interface for vehicles are expected to further drive the market for driving simulators during the forecast period.
Check the Press Release on Global Driving Simulator Market Report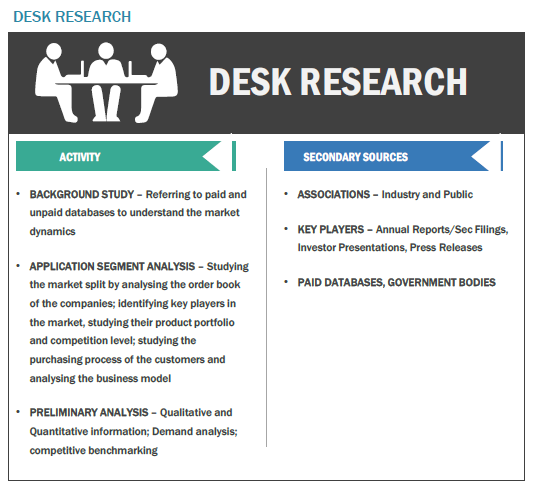 The desk research involved a robust background study which meant referring to paid and unpaid databases to understand the market dynamics; mapping contracts from press releases; identifying the key players in the market, studying their product portfolio, competition level, annual reports/SEC filings & investor presentations; and learning the demand and supply side analysis for the Driving Simulator Market.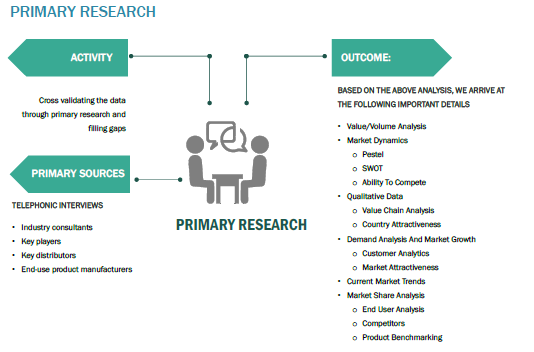 The primary research activity included telephonic conversations with more than 50 tier 1 industry consultants, distributors, and end-use product manufacturers.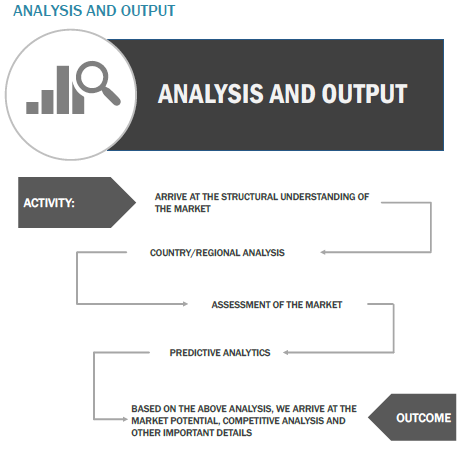 Finally, based on the above thorough research process, an in-depth analysis was carried out considering the following aspects: market attractiveness, current & future market trends, market share analysis, SWOT analysis of the companies and customer analytics.