E-cigarette And Vape Market Insights
An electronic cigarette is a gadget that recreates tobacco smoking. It's made up of an atomizer, a power source (such as a battery), and a tank or reservoir. Rather than smoke, a person breathes in vapor. Using an e-cigarette is regularly called vaping.The atomizer is indeed a heating component of the electronic cigarette that atomizes e-liquid. Taking a puff on an e-cigarette turns it on.E-cigarettes are activated by taking a drag. As compared to tobacco, electronic cigarette are considerably less harmful to the human body and so can be one of the best alternatives to a real cigarette. They look somewhat like the original cigarette but can be a bit different from them concerningthe size.The Food and Drug Administration (FDA) classifies e-cigarettes as nicotine products, despite the fact that manufacturers advertise them as products for reducing or quitting smoking. An electronic cigarette (e-cigarette) is a device that looks like a cigarette, a pen, or a USB device. Although the liquid inside will smell fruity, it could contain a significant amount of nicotine.
The main factor driving the e-cigarette market is the fact that it is being as an option to a traditional cigarette, smokers use a cigarette quitting tool. The number of cases of lung diseases such as lung cancer, tuberculosis, etc, and rising concerns towards reducing them has been a major driver towards this market.The rising cost of customary cigarettes is expected to additionally energize the interest for e-cigarettes and vape gadgets in the approaching years.The government has come out with several initiatives to curb out diseases-related carcinogenic products, encouraging people to quit smoking.
The harmful effects of E-cigarettes are not unnoticed which can act as restraints for the growth of this market. They can cause serious damages to the lung, pregnant women who consume them can slow down the growth rate of the brain of babies in the fetus. Manufacturers are investing a high amount of money in innovating their product, marketing their product to increase the sales of their product. There has been a sharp increase in the number of companies manufacturing e-cigarettes to create substitutesfor traditional cigarettes. Nonetheless, market players are coming up with new products that are less harmful and can attract more and more smokers to attract them.
North America is the market dominator in this business. The United States has been at the forefront of this business because it has the highest number of people who consume e-cigarettes. The steps towards better health for all the people living in the region by the government have also been an important driving factor. Asia Pacific market is projected to be the fastest-growing market with a CAGR of 24.1% owing to its increasing capacity of production of E-cigarette and Vape and tobacco-free property. The E-cigarette and Vape Market in 2020 were USD 15.3 Billion and is expected to reach USD 54.4 Billion in 2026 with a CAGR of 23.8%.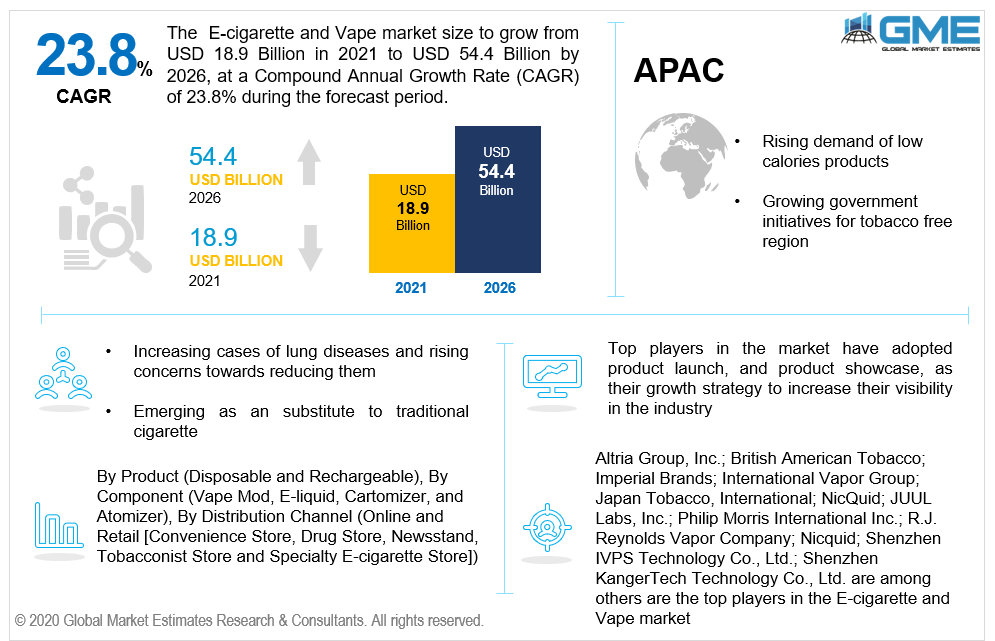 E-cigarette And Vape Market: By Product
Based onproduct the e-cigarette and vapemarket can be segregated into disposable and rechargeable. The rechargeable segment has been the highest product in the market by volume as well as by market value. The rechargeable e-cigarette product has properties such as they last much longer than the disposable ones, also a person can use liquid of his/her own choice when required.
E-cigarette And Vape Market: By Component
Based on application the e-cigarette and vapemarket can be segregated into vape mod, e-liquid, cartomizer, and atomizer. Vape mod has been the highest market grosser in terms of the component.
E-cigarette And Vape Market: By Distribution Channel
Based on application the e-cigarette and vapemarket can be segregated into online and retail [convenience store, drug store, newsstand, tobacconist store, and specialty e-cigarette store]. The online segment has created a good business for the e-cigarettes and vape market across the globe.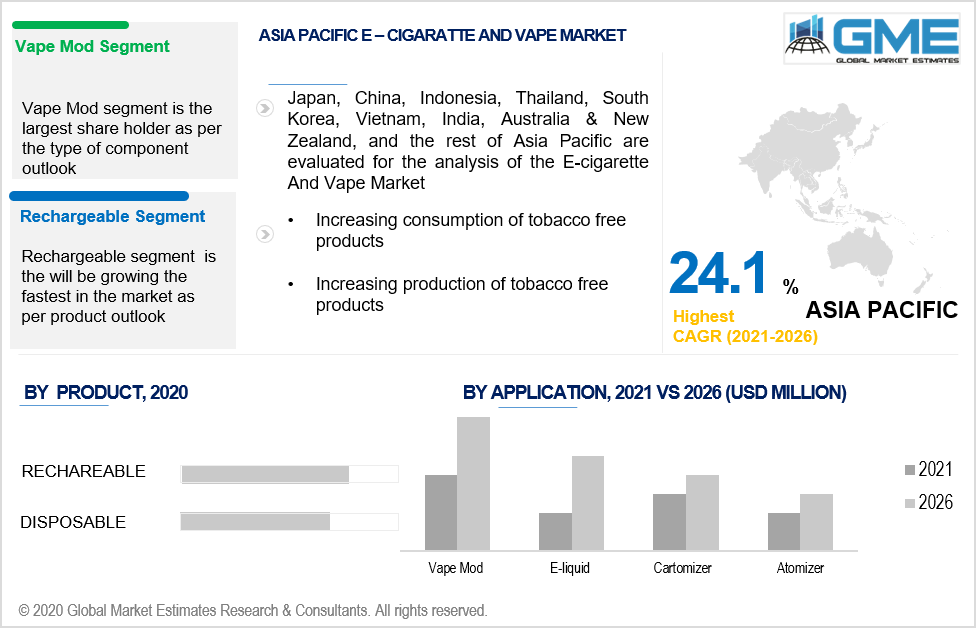 E-cigarette And Vape Market: By Region
As per the geographical analysis, the market of e-cigarette and vape can be classified into North America (the US, Canada, and Mexico), Asia Pacific (India, China, Japan, Malaysia, Singapore, and Rest of Asia Pacific), Europe (Germany, United Kingdom, Italy, France, Spain, Netherlands, and Rest of Europe), Middle East & Africa and Central South America.
E-cigarette And Vape Market Share and Competitor Analysis
Altria Group, Inc.; British American Tobacco; Imperial Brands; International Vapor Group; Japan Tobacco, International; NicQuid; JUUL Labs, Inc.; Philip Morris International Inc.; R.J. Reynolds Vapor Company; Nicquid; Shenzhen IVPS Technology Co., Ltd.; Shenzhen KangerTech Technology Co., Ltd. are among others are the top players in the E-cigarette and Vape Market.
Please note: This is not an exhaustive list of companies profiled in the report.
The Global E-cigarette and Vape Market has been studied from the year 2019 till 2026. However, the CAGR provided in the report is from the year 2021 to 2026. The research methodology involved three stages: Desk research, Primary research, and Analysis & Output from the entire research process.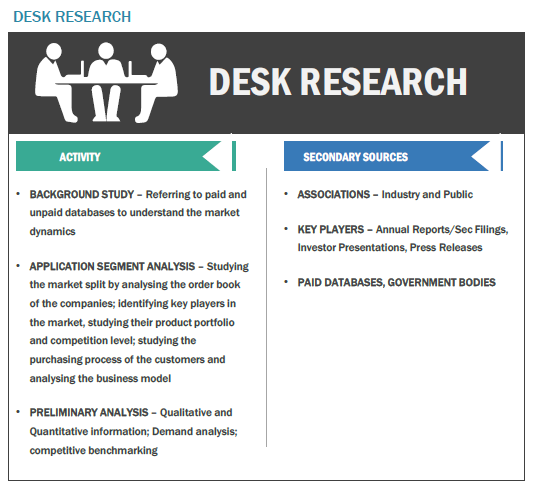 The desk research involved a robust background study which meant referring to paid and unpaid databases to understand the market dynamics; mapping contracts from press releases; identifying the key players in the market, studying their product portfolio, competition level, annual reports/SEC filings & investor presentations; and learning the demand and supply-side analysis for the E-cigarette and Vape Market.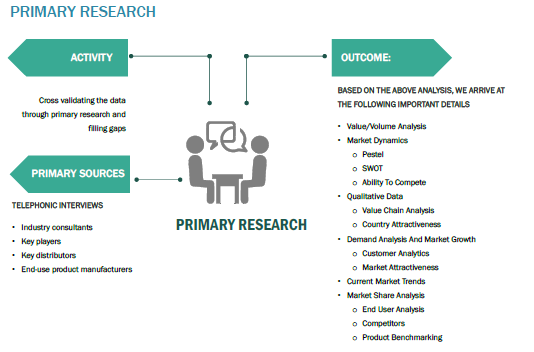 The primary research activity included telephonic conversations with more than 50 tier 1 industry consultants, distributors, and end-use product manufacturers.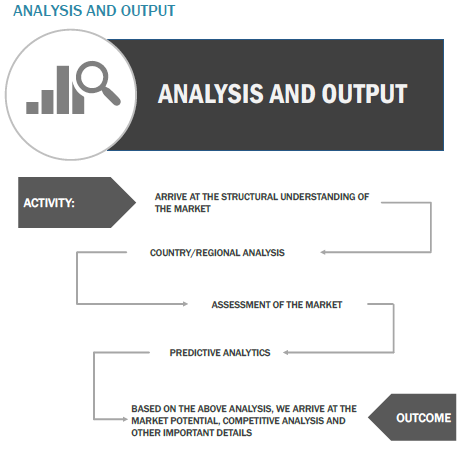 Finally, based on the above thorough research process, an in-depth analysis was carried out considering the following aspects: market attractiveness, current & future market trends, market share analysis, SWOT analysis of the company and customer analytics.