Environmental Data Management Market Insights
Data collection, arrangement, interpretation, and data sharing on a single software or mobile-based application is booming in the field of environmental real-time data management. Such software can easily configure with the specific data collection requirements, allow users to enter data in offline mode, and assist in synchronizing data to the cloud or on-premise server?for group or single review. Such portable data management solutions have been helping most of the field scientists who work in extreme environmental conditions with or without internet connectivity, to collect data and store them in a non-manual manner. Such solutions help various research organizations to trace, track, examine, environmental information to comply with the regulatory norms set by the government. Compliance related to pollution and waste management is highly streamlined using such software and solutions. Hence, the market will be on the rise mainly due to stringent norms set by the government about pollution management across the globe. Another major reason is the increasing adoption of real-time and portable data-collecting devices, increasing air and water pollution, raising concerns related to a high incidence of health hazards occurring due to pollution. Moreover, such software offers cloud sharing of data, which has helped most of the scientists and researchers to work simultaneously on similar or parallel data.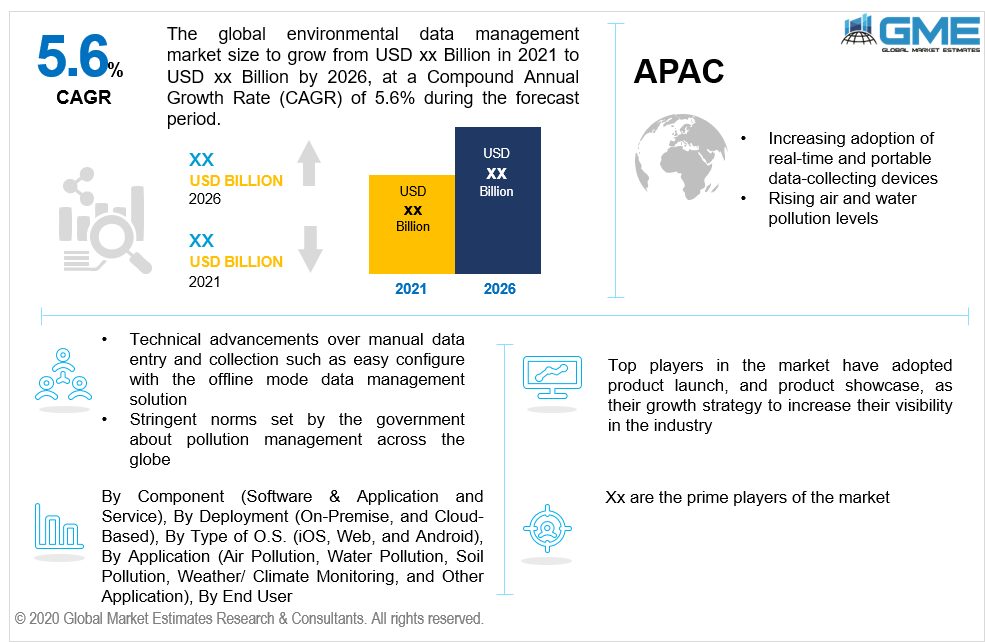 Environmental Data Management Market: By Component
Software & applications and service are the two prime components of the market. However, the software and application segment is anticipated to be a larger shareholder of the market as compared to the post-sale service segment. The major reason being, the increasing awareness for data management in the field analysis procedure, rising purchasing power of various institutes for high-end software and databases, and increasing air and water pollution levels.
Environmental Data Management Market: By Mode of Deployment
On-premise and cloud-based systems are the two-mode of deployments understood for this market. The cloud segment will be the fastest-growing segment owing to the benefits it offers in terms of data sharing, real-time data manipulation, storage flexibility, security, cost-effectiveness, and reliability.
Environmental Data Management Market: By Type of O.S.
Based on the type of operating system, the market is segmented into web-based, android based, and iOS-based software system. Owing to the high inclination towards software purchase for desktops and laptops, the market is largest for web-based systems from 2021 to 2026.
Environmental Data Management Market: By Application
Depending on the type of pollution, the market can be segmented into air, water, soil, weather/ climate monitoring, and other applications. The market for air pollution applications will be the largest shareholder. This is attributed to the increasing levels of air and gas pollution in both developed and developing regions, an increasing number of research projects related to air quality monitoring and management solutions.
Environmental Data Management Market: By End User
Based on the end-user analysis, the market can be segmented into government and Defense, energy and utilities, healthcare, food & beverages, chemicals and materials, construction and engineering, and other end-users (automotive, ICT, retail). The segment of government and Defense would be growing the fastest owing to a rising number of research projects, consignment, and awareness regarding environmental pollution data collection and tracking.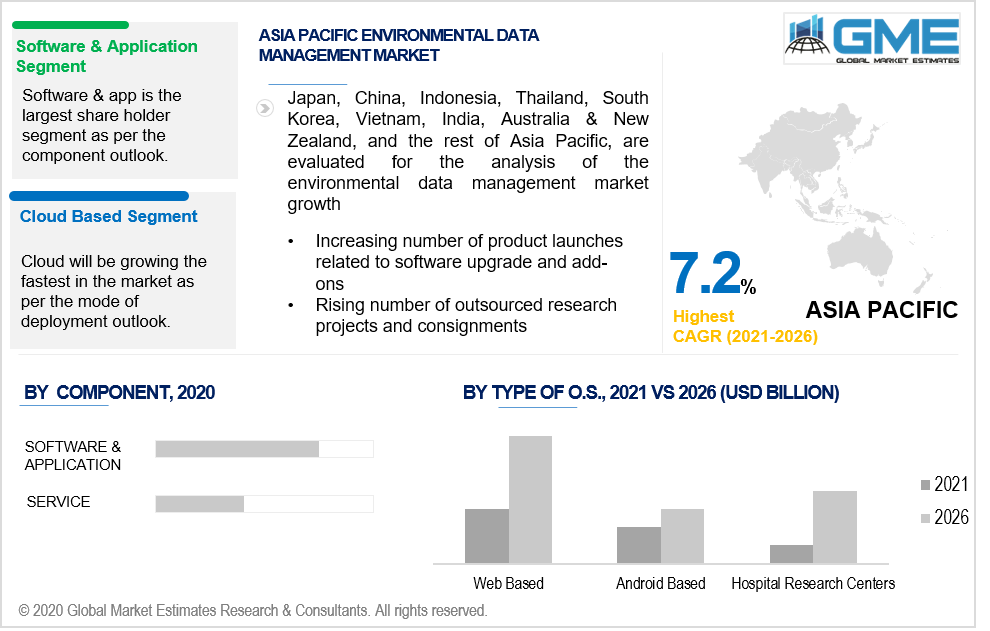 Environmental Data Management Market: By Region
Owing to awareness regarding health hazards due to high level of pollution, rapidly rising integration of IT with field data tracking and management, increasing number of product launches US & Canada, will help the North American region to be dominant in the market space. However, with high levels of air & water pollution, and stringent regulatory laws imposed in Asian countries, the market for APAC will be growing the fastest.
Environmental Data Management Market Share and Competitor Analysis
Fastfield, DeviceMagic, ESclS, EnvirData Solutions Inc., Flowfinity Wireless Inc., Fulcrum, Teamscope, Locus Technologies, Wildnote, Magpi, Gensuite, EnvrioData, Mango, and Fabriq OS are the prime players of the market.
Please note: This is not an exhaustive list of companies profiled in the report.
The Global Environmental Data Management Market has been studied from the year 2019 till 2026. However, the CAGR provided in the report is from the year 2021 to 2026. The research methodology involved three stages: Desk research, Primary research, and Analysis & Output from the entire research process.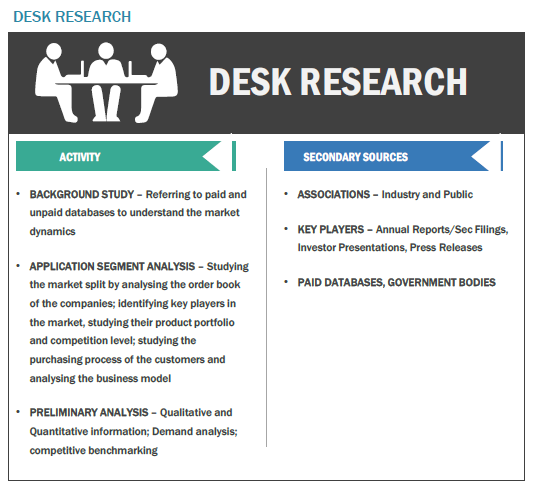 The desk research involved a robust background study which meant referring to paid and unpaid databases to understand the market dynamics; mapping contracts from press releases; identifying the key players in the market, studying their product portfolio, competition level, annual reports/SEC filings & investor presentations; and learning the demand and supply side analysis for the Environmental Data Management Market.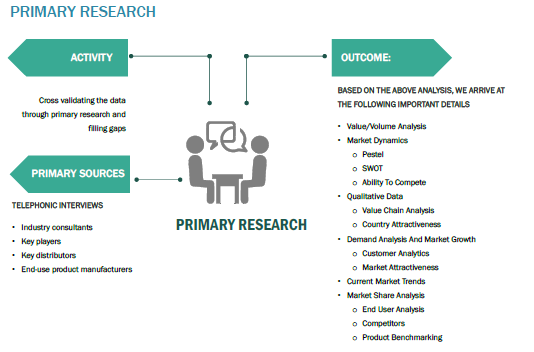 The primary research activity included telephonic conversations with more than 50 tier 1 industry consultants, distributors, and end-use product manufacturers.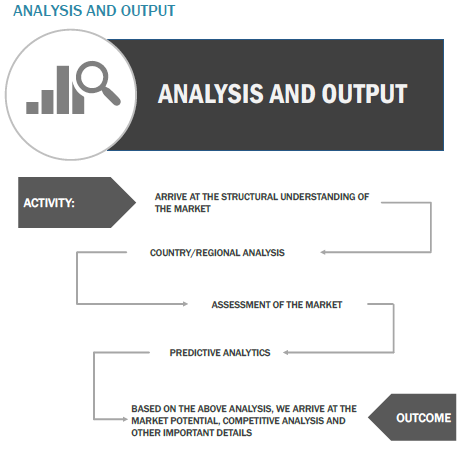 Finally, based on the above thorough research process, an in-depth analysis was carried out considering the following aspects: market attractiveness, current & future market trends, market share analysis, SWOT analysis of the companies and customer analytics.