Epigenetics Diagnostic Market: Insights
The study of developmental biology, genetics, and physiological & cellular phenotype changes induced by the outside environment is referred to as epigenetics diagnostic. They're used to treat illnesses like cancer that last for a long time. Epigenetic techniques produce both beneficial and detrimental outcomes in differential cells, including pancreatic cells, liver cells, skin cells, and others, along with harmful outcomes that may contribute to the development of cancerous cells.
Shortly, the global epigenetics diagnostic industry is anticipated to expand at a rapid pace. This is due to the industry's high technical momentum. For example, the development of new epigenetic drugs and effective diagnostic tools. Aside from that, rising government funding for epigenetics reagent R&D to treat a variety of serious and lethal human diseases is considered to be a significant driver of the global epigenetics diagnostic industry.
Epigenetics participants are working with one another to improve epigenetics application. This is predicted to free up several attractive opportunities for the global epigenetics industry to expand. Key important factors projected to boost growth in the global epigenetic diagnostics industry include rising cases of cancer and other long-term health conditions around the world, as well as an increase in the elderly population.
Furthermore, increasing government and private funding is fostering innovative cellular, gene, and protein research, resulting in many epigenetic reagent advances. Also, epigenetic variables such as non-coding RNAs, DNA methylation, and chromatin formation can be used to control gene expression. This is accelerating epigenetics acceptance in the biological sciences and analytical tools industries, resulting in increased demand for epigenetics globally.
Another factor contributing to the development is the increasing government funding for biotechnology and the increasing collaboration between academia and industries. Increased portability, precision, and cost-efficiency as a result of technological advances are projected to be a major market impetus. Diagnosed, for example, has created automatic kits for purifying and detecting methylated DNA.
Finally, the growing FDA acceptance of multiple epigenetics diagnostics drugs and equipment is anticipated to drive the epigenetics diagnostics market shortly.
The industry's growth is likely to be hampered by longer periods of research and development for epigenetic medicines. A novel drug takes twelve years to get from the laboratory to the clinic, with thousands of applicants being disqualified along the way. Furthermore, a lack of evidence on the efficacy of epigenetic therapies in solid tumors is projected to restrain market expansion.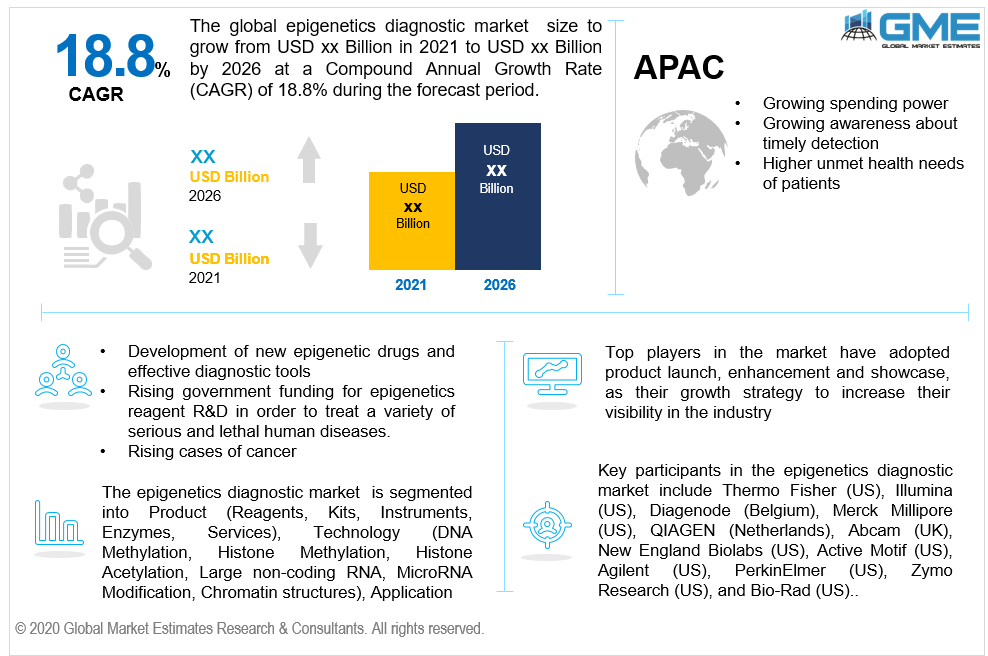 Epigenetics Diagnostic Market: By Product
In 2020, the epigenetics diagnostic market was led by the reagents category as per the product outlook. The most commonly used epigenetic reagents are DNA modifiers and histone. PCR reagents, antibodies, buffers, electrophoresis reagents, primers, nucleic acid analysis reagents, and histones are the different types of epigenetic reagents. PyroMark Q24 is an innovative reagent that uses advanced pyrosequencing chemistry to have much greater real-time sequence-based identification and quantification than previously possible. The extensive use of reagents drives the demand for biological sciences and analytical instruments.
Due to their widespread use, necessity throughout the protocol, as well as other pre-requisite measures of DNA testing, the kits category accounted for the largest share of the epigenetics industry. Other trends such as an uptick in the prevalence of chronic disorders, a growing aging population, and a spike in the use of epigenetic therapies all fuel demand for epigenetic kits, propelling the industry forward. Furthermore, the advancement of epigenetic techniques as well as a growth in the number of strategic developments by participants is predicted to open up a plethora of prospects in the coming years.
Epigenetics Diagnostic Market: By Technology
In 2020, DNA methylation was the dominant segment as per the technology outlook in the global market. DNA methylation occurs when a methyl group in the cytosine ring is covalently extended, inhibiting transcription. Methylation Sensitive PCR (MSP) refers to a delicate bisulfite modification followed by a Polymerase chain reaction. MSP has many variants, including the computational study of methylated alleles, methyl light, and real-time PCR for methylation identification. Quantitative approaches for DNA methylation include the southern process, bisulphite pyrosequencing, bisulphite PCR, and allele-specific bisulphite sequencing accompanied by MALDI-TOF MS. On a genome-wide level, technological advances are often encouraging the assessment of locus-specific DNA methylation.
Due to their increased effectiveness, which may be attributable to the advent of novel mechanisms, histone acetylation is predicted to rise at a rapid rate over the projected timeframe. Histone acetylation is the addition of an acetyl group to lysine residues by an enzyme. Histone acetylation is included in chromatin transcription and dynamics, gene silencing, cell cycle development, apoptosis, differentiation, DNA replication, neuronal suppression, DNA repair, and nuclear import, among other cellular processes. Histone Acetyl Transferases (HATs) are enzymes that acetylate histones, and histone deacetylases are enzymes that deacetylate histones (HDACs).
Epigenetics Diagnostic Market: By Application
In 2020, oncology led the market by application, accounting for the majority of sales. The rising global incidence of cancer, as well as the rising number of cancer-related deaths, is predicted to be a major boosting market factor. Furthermore, due to the launch of innovative products and the possible future commercialization of items already in development, this sector is anticipated to achieve a significant profit share over the forthcoming years.
Epimutations are epigenetic alterations that result in epigenetic silencing and hypermethylation. Epimutations have long been suspected of playing a role in cancer etiology. Epimutations, primarily linked to the silencing of tumor suppressor genes and the triggering of oncogenes, are the subject of intense research and development. Epimutations, unlike normal mutations, are completely reversible.
Due to extensive research & development projects conducted by private entities and biopharmaceutical firms for the detection of epigenetic markers specific to these diseases, non-oncology is expected to be a rapidly-growing field. Most non-oncology illnesses, such as infectious diseases, neurodegenerative diseases, and metabolic diseases, have been linked to epigenetic changes. Private entities and biopharmaceutical firms do rigorous studies to identify biomarkers for drug production.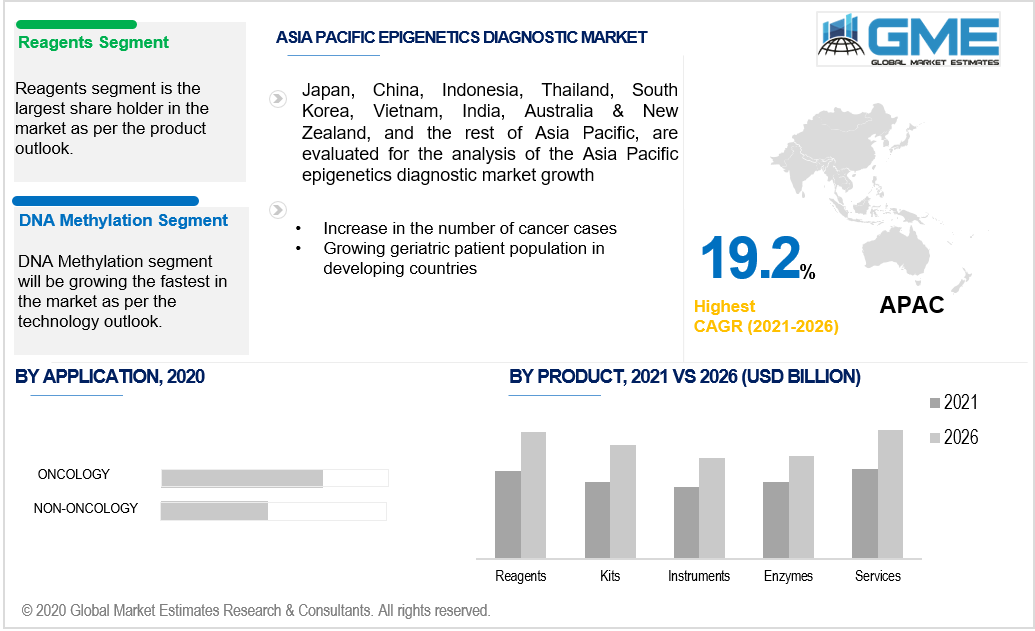 Epigenetics Diagnostic Market: By Region
In 2020, North America surpassed other regions as the most dominant regional segment in the epigenetics market. The emergence of technologically advanced facilities, the continuously growing aging population, government support for current epigenetic research projects, expanded healthcare facilities, effective campaigns, proactive research, and precise diagnostic tests are all major boosting factors for the industry.
Due to growing spending power, growing awareness about timely detection, higher unmet health needs of patients, and availability of appropriate care in developing nations like China and India, Asia Pacific is expected to rise at a rapid rate over the projected timeframe. Owing to an increase in cancer cases, Asia Pacific is in the spotlight in terms of CAGR.
Increased instances of oncology and chronic disorders as a result of the growing elderly population are projected to boost business demand. In this area, research & development activities linked to the study of epigenetic bases in different diseases are on the rise. The EpiGen Research Consortium, headquartered in the United Kingdom, has expanded its research center in Singapore to study chronic diseases including obesity and diabetes.
Epigenetics Diagnostic Market: Share & Competitor Analysis
Key participants in the epigenetics diagnostic market include Thermo Fisher (US), Illumina (US), Diagenode (Belgium), Merck Millipore (US), QIAGEN (Netherlands), Abcam (UK), New England Biolabs (US), Active Motif (US), Agilent (US), PerkinElmer (US), Zymo Research (US), and Bio-Rad (US).
Please note: This is not an exhaustive list of companies profiled in the report.
Chapter 1 Methodology
1.1 Market Scope & Definitions
1.2 Estimates & Forecast Calculation
1.3 Historical Data Overview and Validation
1.4 Data Sources
1.4.1 Secondary
1.4.2 Primary
Chapter 2 Report Outlook
2.1 Epigenetics Diagnostic Industry Overview, 2016-2026
2.1.1 Industry Overview
2.1.2 Product Overview
2.1.3 Application Overview
2.1.4 Technology Overview
2.1.6 Regional Overview
Chapter 3 Epigenetics Diagnostic Market Trends
3.1 Market Segmentation
3.2 Industry Background, 2016-2026
3.3 Market Key Trends
3.3.1 Positive Trends
3.3.1.1 Technology Advancement in Epigenetic Test
3.3.1.2 Rising Prevalence of Genetic Diseases
3.3.2 Industry Challenges
3.3.2.1 Lack of Adequate Infrastructure and Automated Laboratory Systems in Developing Nations
3.4 Prospective Growth Scenario
3.4.1 Product Growth Scenario
3.4.2 Application Growth Scenario
3.4.3 Technology Growth Scenario
3.5 COVID-19 Influence over Industry Growth
3.6 Porter's Analysis
3.7 PESTEL Analysis
3.8 Value Chain & Supply Chain Analysis
3.9 Regulatory Framework
3.9.1 North America
3.9.2 Europe
3.9.3 APAC
3.9.4 LATAM
3.9.5 MEA
3.10 Technology Overview
3.11 Market Share Analysis, 2020
3.11.1 Company Positioning Overview, 2020
Chapter 4 Epigenetics Diagnostic Market, By Product
4.1 Product Outlook
4.2 Reagents
4.2.1 Market Size, By Region, 2016-2026 (USD Million)
4.3 Kits
4.3.1 Market Size, By Region, 2016-2026 (USD Million)
4.4 Instruments
4.4.1 Market Size, By Region, 2016-2026 (USD Million)
4.5 Enzymes
4.5.1 Market Size, By Region, 2016-2026 (USD Million)
4.6 Services
4.6.1 Market Size, By Region, 2016-2026 (USD Million)
Chapter 5 Epigenetics Diagnostic Market, By Application
5.1 Application Outlook
5.2 Oncology
5.2.1 Market Size, By Region, 2016-2026 (USD Million)
5.3 Non-Oncology
5.3.1 Market Size, By Region, 2016-2026 (USD Million)
Chapter 6 Epigenetics Diagnostic Market, By Technology
6.1 DNA Methylation
6.1.1 Market Size, By Region, 2016-2026 (USD Million)
6.2 Histone Methylation
6.2.1 Market Size, By Region, 2016-2026 (USD Million)
6.3 Histone Acetylation
6.3.1 Market Size, By Region, 2016-2026 (USD Million)
6.4 Large Non-Coding RNA
6.4.1 Market Size, By Region, 2016-2026 (USD Million)
6.5 MicroRNA Modification
6.5.1 Market Size, By Region, 2016-2026 (USD Million)
6.6 Chromatin Structures
6.6.1 Market Size, By Region, 2016-2026 (USD Million)
Chapter 8 Epigenetics Diagnostic Market, By Region
8.1 Regional outlook
8.2 North America
8.2.1 Market Size, By Country 2016-2026 (USD Million)
8.2.2 Market Size, By Product, 2016-2026 (USD Million)
8.2.3 Market Size, By Application, 2016-2026 (USD Million)
8.2.4 Market Size, By Technology, 2016-2026 (USD Million)
8.2.6 U.S.
8.2.6.1 Market Size, By Product, 2016-2026 (USD Million)
8.2.4.2 Market Size, By Application, 2016-2026 (USD Million)
8.2.4.3 Market Size, By Technology, 2016-2026 (USD Million)
8.2.7 Canada
8.2.7.1 Market Size, By Product, 2016-2026 (USD Million)
8.2.7.2 Market Size, By Application, 2016-2026 (USD Million)
8.2.7.3 Market Size, By Technology, 2016-2026 (USD Million)
8.3 Europe
8.3.1 Market Size, By Country 2016-2026 (USD Million)
8.3.2 Market Size, By Product, 2016-2026 (USD Million)
8.3.3 Market Size, By Application, 2016-2026 (USD Million)
8.3.4 Market Size, By Technology, 2016-2026 (USD Million)
8.3.6 Germany
8.3.6.1 Market Size, By Product, 2016-2026 (USD Million)
8.3.6.2 Market Size, By Application, 2016-2026 (USD Million)
8.3.6.3 Market Size, By Technology, 2016-2026 (USD Million)
8.3.7 UK
8.3.7.1 Market Size, By Product, 2016-2026 (USD Million)
8.3.7.2 Market Size, By Application, 2016-2026 (USD Million)
8.3.7.3 Market Size, By Technology, 2016-2026 (USD Million)
8.3.8 France
8.3.8.1 Market Size, By Product, 2016-2026 (USD Million)
8.3.8.2 Market Size, By Application, 2016-2026 (USD Million)
8.3.8.3 Market Size, By Technology, 2016-2026 (USD Million)
8.3.9 Italy
8.3.9.1 Market Size, By Product, 2016-2026 (USD Million)
8.3.9.2 Market Size, By Application, 2016-2026 (USD Million)
8.3.9.3 Market Size, By Technology, 2016-2026 (USD Million)
8.3.10 Spain
8.3.10.1 Market Size, By Product, 2016-2026 (USD Million)
8.3.10.2 Market Size, By Application, 2016-2026 (USD Million)
8.3.10.3 Market Size, By Technology, 2016-2026 (USD Million)
8.3.11 Russia
8.3.11.1 Market Size, By Product, 2016-2026 (USD Million)
8.3.11.2 Market Size, By Application, 2016-2026 (USD Million)
8.3.11.3 Market Size, By Technology, 2016-2026 (USD Million)
8.4 Asia Pacific
8.4.1 Market Size, By Country 2016-2026 (USD Million)
8.4.2 Market Size, By Product, 2016-2026 (USD Million)
8.4.3 Market Size, By Application, 2016-2026 (USD Million)
8.4.4 Market Size, By Technology, 2016-2026 (USD Million)
8.4.6 China
8.4.6.1 Market Size, By Product, 2016-2026 (USD Million)
8.4.6.2 Market Size, By Application, 2016-2026 (USD Million)
8.4.6.3 Market Size, By Technology, 2016-2026 (USD Million)
8.4.7 India
8.4.7.1 Market Size, By Product, 2016-2026 (USD Million)
8.4.7.2 Market Size, By Application, 2016-2026 (USD Million)
8.4.7.3 Market Size, By Technology, 2016-2026 (USD Million)
8.4.8 Japan
8.4.8.1 Market Size, By Product, 2016-2026 (USD Million)
8.4.8.2 Market Size, By Application, 2016-2026 (USD Million)
8.4.8.3 Market Size, By Technology, 2016-2026 (USD Million)
8.4.9 Australia
8.4.9.1 Market Size, By Product, 2016-2026 (USD Million)
8.4.9.2 Market size, By Application, 2016-2026 (USD Million)
8.4.9.3 Market Size, By Technology, 2016-2026 (USD Million)
8.4.10 South Korea
8.4.10.1 Market Size, By Product, 2016-2026 (USD Million)
8.4.10.2 Market Size, By Application, 2016-2026 (USD Million)
8.4.10.3 Market Size, By Technology, 2016-2026 (USD Million)
8.5 Latin America
8.5.1 Market Size, By Country 2016-2026 (USD Million)
8.5.2 Market Size, By Product, 2016-2026 (USD Million)
8.5.3 Market Size, By Application, 2016-2026 (USD Million)
8.5.4 Market Size, By Technology, 2016-2026 (USD Million)
8.5.6 Brazil
8.5.6.1 Market Size, By Product, 2016-2026 (USD Million)
8.5.6.2 Market Size, By Application, 2016-2026 (USD Million)
8.5.6.3 Market Size, By Technology, 2016-2026 (USD Million)
8.5.7 Mexico
8.5.7.1 Market Size, By Product, 2016-2026 (USD Million)
8.5.7.2 Market Size, By Application, 2016-2026 (USD Million)
8.5.7.3 Market Size, By Technology, 2016-2026 (USD Million)
8.5.8 Argentina
8.5.8.1 Market Size, By Product, 2016-2026 (USD Million)
8.5.8.2 Market Size, By Application, 2016-2026 (USD Million)
8.5.8.3 Market Size, By Technology, 2016-2026 (USD Million)
8.6 MEA
8.6.1 Market Size, By Country 2016-2026 (USD Million)
8.6.2 Market Size, By Product, 2016-2026 (USD Million)
8.6.3 Market Size, By Application, 2016-2026 (USD Million)
8.6.4 Market Size, By Technology, 2016-2026 (USD Million)
8.6.6 Saudi Arabia
8.6.6.1 Market Size, By Product, 2016-2026 (USD Million)
8.6.6.2 Market Size, By Application, 2016-2026 (USD Million)
8.6.6.3 Market Size, By Technology, 2016-2026 (USD Million)
8.6.7 UAE
8.6.7.1 Market Size, By Product, 2016-2026 (USD Million)
8.6.7.2 Market Size, By Application, 2016-2026 (USD Million)
8.6.7.3 Market Size, By Technology, 2016-2026 (USD Million)
8.6.8 South Africa
8.6.8.1 Market Size, By Product, 2016-2026 (USD Million)
8.6.8.2 Market Size, By Application, 2016-2026 (USD Million)
8.6.8.3 Market Size, By Technology, 2016-2026 (USD Million)
Chapter 9 Company Landscape
9.1 Competitive Analysis, 2020
9.2 Thermo Fisher Scientific
9.2.1 Company Overview
9.2.2 Financial Analysis
9.2.3 Strategic Positioning
9.2.4 Info Graphic Analysis
9.3 Illumina
9.3.1 Company Overview
9.3.2 Financial Analysis
9.3.3 Strategic Positioning
9.3.4 Info Graphic Analysis
9.4 Diagenode
9.4.1 Company Overview
9.4.2 Financial Analysis
9.4.3 Strategic Positioning
9.4.4 Info Graphic Analysis
9.5 Merck Millipore
9.5.1 Company Overview
9.5.2 Financial Analysis
9.5.3 Strategic Positioning
9.5.4 Info Graphic Analysis
9.6 QIAGEN
9.6.1 Company Overview
9.6.2 Financial Analysis
9.6.3 Strategic Positioning
9.6.4 Info Graphic Analysis
9.7 Abcam
9.7.1 Company Overview
9.7.2 Financial Analysis
9.7.3 Strategic Positioning
9.7.4 Info Graphic Analysis
9.8 New England Biolabs
9.8.1 Company Overview
9.8.2 Financial Analysis
9.8.3 Strategic Positioning
9.8.4 Info Graphic Analysis
9.9 Active Motif
9.9.1 Company Overview
9.9.2 Financial Analysis
9.9.3 Strategic Positioning
9.9.4 Info Graphic Analysis
9.10 Agilent
9.10.1 Company Overview
9.10.2 Financial Analysis
9.10.3 Strategic Positioning
9.10.4 Info Graphic Analysis
9.11 Other Companies
9.11.1 Company Overview
9.11.2 Financial Analysis
9.11.3 Strategic Positioning
9.11.4 Info Graphic Analysis