Ethylene Carbonate Market: Insights
Ethylene carbonate has a fruity odor and is a clear to yellowish solid. It's made when ethylene oxide and carbon dioxide react with a catalyst made up of several cations and complexes. It can also dissolve polymers easily, making it suitable for use as a release agent and detergent. Its substance is of high quality, with low levels of moisture and impurities. It has a stellar reputation for adhering to rigorous quality guidelines.
To minimize the viscosity and melting point of such electrolytes, additional ingredients like diethyl carbonate, dimethyl carbonate, ethyl methyl carbonate, and methyl acetate may be added. Moreover, as compared to other commonly used solvents, it has higher solubility, boiling point, andpolarity.The rising demand for lithium-ion batteries and lubricants in the electronic and automotive industries is driving the market growth. Electric vehicles are becoming more common due to advantages such as cost-effectiveness, lower fuel costs, ease of maintenance, and fuel efficiency.
The automobile industry has expanded as a result of rapid urbanization and rising living standards. In the year 2018, 85 million conventional vehicles were sold, increasing the availability of lubricants. Since ethylene carbonate is used as a solvent in lubricants, this may boost the ethylene carbonate industry demand.
Lithium-ion batteries are extensively used in electric vehicles, and they are more powerful than conventional lead batteries due to their lightweight and fast charging time.The growing demand for electric vehicles will eventually support the ethylene carbonate market.Since they need less charging and are lighter in weight, lithium-ion batteries are more effective than traditional lead batteries. As a result, there's been an increase in the demand for lead-acid batteries. As a consequence, the market for electrolytes is growing.
The global plastic industry's supply chain has been disrupted by the COVID-19 pandemic. China is an integral part of the plastics industry's supply chain. As per the Plastics Industry Group, China accounted for 31% of US plastic imports in March 2020. Manufacturing of ethylene carbonate halted in a variety of countries due to the lockdown.Many manufacturing operations, including those in the automotive, aerospace, and other industries, came to a screeching halt.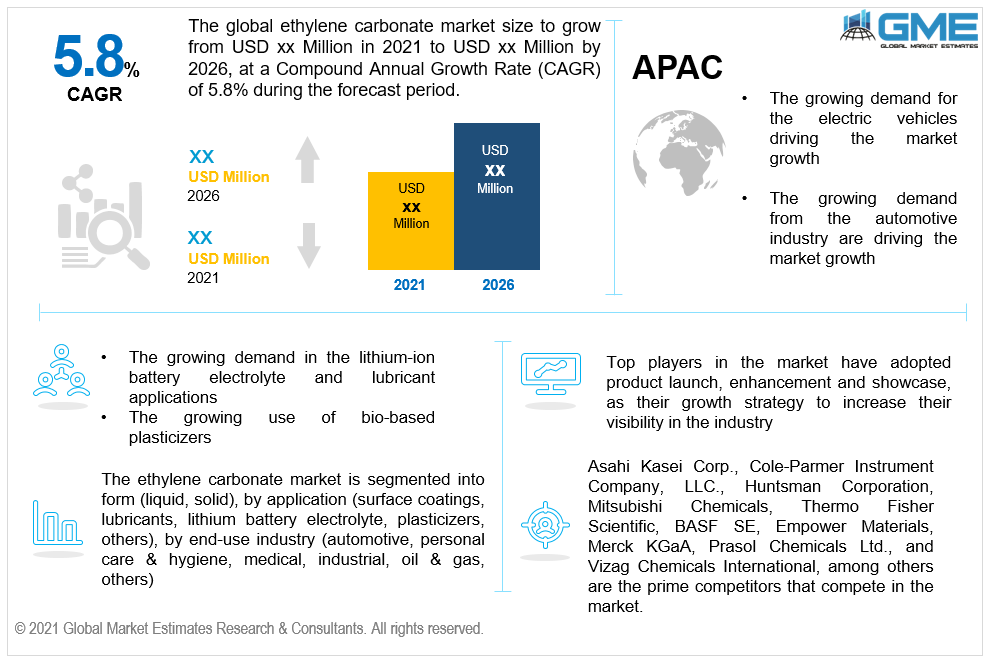 Ethylene Carbonate Market: By Form
The solidform accounted for the largest revenue shareover the forecast era. Ethylene carbonate is a clear crystalline solid that can be used in a wide range of applications at room temperature.This solid type organic solvent is used as a lubricant solvent, a cross-linking agent in the manufacture of super absorber polymers, a separation agent in the gas cleaning process and oil fields.
Plasticizers, textile processing agents, organic solvents, resist strip solvents, soil hardening agents, raw materials for organic synthesis, solid battery electrolytes, medical devices, and solid capacitor electrolytes are only a few of the applications. The solid form of ethylene carbonate has a greater market share than the liquid form since it is used in more applications.
Ethylene Carbonate Market: By Application
The lubricants segment accounted for the largest market share in 2019, contributing to more than one-third of the global ethylene carbonate market, and is anticipated to witness its revenue dominance over the forecast timeframe.It is due to the growing usage in the automotive, and oil & gas industry.Lubricants are used as cooling and cleaning agents in the automotive sector. The demand for lubricants from different sectors, like oil and gas in particular, as well as solvents and intermediate products for chemical applications, is expected to increase in the coming years, driving up the market for ethylene carbonate.
However, due to a rise in the usage of electric vehicles and a change in emphasis toward renewable energy to minimize carbon emissions the lithium battery electrolytes segment is anticipated to exhibit at a faster rate during the forecast period.
Ethylene Carbonate Market: By End-Use Industry
Over the forecast timeframe, the automotive segment held the largest share position in 2019 because of various manufacturer requirements, like lowered emissions of volatile organic compounds (VOCs), which contribute to the development of smog, and to achieve long-lasting protective surface coatings on automobiles. Furthermore, the increasing usage of ethylene carbonate in lithium-ion batteries along with the increasing demand for electric vehicles is propelling the market growth.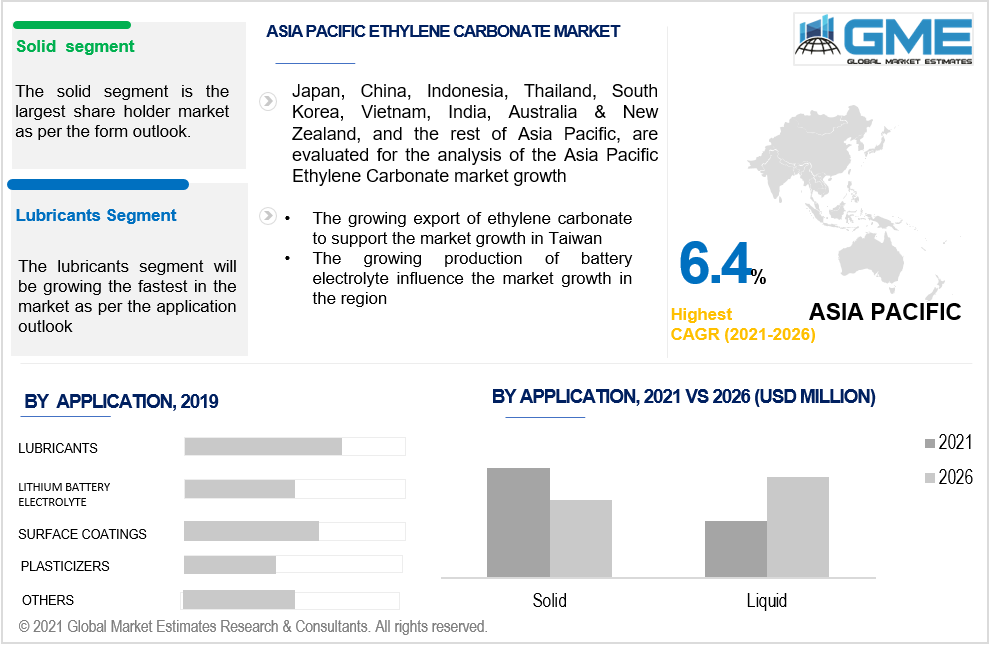 Ethylene Carbonate Market: By Region
In sales terms, the North American region remains the leading market shareholder for the forecast timeframe.Consumer preference for synthetic lubricants can spur regional market growth due to their superior properties like wear and tear protection, thermal stability, heavy load holding, and low friction. Moreover, there is an increasing presence of large companies in the chemical and automotivesectors.
Furthermore, a substantial CAGR rate over the expected timeframe will be demonstrated in the Asia-Pacific region. Its presence is rising in several end-use industries, which includemedical, oil and gas, manufacturing, and automotive, among others. Furthermore, demand growth is aided by Taiwan's and China's increasing demographics, increasing disposable income, and economic growth.
Europe's ethylene carbonate market demand, led by Germany, the United Kingdom,and France, is projected to increase over the forecast timeframe. Electric car sales increased by 40% in the first quarter of 2019 to 99,150 vehicles, due to global environmental initiatives such as the Paris Agreement, where many countries are implementing stringent emission standards, which may boost demand for electric vehicles.
Ethylene Carbonate Market: Share & Competitor Analysis
Asahi Kasei Corp., Cole-Parmer Instrument Company, LLC., Huntsman Corporation, Mitsubishi Chemicals, Thermo Fisher Scientific, BASF SE, Empower Materials, Merck KGaA, Prasol Chemicals Ltd., and Vizag Chemicals International, among others are the prime competitors that compete in the market.
Please note: This is not an exhaustive list of companies profiled in the report.
In January 2021, Azelis Canada, Inc. and Azelis Americas CASE, LLC, the United States have expanded their collaboration with Huntsman Corporation to facilitate the distribution of the firm's Advanced Materials business in the United States and Canada.
The Global Ethylene Carbonate Market has been studied from the year 2019 till 2026. However, the CAGR provided in the report is from the year 2021 to 2026. The research methodology involved three stages: Desk research, Primary research, and Analysis & Output from the entire research process.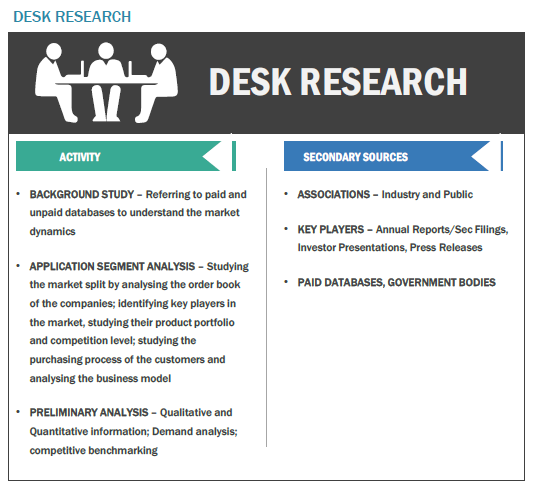 The desk research involved a robust background study which meant referring to paid and unpaid databases to understand the market dynamics; mapping contracts from press releases; identifying the key players in the market, studying their product portfolio, competition level, annual reports/SEC filings & investor presentations; and learning the demand and supply-side analysis for the Ethylene Carbonate Market.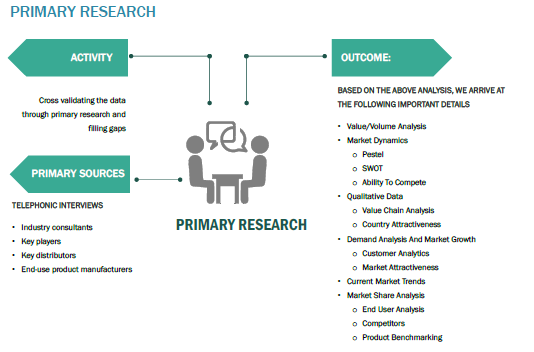 The primary research activity included telephonic conversations with more than 50 tier 1 industry consultants, distributors, and end-use product manufacturers.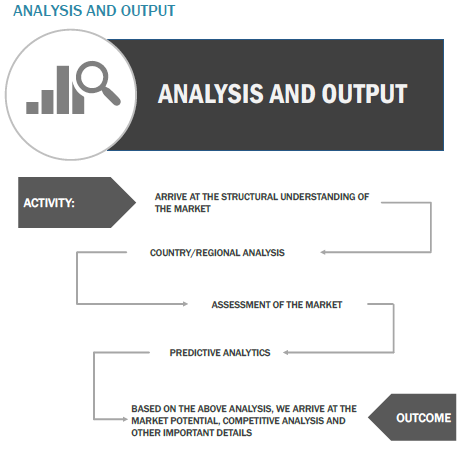 Finally, based on the above thorough research process, an in-depth analysis was carried out considering the following aspects: market attractiveness, current & future market trends, market share analysis, SWOT analysis of the company and customer analytics.