Flexible Electronics & Circuit Market: Insights
Electronic components are simply mounted on a plastic or flexible substrate like polyester film or polyimide to form flexible electronics and circuits.The flexible electronic, also known as a flex circuit, is a wide category of electronics in which integrated circuits are designed in such a way that they can twist, fold, and wrap without losing functionality.It allows you to change the size, weight, and reliability of their products, as well as configure them in 3D. It is widely used in numerous industries, which include automotive, healthcare, and consumer electronics.
Flexible electronics, also recognized as flexible circuits, is an electronic circuit installation process that involves installing electronic devices on flexible plastic substrates such as polyimide, PEEK, or simple conductive polyester film.Indistinguishable parts for rigid printed circuit sheets can be used to make flexible circuit boards, enabling the panel to fit into the desired shroud.With a rising number, of applications such as wearables, flexible electronics have become extremely popular. Furthermore, the advent of flexible batteries, as well as the growing use of flexible sensors in smart packaging and monitoring applications, are expected to propel the flexible electronics market forward over the forecast timeframe.
The increasing benefits of flexible electronics and circuits, as well as the rising acceptance of thin-film solar modules for a wide range of applications and the rising use of flexible displays for applications likewearable devices and smartphones, are all driving the growth of the market.Furthermore, the growing use of flexible electrical parts in IoT applications, as well as the growing use of flexible electronics in healthcare applications, are influencing the flexible electronic components market.
The demand for flex circuits is expected to rise as consumer devices become more compact while maintaining their smarter and more integrated functionality.Flex circuits are designed on ultra-thin substrates such as plastic, allowing them to roll, bend, and fold without losing functionality.Flexible electronics-based devices use less energy and produce less heat when compared to traditional electronic devices. This property is critical to the market's acceptance of flex circuits.Flexible electronics technology is very suitable for signage boards, according to research. Furthermore, the technology can be used to combine multiple functions like microphones, batteries, and speakers into a single device.
COVID-19's outbreak and spread have had a significant impact on players in the flexible electronics and circuit value chain. One of the main drivers of the flexible electronics & circuit market is the increasing demand for consumer electronic devices. However, due to worldwide lockdowns, all manufacturing plants, offices, and public places have been shut down.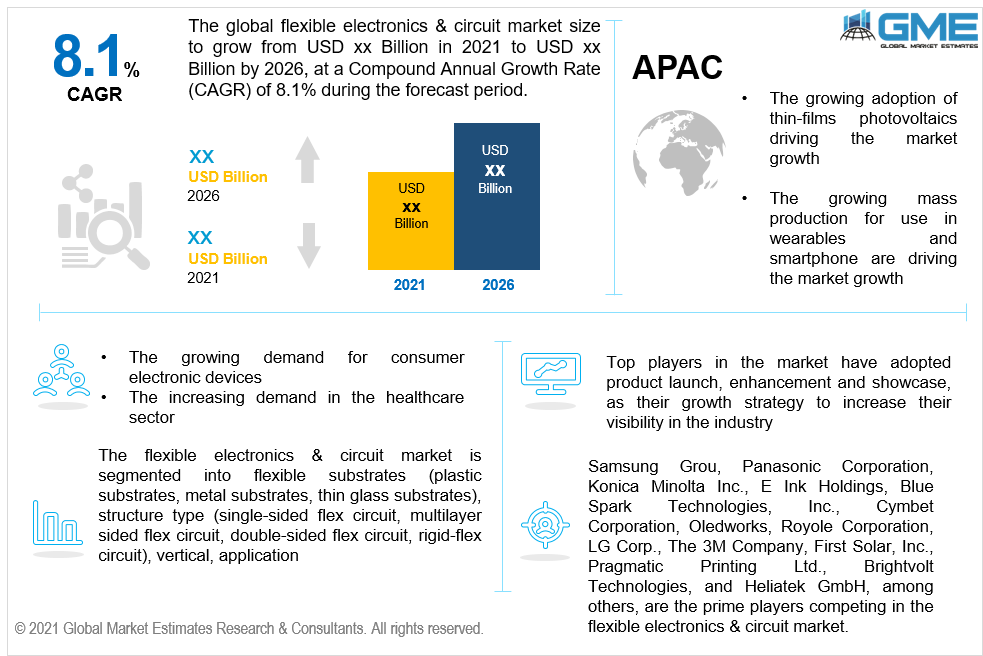 Flexible Electronics & Circuit Market: By Structure Type
Over the forecast period, the multilayer flex circuit segment will generate the most revenue as well as grow at a substantial CAGR rate.Installation costs, package size, time, and weight are all lowered with multilayer flex circuits. They also provide better signal quality than other structure styles, and they're increasingly being used in the automotive, military, aerospace& defense, communications, and consumer electronics industries, among others.Multilayer flex circuit boards have extremely fine lines, leaving plenty of room for other components.
Flexible Electronics & Circuit Market: By Vertical
During the forecast period of 2021-2026, the consumer electronics segment dominated the vertical segment of the flexible circuits and electronics industry.The widespread acceptance of flexible displays in consumer electronic products including televisions, wearable devices, smartphones, and other devices has fueled the market's growth.Tech giants such as Apple Inc. and Samsung Group use flexible OLED displays in many of their smartphones. Such advancements have significantly aided the growth of the consumer electronics vertical's overall flexible electronics market.
Flexible Electronics & Circuit Market: By Application
The displays segment is anticipated to lead the application segment throughout the forecast era. Industry leaders such as LG and Samsung, which manufacture flexible OLED display panels for smartphone applications, dominate the industry for flexible displays. In the coming years, demand for flexible display panels, particularly OLED display panels, is anticipated to grow. Several other smartphone vendors are anticipated to implement flexible displays during the projected timeline.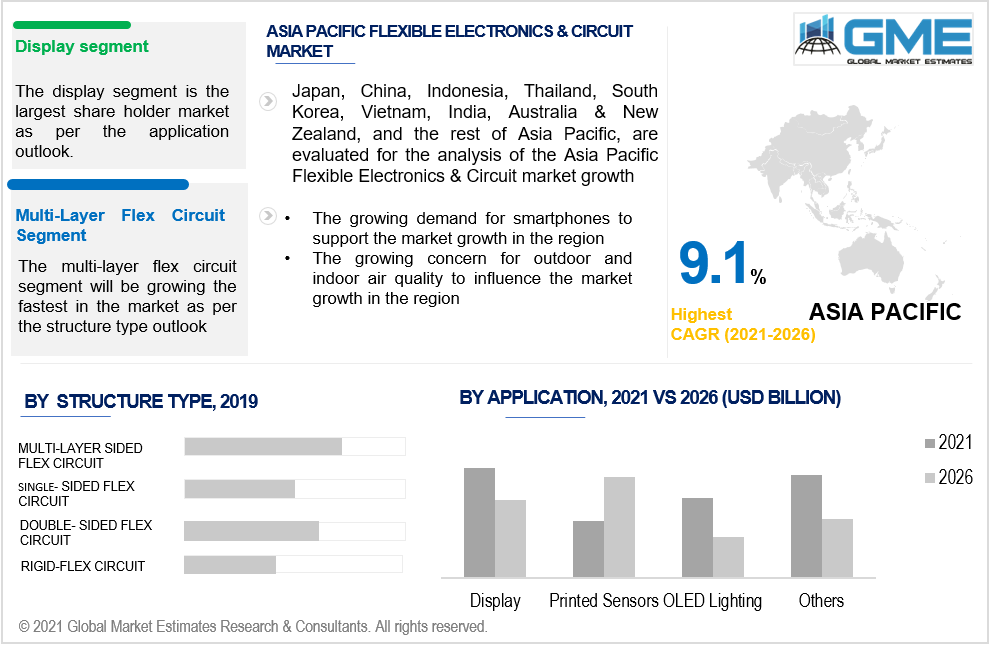 Flexible Electronics & Circuit Market: By Region
The North American region will continue to lead in terms of revenue in the forthcoming years. It's attributable to the growing number of high-tech industries producing flexible electronics for military applications. Flexible and printed electronics research centers have been established in several US states that are at the forefront of technology.Furthermore, North America leads the flexible electronics market owing to the presence of several research universities engaged in technology-related research projects.
Furthermore, the Asia-Pacific region will show a substantial CAGR rate over the forecast timeframe, due to the growing demand forthe installation of thin-film photovoltaics across the region.Furthermore, the flexible electronics market is boosting the growth of the presence of several major manufacturing groups with substantial production capabilities.
In the flexible electronics market, Europe is the second-fastest-growing region. The demand for flexible electronics in the region is being driven by the rising demand for smart wearable devices coupled with consumer electronics.Aside from that, there are several government initiatives aimed at not only increasing demand for electronics but also establishing industries with a variety of investments.
Flexible Electronics & Circuit Market: Share & Competitor Analysis
Samsung Grou, Panasonic Corporation, Konica Minolta Inc., E Ink Holdings, Blue Spark Technologies, Inc., Cymbet Corporation, Oledworks, Royole Corporation, LG Corp., The 3M Company, First Solar, Inc., Pragmatic Printing Ltd., Brightvolt Technologies, Heliatek GmbH, Palo Alto Research Center (Parc), A Xerox Company, and Thin Film Electronics Asa, amongothers, are the prime players competing in the flexible electronics & circuit market.
Please note: This is not an exhaustive list of companies profiled in the report.
In January 2021, The Samsung Bespoke 4-Door Flex refrigerator was launched in the US market to meet a wide range of household refrigeration requirements.
In January 2021, PragmatIC Printing Ltd. and Schreiner MediPharm, a pharmaceutical packaging company, have partnered to develop a low NFC-enabled medication label.
The Global Flexible Electronics & Circuit Market has been studied from the year 2019 till 2026. However, the CAGR provided in the report is from the year 2021 to 2026. The research methodology involved three stages: Desk research, Primary research, and Analysis & Output from the entire research process.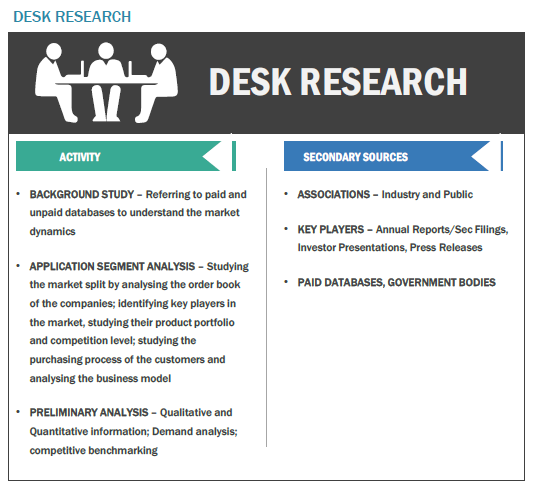 The desk research involved a robust background study which meant referring to paid and unpaid databases to understand the market dynamics; mapping contracts from press releases; identifying the key players in the market, studying their product portfolio, competition level, annual reports/SEC filings & investor presentations; and learning the demand and supply-side analysis for the Flexible Electronics & Circuit Market.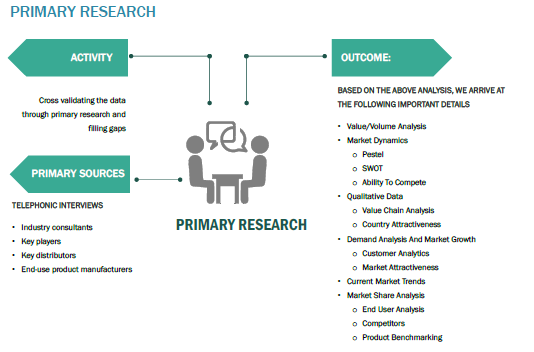 The primary research activity included telephonic conversations with more than 50 tier 1 industry consultants, distributors, and end-use product manufacturers.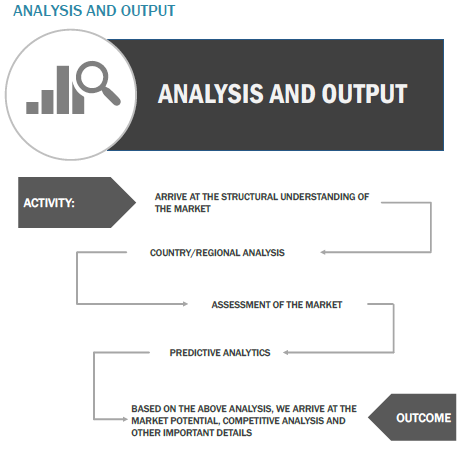 Finally, based on the above thorough research process, an in-depth analysis was carried out considering the following aspects: market attractiveness, current & future market trends, market share analysis, SWOT analysis of the company and customer analytics.