Freight Trucking Market: Insights
A freight truck, also known as a heavy-duty vehicle, is being used for the movement of goods from one location to another. It is commonly used in logistics and is very suitable for off-road travel. Highly designed and high-powered freight motor trucks can carry bulk loads easily.
Highly developed and high-powered freight engine trucks can carry bulk cargo easily. They are capable of carrying and can be further split into six components: trailer truck, semi-trailer truck, jumbo truck, and a flatbed truck, among others. It is therefore anticipated that its potential benefits over the projected timeline will drive the growth of the freight trucking industry.
The growth of the freight trucking industry is expected to be driven by rapid growth in the internet retailing market and technological advancement. Also, technological developments compatible with GPS monitoring, temperature-controlled containers, and flatbed & load-to-road service are anticipated to provide the freight trucking industry with lucrative opportunities. During the forecast era, it is expected that the substantial growth of the numerous industries throughout the world along with the development of new technologies in freight trucks will propel the market of freight trucking. Although suppliers around the world depend mainly on freight trucking, demand for cargo trucking is expected to grow at a steady pace in the upcoming years.
Furthermore, the growth of the freight trucking industry is likely to be spurred by technological developments, as truck manufacturers continue to carry out new truck models with enhanced freight technologies and space. To increase the efficiency and functionality of the vehicle, some truck manufacturers are gradually leaning towards advanced technologies. The growing demand in the freight trucking industry for order tracking has driven freight truck manufacturers to develop new tracking technologies.
Home delivery pattern enhances the significant adoption of freight trucking services. The e-commerce websites and online shopping sites allow plans for appropriate and quick home delivery in an attempt to acquire traction. For the quality of life and every economy, the effective movement of freight is essential. In combination with the need for operational quality, environmental considerations, the safety, and protection of cargo activities are expected to drive the growth of the freight trucking market over the next several years.
During the imminent COVID-19 pandemic, the freight trucking market is anticipated to witness a stagnant period, as governments around the world continue to implement protective measures to tackle victims and the spread of the virus. Because of the continuing pandemic, shareholders in the freight trucking industry are likely to be heavily affected.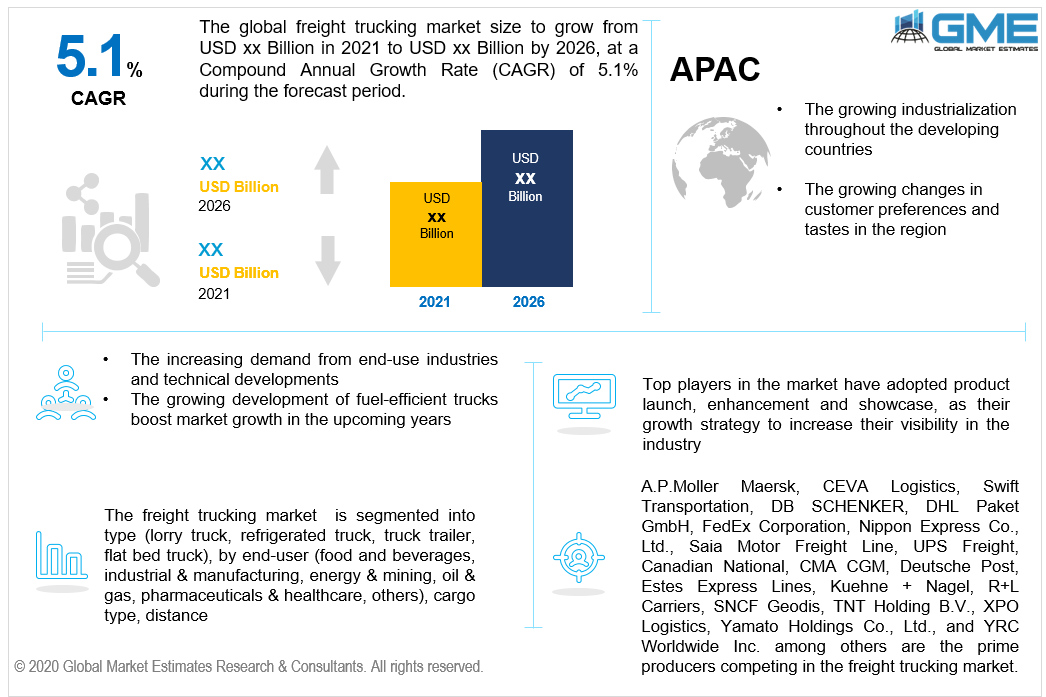 Freight Trucking Market: By Type
A trailer truck is made up of two or more parts that are connected by metal bars to make it much easier for the vehicle to turn. It is a non-automotive freight vehicle to be accessed by a motor vehicle. In the transportation industry, these trucks are a very important leg, since they are movers of large amounts of products or resources that no small vehicle can do on the ground. These trucks have many applications, including towing and moving homes, delivering and transporting damaged and stranded vehicles, and retrieving them.
A heavy vehicle with a flat body and no sides or roof around the bed is a flatbed truck. These types of trucks are usually used to carry heavy loads that will not be affected on rough roads or in poor weather. Flatbed trucks are so robust that they are one of the truck types most commonly used. From any angle, you can load this type of truck, making it a significant player in the trucking sector.
The refrigerated truck segment is anticipated to boost the market growth at a high CAGR pace over the projected timeline. A refrigerator truck is a truck or lorry built to transport perishable freight at unique temperatures. Refrigerated trucks vary from plain insulated and ventilated vans, like refrigerator cars, none of which are equipped with cooling equipment. Refrigerator trucks can be ice-cooled, fitted with any of a range of mechanical refrigeration systems powered by small-displacement diesel engines, or use carbon dioxide as a cooling agent.
Freight Trucking Market: By Cargo Type
A raw material that is delivered in wide unpackaged parcels is a dry bulk product. Dry bulk consists of often unprocessed materials that are meant to be used in the worldwide process of processing and production. Commodities, which may include grain, metal, and energy products, are shipped by companies specialized in dry bulk delivery in large container vessels over long distances by the sea in bulk.
Freight Trucking Market: By End-Use
The industrial & manufacturing segment is anticipated to dominate the share of the market during the forecast period attributed to the increasing demand for better infrastructure and the growth of new industries, especially in developing countries. It is expected that globalization and the growth in world trade volumes will provide logistic service providers with opportunities. However, as air transport continues to offer higher value to end-users, it is anticipated that freight trucking companies will be able to find new ways to attract customers and have long-term value.
The oil & gas segment is anticipated to boost the market growth at a high CAGR pace over the projected timeline. In emerging and developed regions, demand for long-distance freight transport greatly increases the demand for freight transport services. Freight trucking needs a strong sense of urgency and a desire for exposure in the oil and gas industry. Oil and gas companies depend on 3PL partners to thrive under challenging conditions. The increase in projects to extract shale oil and gas has induced spectacular development.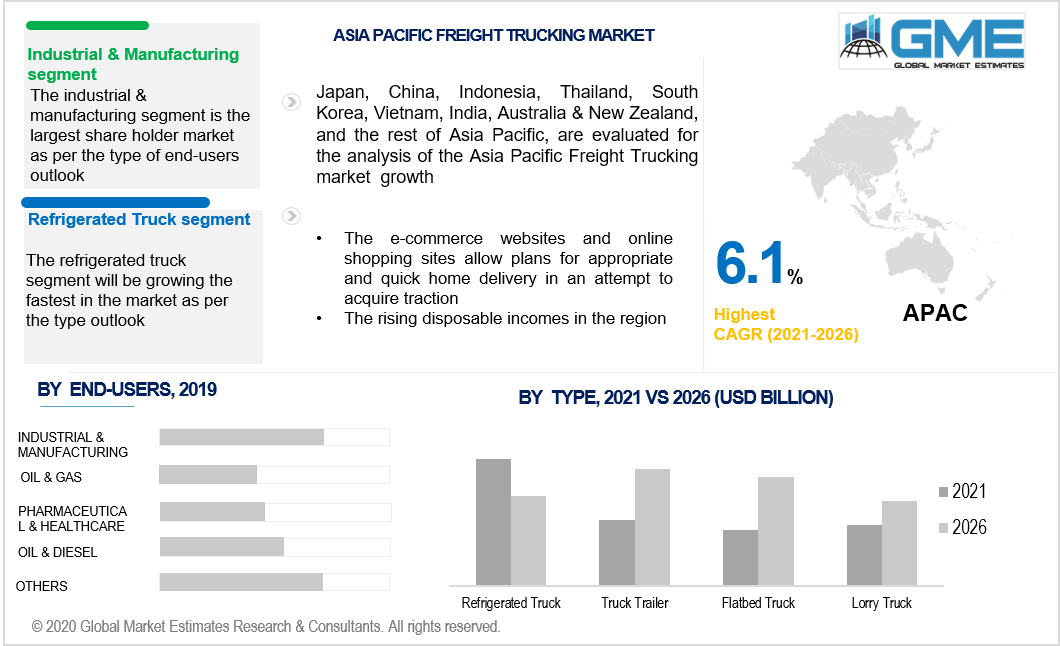 Freight Trucking Market: By Region
In revenue terms, the North American area remains the leading marketplace for the coming years. This is attributable to well-known industrial standards. North America is projected to be the most developed region for the expansion of the freight trucking industry owing to high technology innovation and the increasing presence of leading suppliers of solutions in the market.
The Asia-Pacific region would demonstrate a substantial CAGR rate over the projected period due to a growing population of the middle class around the globe, which has led to an increase in consumption and is therefore anticipated to boost the number of goods transported. Changes in customer preferences and expectations where individuals are attracted to Western lifestyles have driven demand for less time-consuming supplies. Moreover, it is mainly attributable to the enhancement in road transport networks and the inclination to develop industries in these regions over the years.
Freight Trucking Market: Share & Competitor Analysis
A.P.Moller Maersk, CEVA Logistics, Swift Transportation, DB SCHENKER, DHL Paket GmbH, FedEx Corporation, Nippon Express Co., Ltd., Saia Motor Freight Line, UPS Freight, Canadian National, CMA CGM, Deutsche Post, Estes Express Lines, Kuehne + Nagel, R+L Carriers, SNCF Geodis, TNT Holding B.V., XPO Logistics, Yamato Holdings Co., Ltd., and YRC Worldwide Inc. among others are the prime producers competing in the freight trucking market.
Please note: This is not an exhaustive list of companies profiled in the report.
In February 2021, CEVA Logistics announced the expansion of its rapid LTL (Less-than-truckload) services from China to South East Asia.
In October 2020, Saia Motor Freight Line opened its new larger Saia LTL cross-dock facility in Memphis Terminal.
The Global Freight Trucking Market has been studied from the year 2019 till 2026. However, the CAGR provided in the report is from the year 2021 to 2026. The research methodology involved three stages: Desk research, Primary research, and Analysis & Output from the entire research process.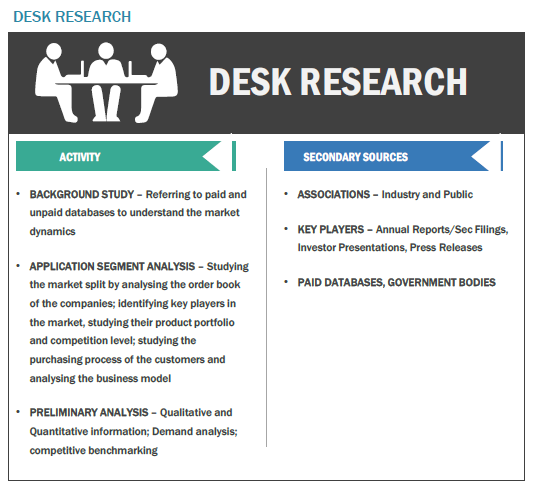 The desk research involved a robust background study which meant referring to paid and unpaid databases to understand the market dynamics; mapping contracts from press releases; identifying the key players in the market, studying their product portfolio, competition level, annual reports/SEC filings & investor presentations; and learning the demand and supply-side analysis for the Freight Trucking Market.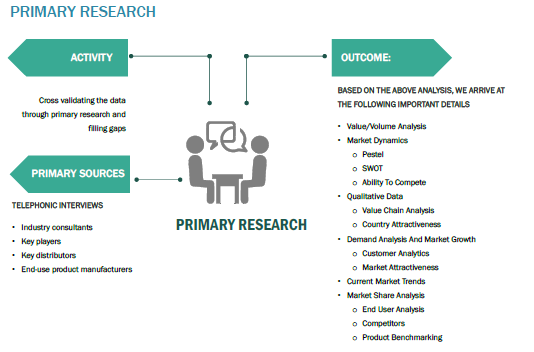 The primary research activity included telephonic conversations with more than 50 tier 1 industry consultants, distributors, and end-use product manufacturers.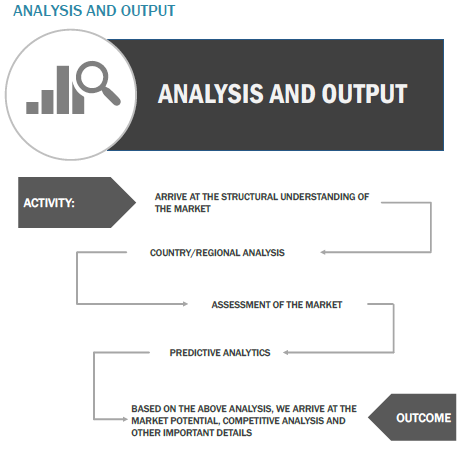 Finally, based on the above thorough research process, an in-depth analysis was carried out considering the following aspects: market attractiveness, current & future market trends, market share analysis, SWOT analysis of the company and customer analytics.